Winwick Mum Sockalong 7th Birthday
Happy birthday to you,
Happy birthday to you,
Happy birthday dear Sockalong,
Happy birthday to you!
Seven years since the Winwick Mum Sockalong started and my beginner sock knitting tutorials are being used more than ever – who would have thought it?!  Every time I look at my blog dashboard and see that people are using the tutorial pages, it makes me so happy to know that somebody somewhere in the world is going to have the cosiest toes – it's a simple thing but sometimes the simple things are the best!
My original plan was simply to write a series of tutorials to help someone knit a pair of socks after I'd been told too many times that they were too hard to knit.  I wanted to write them as if we were sitting together because it's always nicer to knit with a friend, and whilst my tutorials might be more wordy than some, I like to think that we're chatting as we're knitting – and it seems as if you liked that style too!  I love that I'm still helping people to knit socks seven years (seven years!!) after the tutorials were original published – I honestly never expected that I would be able to say that – and it makes my heart sing every time I think of how many people have benefitted from bringing sock knitting into their lives.
If you're new to the blog, you might wonder what else I've been up to over the last seven years …  Well, in the same year as the tutorials were written and published on the blog (always with the intention of them being freely available on the blog for anyone who wanted to use them), I turned them into paperback form as Super Socks for those who couldn't or didn't want to be online all the time, and also e-book form for those who prefer that format.  I started the Winwick Mum Sockalong Facebook group so that people could ask questions in real time and that's been amazing – there are thousands of people from all over the world in this group and thanks to the magic of time zones and people's generosity in helping others to learn, this really is a group that works in real time – whatever the time!  There's also the Winwick Mum Knit n Natter group on Facebook which came about as those who were knitting socks also wanted to chat, to share other project pictures and to just connect with other people.  Both groups have been quite a lifeline during the lockdowns of the last couple of years, and it's been brilliant to see how many people have decided that now is the right time for them to be learning to knit socks.
What else?  Well, a bit later on I wrote More Super Socks for people who had knitted their first basic pairs and wanted to move onto a different pattern, but still felt that other patterns were a step too far.  It contains four of my in-depth tutorials (with videos!) and four exclusive patterns which are more wordy than many you will find, but those extra steps have made it easier for people to step out of their comfort zones and to branch out with their knitting.
I've also won a few awards now (you can see them down the left hand side bar – I'm very proud of them!), I've been delighted to be invited to write articles and design socks for magazines, yarn shops and of course, my favourite yarn company, West Yorkshire Spinners!  I have been delighted to be asked to design the sock patterns to go with their special Christmas yarns for the last five years, and even more delighted to see those patterns being used all year round, not just with the Christmas yarn!
What I never could have imagined when I first started writing Winwick Mum, never mind the Sockalong tutorials, and best of all is that I've got my very own Winwick Mum yarn designed in collaboration with my lovely friends at West Yorkshire Spinners, and I have loved seeing it being knitted up, knowing that people have enjoyed using it and have been able to support their local yarn shops by buying it.  And let's not forget all the people I've met and the friends I've made along the way too … it truly has been an incredible time!
I never take for granted the incredible times that I have had over the last seven years seeing people discover that sock knitting really isn't as hard as they might have thought, and all of the good things that have come from it.  I have been very blessed, and I never forget that how much of that is down to you – thank you for knitting the socks, for sharing the tutorials with others who want to learn, for giving your time to help others once you have learnt yourself, for buying my books and my yarn … thank you! xx
So what happens now?  Well, as far as the Winwick Mum Sockalong goes, nothing is changing.  The Sockalong tutorials are staying on the blog and they are still free – I have always said that if someone has the money to buy the yarn and needles or buy the book then I would much rather than they bought the yarn and got started – so there's no change there.  Super Socks is still available for anybody who wants to buy a paperback or ebook version.  More Super Socks, the follow-on book with more techniques and patterns, is also still available in paperback and e-book versions.  West Yorkshire Spinners are still producing Winwick Mum yarn which is available from WYS stockists worldwide and now there are two collections, so that's eight colourways to choose from.  There are some more videos on my YouTube channel, but because I move at a snail's pace where videos are concerned, it's taking some time to get everything I want to finished

Another thing that hasn't changed is the Winwick Mum Sockalong birthday giveaway.  Every year, I get to do this and every year I think how fortunate I am to be able to even think about it!
As usual there are two prizes …
There's a signed copy of Super Socks, a ball of Winwick Mum yarn – I've chosen Wildflower from the first Winwick Mum collection and Summer Sunset from the Seasons colours as I thought they were appropriate for the time of year

, a sheep knitting gauge, an Emma Ball tin for keeping stitch markers or other knitting notions safe, a small sachet of Eucalan for hand-washing your socks, a bar of Terry's Chocolate Orange chocolate and a Winwick Mum Sockalong badge.
I've included stitch markers in the prizes before now but never anything to keep them safe in, and I thought these little Emma Ball tins were too cute not to include!  One has alpacas on it and the other has cats – I love Emma Ball's artwork and think these are perfect for keeping in knitting project bags.
The tins have a nifty slide opening too, rather than a lid that flips off or is hinged …
I've also found these wooden sheep knitting gauges which will be VERY useful if you lose the packets that your needles came in.  I use the one that I have more often than I expected to, especially if I think I've managed to muddle interchangeable needle tips up, which is easily done!
There's a small sachet of Eucalan delicate wash which is ideal for washing any delicate items, including your hand knit socks!  People often wonder what to use when washing socks and this is one of the choices.
There's a bar of chocolate in there too.  I may not be eating as much of it these days as I used to, but Terry's Chocolate Orange is still one of my favourites if I do want some and I thought you might like some too!  I think that chocolate is probably an essential in a beginner's sock knitting kit …

There is, as always, a signed copy of Super Socks.  If you're new to the blog and to the Sockalong, then Super Socks is the paperback version of the Sockalong tutorials that you can find if you click the purple picture in the top right hand corner of the blog.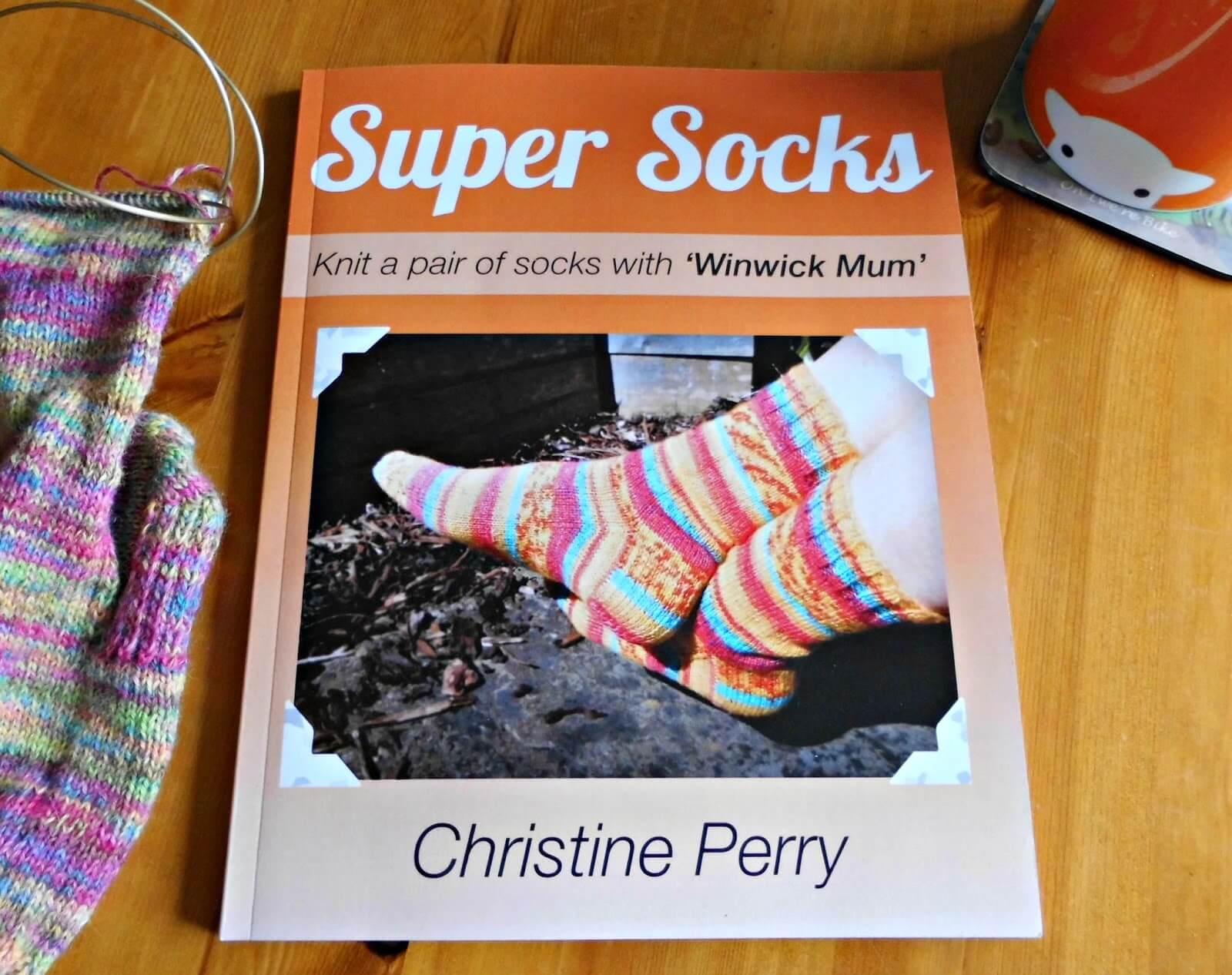 The book contains the same information as the online tutorials but is set out by needle type rather than across sock sections as the online tutorials are.  It's a good big size to prop open with your brew and there are pages at the back to make notes, which is a useful thing to do, especially if you're going to adjust the pattern for yourself or knit for other people.
There is just one sock pattern in there – the Basic 4ply Socks pattern – given in both 4ply and 6ply versions, and this is because this is a book for beginners.  The point of the book is that it's a tutorial, the best way I could think of for you and I to sit together and knit a pair of socks without confusing everything by trying to cram lots of other patterns in there as well.  You can go and find other patterns at any time, but my intention with Super Socks and the Sockalong tutorials is to help you knit your first pair so that you understand what you are doing and you feel like a sock knitting superstar when you put them on your feet!
If you want to see inside the book, take a look at this post here as it shows you what's in there and how the book was put together.  If you want to see the online tutorials as well so that you can compare, and check out my writing style if you're a Winwick Mum newbie, you can find those here.
The last item is the Winwick Mum Sockalong badge which goes with both prizes – ideal for project bags and also for wearing to festivals (now that we can go to them again) so that you can spot other Sockalongers.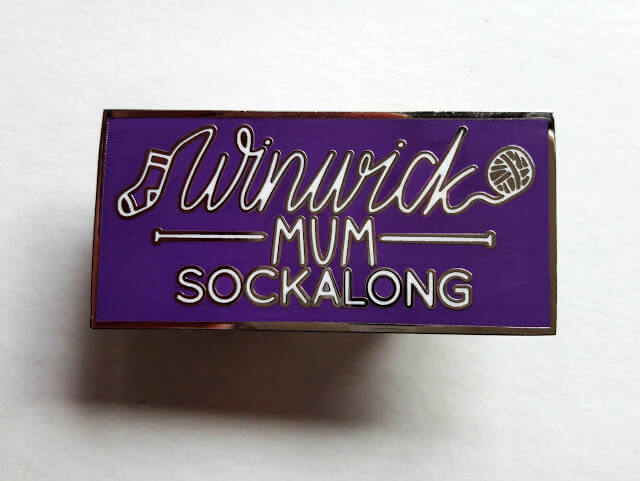 What do you think?  Would you like to win one of these prizes?  Here's how to enter the giveaway!
For the last six years, I've been asking you to tell me how many pairs of Sockalong socks you knitted since the last Sockalong birthday.  I'll never know for sure how many pairs of socks have actually been knitted using the Basic 4ply Socks pattern and tutorials, but it's nice to get at least some idea so this year will be continuing the tradition of the Annual Sock Count.  So far, our running total through the blog stands at 15,055 pairs which I think is flipping amazing – how many more have been knitted this year?!  It's not a competition with previous years, it's just a bit of fun (and might also tell me how close we are to really taking over the world with hand-knit socks

)
To enter the giveaway, please comment how many pairs of Basic 4ply Socks (not other patterns, please) you have knitted since May 2021.  Don't worry if you're still making you first pair or are about to cast on, just write that information and your comment will count too.  Because there's a choice of yarn, don't forget to tell me which one you would like too!
Entries to the giveaway will close at 8pm BST on Friday 6 May 2022 and I will let you know the winners as soon as possible after that time (it may get to Saturday or even Sunday but I won't have forgotten!

).  I am happy to post the prizes anywhere in the world so don't feel that you can't be part of this because you don't live in the UK.  I think you can choose to leave your comment as "anonymous" if you don't have a WordPress account, but don't forget to put your name in the comment so that when I post the winners I'll be able to identify you so that you can get in touch for your prize (and please do come back to check if you're a winner)!  Oh, and also don't worry that your comment doesn't show straight away – the comments are set for me to check them before they upload to the blog to make sure that no spam gets through so they are all safely stored in my blog messages until I've seen them.  I'll make sure they're all uploaded on time!
Happy birthday Sockalong, here's to many more years of socking all over the world! 
The post Winwick Mum Sockalong 7th Birthday appeared first on Winwick Mum.