Which Sony Speaker Should You Buy?
Some of the company's speakers fared well in our testing, while others were a disappointment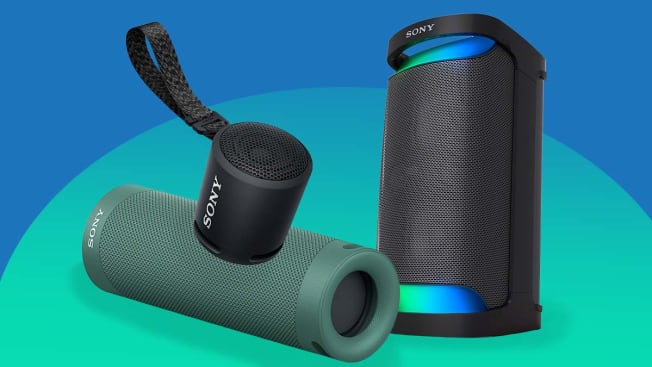 By Allen St. John
Sony is one of the most well-known names in electronics, so it's no surprise that the company offers a wide range of Bluetooth speakers in a variety of sizes and price points.
What is surprising is that all the speakers in Sony's lineup don't perform equally well.
Some sit at the top of our ratings and others can be found much closer to the bottom. In some cases, the pricier speakers fare quite well. In others, they don't. This odd disparity affects even models that seem closely related, like the high-performing SRS-XP500 and its not-so-great big brother, the SRS-XV900.
Needless to say, this can make shopping for the right Sony speaker confusing. So we're here to help.

The wireless speakers in the roundup below are organized from high-to-low in terms of overall score with a quick summary of the model's strengths and weaknesses. For a more detailed evaluation, Consumer Reports members are welcome to consult our wireless speaker ratings.
We purchase every speaker we test—no freebies for us—and each new model is evaluated by the trained technicians in our dedicated listening lab in Yonkers, New York, using the same room, same source material, and same methods applied to the hundreds of speakers that came before it. Which means a top-rated speaker must be truly exceptional and one that lands near the bottom of our ratings clearly leaves something to be desired.
Sony's High-Performing Party Box
What's to Like: The SRS XP500 ranks near the very top of our ratings for portable speakers. It's a big party speaker that's versatile and easy to use, and while it plays plenty loud, it works in more intimate listening sessions, too. It also features fun LED lighting effects for an impromptu dance-off.
What's not to like: The sound is solid but not superb; the XP500 slots below the UE Hyperboom, for example, which is the best-sounding portable speaker in our ratings. Our testers find there's a bit too much bass, while the midrange, where most music and vocals reside, isn't as rich as that that you find on the best Bluetooth speakers.
Who it's for: The SRS XP500 will fit nicely into a party-loving household that wants a speaker that can perform well on the weekdays, too.
Sony SRS-XP500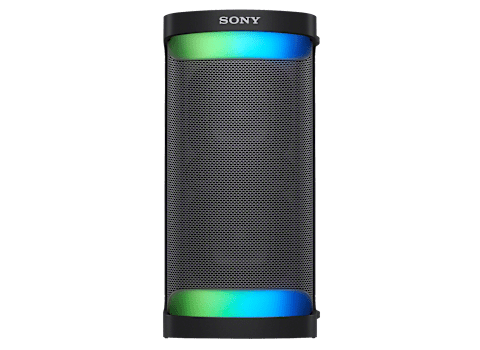 A Small-But-Mighty Boombox
What's to like: The XG300 is one of the better-sounding portable speakers we've tested, with bass with a decent amount of sock and a clear, even midrange. The XG300 delivers what you want in a modest-sized tailgating speaker with decent volume, an IP67 water-resistance rating (which means it should survive a dunking), and a rechargeable battery that delivers 25 hours of battery life, according to Sony. All in all, our testers say it's a significantly better speaker than its more expensive sibling the XG500.
What's not to like: While it comes in a compact, boombox-like package, the XG300 has a handle that's less substantial than what you find on competing models. And with a price tag of over $300, the model isn't exactly cheap.
Who it's for: A smart shopper who used our ratings to find a better speaker for significantly less money.
Sony XG300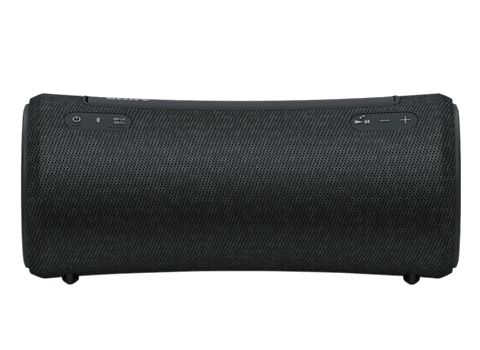 A High-Value, Do-it-All Model
What's to like: Sony's SRS-XB23 is proof that less is more. Earlier wireless Bluetooth speakers from the manufacturer were laden with bells and whistles, including colorful LEDs that would pulse with the music and digital sound effects that would bleat when you beat on the shell. These features were fun, but ultimately beside the point.
Speakers are about playing music and the more business-like XB23 performs its primary function admirably. It's a medium-sized speaker that checks a lot of boxes: It's relatively inexpensive, water-resistant (says Sony), and it sounds really good.
What's not to like: The low bass of the SRS-XB23 is a bit lacking and the midrange doesn't have some of the clarity found in the very best portables. But on balance, the sound is satisfying.

Who it's for: A Sony fan looking for a no-nonsense speaker for summer fun, even if it gets wet and wild.
Sony SRS-XB23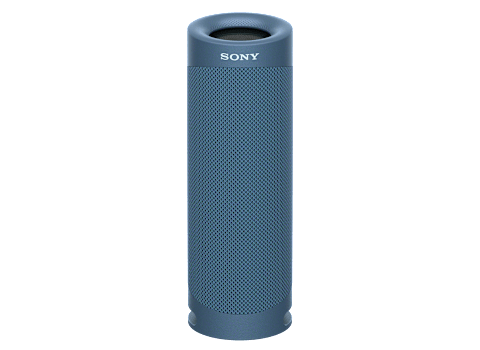 A Step-Up Speaker That (Mostly) Delivers
What's to like: The Sony XE300 is a step-up speaker. It's bigger and plays louder than the SRS-XB23, bit it's quite a bit more expensive, too. The sound quality, while a bit dark and muffled, is solid enough to be satisfying, if not truly exceptional.

What's not to like: The XE300 sells for around $200, and if you shop around, you can find better performing speakers for significantly less money, even in the Sony lineup. (See the aforementioned SRS-XB23, JBL Charge 5, and the Bose Soundlink Revove II.)

Who it's for: Someone looking for a little more bass and volume, even if the sound isn't exactly exceptional.
Sony XE300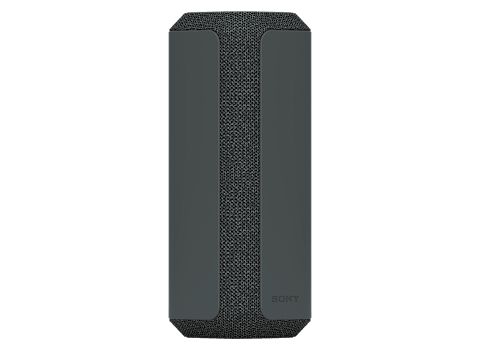 A Spatial Audio Speaker With Less-Than-Great Sound
What's to like: The SRS RA5000 is designed to work with Sony's 360 Reality Audio format so it seems somewhat forward looking.

What's not to like: The speaker is big. It's expensive. And it's disappointing. Our testers report that while listening with spatial audio content does deliver a much larger and wider soundstage, with some music, the spendy speaker sounds echoey. And with conventional stereo content, the bass is bit overdone, the treble is a little smeared, and, worst of all, the midrange is "hazy, grainy, constricted, and plasticky." Our ratings have dozens of other options that are much cheaper and sound as good or better.

Who it's for: A listener for whom space is indeed the final frontier.
Sony SRS-RA5000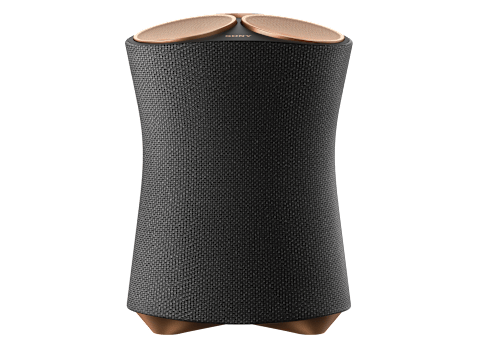 Fun Aplenty in a Small Box
What's to like: The Sony SRS-XB43 is flat-out fun. It's a modest-sized speaker that incorporates some cool LED lighting effects that can be made to pulse along to the beat of the music. It might be too gimmicky for some, though.
What's not to like: The price is likely to give you pause. For a little less money, the JBL Pulse 4 offers similar sound quality, plus more versatile lighting effects that allow it to double as an accent lamp. The Soundcore Rave Neo also delivers lighting effects and similar sonic performance—for around half the price.
Who it's for: A college kid who wants a small, fun party speaker that can double for casual dorm-room listening. As long as it's going on Mom or Dad's credit card.
Sony SRS-XB43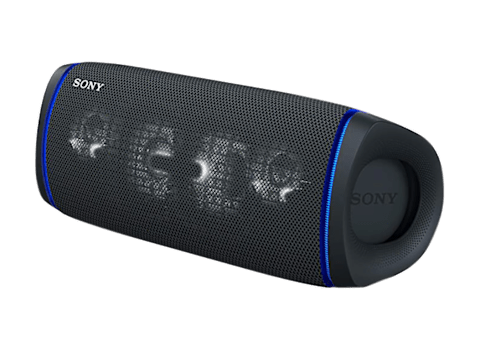 A Smaller Sibling That Doesn't Quite Measure Up
What's to like: The XE200 sports the Sony brand name, and, on the surface, it resembles its more-expensive sibling, the XE300, but the similarities stop there.

What's not to like: This is another example of a Sony speaker that doesn't perform as well as expected. While the XE300 is a solid performer, the less expensive XE200 falls well short. Our testers say the audio is "thin, hazy and plasticky," which adds up to a low Sound Quality rating. That's a big problem, given that speakers that sound merely okay—like the $50 Onn Large Rugged—tend to be significantly cheaper. Sony's similarly priced XB23 is a much better speaker and a much better buy.

Who it's for: A Sony fan on a tight budget who doesn't care much about sound quality.
Sony XE200
A Cheap, Cheerful, and Giftable Speaker
What's to like: The Sony SRS-XB13 offers good value, delivering solid performance for about $50. The model comes in six fun colors, ranging from basic black to coral pink, and the lanyard-style strap makes it easy to carry around. The speaker features IXP67 water resistance, which means it can survive a modest dunking and should repel dust. It also delivers enough volume to fill a small room.
What's not to like: Given the price tag, it's not surprising that the model has a few sonic limitations. The bass, as you might expect from a speaker so minuscule, isn't very strong, and the midrange and the trebles lack the smoothness and detail you get from more expensive models. That said, our testers report that the SRS-XB13 sounds significantly better than its predecessor, the SRS-X12, which has a constricted, nasal quality.
Who should buy it? Someone looking for a small, cheap speaker to give as a gift or to just toss in a bag and bring to the park.
Sony SRS-XB13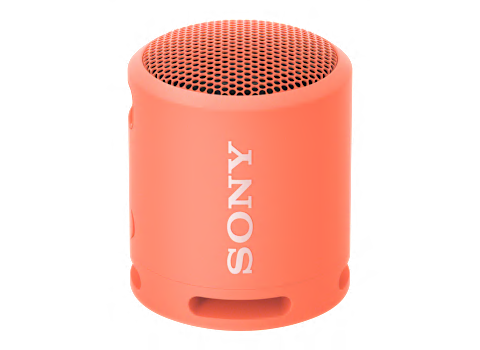 Sony's Smaller Spatial Audio Speaker
What's to like: The SRS-RA3000 is part of a strange value proposition. It's a good bit cheaper than the larger SRS RA5000 and doesn't perform much worse, so, if you're feeling charitable, you might call it a better value.
What's not to like: In today's market, $400 is still a lot of money for a wireless speaker. And even the adequate spatial audio performance doesn't offset the model's overall lack of sonic performance. Our testers liken the SRS-RA3000's sound to cupping your hands and holding them over your mouth. The $200 Amazon Echo Studio smart speaker and Apple's new $300 HomePod both feature much better audio performance with spatial audio material and conventional stereo content, and for less money. And the intriguing Sonos Era 300 costs only a bit more. (We'll have full test results on that model soon.)

Who it's for: A fan of the SRS RA5000 who's on a bit of a budget?
Sony SRS-RA3000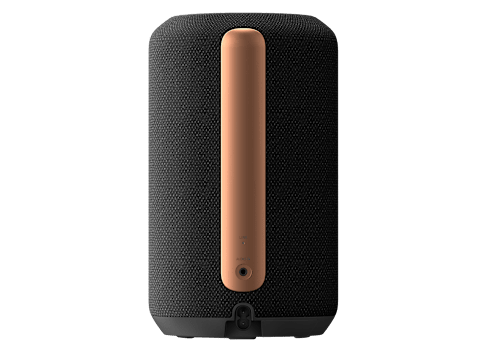 A Party Speaker That's No Fun to Listen To
What's to like: The MHC-V13 looks cool, if that matters to you. And the "Fiestable" mode on the smartphone app that controls its lighting effects is fun to say out loud.
What's not to like: This two-foot-tall, 18-pound karaoke speaker sells for around $250 and gets a sound quality rating more typical of very inexpensive speakers. Indeed, at less than half the price, Sony's SRS-XB23 gets a higher sound quality rating, and is likely to be a more congenial musical companion, as long as you're not interested in cranking your tunes at lease-breaking levels.
Who it's for: A karaoke fan who values volume above all else?
Sony MHC-V13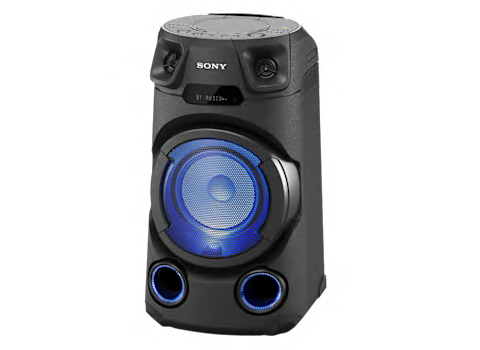 Bigger Isn't Always Better
What's to like: Quantity over quality? At almost three-feet tall and 60 pounds, the XV900 is a big hulking mass of speaker and as such it can deliver plenty of volume. Which, given its sound quality, may or may not be a good thing.
What's not to like: If Sony's SRS-XP500 party speaker is really good, you'd think the larger and much more expensive SRS-XV900 would be superb, right? Wrong. Our testers give it a sound quality grade usually reserved for cheap, near disposable models, like the tiny stocking stuffer Sony SRS XB-13. But the huge Sony costs around $900. Which means you can buy a truly impressive-sounding speaker, like the $530 Sonos Five, for much less money.
Who it's for: A Sony fan with a a thick wallet, a strong back, and little interest in actually listening to music.
Sony SRS-XV900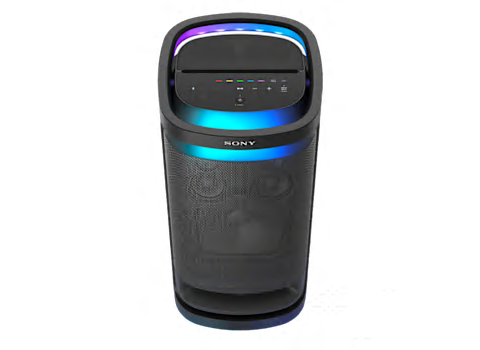 A Less-Than-Great Boombox
What's to like: The boombox-style SRS XG500 is bigger than the XG300 and, as such, it can play very well. It's also got a nice handle, if you like to carry around your speaker.
What's not to like: This Sony speaker lands near the very bottom of our rankings. Our testers report that the audio is muffled and grainy with trebles that are both subdued and sizzly. Imagine listening to bacon frying in a pan, but from the next room. Most of the models with similarly sub-par sound are tiny and carry prices of less than $100. The XG500? It weighs more than 12 pounds and costs almost $400. You can definitely do better.
Who It's for: Another option for our quantity-over-quality fan.
Sony SRS-XG500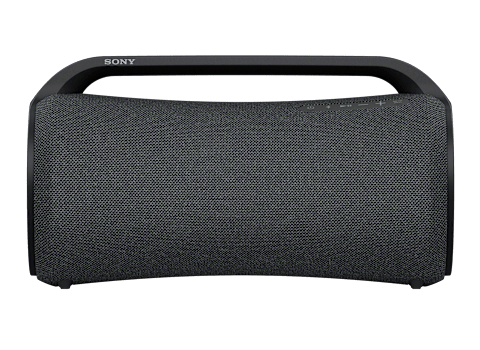 Consumer Reports is an independent, nonprofit organization that works side by side with consumers to create a fairer, safer, and healthier world. CR does not endorse products or services, and does not accept advertising. Copyright © 2023, Consumer Reports, Inc.