Uncharted Cements Tom Holland's Movie Star Status While Cyrano And Studio 666 Bomb At The Box Office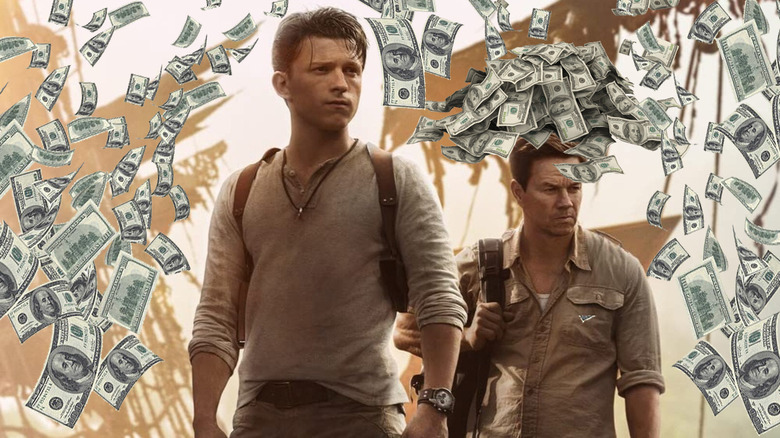 It was a semi-quite weekend at the box office, all things considered. The only new wide release was the Foo Fighters' horror flick "Studio 666," while the same three movies from last weekend repeated atop the box office, with Tom Holland's "Uncharted" winning the day. A painful lesson or two was learned, a movie star cemented his status in the current Hollywood landscape, and it was pretty much the calm before the storm. Let us not forget that "The Batman" arrives this weekend, which is pretty much all we'll be talking about throughout March. Let's dig into the numbers.
Uncharted, Dog, And Spider-Man Repeat In The Top Three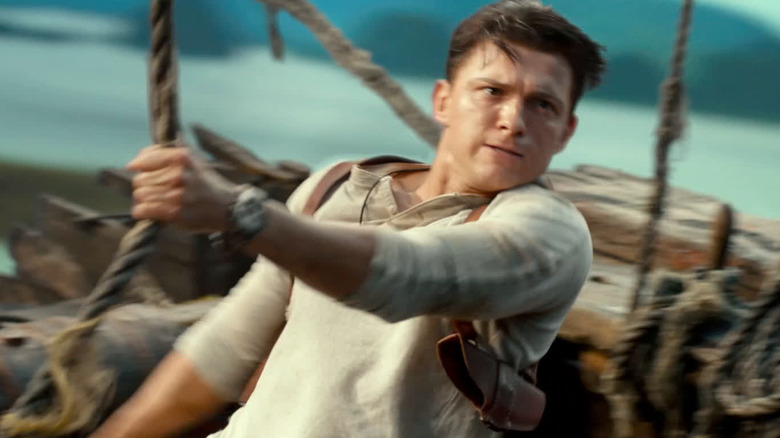 In its second weekend, Sony's video game adaptation "Uncharted" stayed atop the box office, taking in $23.2 million, according to Box Office Mojo. It dropped just 47.2% and, in the pandemic era, that counts as a damn good hold for a big blockbuster. The movie now stands at $226 million worldwide, with $86 million domestic to date. The film certainly still has a ways to go before reaching profitability, but audiences have turned up thus far. And with a release in China around the corner, this could indeed be the start of a franchise Sony was looking for.
Meanwhile, Channing Tatum's "Dog" once again finished at number two with $10.1 million, dropping just 32%, making for a very good hold, suggesting that word of mouth is good for this one. It has now made $32 million worldwide against a $15 million budget before it really even rolls out internationally. This is a big argument in favor of mid-budget movies being something studios should look to in the post-pandemic landscape.
Rounding out the top three was another Holland joint, "Spider-Man: No Way Home," which continues to sock away money with $5.7 million added to its ridiculous total. It now stands at $1.86 billion globally. The bigger takeaway here is that Holland, for two weeks in a row, has had two of the top three movies in the country. "Uncharted" has helped cement him as a true box office bet and a real-deal movie star that can put butts in seats. If we take anything away from this weekend before "The Batman" craziness takes over it's that Holland has climbed very far up the Hollywood A-list, and he doesn't always need the Spider-Man suit to be on top.
Studio 666 And Cyrano Unfortunately Bomb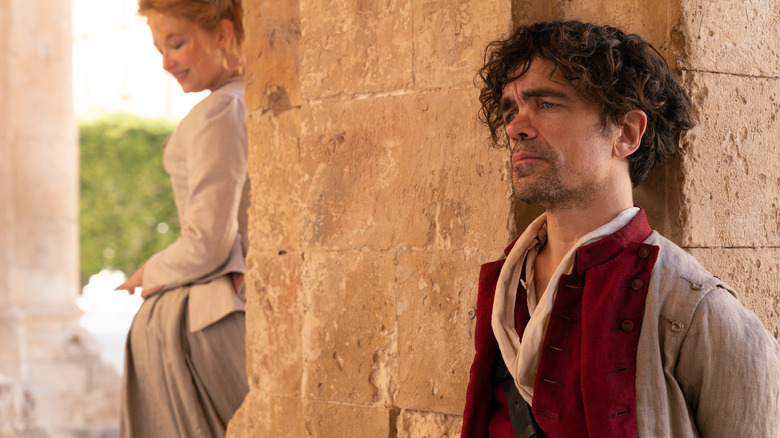 Credit where credit is due, the Foo Fighters tried to do something pretty bold with "Studio 666," releasing a full-blown horror-comedy wide in theaters in the hopes that people would like to see Dave Grohl and the gang get bloody. It didn't exactly pan out. The movie grossed just $1.58 million in 2,300 theaters, making for a miserable $685 per-screen average. It was a bold bet that didn't quite pay off. Expect to see this one on VOD sooner rather than later.
The real bummer here is that it's another blow to original horror movies, as "The Cursed" failed to find an audience last weekend and dropped out of the top ten this week. Yes, movies like "Scream," which came in at number ten this week and added another $1.3 million, have done great and proved horror can deliver reliably. But original horror is still having trouble finding a foothold. That is concerning.
Similarly, Joe Wright's critically praised "Cyrano" also bombed in its debut. The movie landed all the way at number nine with just $1.4 million. An absolutely brutal result for a film that has the kind of praise this one has going for it and a nice star turn for Peter Dinklage, not to mention a reported $30 million budget. Given the fate of Steven Spielberg's "West Side Story," it's beginning to seem like musicals just aren't going to work for the masses at the box office. "La La Land" is firmly becoming the exception and not the rule.
Death On The Nile Crosses $100 Million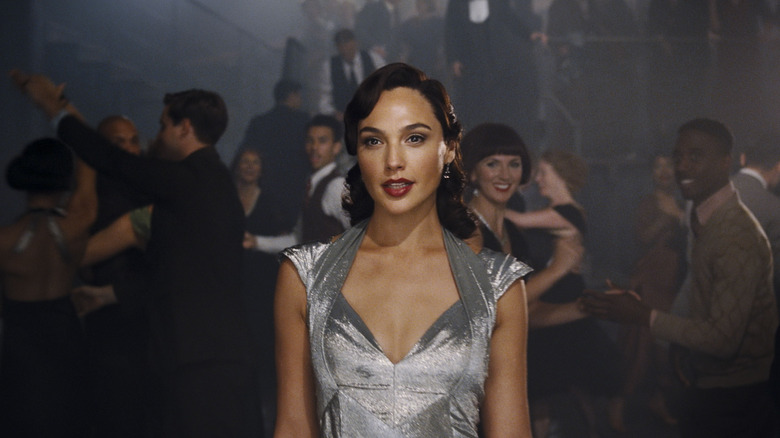 In a kind of meaningless, yet also kind of encouraging milestone, Disney's "Death on the Nile" crossed the $100 million mark this weekend. Coming in at number four with $4.5 million, it now stands at $101.2 million globally. The good news here is that an adult-skewing drama has been able to deliver that kind of business within a few weeks of its release. The bad news is the $90 million budget, which is going to prevent the film from being profitable. It's a real shame, especially since "Murder on the Orient Express" did so well. Perhaps if it manages to keep chugging along other studios will be encouraged to try their hands at these types of movies, while keeping the budgets contained.
And The Rest...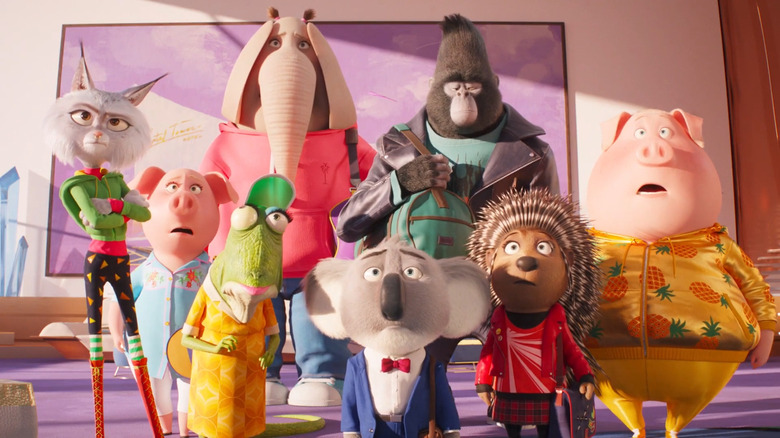 "Jackass Forever" stayed in the top five with $3.1 million, putting its global total at $68 million. Mind you, only $16 million has come from overseas, as this is a domestic-heavy franchise and always has been. Given its $10 million budget, this is very much a win for Paramount, even if it won't get anywhere near the highs of "Jackass 3D," which took in a stunning $171 million a little over a decade ago.
"Sing 2" finished at number six this week and has now crossed $350 million worldwide. It's not nearly as much as the first film, which made more than $600 million during its run. That said, Universal has had it available on premium VOD for weeks now and the film has seemingly done well. The studio keeps a lot more of that revenue. So, coupled with the pretty robust box office, this is absolutely a win for the studio.
Jennifer Lopez and Owen Wilson's rom-com "Marry Me" took a dive, falling 50% with just $1.8 million in its third weekend of release. The fact that it's readily available to stream on Peacock doesn't help matters. Its $43 million global total is a bit uninspiring but, coupled with the value it's bringing to Peacock, this may be considered a win in the end.
This weekend brings "The Batman" and only "The Batman," which figures to give the box office a shot of life. However, most everything else has cleared out of the way for March, meaning this movie is going to have to pretty much prop up the industry as a whole for a few weeks.
Read this next: 13 Box Office Bombs That Are Truly Worth A Watch
The post Uncharted Cements Tom Holland's Movie Star Status While Cyrano And Studio 666 Bomb At The Box Office appeared first on /Film.