Top 13 Best Comfortable Server (Waitress) Shoes In 2020
Slipping on greasy floors is the last thing servers want to experience while serving customers. Therefore it is crucial to invest in high-quality and anti-slip shoes. Servers have to look presentable while working, and these shoes can either enhance or diminish the overall look. It must also help support your feet, allow you to take up a fair amount of walking without wearing out in a few days. Thus, it is essential to choose the shoes keeping style, durability, and comfort in mind.
Shoes with better arch support and flexibility are perfect and will also prevent foot ache after long shifts. If you are looking for the most comfortable shoes, here are 13 of the best shoes for servers or waitresses in the market right now, along with everything you need to know and consider before buying them.
Read on to know more.
What Should You Consider When Shopping For Server/Waitress Shoes
If you want to prevent stumbling, injuries or foot aches and such common problems, here are some essential things you need to keep in mind while shopping for the best waitress shoes.
Servers spend most of their day standing and walking. Thus, comfort is the most important feature to be considered. If you have wide feet, choose shoes that have room for your toes and are not too tight. Check the thickness, cushioning, breathability, leather quality, etc. Bend the shoe and check if it does not bend too much in the slimmest area.
If the shoes do not offer a good grip, you can stumble or fall. Therefore, choose shoes with high-quality insoles and cushioning that offer a better grip.
It would be best if you got shoes that offer protection from slipping on oil, grease, or water, and electrical hazards. If you are exposed to such risks, care must be taken to choose appropriate shoes that protect from all these factors.
Shoes are made from leather, mesh, synthetic, and other fabrics. If you want to save time and money, choose leather shoes as they offer easy cleaning. Shoes made using synthetics and leather are easy to clean with a single swipe.
There is a wide variety of options available like leather, rubber, and canvas shoes. Choose the material as per the nature of the work you do, comfort, and your skin type. If you do not consider these factors, you will end up getting blisters, foot ache, and even affect your gait. Pick shoes that do not crowd your feet and offer enough space.
Now that we know this, let us take a look at the 13 best server (waitress) shoes in the market.
13 Best Server (Waitress) Shoes For Women In 2020
1. Skechers Womens Soft Stride Softie Work Shoes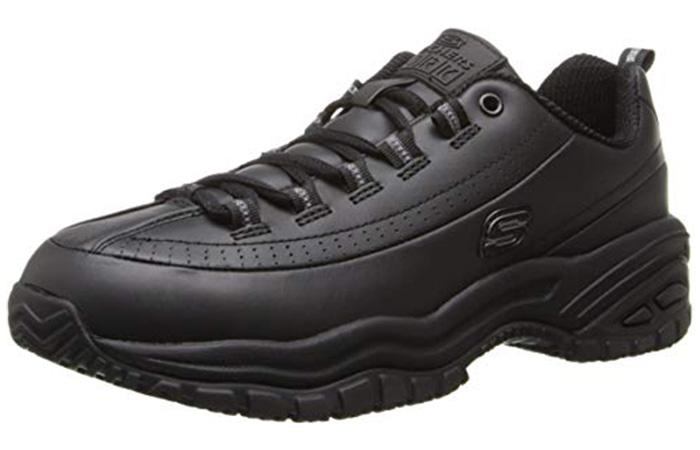 If you spend long hours serving at a restaurant, you need a shoe that offers comfort, grip, and support. These shoes are made from 100% leather and have a breathable lace-up pattern for added comfort. Also, if you are shopping on a budget, these shoes offer excellent value for money. Available in two colors, these slip-resistant and cushioned shoes are just the right shoes for women looking for a lightweight, comfortable, and trendy option.
Pros
Lightweight
Breathable lace-up design
Anti-slip shoes with cushioning
Synthetic sole
Cons
Cannot be cleaned easily
Dirt sticks to the bottom of the shoe easily
2. Sure Track by Skechers Work Footwear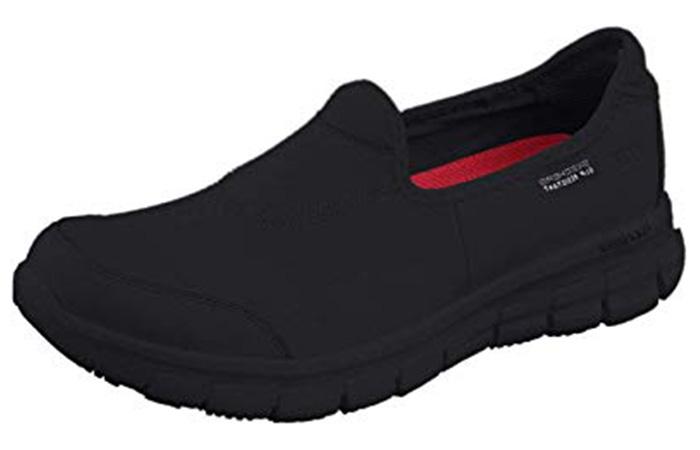 Once you get your hands on these uniquely designed, genuine leather shoes, you are not going to want any other! Designed with a slip-resistant rubber sole, these shoes are designed to keep your feet relaxed and have a soft fabric collar to prevent moisture and smell. The midsoles are crafted to provide better comfort and shock absorption. Featuring genuine leather construction, these are great for indoor and outdoor working environments.
Pros
The top panel is made from fabric that stretches
Slip-on pattern for comfortable fit
Memory foam cushioning
Shock absorbent and anti-slip
Meets ASTM F2412-05 standards
Cons
May not offer adequate support to wide feet
3. Skechers For Work Womens Squad SR Food Service Shoe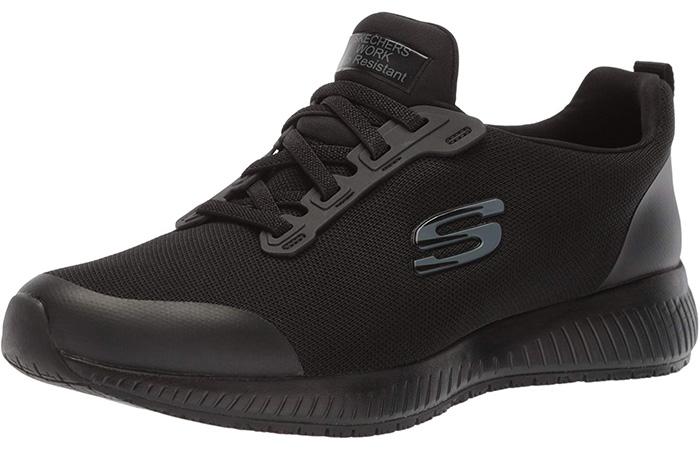 If you have not yet found your perfect work shoe, we recommend trying this one. These shoes feature a lace-up design that provides comfort and enough space for your feet. These are made from synthetic material and also feature a synthetic sole. These shoes are great for all-day wear and have a low top arch to keep your feet comfortable even if you are wearing one size larger. These anti-slip work shoes are great value for money!
Pros
Slip-resistant
Good arch support
Features a breathable lace-up pattern
Works well with inserts
Highly comfortable and durable
Cons
4. Skechers Work Footwear Womens Relaxed Fit Slip With Memory Foam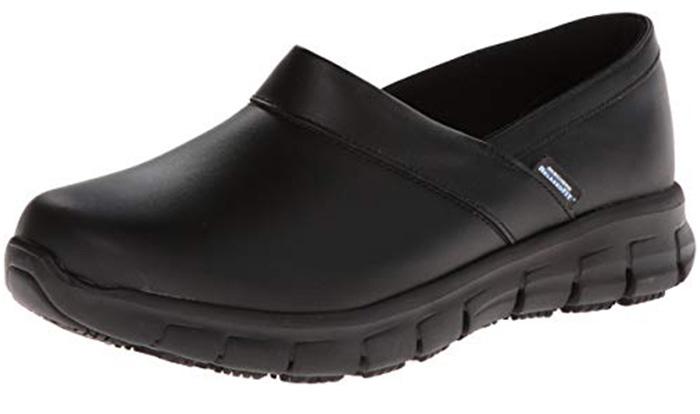 When you are investing a substantial amount of money for buying a great pair of shoes that lasts long, make sure you have a look at these Relaxed Fit Work Shoes from Skechers. The shoes are designed to offer a comfortable and roomy fit and slip-resistant outsoles so you can work in wet and damp conditions. These shoes are tested for protection against electrical hazards and also for compression and impact.
Pros
Lightweight and comfortable
Prevents slips and stumbles
Great value for money
Cons
5. Avia Womens Avi-Union Ii Food Service Shoe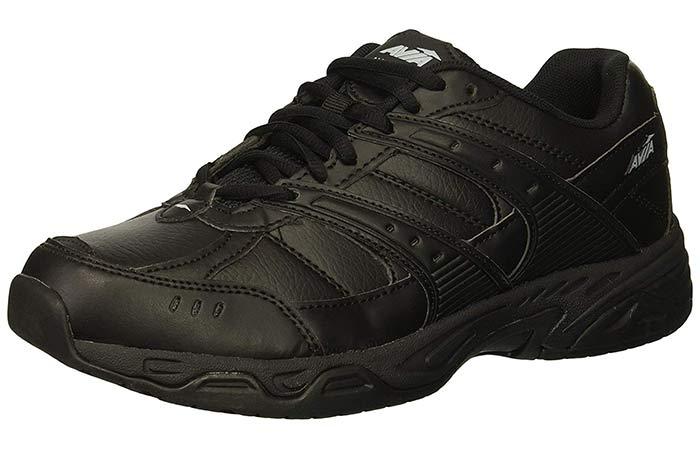 If comfort and flexibility are the two most important things for you, then these shoes are the ones you must get your hands on! They are designed with synthetic leather and memory foam sock liner for extra comfort. These shoes have rubber soles and are also stain and water-resistant. The rubber tread patterns offer an enhanced grip and make it oil and slip-resistant. These shoes remain true to their purpose, providing much-needed support throughout the day.
Pros
Rubber soles
Water and stain-resistant design
Rubber tread pattern for augmented grip and support
Goes with different work uniforms
Cons
6. KEEN Utility Womens PTC Oxford Work Shoe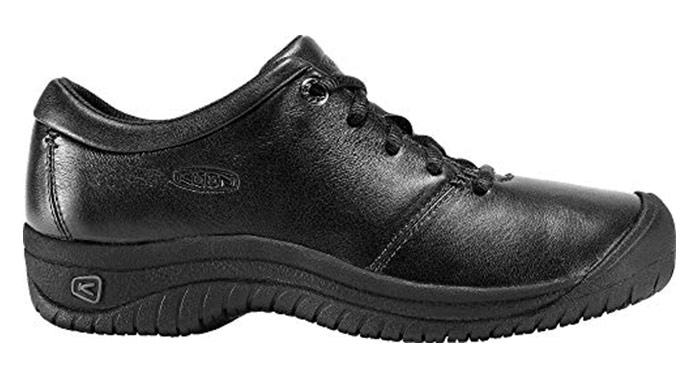 Professional-looking, breathable, and true to size, these are the qualities that describe this pair of work shoes. These shoes are the perfect footwear for nurses and food servers. Made using 100% leather, these shoes are slip and oil resistant. They have a lace-up pattern and are easy to wear and remove. The best part is that these shoes feature recycled PU, cork, and memory foam to offer comfort and support to your feet.
Pros
Cushioned footbed for better support
Memory foam support
Easy to clean and wipe
Oil and slip-resistant
Meets ASTM F1667-96 Mark II non-slip standards
Cons
7. Avia Womens Avi-Focus Food Service Shoe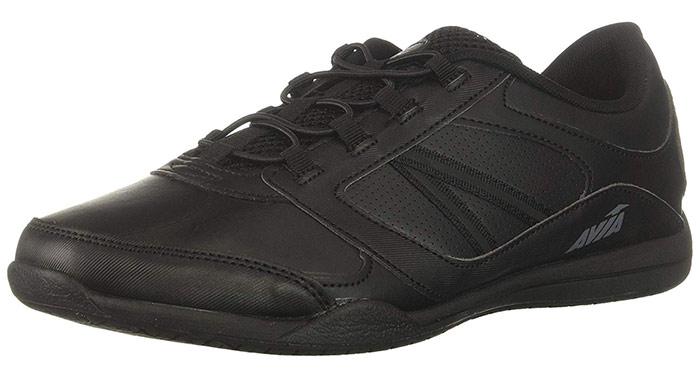 Finding the ideal shoes for work is not easy, but when you have a shoe that looks stylish, is comfortable and safe, you do not have to think twice. These server shoes with a rubber sole and lace-up pattern is an excellent option if you are spending long hours on your feet at work. These shoes are designed with a memory foam sock liner that offers an excellent grip.
Pros
Oil and stain-resistant
Memory foam cushioning for support
Provides room for toes
Durable
Cons
8. MOZO Womens Maven Food Service Shoe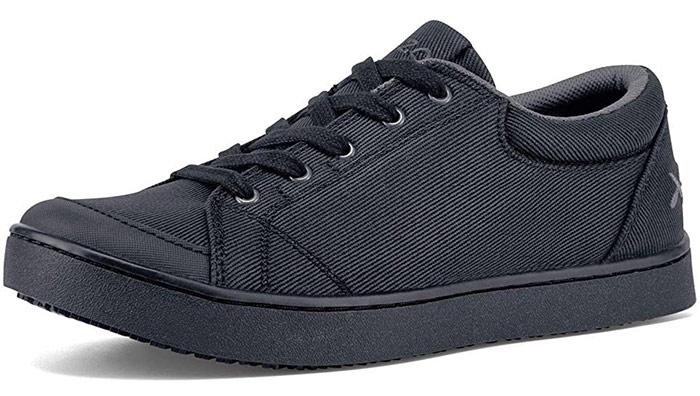 If you prefer sneakers or sport shoes, these canvas shoes are a great option. Not only do you get these at a great price, but you also get to choose from three different colors. The shoes are comfortable to wear owing to the lace-up design and elastic goring that makes it easy to slip them on. The shoes consist of gel insoles for a better fit and cushioning. The synthetic sole and canvas outer sole make it slip-resistant and durable.
Pros
Full-grain leather design
Water and slip-resistant design
Soft cushioning offered by gel insoles
Cons
Might offer a tight fit for wide feet
9. Skechers Work Footwear Womens Gozard Slip Resistant Shoe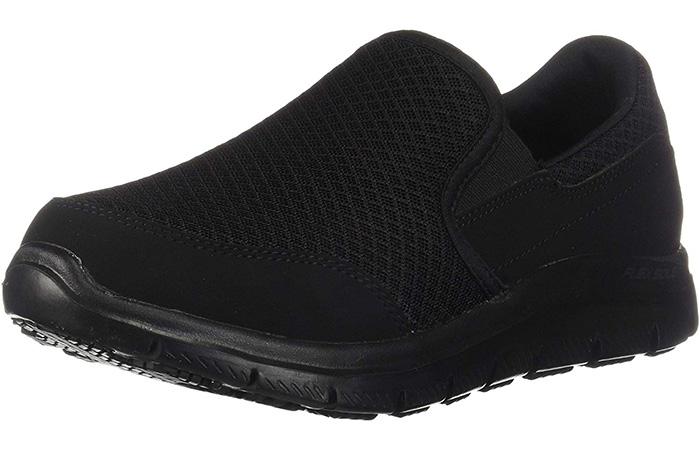 These shoes from Skechers are great for work as they are breathable and stylish for servers (waitresses) and nurses. This high-quality and glossy pair of shoes features a mesh covering for breathability, and memory foam that offers cushioning and support. It is also water and stain-resistant. These shoes are designed for all sizes and thus provide a relaxed fit to wide or narrow feet.
Pros
Safe and protective shoes
Slip-resistant shoes
Designed to provide room for toes
Comfortable to wear and take-off
Cons
10. Skechers Work Relaxed Fit Nampa-annod Service Shoe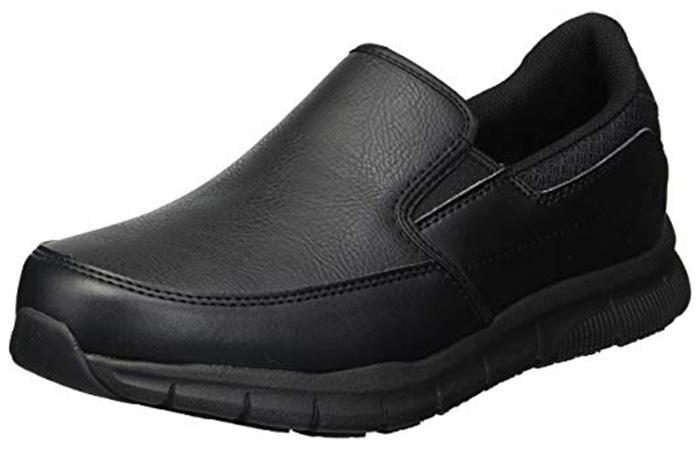 Does comfort top the list of features you look for in work footwear? Then these shoes from Skechers are highly recommended for you. These are designed to keep your feet relaxed and well-supported throughout the day. These slip-ons are not bulky and provide your feet the support they need, all day long. Featuring a rubber traction sole that is flexible, these shoes are easy to wear and take off. The Memory Foam insole ensures all-day comfort.
Pros
Durable
Sporty and casual design
Perfect arch support
Cons
11. Shoes For Crews Womens Liberty Slip Resistant Food Service Work Sneaker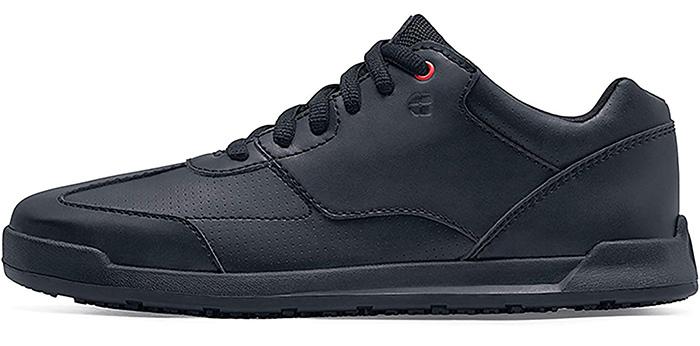 These shoes will offer you a great workday with its relaxed, comfortable, and padded fit. These shoes feature a rubber sole that provides better balance and arch support. These slip-resistant shoes can be used in humid or greasy work conditions and will prevent you from stumbling or falling. The padded collar and tongue can avoid foot aches or blisters.
Pros
Designed slip-resistant technology
Waterproof
Comfy and durable shoes
Lightweight and affordable
Cons
12. SafeTstep Slip Resistant Womens Kelly Slip-On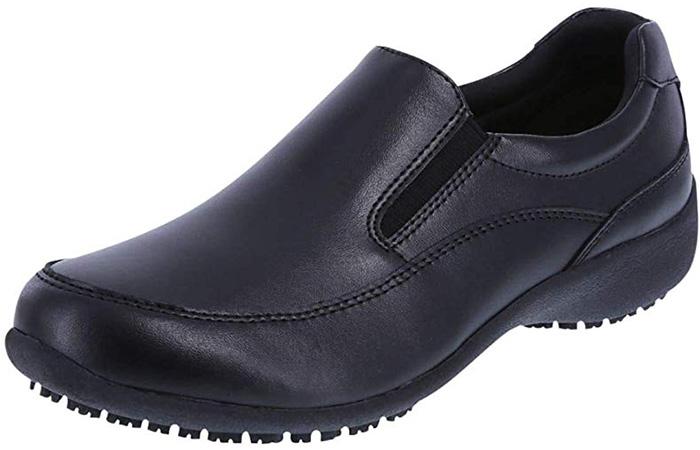 If you are seeking a stylish and sturdy pair of shoes, these slip-on shoes are just the perfect ones to get. The best thing about it is that they offer a lot of space for toes, and thus, are great for people with wide feet. The shoe is also comfortable to wear and remove, unlike other lace-up shoes. Apart from this, these shoes are also oil and slip-resistant.
Pros
Easy to wear
Stylish and heeled wedges
Designed with a non-marking outsole
Great for oily and wet working conditions
Cons
13. Dr. Scholls Womens Inhale Slip Resistant Sneaker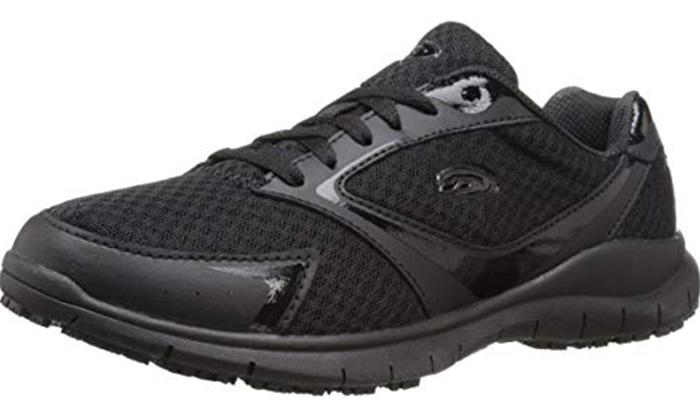 Shoes from Dr. Scholls are known to be very comfortable and stylish. Especially if you are a sneaker person, these lace-up work sneakers will keep you working hassle-free all day long. These shoes come with advanced memory foam insoles for better grip and support, while the insole channels promote breathability. They also have moisture-wicking lining, and the antimicrobial sock prevents foul odor.
Pros
Affordable
Moisture-wicking lining prevents smell and sweat
Cushioned sneakers for better grip
Comes with a moisture-wicking lining
Cons
Sizes run small
Hard insoles
Now that we have seen the top 13 server shoes this year, let us take a look at some of the things you must avoid if you are buying these shoes.
What To Avoid When Buying Server (Waitress) Shoes
The first thing to keep in mind is not to purchase sandals, ballet flats, boat shoes, or high heels while shopping for work shoes. These shoes do not offer enough protection or comfort for hours and may cause blisters and extreme foot ache.
As a server, you need to prioritize comfort and safety. The shoes, as mentioned above, are the most stylish and functional shoes for work, so wait no more and choose your best fit!
Do you have any queries regarding the products in this post? Do let us know in the comments below.
The post Top 13 Best Comfortable Server (Waitress) Shoes In 2020 appeared first on STYLECRAZE.