The Best Womens Winter Boots of 2020
From womens winter fashion to cold-weather hiking, and from deep-powder snow boots to insulated ice-grippers, weve got your feet covered with our list of best womens winter boots.
Depending on where you live, winter can mean frigid temps, mud and rain, piles of snow, or anything in between. With that in mind, weve tested a wide variety of boots and compiled our favorites that span all types of designs and uses.
Below, youll find boots separated into four categories: winter hiking boots,snow boots,extra-warm boots, andstylish winter boots.Of course, some boots could belong in more than one category, and this list doesnt cover every boot out there.
But its quite comprehensive, and if you need more help deciding, be sure to check out the buyers guide at the end of this article.
Weve tested all the boots we could get our hands on and used them through rain, snow, mud, and sun on countless adventures around the world. And weve whittled it down to our favorites here. These are the boots we recommend to family and friends, the boots we get excited to wear all winter long.

Best Men's Winter Boots for 2019-2020
From hiking boots to snow boots, these are the best men's winter boots of 2020; Including top picks from Sorel, KEEN, Kamik, and more. Read more
Best Womens Winter Hiking Boots
Just because its cold out doesnt mean you have to stop hiking. In fact, winter means fewer crowds and some amazing opportunities to have the trail all to yourself. Choose a boot that provides adequate grip and insulation, and winter hiking could soon become your new favorite pastime.
These boots are a great choice for both snowy hikes in the mountains and winter walks around town. The 200g Thinsulate insulation will keep your toes toasty, and the waterproof leather and UltraDry upper keeps water out while still allowing sweat to escape.
They also proved grippy through a variety of conditions including mud, muck, and snowpack. There was some slippage in extremely icy conditions, but overall we were happy with the traction. At 1 pound 14 ounces for the pair, theyre not ultralight, but theyre about as streamlined as a winter hiking boot gets.
If a running shoe and burly winter boot had a baby, it would surely be this hiker from Salomon. The carbide-tipped spikes give it plenty of grip while the cushioned midsole brings the comfort of a sneaker.
You get plenty of ankle support too. The GORE-TEX bootie kept water out, and we didnt have any issues with sweaty feet. Be forewarned, though: You could find these boots too hot in warmer conditions.
But for anyone looking for a solid, ultra-grippy winter hiking boot, this is just the ticket. The laces can be a bit slippery at first and come untied randomly. But after a few wears, we didnt experience any more lace issues. And because this is a supportive boot, we recommend breaking in slowly before logging big miles.
Looking for a mashup between a snow boot and a hiking boot? The Thermo Rhea could be just what youve been hoping for. The 2oog PrimaLoft insulation keeps feet warm without overheating. Theres also an extra 2 mm of insulation over the toes to trap in heat where you need it most.
And if, like us, you find it annoying to unlace every time you take your boots off, youll love the handy side zipper. Easily slide them on, then use the laces to fine-tune the fit.
And the Vibram Arctic grip works great in icy conditions. The 5mm lugs delivered plenty of traction on packed snow and frozen, wet stream crossings.
We found this mid-calf version offered plenty of protection from snow, but if youre looking for more, check out the Thermo Rhea Tall Boot ($220).
Anyone with wider feet will appreciate these winter-ready hikers. KEEN is known for having a roomier toebox, and these are no exception.
More than that, theyre ready to take on snow, sleet, and whatever Mother Nature serves up. The waterproof membrane keeps feet dry through surprise stream crossings and everyday winter muck. And the 2oo g of insulation kept our feet plenty warm (while hiking) in temps as low as 7 degrees F.
The tread isnt extremely aggressive, but we never had any slipping. It also makes these a more comfortable crossover for walking the dog or running errands around town.
They also have some great features for getting outdoors. The metal gaiter loop on the toe means you can easily hike in deeper snow. And the rubber protection on the heel integrates well with snowshoes. And, like all KEEN boots, they have a large rubber toe bumper to protect toes and increase durability.
Whether shoveling the driveway or hiking big miles, these boots will keep you warm, dry, and comfortable. Like most winter hiking boots, they have 200 g of insulation. On top of that, though, they also have wool-topped insoles to keep feet warm on bottom. The waterproof leather is impressively durable and has stood up to many rocky hikes and winter scrambles.
The directional lugs provide great traction and specialized winterized rubber soles are infused with silica to improve grip on icy surfaces. And it works. We ventured out on extremely slick roads and frozen trails and never slipped. The 7-inch height provides plenty of ankle support while still allowing full range of movement. But if you want even more, check out the Oboz Bridger 9-inch Insulated Boot($195).
Womens Snow Boots
From fluffy snow flurries to blizzards, windblown drifts, and slippery icepack, snow boots are a necessity in many places. They offer insulation, traction, and comfort on even the coldest days. Whether commuting across town, completing chores at home, or heading outdoors to play, theres a snow boot for you.
I had one pair of boots while motorcycle camping across North America, and they were Bogs. I can attest to their long-term comfort and impressive durability. These 100% waterproof boots will keep you dry through the wettest conditions, and the 7mm Neo-Tech insulation provides plenty of warmth, with a comfort rating of -58 degrees F.
I found they have great traction in wet, snowy conditions, and I especially appreciate the convenient pull-on handles. The laces are adjustable for a custom fit. And once set, Ive found you can easily just slide them on and off.
Best of all, these clean up great and are super durable. Ive used these daily for several months now, and they look and feel as good as they did on day one. Strong traction, easy on and off, and a durable design are the reasons these make one of the best womens winter boots around.
These waterproof, insulated boots will keep you plenty warm and dry on wet winter days. The 200 g of insulation kept our toes warm while walking the dog and shoveling the driveway. These are rated to -40 degrees F; we tested them in several zero-degree days and never had any issues.
The fleece lining adds warmth and does a good job wicking moisture if your feet overheat. We found they fit true to size, but if you prefer to wear extra-thick socks, you may want to go up a half size.
And if youre looking for an even more budget-friendly winter boot, check out the Kamik Momentum Snow Boot(starting at $60). Its not quite as warm as the Snowgem, but its a great value.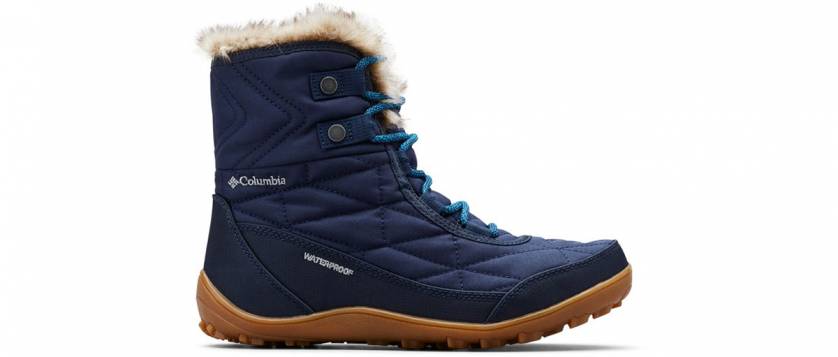 Looking for a light, flexible boot? Then you need to meet the Minx Shorty. Weighing in at 1 pound 6 ounces (for the pair), they wont weigh you down. Yet the 200g insulation and Omni-Heat reflective lining keep feet warm while adventuring outdoors.
The sole doesnt have extreme traction, but we never slipped while hiking on snowpacked ground or crossing the icy driveway. If you fully submerse your feet, water can leak in, but feet will stay dry during regular winter wear.
One caveat is that deep snow can sneak in the lower-height top. If you regularly venture out in deep snow, the taller Columbia Mid Minx III($90 on sale) may be a better option.
Calling all runners and comfort-seekers: These boots are like a warm hug for your feet. Runners and endurance athletes have long been singing the praises of recovery sandals, and now you can enjoy that same technology in a boot. The OOfoam technology absorbs 37% more impact than other shoes, which in turn lessens the stress on your feet, knees, and back.
If you spend a lot of time pounding the pavement, walking to work, or strolling with the dog, these will do your feet good. They will soak through if you stand around in a puddle, but they hold up great through normal winter use. And for every pair sold, the brand donates 3% to cancer research.
Sometimes you need a winter option that skirts the line between stylish and snow boot. The Merrell Haven does just that. The 100g insulation adds warmth without extra bulk. They provide just enough traction for slippery conditions but are also comfortable on city streets and sidewalks.
The 4.8-inch height is enough to keep ankles warm and dry, but they arent the best bet for tromping through deep snow. If you have high arches, you may notice a bit of pressure on the top of your foot. After a few wears, though, they broke in and comfort increased. This is a great snow boot for winter commutes and city pursuits.
Theres just something about these boots that makes you hope for a blizzard. The waterproof suede upper provides protection as you march through snow drifts, the seam-sealed waterproof lower keeps you dry even in the wettest conditions, and the faux fur trim adds a fun bit of flair. At times they can feel heavy on your feet, but its a worthy trade-off for sturdy, stylish snow boots.
And if you do get a pair, remember the tabs on the sides are not meant for pulling the boot on, but for removing the liner to clean. Save yourself tears over busted boots and avoid yanking on the tabs. Instead, place the boot on solid ground, loosen the laces as needed, and use your body weight to help slide your foot in. Now youre ready for a winter wonderland.
Extra-Warm Winter Boots for Women
Whether spending hours around the ice-fishing hole, trekking miles across Antarctica, or simply desiring extra-toasty feet while shoveling the driveway, these are some of the best, extra-warm womens winter boots.
This boot is ready for the most extreme conditions. If you hate the feeling of clomping around boots, look elsewhere. These big ol boots are large and in charge. But what they lack in sleek design they make up for in warmth and comfort.
The knee-high fit keeps snow out, and the rubber outsole keeps feet dry in even the sloppiest of conditions. Most of all, this boot is designed to keep warmth in. With a thick felt liner, a removable 13mm insole, and Omni-Heat reflective lining, they come with a comfort rating of -100 degrees F. Depending on your preferred sock thickness, go up a half or whole size for a comfortable fit.
These beasts have a comfort rating of -148 degrees F. Yes, you read that right: -148. Part of the Arctic line, theyre designed for extreme conditions. Totally waterproof and complete with a seven-layer inner boot system, these snow boots are ready for your next extreme winter adventure.
The cinchable top keeps snow out, and they provide plenty of traction in slippery conditions. Theyre not light or sleek, but they are warm. If cold feet are your problem, these could be the answer youve been looking for. They run small, so we recommend sizing up.
Stylish Winter Boots
Gone are the days when you had to choose between functional and fashionable winter boots. Thanks to the convergence of technical performance and designer style, its possible to pick a boot that works hard and looks good doing it. From tall boots to ultralight, packable boots, weve found the best styles that will still keep you warm, dry, and happy.
Cant decide between a winter boot and sneaker? Luckily, you dont have to with the Elena Mid. The waterproof leather keeps feet dry, and the insulation makes these boots rated to -4 degrees F.
The rubber toe bumper protects feet and adds an extra dose of durability. Most impressively, these have great traction. They look like a flat sneaker, but the rubber soles and unique pattern kept us upright on ice-laden commutes. We went up a half size, and the fit is perfect with a pair of midweight wool socks.

A great pair of leather boots will last for years. And these are excellent. The full-grain leather is strong yet supple and can be polished should they get scuffed.
And ECCOs freedom fit means a roomier toebox so no more squished toes. We were impressed that they were comfortable straight out of the box. Ive walked through giant puddles, navigated snowy streets, and trekked through various cities in these. Through it all, theyve kept my feet dry and comfortable.
The traction is suitable for urban winter outings but not meant for extreme use. And its worth mentioning that these arent insulated, so toes may get cold on the truly frigid days.
But if youre looking for a good-looking, hard-working tall boot, these could be the answer to your winter boot prayers. Yes, theyre an investment, but theyre worth it considering youll easily get 5 years out of them.
Are your winters mild and dry? If you call a warm climate like Southern California, Arizona, or Hawaii home, these will soon become your favorite boots. The Pehuea Hulu feel like slippers but work like boots. The full-grain leather ages well and is super durable. And the shearling liner is cozy and naturally wicks sweat.
The wool footbed is warm, comfortable, and helps regulate odor and temperature. And its easily removable if you prefer a specific insole. Plus, we really like that the side zipper makes for easy on and off. While not technically waterproof check out the Manu Hope($150) for that we logged many days walking on packed snow without any issues.
Anyone who loves their Birkenstock sandals will be excited to know the brand makes boots. Made with the same cork bed, these offer the same support and durability as your favorite sandals.
If youve never worn Birkenstocks, be forewarned that they take some getting used to. They cork footbed is contoured and supportive. They have a short break-in period, but the comfort is unsurpassed once molded to your foot.
These booties have a soft shearling lining that keeps feet warm and dry. They slide on easily and work just as well with jeans or leggings. For a more traditional snowboot design, check out the Birkenstock Woodbury Boot($171-229).

If youre after a light and fashionable minimalist boot that rolls up to the size of a water bottle, fits like a glove, and still offers plenty of wiggle room in the toebox, then look no further. The Boulder Boot has a zero drop and is a barefoot design. The outer material is made out of full-grain leather, and the inner liner is 100% cotton.
All said and done, a size 43 boot comes in at 9.9 ounces. And they pack up super small. These are the perfect boot for your next overseas or domestic adventure. Check out our full review here.
How to Choose a Winter Boot
A boot thats perfect in one scenario may be miserable in another. So before you invest in winter boots, take a moment to consider how youll use them. Here are a few things to help when choosing a winter boot:
Do you need a waterproof boot?Will you often be wearing the boots in rainy, wet conditions? Is slushy snow a common occurrence? Waterproof is great, but it often comes at the cost of breathability and excessive heat retention. It can be worth it, but if you live in a milder climate, water-resistant may prove a better fit.
Does tread matter?These days, shoe sole technology is a science all its own and can truly make or break the shoe. If you find yourself walking and hiking in icy conditions, pay special attention to the tread grip and look for one designed for ice.
Whats up with liners?Many boots have replaced the liner with insulation directly in the boot. The benefit of the liner is you can remove it and set it out to dry between uses. The downside is liners can sometimes cause extra movement and friction, which can lead to blisters and discomfort.
Which boot height is best?The main considerations with height are ankle articulation, keeping snow out, and, in some cases, fashion. If you regularly get out in deep snow and want a lot of support, choose a taller boot.
---
Have a favorite boot we missed? Let us know in the comments for future updates to the article.
---
Your feet are now ready for winter. But what about the rest of you? Find a favorite flannel to stay cozy all season long.
Best Women's Flannels of 2019: A Shirt for Every Budget
We test and review the best women's flannel shirts of 2019, including top flannels from Patagonia, Kitsbow, Topo Designs, Carhartt, and more. Read more
The post The Best Womens Winter Boots of 2020 appeared first on GearJunkie.