The Best Slippers for Women of 2020
— Recommendations are independently chosen by Revieweds editors. Purchases you make through our links may earn us a commission.
If your feet could talk, oh what stories they would tell. After all, they help support you most of the day. But if youre like most people, theres nothing that says home sweet home after a long day at work than slipping into a pair of comfortable slippers. And when the weather outside gets miserable, we rely on them to protect our feet and keep them cozy. That said, no two slippers are the same.
Finding the perfect slipper is a bit like being Goldilocks and those famous three bears. So, we scoured the Internet for the best slippers. After hours of testing, the Minnetonka Chesney Slippers (available at Amazon for $39.95) is our top pick. Not only are they super comfortable, but they're also durable and provide a ton of support. If you're looking for another kind of slipper, don't worry. From loafers to moccasins, we've got plenty of other options to chose from.
These are the best slippers for women we tested ranked, in order:
Minnetonka Chesney Slippers
Eucoz Moccasins Slippers
Sorel Nakiska slippers
UGG Deluxe Loafer
Vionic Gemma Mule Slippers
LL Bean Wicked Good Moccasins
BOBS from Skechers Women's Keepsakes Ice Angel Slipper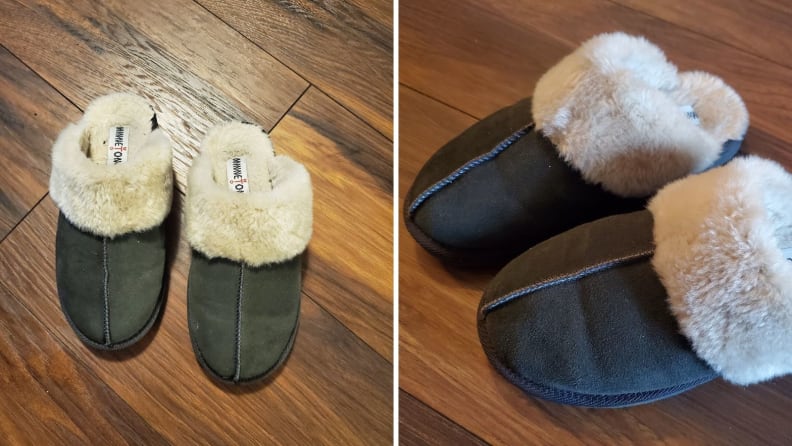 How We Tested
The Tester
Im Katherine Brodsky, a freelance journalist and copywriter who frequently writes about entertainment, culture, travel, and tech for publications such as The Washington Post, The Guardian, Variety, Delta Sky Magazine, CNN, The Independent, Esquire, and many others.
When I travel, I spend a whole lot of time on my feet, but I also spend a lot of time at home writing, so naturally, I wear slippers a lot and expect them to take good care of my frequently aching feet. I also expect them to be durable so that I dont have to replace them too oftenneedlessly breaking my heart each time theyve reached their end-of-life cycle. And because things must spark joy, according to Marie Kondo, I am fond of aesthetics that do that for me. Sometimes, however, that leads to my staring at my feet more than the computer screen that Im meant to be filling with words. But such is the life of a writer.
The Tests
After spending considerable time scouring the Internet for some of the most acclaimed slippers at various price points, I decided to put seven slippers to the test.
Working with Revieweds senior scientist, Julia MacDougall, we came up with a list of both objective and subjective questions and tests to put these slippers through the wringer. Whats the comfort and fit like? Are they difficult to put on/take off? How about at night? Do they retain odors? Can they grip a wet surface? Are they easy to take care of? Whats the overall experience like? Would I wear them again?
Another crucial element to consider is care. Unfortunately, most quality slippers arent designed to be thrown into the washing machine. They need to be hand-washed or spot cleaned, which is a bit of a hassle.
When I finished my rigorous testing over a period of about a month, making sure that I wear each pair of slippers long enough to really get a good feel for them, we rated various categories depending on the importance and tabulated scores.
Why Should I Wear Slippers Indoors?
There are probably more reasons to wear slippers inside the house than you think. Of course, one of the main reasons is that they keep your feet warm. But thats far from being the only reason. You see, slippers keep your house clean compared to wearing regular shoes inside. But even if you're a sock wearer or prefer to go barefoot, the oils from your socks/feet can stain the floor, depending on the type of material used. Keep in mind also that socks have a tendency to wear down much faster when worn around the house. Slippers also have more grip and can prevent accidental slips. Plus, you decrease your odds of stabbing yourself by stepping on something sharp. It will also prevent wear-and-tear on your socks, which arent designed for walking around in without some sort of shoe.
How Should Slippers Fit?
For optimal comfort and fit, you should make sure to leave some room (around 3/8 to ) between your longest toe and the end of the shoe. You want to make sure that youve got a snug fit so that your foot doesnt slip when you walk, but at the same time, you want to avoid an overly snug fit. The ball of your foot should fit comfortably into the widest part of the shoe. Keep in mind that if you want to wear your slippers with socks, youll need to go a size bigger to accommodate. Open-back shoes tend to be the best option for those wholl be wearing socks with their slippers.
Types of Slippers
Theres quite a variety! Theres open-back and closed slippers, moccasin slippers, slipper socks, slipper boots, spa-style flip flop slippers, and even slippers that can be worn outdoors in a pinch. Slippers can also be made of a variety of materials, which will affect how they feel, durability, and warmth. Theres sheepskin slippers, cotton slippers, slippers with rubber soles, fleece-lined, wool and fur lining, synthetic linings, and others.
How to Wash Slippers
How you take care of your slippers depends on what materials they are made of. Always refer to the manufacturers guidelines for care instructions. Generally, if youve got cotton slippers, you can machine wash them gently in warm water and air dry. Of course, you can also wash them by hand by soaking them in soapy water. Do not wring them as it may cause them to lose their shape.
For suede shoes, it's best to wipe them with a damp washcloth or a baby wipe. For any bigger stains due to mishaps, youll need to spot clean with a gentle brush and mild detergent.
For leather slippers, make sure you use a cleaning product specifically formulate for leather and remove dirt with a cotton cloth. Again, baby wipes can also be used to take care of any scuff or odors.
Other Things to Consider
Whats the weather? Will you be wearing your slippers in the summer or dead of winter? How warm or cold do you run? Some people will need to wear slippers with much warmer linings, whereas others may find them uncomfortable. Its all about your personal preferences, but an important factor to consider when looking for slippers to buy.
---
Other Slippers for Women We Tested
More Articles You Might Enjoy