Hello! How are you doing?  We were on holiday last week – oh, doesn't it feel good to be able to say that again?!
We went to Snowdonia, an area in Wales which is just under 2 hours away from our house but once you're among the trees and the mountains, you could be a million miles away.  Would you like to have a look around?  There are lots of photos, so you might want to get yourself a brew!

We do like Wales very much (one particular seaside town even inspired one of my Winwick Mum yarn colourways!) and because Wales is an excellent place for all kinds of adventures, we decided that we would base our holiday around the Adventure Parc Snowdonia (previously called Surf Snowdonia) and do some watersports and other activities rather than expect the weather to be good enough for snoozing in the sunshine.  I think we might have had our snoozing in the sunshine moments for this year in the UK!
This might look like a bit of an industrial place for a summer holiday but this is the surfing lagoon and behind it the newly-built hotel which we stayed in – like everybody else, we haven't been on holiday for quite some time so there was a bit of holiday money saved up to splurge!  The surfing lagoon was built on the site of an old aluminium works in 2015 and originally just offered glamping pods as accommodation (you can still hire those).  The concrete pontoon in the centre is part of the Wave Garden surf machine which runs along the centre of the lagoon and creates waves up to 2 metres (6.5 ft) high.  It's actually very sustainable as just next to the hotel is a hydro electric power station which uses rainwater from a high up local reservoir.  The water from the lagoon comes from the power station once it's been used and it then goes back into the river, and the power station provides the power for the wave machine.
The way that the wave works makes it suitable for everybody from experienced surfers to beginners (we had our session booked for later in the week!) and it was also used for paddle boarding and open water swimming too, so it seemed that someone was in the water pretty much all the time that there was enough light to see.
This was the view from our room and I never got tired of hearing the wave machine start up (it sounded like a Tube train) and seeing the wave travel from one end of the lagoon to the other.  When the machine is running, there's a new wave every 90 seconds which is just about time to get back onto your board ready for another go, but more of that later!  In the following photos, you can see the wave at its highest point on the left with an experienced surfer just about to "pop up" onto their board.  The people over to the right on the brightly coloured surf boards are beginners waiting for the smaller wave.
Pretty much every time a beginner class started, the first wave would flip them all over and off their boards (it's called a "wipe out") and make us laugh … even though we knew that would be us later in the week! 

We started out with paddle boarding and picked up a few new tips which will be useful when we go out on big daughter's board again.  It wasn't all water sports during our holiday though – there are both indoor and outdoor activities available at the Adventure Parc – and the next day we moved on to "freefalls and zipwire".  I've got to be honest here – whilst I was looking forward to the zipwire across the lagoon, the "freefalls" bit wasn't selling itself to me!  Do you see that red arrow on the photo there?
That's where you stepped off the building, dropped for about a metre and a half before being held firm by the red rope and then lowered to the crash mat at the bottom.  Oh, and it's 12 metres (39 feet) up.  Is it selling itself to you?!
We were all set to do this thing.  We had our harnesses on, we were weighed to make sure we would be safe on the harness and the rope, we climbed up lots of stairs and we took our turn to step out to the gate where we were attached to the rope, told not to look down but instead to look out at the trees and to step confidently off into thin air.  I watched not-so-small daughter (I've really got to rename her as she's taller than me now!), my husband and then big daughter disappear over the edge, got myself roped up, strode confidently to the edge – and I couldn't do it.  I felt my stomach drop through the grid floor that I was standing on and there was no way that I was going to step off that platform and fall for any distance before being caught by a rope.
I was quite surprised – I had thought that I'd be OK once I was there.  I spoke to the instructors who were at the top with us, I looked down (I thought it might help to see how far I had to drop), I looked at the trees.  I went to the back of the queue, fully expecting that next time, I'd be OK because everyone else had done it, no ambulance had been called and I knew what was coming.  But no.  If there had been a solid rope to hold onto (think Tarzan!) I would have been absolutely fine, or if my family had been in danger I wouldn't have thought twice, but it turns out that freefalling for personal entertainment is not for me.  In fact, if anything, I felt more proud of myself for not doing it when I really didn't want to than forcing myself and hating every moment.  The zipwiring which came next was amazing – and I still don't regret not stepping out of that building!
Adventure Parc Snowdonia is in a place called Dolgarrog; there's not a great deal there, to be honest, apart from the hydro electric station and the surfing lagoon and associated activities, but there is a sad story to the place as there was a disaster in 1925 when the dam of the reservoir that powered the aluminium works burst its banks and water swept down the hill and into the village, killing 16 adults and children.  There's a memorial walk up the hill through trees and the boulders that were brought down by the force of the water; it's a peaceful place now but I was still glad to get back into the sunshine.
Dolgarrog is inland from the popular coastal towns of Conwy, Colwyn Bay and Rhos-on-Sea and close to Llandudno, all of which we've visited many times, and not far from Betws-y-Coed, another place that we've been to before, although not for many years – I looked up the blog post from when we last visited and was surprised to see that it was in 2016!  We took a walk along the river but couldn't cross the river as the Miners Bridge we used last time had gone, whether through bad weather or the years taking their toll we didn't know.
We did plenty of walking on the holiday which was lovely – the dog didn't come with us so he missed out on that (he does like paddle boarding but we weren't sure he'd cope with a surfboard

) but he does enjoy going to the place he goes for his holidays so we didn't feel too bad.  My husband and not-so-small daughter took their bikes and they went off one day along the Wales Coast Path and big daughter and I followed a guide book footpath route from nearby Trefriw to Llyn (Lake) Geirionydd.  It was a beautiful day, probably the best weather day of our holidays and big daughter and I started off with a breakfast of eggs on toast at Mary Bella's cafe …
You quite probably didn't need to see my breakfast (although they were really good dippy eggs on toast!), but it was the plate that caught my attention.  My Nan used to have those plates – the pattern is called Indian Tree – and I haven't seen it for years.  You might remember these plates (or even have them!) too!
Fortified by our breakfasts, big daughter and I set off up the hill following the footpath past the Fairy Falls (a waterfall so-named by the Victorians who saw fairies in every romantic setting) towards Llyn Geirionydd.  The book said that it was a "slight incline" and the book fibbed.  It was blooming steep, taking us up and up through the trees with occasional glimpses of the valley and old mine workings below.  At last, we reached the lake and we were very glad to sit down for a few minutes!
It was lovely; the air was warm, there was nobody around but us and a few people at the other side of the lake.  We could have been the only people in the world up there!  Big daughter dipped her toes in the water and we sat and chatted, breathing in the clear air and enjoying each other's company.
Then it was time walk on, past the memorial to Taliesin, the historical Chief of Bards, Welsh singer and advisor of kings, including King Arthur.  I love stories of people who might be historically real or might be mythology – perhaps they are both – and up at the lake at the top of the mountain, you could believe that he was really there many centuries ago.
The guide book had us walk the length of the lake and then follow footpaths up another hill through pine trees …
and across fields and somebody's garden (really!  There were stiles on both sides!), down through dense overgrown bushes (we did wonder at that point if we'd gone wrong) and onto a forest road (which we discovered really was the wrong road) until we found the right path down, down, down the hill past more old mine workings.  This was quite a spooky path; the mine workings were fenced off for safety but we could see that huge holes had been cut into the side of the rock and disappeared into darkness.  There were abandoned stone buildings and metal structures covered in thick moss and there was not a sound to be heard.  I tried to take a photo to show you but it's difficult to see – it was quite difficult for us to see at times, but we resisted the temptation to try to get any closer just in case we didn't make it home!  In this photo, the dark shape that you can see is a cave cut into the rocks which we could see all the way through and which seemed to go down for a very long way!
We said more than once as we walked on and on past more and more of it that it would make a grand film set for some Hobbit-type film, although once the film crews moved in then the eeriness of the place would be lost forever and that would be a shame.
The guide book took us through a farm yard and up another hill to St Rhychwyn's Church, said to be the oldest in Wales (I think their information board said the oldest in Britain).  It was a funny, crooked place with a door latch held by a wooden peg; I was surprised that it wasn't locked and that visitors seemed to be welcomed, but we didn't actually go in and it didn't feel right to take photos – instead, you can see inside the tiny church in this article here.
By this time, big daughter and I had walked further and for longer than we had expected – the guide book said the circular walk was 6.5 miles and I knew we would do that easily, but had forgotten to factor in the time and effort to climb the hills.  We were on the final stretch when we got lost.  The book told us to follow a path next to a fence; we had a choice of two fences and what could have been a footpath sign was so faded that we didn't want to follow it up yet another hill to find that we'd gone wrong.  Instead, we decided to follow the road back (hooray for Google maps!) even though it would be longer, and after walking down a hill so steep that we felt we could almost slide down on our bottoms, we were very pleased to find ourselves back in Trefriw after about another 4o minutes' walking.  According to my Fitbit, we'd walked 10 miles and we'd been out for several hours.  Phew, we were a bit tired!  My husband and not-so-small daughter had cycled further than they had intended as well so none of us were very sociable until we'd had a snooze – because you can do that on holiday, can't you?!

The next day was our surfing course.  My husband, keen not to lose his glasses as we were swept off our boards, swapped himself onto an extra paddle boarding session so it was just the girls and me who headed to the Surf Academy for our wetsuits.  Well, what can I tell you?!  It was great fun, I was so very glad that I'd been doing some home workouts (inspired by Lucy) over the last couple of months to get fitter, I realised that my core strength isn't quite as strong as it probably needs to be and that somebody was probably laughing at me being tipped off my board as much as I'd been laughing at other people!  Oh, we certainly got swept off our boards – I must have spent at least half of the first session under the water and I was very glad that my husband hadn't risked his specs!
It's all about balance, really.  When the wave approaches, you start paddling and your board lifts as the wave picks you up.  It's called "catching the wave" and when you do it right and the water propels you across the lagoon it feels like flying.  It's brilliant!  We started to get the hang of it reasonably quickly, although within seconds of catching the wave, you're supposed to "pop up" from a prone position to standing.  I have to say that there wasn't much popping occurring on my board, although I did manage to crouch and balance a couple of times which pleased me no end.  I also did this quite a lot …
This is my family's favourite photo of me surfing.  Naturally, nobody got a photo of the moment that I actually stood up!
We were glad to get home for a rest!  By the time we'd visited Conwy and Llandudno (where not-so-small daughter was mugged by a gang of seagull thugs who decided they would rather eat the donut in her hand than let her have it) as well, we felt as if we'd been away for a really long time and it had been a really good break.
Did I manage any knitting?  WIPs as well as wipe outs …

  Not as much as I expected, although I think we're probably all guilty of packing far too many yarny projects to take on holiday (often at the expense of clothes!

) and then find that we haven't as much time as we thought.  I did get the toes finished on the stripy Scheepjes socks and started the second one, and I did some more work on a commission sock (I will be very glad to finish all of these now so that I can talk to you about what I'm knitting!) so at least I managed to get some rounds in, but I think that perhaps as the weather wasn't hot or sunny then we didn't do as much sitting around as we might have done – which is always a good excuse to knit!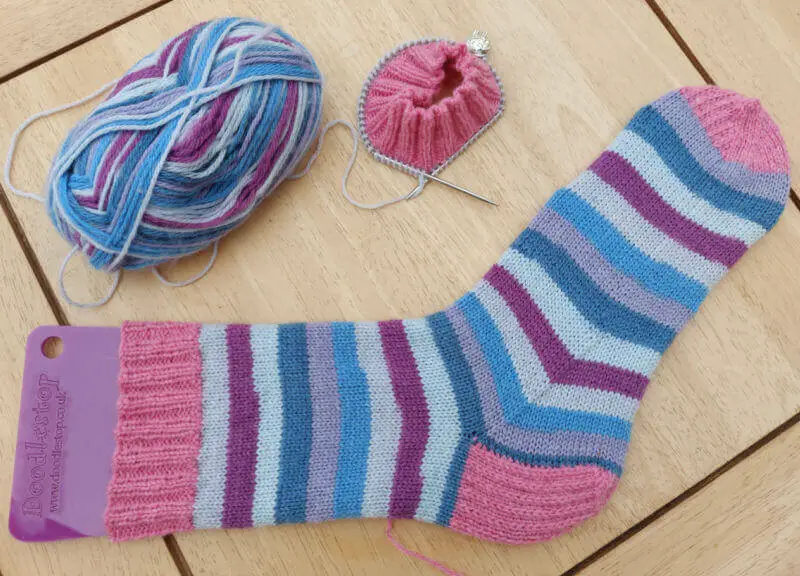 Phew, I did warn you that this was a long post!  You probably need another brew now, and it's time for me to put the kettle on too.  I hope you're having a lovely summer, whatever you're up too … I'll be back on the blog soon! xx
The post Snowdonia summer holiday appeared first on Winwick Mum.