Shawn Levy Says The Real Steel Series Is Coming Along Nicely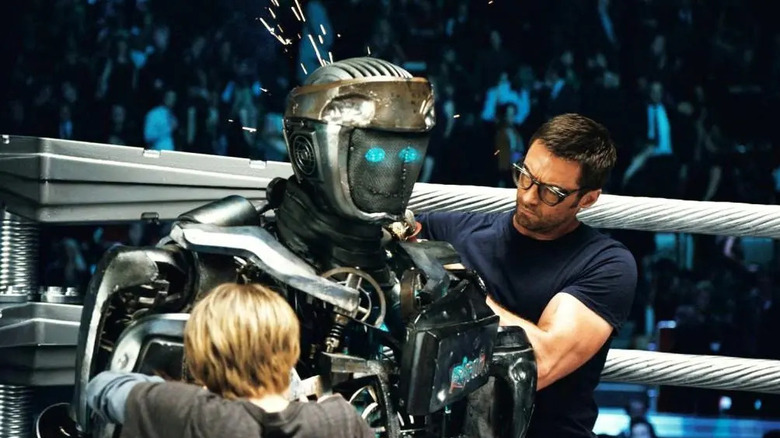 Last we heard, a "Real Steel" television series was in development, bringing the story of prizefighting mecha bots to streaming giant Disney+. Based on Richard Matheson's 1956 short story and Shawn Levy's feature-length 2011 adaptation, the sci-fi series welcomes Levy as executive producer under his 21 Laps entertainment label, and Levy reports that the project is progressing smoothly.
Levy's 2011 "Real Steel" film observes a near-future world where human-controlled robots go toe-to-toe in professional boxing matches. Has-been prizefighter Charlie Kenton (Hugh Jackman) tag-teams with his estranged son (Dakota Goyo) to rebuild a scrappy dilapidated sparring bot into the people's champion. It's a story about pining for the glory days and of undefeatable human resilience, and it will have you shadowboxing to Eminem's "Till I Collapse." /Film's Ethan Anderton sums up the underdog tale as "'Rocky' meets 'The Iron Giant' with a big beating Amblin heart," the kind of sports comedy you don't see from the big studios nowadays.
Continued love for the movie convinced Levy that the "audience is still there" for further exploration of the story, and he recently confirmed to Collider that the upcoming series has some forward momentum now that he has an "exciting" place to take the narrative:
"I will say that we heard a lot of pitches. And I realized, over the course of those pitches, that I am fiercely protective of 'Real Steel.' I'd rather make no show than the wrong show. And I finally heard a take that takes the lore of the movie and does some really exciting things with it. I'm finally getting really excited about where we're headed."
Plot details on the series are being kept under wraps for now, so let's look back at the original story that replaces human warriors with machines.
Rock 'Em Sock 'Em Robots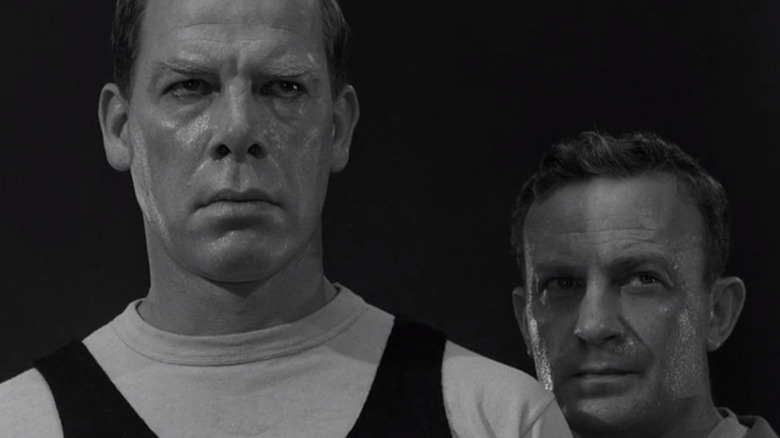 Richard Matheson's short story "Steel" was first published in "The Magazine of Fantasy & Science Fiction" and hit newsstands in May 1956.  Matheson's tale would find its most famous iteration in Rod Serling's original "Twilight Zone" TV series under the episode title, "Steel," which first aired in October 1963. That episode is set in the oppressive heat of what was then the future — the summer of 1974 — but still retains the central conceit of humans' decline in the face of technological advancement. Human boxing has been abolished by law and only automaton droid fighters are allowed to step into the prizefighting ring.
The title refers to "Steel" Kelly, played by a stiff-upper-lipped Lee Marvin (who had previously starred in the spooky 1961 "Twilight Zone" episode, "The Grave") just two years before he'd pick up a Best Actor Academy Award for his dual performances in "Cat Ballou." Kelly, a former boxing champion, spends much of the episode with the outmoded heavyweight android that he manages. Desperate for a $500 fight payment that would fund repairs for the robot and transportation back home for its manager, Kelly opts to disguise himself as an android and fight the formidable tricked-out robot Maynard Flash to collect the cash. It goes about as well as you'd imagine. 
Rod Serling's closing narration of the episode observes "Steel" as proof that "no matter what the future brings, man's capacity to rise to the occasion will remain unaltered." It's here that Levy might find the through-line for the "Real Steel" series: Not in brawling bots, but in the tenacity of the human spirit.
Read this next: 12 Underrated Sci-Fi Shows That You Need To See
The post Shawn Levy Says the Real Steel Series is Coming Along Nicely appeared first on /Film.