Marui Department Store - Enjoy Japan's Kawaii Fashion And Culture
Marui - Convenient One-Stop Shopping
Yurakucho Marui. Picture courtesy of Marui
Have you ever heard of Marui, a fashion store complex that is particularly popular in Tokyo? It is filled with brand shops that handle the latest apparel and accessory trends. The complex also has a wide variety of cafes and restaurants that make it the ideal place for enjoying shopping at leisure.
Every shop has characteristic features, so the atmosphere differs slightly from place to place.
In this article, we introduce Shinjuku Marui Annex, the perfect place for shoppers infatuated with cute goods and Lolita fashion. We also feature Shinjuku Marui Main Building, which has a beautiful green garden, and Ueno Marui, with details on their popular shops and convenient services for travelers.
Great Access! Marui Stores near Train Stations
The Marui Department Store has thirteen locations in Tokyo. Most stores are in major business and transportation hubs such as Shinjuku, Ueno, and Shibuya. The stores are all directly connected to the nearest train station and are reachable within a ten-minute walk.
Large stations in Tokyo tend to be surrounded by many buildings. But if you remember Marui's logo mark (〇|〇|), you'll be able to find the store right away!
Shinjuku Marui Annex - Enjoy Japan's Kawaii Culture
Shinjuku Marui Annex will be right in front of you if you use the C4 Exit of Shinjuku-Sanchome Subway Station. From JR Shinjuku Station, the store can be reached in about six minutes on foot.
In addition to holding anime and game events, Shinjuku Marui Annex has many shops that specialize in Lolita fashion. This is the ideal place to enjoy Japan's subcultures.
The store has foreign language-speaking employees to assist international customers. Visitors to Japan can enjoy stress-free shopping here.
Surugaya
Surugaya specializes in second-hand goods. Here you can purchase items like game software, character figurines, and plastic models.
The entire fifth floor is comprised of retail space. They have items you may recognize from your childhood, new products, and even some items that are not for sale. You won't believe the variety of goods they have in stock!
In one corner of the fifth floor, all the items cost 300 yen or less. Here you can find stuffed animals, keyholders, metal badges, and other fascinating goods. It feels just like a treasure hunt!
BABY, THE STARS SHINE BRIGHT
If you're a fan of Lolita fashion, then BABY, THE STARS SHINE BRIGHT is one shop you shouldn't miss. The shop is filled with princess dresses and similar fashion.
If you look closely, you can see that even the lace and frills have detailed, beautiful designs. Each item in the store is obviously made with care and attention.
They also carry items related to the popular characters Usakumyachan and Kumakumyachan.
In addition, you can find bags, parasols, and a wide variety of accessories and small items. You'll be able to coordinate your wardrobe perfectly from head to toe.
ALICE and the PIRATES
ALICE and the PIRATES is a fusion brand that combines the cuteness of Lolita fashion with the coolness of its unisex style. "Alice strays into the world of pirates" is the underlying concept of the store.
The shop handles playful, spirited clothes. All the items look as if they had suddenly leapt out of a storybook.
The shop also carries menswear, including pants and jackets. Couples can enjoy purchasing matching wardrobes.
Cinnamoroll Cafe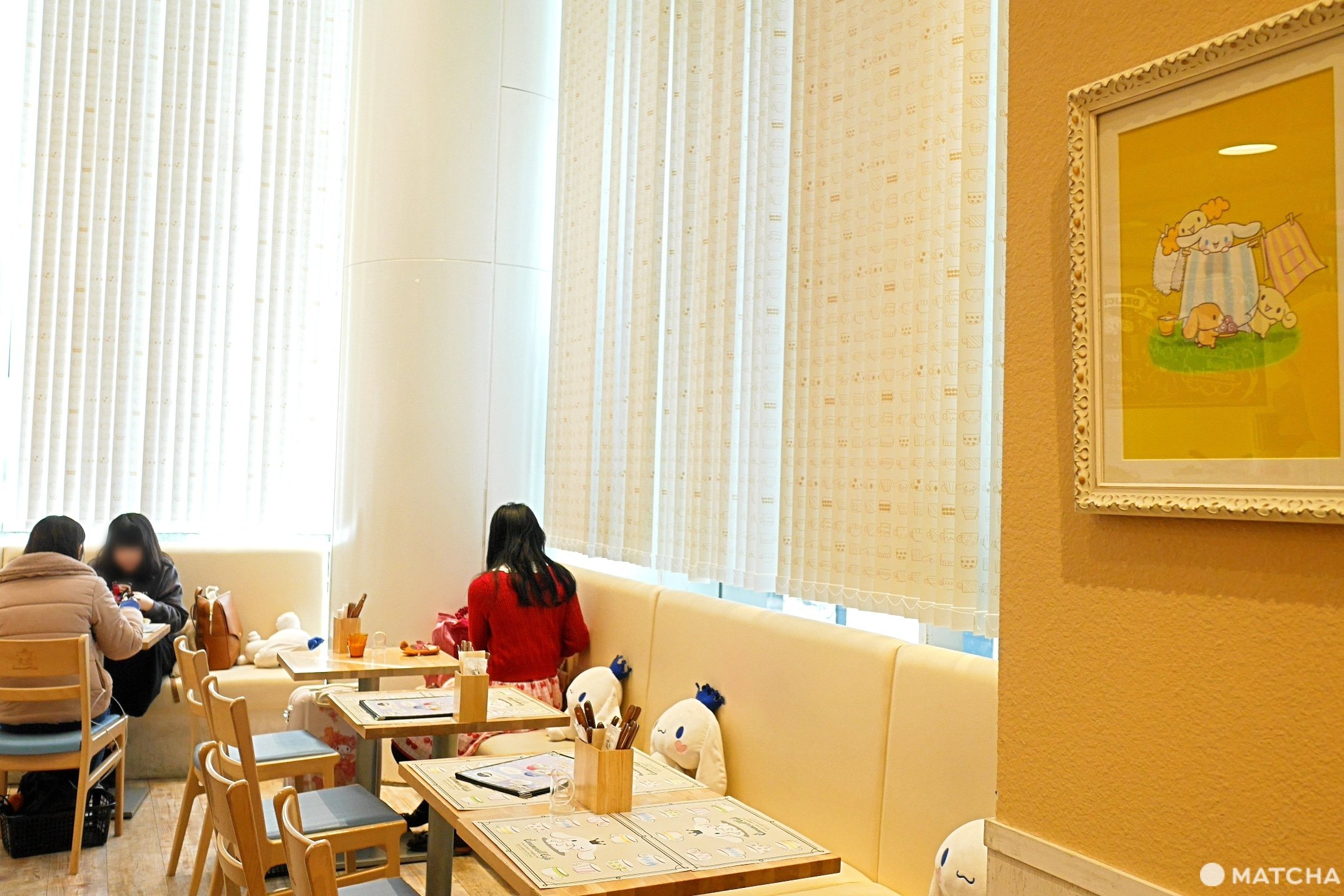 Cinnamoroll Cafe is based on Cinnamoroll, a very popular character. The cafe interior is decorated with pictures and motifs of Cinnamoroll and his friends. This extremely cute cafe will take you out of your everyday routine into a relaxing world of kawaii.
Visitors are allowed to take photos on the shop premises, so snap away!
Many of the cute food items are in the shape of popular characters. But, make no mistake, this is good tasting, authentic food that will satisfy your appetite.
Try ordering the popular oyasumi omuraisu (1,380 yen before tax) together with a cute cinnamon latte chino (780 yen before tax).
Shinjuku Marui Main Building - Visit Their Rooftop Garden!
Shinjuku Marui Main Building has nine floors and a total of 130 shops.
They specialize in fashion accessories, with many shops selling shoes, bags, cosmetics, and other goods. However, the complex has one more convenient spot that is getting a lot of attention, where shoppers can relax during their shopping break.
Q-COURT is a space on the rooftop that can be accessed free of charge. This is a little-known rest spot where you can spend some relaxing time away from the hustle and bustle of the city. Q-COURT has an English-style garden filled with seasonal flowers and shrubs.
There are plenty of benches and tables, and visitors are allowed to bring food and drinks here to enjoy the rooftop!
After a full day of shopping at Marui Main Building, come here and take a well-deserved rest break.
Ueno Marui - Filled with Famous Japanese Shops!
Francfranc. Picture courtesy of Marui
tutuanna. Picture courtesy of Marui
Ueno Marui is located in front of Ueno Station, a bustling area visited by thousands of people every day.
The fashion building rises from the basement second floor up to the ninth floor. There are many popular Japanese brands inside, including tutuanna, a cute sock and underwear brand, and Francfranc, which specializes in interior items.
The complex has several men's fashion stores and miscellaneous goods shops. Even visitors on a tight schedule can enjoy doing all their shopping in one place.
Information Center - Convenient Information for Hassle-free Shopping
Picture courtesy of Marui
On the second floor of Ueno Marui, look for the Information Center offering convenient services for visitors. For example, there is a foreign currency exchange service, a duty-free counter, and car rental or baggage delivery services, to name just a few.
The lounge area has free Wi-Fi and a place for recharging your cell phone.
In addition to Japanese, staff can also assist visitors in English and Chinese. This makes it the perfect place to get sightseeing information for Ueno.
A shop called ecbo cloak offers baggage storage services (reservations required). Make use of their convenient service if you have large luggage so that you enjoy sightseeing in Ueno hasslefree.
Ueno boasts wonderful places to visit such as Ueno Zoo and the Ameyokocho Shopping Street. Ueno Zoo is famous for its pandas, while Ameyokocho is a lively area with countless grocery stores and supermarkets, clothing shops, and miscellaneous goods shops.
After completing your shopping at Ueno Marui, leave your bags at the Information Center and go off and explore the local area on foot!
An Original Shoe Shop!
Though Marui offers numerous popular fashion brands, there are many shops that handle the private brand series RAKUCHIN. This series carries a full selection of very attractive items.
In the Japanese language, "rakuchin" means comfort without stress and worry.
According to the floor manager, they consider customers' input and suggestions when designing products for the RAKUCHIN series. Above all, the comfort of the shoes is always a priority.
In addition to shoes, the RAKUCHIN series includes bags and clothing. As expected, all their products are highly functional!
RAKUCHIN pumps—which have a good reputation and a loyal following—can be worn for long periods without your feet getting tired.
The company creates original foot patterns for the shoes. The bottom of the feet and the toes, areas where the weight falls, get full cushion support.
There is a range of sizes available, from 19.5 to 27.0 centimeters. Customers can even choose their preferred shoe width with some models. Even those who've struggled to find properly fitting shoes will be able to find the most suitable pair.
Picture courtesy of Marui
Picture courtesy of Marui
If you'd like to have your own original pair of sneakers, we suggest going to es at Yurakucho Marui.
Various brands of sneakers, including Nike and Converse, can be customized with the accessories that are sold here. They carry a full selection of accessory charms from all around the world.
How about buying one for a friend, not to mention one just for yourself?
When Shopping in Japan, Come to Marui!
Marui offers much more than popular fashion. They have been encouraging Japanese subculture as well.
Marui locations throughout Japan hold many anime, manga, and game-related events and limited-time shops.
These special shops sell items that are not available anywhere else, so when visiting Japan remember to check for event information!
How about making full use of Marui, a department store filled with endless highlights, and enjoy your shopping experience even more?
Visit the Marui official website for details.
For the latest news and announcements, check the Marui official Facebook page.
Written by ISHIGAKI KUMIKO
Sponsored by MARUI GROUP CO., LTD