Eight Awesome Custom Closet Ideas for Your Closet Renovation in 2019
Check Out These 8 Incredible Walk-In Closet Ideas For Your Closet Makeover In 2019!
Do you find yourself drooling overcelebrity homeswishing you could live in the lap of luxury?
Lets face it who wouldnt want those huge backyard pools, restaurant-sized kitchens and luxurious walk-in closets?
While you may not be able to upgrade your entire home to look like a billion-dollar mansion, there is one area you can improve: your closet!
Thats right, you can create an amazing walk-in closet without it costing you an arm and a leg. Youll finally have enough room to display all your clothes without forgetting aboutwhats crammed in the back or having to pack away out-of-season clothing.
Do you want to know how? Keep reading to discover 8 incredible closet ideas you need to try ASAP.
Closet Idea #1: Incorporate Shelves & Cubicles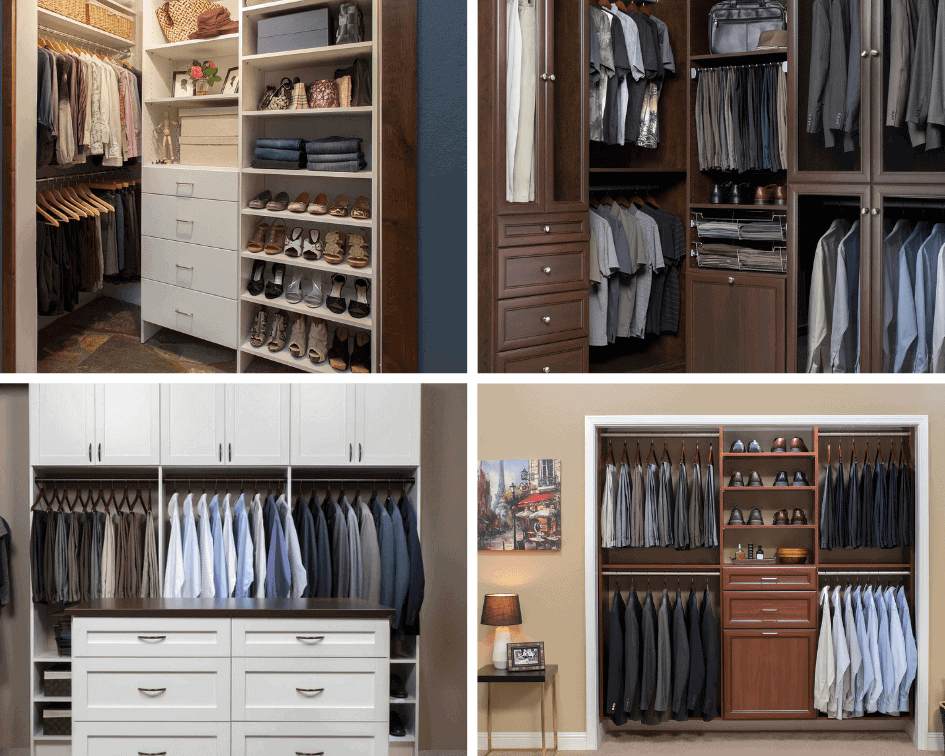 Your closet doesnt just have to include clothes racks. In fact, the best closets include a variety of storage solutions.
You may want to incorporate vertical shelves to store your shoes or cubicles to display hats and purses. Mixing up your storage solutions will make your closet look more like the inside of an upscale boutique and give you plenty of options to organize your clothes.
Closet Idea #2: Use Drawers
One of the best parts about creating a walk-in closet is you can finally get rid of that huge dresser in your bedroom. Of course, this means youll need to find room for your underwear, socks, and pajamas.
Drawers offer the perfect solution. You can install thin drawers or usedrawer dividersto keep everything organized. Say goodbye to digging through your sock drawer for 20 minutes looking for that one pair of stockings!
Closet Idea #3: Make His & Hers Sides
While the idea of having a walk-in closet all to yourself sounds tempting, youll want to make sure your husband has room for his clothes, too. But, your needs for a closet may not be the same.
He may want one two-tiered rack for this clothes and the rest of the closet as drawers, while you may want a single-tiered rack for your dresses, some double-tiered racks for shirts and skirts and then just a few drawers.
Sure, you can have one wall for just drawers and one for just clothing racks, but then all your clothes will be stored together. This doesnt make forgreat organization.
Instead, separate the room into his side and her side. Feel free to organize your own side with however many drawers, racks, cubicles, and shelves you need. Not only will your side be organized just the way you want it, but itll be easier to find your clothes when you dont have to sort through his in the process.
Closet Idea #4: Install Two-Tiered Clothing Racks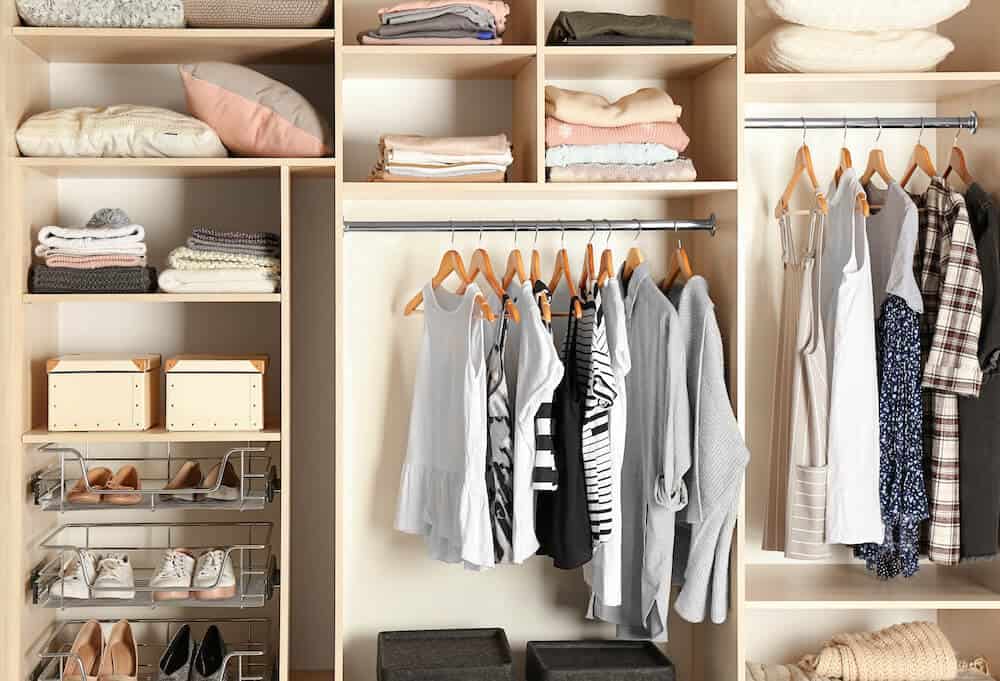 Chances are, your current closet has one clothing rack going across it and a shelf on top. But, this leaves a lot of unused space. Instead, consider installing two-tiered clothing racks. Your shirts, sweaters, and skirts wont be touching the bottom of the closet anyway. So, you can double your storage space by including this second clothing rack under the first.
Of course, you should also consider including a single-tiered clothing rack, too. This will give you plenty of room to store your long dresses and pants. Plus, you can still utilize that empty space by installing a few drawers or cubicles.
Closet Idea #5: Add a Mirror or Two
Do you like to try a few different outfits on before heading out the door? Imagine how inconvenient it would be if you had to walk out of your closet to look at yourself in the mirror just to walk back in your closet when you decide you want to change.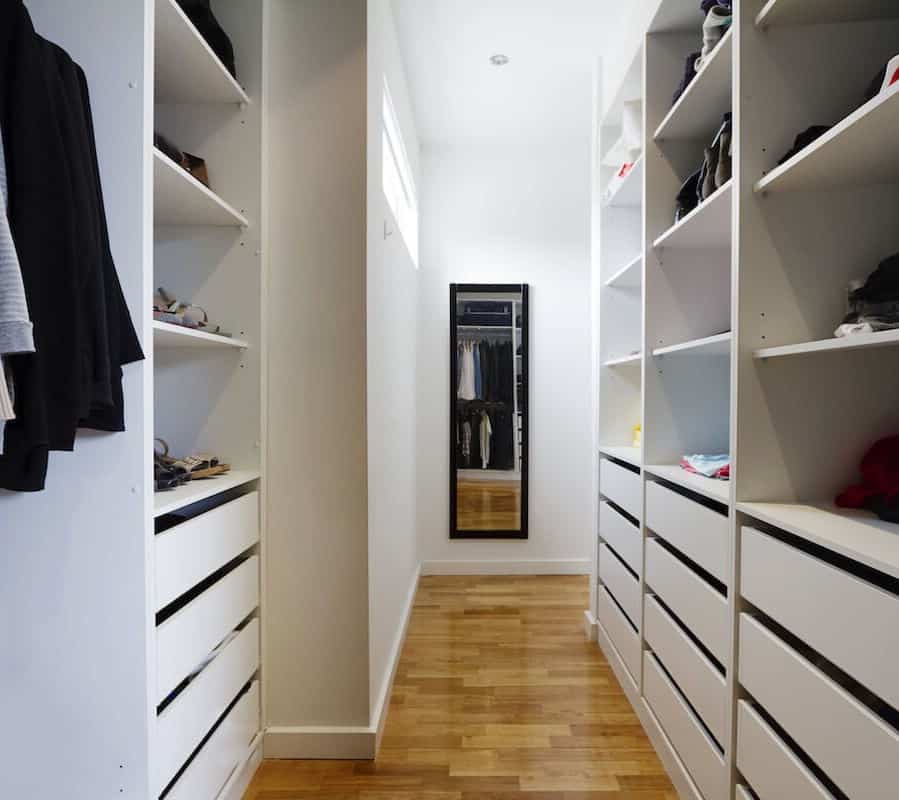 You can solve this problem with many options such as rotating mirrors, pull-down-from-ceiling mirrors, hanging a full-length mirror on the back wall of your closet and more.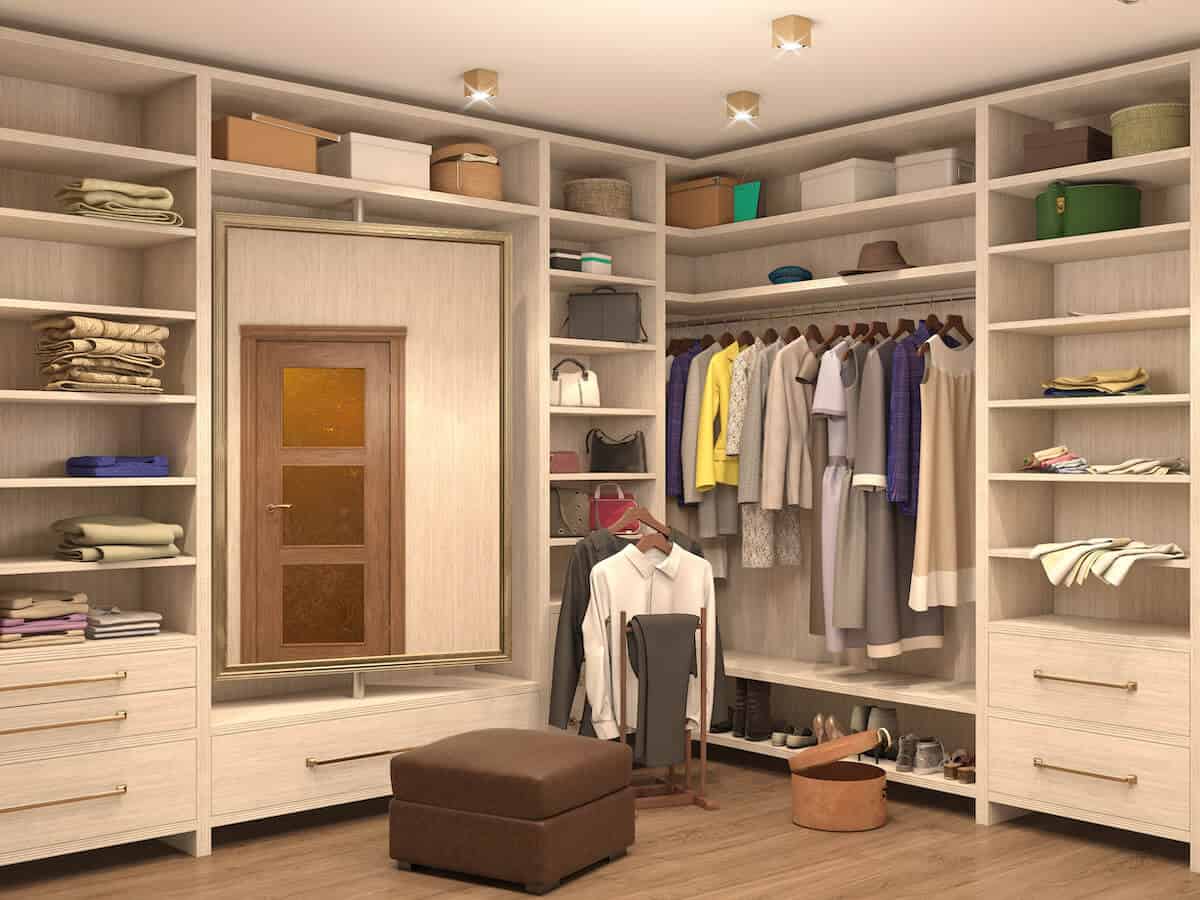 Not only will it make it easier for you to see your outfits, but it can make the room appear larger by reflecting light. Imagine it, and well create it.
Closet Idea #6: Add Decorative Touches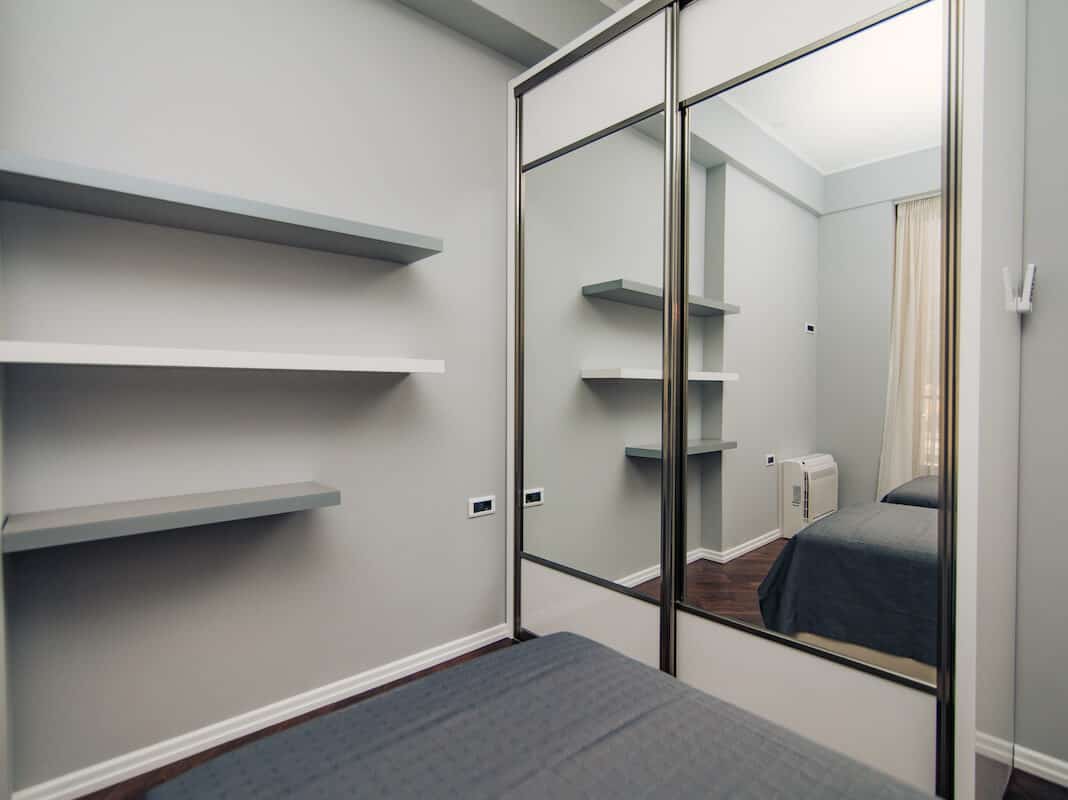 You Want Your Closet To Be Functional, But You Also Want It To Be Stylish.
Adding decorative elements is what will take your new walk-in closet to the next level and make it look like it belongs in a mansion.
If youre aiming for luxury
Consider decorating with a chandelier, a fuzzy rug, and a tufted ottoman.
If you want something more fun and colorful
Create a statement wall using lights, glass and/or bold-patterned wallpaper or brightly-colored paint.
Closet Idea #7: Plan to Store Jewelry
Of course, no outfit is complete without the right accessories.
If you want everything located in one convenient location, be sure to think about how youll store your jewelry.
You could create built-in shelves and hooks into the wall and attach your full-length mirror like a door to keep all your jewelry hidden away. You could also opt to use thin slide-out drawers or dedicate a cubicle for your jewelry box.
Closet Idea #8: Use Glass Doors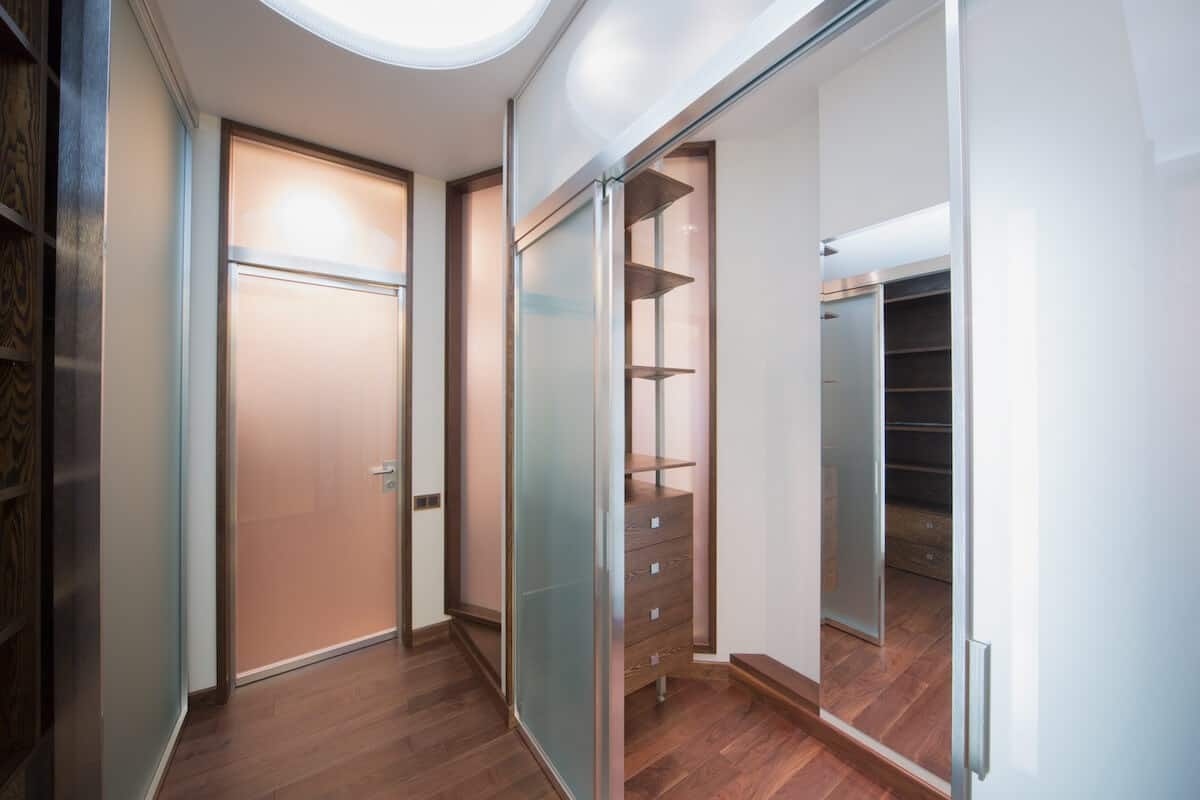 We all have those dresses and suits we need to keep for special events, but we dont wear that often. They normally end up crammed in the back of the closet where they get creases in them or they end up all dusty.
Of course, you can use garment bags to protect them. But a more stylish solution is to use glass doors. Constantly opening and closing these doors can get annoying when you have to do it every day, so be sure to set aside a rack just for your special occasion clothes and only install the doors here.
Get The Best Closet Ideas for Your Home
If you want to upgrade your home, start by creating the ultimate walk-in closet! Just follow our closet ideas to make the most out of your new closet, no matter the size. Are you ready to create the closet of your dreams? Then contact us today to book a design consultation.