DIY Funny Socks with Sayings If You Can Read This, Bring Me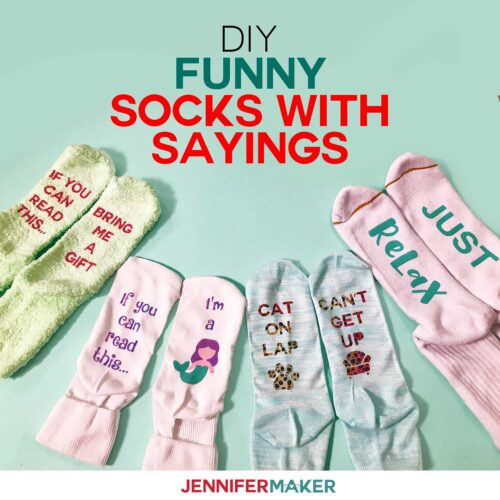 Learn how to make adorably fun and personalized socks great for movie nights, curling up with a good book, or crafting your time away! These DIY funny socks with sayings make great gifts, too! I teach you how to make these fun socks with either Infusible Ink or iron-on vinyl in this tutorial.
Have you seen those socks with sayings on the bottom of them, so when you put your feet up, they say Coffee please or Bring Me Tacos? They are SO cute. And perfect for wearing around the house this time of the year I, myself, am a great lover of socks. The only problem with these socks is that it can be hard to find just the right saying in just the right style. But when you can make your OWN socks, and personalize them however you want, suddenly all options become available! So for Day 21 of The Great Maker 25-Day Gift-Away Challenge, I am showing youhow to make super cute socks with sayings.
What is The Great Maker 25-Day Gift-Away?This is anannual traditionhere at JenniferMaker! Every day for the first 25 days of December, we gift you with a brand new project, design, tutorial, and video for something YOU asked us to make. On top of that, we host a giveaway with 25 prizes, everything from Cricut cutting machines (four of them this year!) to project prize packs with all the materials for popular JenniferMaker projects to beautiful print editions of our popular Cricut Coach Playbook. You can even earn bonus entries for making the daily projects! Click here to learn more about The Great Maker 25-Day Gift-Away!
See exactly how to make these fun socks with sayings in my tutorial video, or keep scrolling to read the tutorial:

What kind of socks do you use for this project? The type of socks you prefer to wear and buy will determine HOW you make your sock sayings. If you buy cotton socks, youll need to use iron-on vinyl. If you buy polyester socks, you can use a flexible iron-on vinyl like Cricut SportFlex. And if those polyester socks are also white or light colored, you can use Cricut Infusible Ink! Between the three materials, Infusible Ink is by far my favorite. It stretches right along with the sock and its not coming off any time soon, unlike some of the iron-ons. That said, if the sock is just meant to be worn once in a while, any of these materials are probably fine. Your choice!
I have links to all the socks, vinyl, and Infusible Ink I used for this project below (under Materials). In addition to the socks and material, you need a way to cut your material, like a Cricut cutting machine, a way to press it onto your sock, like an EasyPress, some parchment paper, and some card stock. A lint roller is also a great idea!
Ive made 10 different sock designs that you can use freely youll find them over in my free library here on my blog. Let me show you where to get them, then Ill show you how to cut them out and get them onto your socks!
Ready to make your own cute customized sock sayings? Im excited to show you how! This post contains some affiliate links for your convenience (which means if you make a purchase after clicking a link I will earn a small commission but it wont cost you a penny more)! Read myfull disclosure policy.
Materials to Make Adorable Personalized Socks With Sayings on Them
How to Make Funny Socks with Sayings
Step 1: Get my free sock saying designs
My free sock sayings SVG cut file contains 10 different designs to make your own slipper socks. Get my sock designsfrom my free resource library (get the password to the library in the form at the bottom of this post).
Heres what the SVG cut file will look like when you upload it to Cricut Design Space:
Tip: If youre not sure how to upload an SVG cut file to Cricut Design Space, watch this helpful video training series I made. If youre on an iPhone or iPad, heres how to download and upload SVG files to the Cricut Design Space app.
Step 2: Prepare your Sock and Design File for Cutting
Measure your socks so you know where your sayings can go and what size you should make them. To do this, take a piece of white cardstock, fold it in three lengthwise, and insert it into the sock all the way to the toe. Make sure your socks bottom is centered, then measure the space on the bottom of the sock with a ruler. Keep this paper in your sock for later.
Now pick which design you want to put on your pair of socks based on the available space, or design your own!
Youll also want to decide if you want to make your personalized socks from iron-on vinyl (HTV) or from Infusible Ink. I think Infusible Ink lasts longer and looks nicer, but you do have to use white or pastel socks that are all or mostly polyester for it to work. If you dont have Infusible Ink, or want to use a dark-colored sock, you can just use iron-on vinyl instead.
Dont forget to mirror your image! You need to mirror regardless of whether you cut with iron-on vinyl or Infusible Ink.
Step 3: Cut Out Your Sock Design
Using a green standard grip mat, place your chosen material on the cutting mat, select the proper cutting material, load your fine-point blade into your Cricut machine, and press the flashing button to begin the cut.
Note: I had to send my Infusible Ink transfer sheets back through for a second cut in order to weed them easier. To do this, press the C button after your first cut finishes and BEFORE you unload the mat.
Step 4: Weed Your Cut Design
Make sure to carefully weed your design by removing the excess material around it.
If youre weeding iron-on vinyl, its helpful to use a weeding tool.
If youre weeding Infusible Ink, its recommended that you employ the cracking method. To do this, peel the cutting mat away from your cut design (which is what I always recommend anyway), then slightly bend and roll the cut paper until you hear a little cracking sound (which happens as the cuts separate). Dont worry if your design lifts off the liner a bit. After you crack your cut design, just take away the excess paper and youll be left with just your design on the liner.
Step 5: Position Your Sock on the Pressing Mat
With the folded cardstock still in your sock, position the sock with the sock bottom up and the heel closest to you so that your design is readable when you can see a persons feet up. Smooth out the bumps as best you can. See my video for the exact placement of the sock.
Step 6: Place Your Sock Design and Press
Cover with parchment paper and pre-heat the sock for 15 seconds.
Run a lint roller over the sock to remove stray fuzz.
Now, place your sock saying design in the center of each of your socks, cover again with parchment paper, and press again. If youre using Infusible Ink, press for 40 seconds at 385F. If youre using iron-on vinyl, check the Cricut Heat Guide for the exact pressing time and temperature.
Step 7: Let Your Personalized Socks with Sayings Cool
Let your socks cool before trying to peel up the liner. Once cooled down from hot to warm, carefully pull up the liner and enjoy your cozy new socks!
Care Instructions: If you make the iron-on vinyl socks, youll want to mostly just lounge about in them, or I think the vinyl would eventually start to wear off with all of the abrasion from walking. Turn them inside out when you wash them to keep them looking good for as long as possible. If you make the Infusible Ink socks, you can do anything in those and they should stay looking good for a long time to come!
Get my free SVG files to make your own customized socks with sayings on them!
Id love to see your wet vinyl projects and all the other fun ideas you come up with to use spray bleach! If you make one, please share a photo in our Facebook group, email it to me at hello@jennifermaker.com, or tag me on social media with #jennifermaker.
Love,
The post DIY Funny Socks with Sayings If You Can Read This, Bring Me appeared first on Jennifer Maker.