DIY Etched Casserole Dish: Personalize a Glass Pyrex!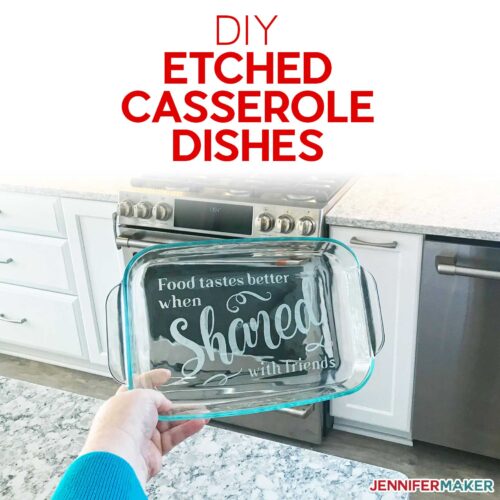 Learn how to etch casserole dishes, even glass Pyrex bakeware, with personalized and beautiful designs. Etched glass casserole dishes make great wedding and housewarming gifts!
A year ago I taught you how to etch glass the easy way using a vinyl stencil and some etching cream, and weve all had so much fun etching things since then. Using this technique, you can personalize nearly any glass, including wine glasses, coasters, and decorative glass plaques. Its really quite easy! But what if you want to etch glass BAKEWARE, like a Pyrex casserole dish? Can you do it and still put food in it? Oh yes, you can and Im going to show you how in this tutorial!
Watch the full step-by-step tutorial on how to make etched casserole dishes on YouTube:
Now, glass etching is nothing more than roughening up the surface of the glass in specific areas to create a design. You can do it in a bunch of different ways, but the easiest way is do it chemically using an etching cream. You can literally just paint the etching cream on your glass, wait a bit, and rinse it off, but its much more effective and attractive to create and apply a vinyl stencil and THEN put the etching cream on, and thats the technique I am teaching you today.
So for this tutorial, youll want a glass casserole dish, or really any glass bakeware will do. Ive heard reports that older Pyrex casserole dishes, like those made before 1998, were made of a different type of glass (called borosilicate) that is harder to etch. But all the Pyrex casserole dishes sold in the U.S. since then etch just as well as any other sort of glass. So dont worry too much about this unless youre using a pretty ancient casserole dish. For this tutorial, I am using a two quart 7 x 11 Pyrex oblong baking dish that I bought from Amazon links to everything in this tutorial are in the videos description.
You also need some permanent adhesive vinyl and a way to cut your stencil from it, such as a Cricut cutting machine. I recommend permanent vinyl over removable vinyl because it will form a tighter seal, and thus a better and clearer etched design.
And, of course, you need the etching cream itself! I use Armor Etch glass etching cream and it works great. You dont need much either, so a little goes a long ways.
Other useful things to have when etching your glass bakeware include transfer tape for getting your stencil onto your bakeware, alcohol to clean your glass surface before applying the stencil, masking tape to make sure you dont etch outside your design, and tools like a paintbrush, a weeding tool, and a scraping tool.
And a word about safety be sure to read the instructions on the back of your etching cream bottle, especially the safety precautions and what to do if get some cream on you. You should be fine if you wear gloves, an apron, and eye protection while youre working with the etching cream.
Now, the key to etching glass casserole dishes and any other glass that will come into contact with food is to put the etching on the OUTSIDE of the glass, so that means either on the dishs underside or outer sides. This allows you to cook food in the bakeware normally without any harm to the etching. In the process of etching, a very thin layer of glass is removed and that area becomes susceptible to staining from food. But if you keep the etching on the OUTSIDE, it pretty much never touches the food and stays looking great. And I will show you how to apply your stencil to the underside of your dish so your design shows through properly!
The only other thing to take into consideration is the raised lettering that usually appears on the bottom of the glass bakeware. I personally dont care about the lettering and just ignore it. The etching cream still works on it. But if the lettering bothers you, you can just place your design around the lettering by measuring and moving your design elements before you cut your stencilI explain how to do that in my tutorial on how to make vinyl decals for kitchen appliances.
To get your started on this project, Im sharing several free stencil designs for glass casserole dishes. So let me show you where to get the free designs on my blog at JenniferMaker dot com, then Ill show you how to etch your casserole dishes with the stencils and etching cream!
Ready to make your own etched casserole dish? Let me show you how!! This post contains some affiliate links for your convenience (which means if you make a purchase after clicking a link I will earn a small commission but it wont cost you a penny more)! Read myfull disclosure policy.
Materials to Make Etched Casserole Dishes
Etched Casserole Dish
This etched casserole dish is simple and fun to make, and is a lovely hostess gift!
I love personalizing my Pyrex and other glass bakeware with etched designs. Not only do they make great housewarming and wedding gifts, but theyre awesome to make for yourself for things like potlucks and family dinners. I mean, if you use a personalized Pyrex, youll always get your dish back, right?
If you have any questions on how to personalize your dishes with etching cream, let me know! Ask a question in the comments below this video, or come on over to my Cricut Crafters Facebook group at jennifer maker dot com slash cricut crafters
Get my free SVG files to make your own Etched Casserole Dish!
Id love to see your etched casserole dish, pie plate, and other bakeware! If you make one, please share a photo in our Facebook group, email it to me at hello@jennifermaker.com, or tag me on social media with #jennifermaker.
Love,
The post DIY Etched Casserole Dish: Personalize a Glass Pyrex! appeared first on Jennifer Maker.