Chiyoji Socks - A Japanese Brand That Will Keep Your Feet Cozy Forever!
Chiyoji Socks: A Japanese Brand Created From Meticulous Craftsmanship
Currently, 90% of the socks in Japan's domestic market are imported (*). Chiyoji Socks (Japanese) is a domestic company that manufactures and sells high-quality, yet reasonably-priced socks. Chiyoji is especially known for making socks with comfort, quality, and simple style.
Today, we take a look at this brand hailed for its functionality and topnotch design. We visited the production factory, which is usually not open to the public, and the shop in Kobe, where these wonderful socks can be purchased.
*Statistics are based on sock supply-demand trends from the Japan Socks and Stockings Association (Japanese).
Where Chiyoji Socks Are Made
Chiyoji Socks are made at a Chiyodaseni Industries (Japanese) factory located in the Banshu area of Hyogo Prefecture. The area was once known for its cotton cultivation. Since its establishment in 1951, the company has become a long-standing shop for three generations and continues to be run by President Hasegawas family. The sock display and sales of the socks take place at the workshop pictured above.
The manufacturing workshop is surrounded by nature. Hyogo Prefecture is makes the second largest amount of socks in Japan according to statistics by the Ministry of Economy, Trade, and Industry (Nara Prefecture produces the most).
A Workshop with 60 Knitting Machines
For this article, we were specially allowed to tour the workshop where the socks are manufactured. Knitting machines are lined up in rows. Each employee works hard, whether it be setting up the threads, controlling the devices, or checking on sock quality. The socks are made carefully one by one.
Threads are stocked at one side of the workshop. The thread is mainly made of natural materialssuch as cotton, silk, or woolbut is also mixed with synthetic strands for elasticity. While there are colorful threads like those pictured, there are also threads in unbleached colors.
This is a circular knitting machine that sews in a spiral shape using a needle that moves vertically.
When knitting the sock's heel, only half of the circle on the heel is sewn before the rest of the sock is completed.
The sewn sock is flipped inside out to sew the toes together. Lastly, the socks are made into products following a steam finish, an inspection, and packaging.
Once you learn about how these socks are made so carefully, you'll have a new appreciation for what you put on your feet every day.
Shop at the Chiyoji Workshop
At the Chiyoji Workshop (Japanese) next to the factory, you can pick up a pair of socks with your own hands and feel its texture. You can also purchase merchandise here.
Further past the factory, in a new and recently completed building, the company plans to hold exhibitions and other events. The cute vest pictured above can also be purchased. It is available in cotton for 5,500 yen or wool for 6,600 yen (both prices include tax).
Shop at the Sannomiya Store in Kobe!
Chiyoji socks can be purchased online on the official store (Japanese). However, it's best, first, to pick up the actual product to feel the texture and see the colors in real life before deciding. Please visit the company store in central Kobe's Sannomiya district.
The store is located on the second underground level of Kobe International House SOL (Japanese).
No matter what you pick, youll only find socks that have been made with special care. Some recommended items are listed below.
1. Socks that Protect Against the Cold
Body chills can be a health concern for some. At Chiyoji, they recommend layering socks to eliminate the cold.
The set pictured above is one example. You are suggested to layer the socks in order from right to left: Silk Five-Toed Socks (770 yen with tax), Organic Cotton Socks (935 yen with tax), Silk Socks for Layering (1,320 yen with tax), and Organic Cotton Ribbed Socks (935 yen with tax). With these socks, you can warm up your entire body, starting from the toes up.
Silk has thermal properties, absorbency, and is a natural material with great texture. Cotton is a similar material that can be worn with ease by those with sensitive skin. The cotton socks above are also available in Merino wool.
2. Casual Athletic Socks in Fun Designs
The company carries a variety of athletic socks with different sports in mindsuch as golf, skiing, and hiking. Pile fabric is used for the sole of the sock, which protects your feet from impact when moving.
Pictured above are trekking socks (1,110 yen with tax). These socks use fabric that excels in being antibacterial and absorbent. This keeps your feet from sweating, making it an ideal item for odor-absorbency.
3. Colorful Marble Knitted Socks
Marble Knitted Socks cost 648 yen (with tax). These socks have loose stitching, so they will not tightly squeeze your feet when worn. It also has a good thickness and a smooth, comfortable fit. Have fun to selecting your favorite color from the dozens of variations that the socks come in!
Free giftwrapping is also available as pictured on the left side of the photo. It makes for the perfect and popular "Made in Japan" souvenir.
Gift boxes are also available for purchase. The small size is available at 220 yen, while the large costs 330 yen (both prices include tax). The method of tying a red string around a box as a ribbon is called chomusubi (bow knot) and is a custom implemented during celebratory events. In Japan, red is a must for celebrations.
Learn about the Manufacturer's Concept and Find a Pair You'll Treasure Forever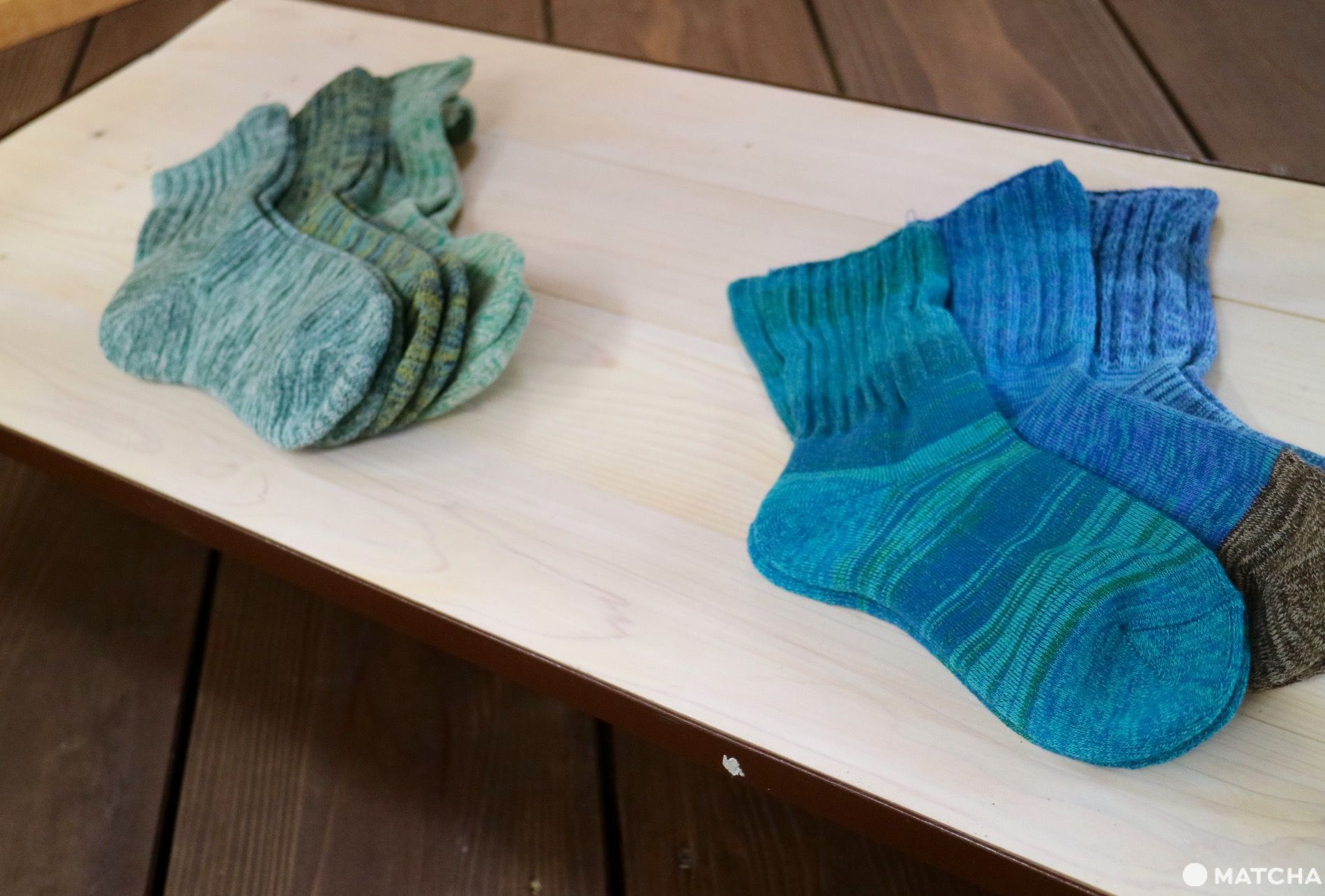 Mr. Hasegawa stated, "We pay special attention to our materials so that those with sensitive skin can wear our socks with ease. We always aim to create socks that fit our consumers' needs."
As a consumer, learn about the manufacturer's concept, and you'll want to treat these well-designed products with lasting care. Put on a pair to experience the amount of care put into high-quality, Japan-made Chiyoji socks.
In cooperation with Chiyodaseni Industries Co., Ltd.