Boys Halloween Costumes: 40 DIY Halloween Costumes to Try This Year
Halloween is one of the most anticipated holidays of the fall, and while it started at first in the USA, it gained rapid popularity among other countries as well, and the hype around it is almost as big as the one around Christmas time.
Sure enough, two things define Halloween:
Trick-or-treating.
Wearing costumes.
While there's not much we can say about what are the best strategies that will ensure that you get the most amount of candy in a single night, we have come up with a list of some of the best DIT Halloween costumes.
40 Halloween Costumes That Your Boys Will Love
The entries on our list were chosen based on how simple they are to pull off, as well as how cute or scary they are since every little boy's dream is to be the biggest and scariest little ghoul on Halloween.
1. Halloween Costume for Boys – Pirate
Pirates like looting for treasures and gold, and little boys like looting for chocolate bars and gummy bears, so why not dress him for the part as a pirate? All you need is a jacket with some epaulets stitched to them, a frilled shirt, and a toy sword or old gun that he may already have in his room, and voila, your little boy went from little Timmy to Long John Silver just like that!
2. Classic DIY Halloween Costume Ideas – Vampire
Classics never die, and there's no way you can go wrong than with a nice portrayal of the immortal Dracula?
The fake fangs can be either bought very cheaply or drawn onto their face with a removable marker, you can make their skin very pale by using a bit of foundation, throw in a dark cape, and you're pretty much done! If you also have a dark-colored suit for him to wear underneath, you'll create the ultimate cute version of Bram Stoker's greatest creation.
3. Cool DIY Halloween Costumes for Boys – Superhero
If you grew up watching Saturday morning cartoons, chances are you've imagined yourself as the hero, fully dressed and with his powers. Well, you can't give your boy any special powers, but you can use your crafting skills to pull off a realistic superhero costume.
If he already owns a shirt with his favorite superhero's logo, all you need is a mask and a cape, and depending on who's his favorite, you may not even have to do that.
4. Easy DIY Halloween Costumes – Ghost
The entire theme of Halloween is spookiness, and nothing can spook someone out more than a ghost, even if he is a friendly one like Casper.
Of all the DIY Halloween costumes that you can make, this is probably the easier to make of them all since all you need is a large sheet of white cloth with two holes poked out for eyes.
Maybe cut out 2 bigger holes for the arms so that your boy won't have any issues walking around with his trick-or-treat basket, and you're pretty much done!
5. Funny DIY Halloween Costume Ideas for Boys – Grownups
When kids are young, all they wish for is to grow up, and a great way to give them a head start is to dress them as an adult…using actual adult clothes.
Simple dress him up using some of your old clothes and with an older pair of shoes, maybe even an old briefcase of yours to use as a trick-or-treat bag, and the costume is pretty much done. For some added flavor, you can even go ahead and teach him some typical stereotypical adult lines so that the fun factor is enhanced, such as Honey, I'm home, or The boss was killing me today!
Note: Don't have high hopes about him returning back home with your shoes, since these are the easiest to lose.
6. At Home Halloween Costumes for Boys – Aviator
If you're looking for another easy DIY Halloween costume for boys, this aviator attire might be just what you're looking for since it's a costume that you can make by using your boy's typical clothes. All you need is an aviator jacket which you may already have since Halloween is during the cold season, and if it's the kind of jacket that also comes with a matching hoodie, then all the better.
Throw in a pair of goggles, and your boy will look like your typical WWII fighter pilot ready to take down the enemy, and you won't have to spend much to create it! Of course, if you want the costume to be a bit more elaborate, you can go ahead and add a cardboard airplane, just as long as you remember not to make it too bulky.
7. Halloween Costumes for Little Boys – Little Devil
Everyone's a little rascal when they are young, but since we were the same when we grew up, we love them anyway. That being said, what better way to dress up your angel of a boy than as a cheeky devil?
All you need is a cape, some red clothes, a pair of horns that you can buy from any costume shop (or make them using a hairband and some cardboard horns).
You can even throw in a toy pitchfork, just as long as you trust your little boy not to poke anyone with it.
8. Halloween Costumes for Little Boys – Magician
Childhood is a magical part of life, and all kids are crazy when it comes to magic, so what better way to showcase their love for the supernatural than with a complete wizard's costume? It's incredibly easy to pull off since all you need is a pointy hat, a cape that you can easily make out of any type of cloth, and a wand that you can make from the leftover sticks from eating cotton candy.
9. Indiana Jones Halloween Costume for Boys
While Indiana Jones was a big hit in the '70 and '80, there's no doubt that he's become a cult classic and that even some of today's boys want to be treasure hunters/archeologists just like him.
Just throw in a pair of khakis and a shirt, a brown fedora, and your costume is complete. You could also add a little whip, just as long as you somehow make sure that he isn't able to actually use it, or else someone might get hurt (you know how boys are).
10. Cowboy Halloween Costume for Little Kids
Boy's costumes are typically that of tough guys since that's how they all see themselves, and there's no better costume than that of the Cowboys of the old West. Just give your boy a checkered shirt, attach some tassels to a vest, make a cardboard cowboy's hat, and you have the basics for your very own miniature cattle wrangler.
Sure enough, if you have the extra materials to spare, you can also make him a horse using a wooden pole with a stuffed horse's head attached to one end, or make him a pair of revolvers out of wood (unless he already has toy revolvers, of course).
11. Bear Halloween Costume for Boys
Every child has a favorite animal, and making a DIY costume with an animalistic theme can be fairly easy, especially if you have a bit of imagination.
A headband with some ears attached, some makeup, and maybe a patterned onesie, and your little boy will be a ferocious little teddy in no time.
The same can be said about any other animal-themed costume as well, but there's something about seeing a walking talking teddy bear that makes them all the more adorable.
12. Halloween Costume – Soldier
Serving your country is one of the biggest honors in a man's life, so it shouldn't be a surprise if you catch your little boy playing war with the other kids in the neighborhood. If that's the case, showcase his love for the ones serving your country by dressing him up in full camo clothes and giving him a toy rifle.
Maybe even teach him a few neat salutes, a few army chants, and he's good to go!
13. Halloween Doctor Costume for Kids
Kids are innocent by nature, and it's only natural that they see the good in everyone and therefore want to do nothing but good themselves, so dressing them as a doctor is pretty much the best idea that you can have.
All you need is a small scientist's coat that he may already have from science classes at school, add a face mask, give him a clipboard, and you have the perfect recipe for a typical Grey's Anatomy character.
Note: If you plan on dressing him up as a dentist, don't tell him that the sweets he's getting on Halloween are actually bad for his teeth.
14. Boys Halloween Costumes – Knight
Medieval times have a certain charm to them, and almost every boy has dreamed of being clad in shiny armor with sword and shield in hand to defend the realm from dragons. Well, while you can't literally put your child inside a big suit of armor, there's always the option of dressing him up in gray (maybe even spray painting some of his old clothes silver), giving him a foam sword and a cardboard shield to use.
You can even attach a plush dragon or a dinosaur to his suit to make it acts as a trophy showcasing his chivalrous victories.
15. Halloween Costume – Ghoul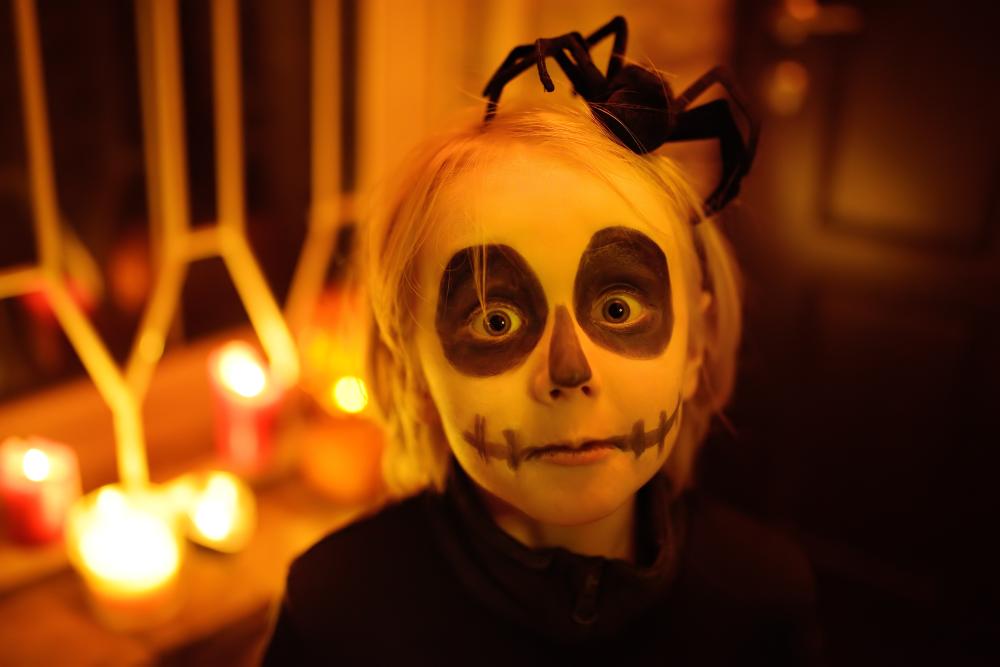 If you're looking for some funny DIY Halloween costume ideas that are also in the spirit of the season, then you can't go wrong with dressing up your boy as a scary little ghoul. All you need are some black clothes on which you can paint some bones, add a bit of makeup to make him 50% scary and 50% cute, and your little toddler will be ready for trick or treating!
Of course, you can enhance the costume with some extra features, such as stuffed spiders, maybe some mini-skulls, some fake paint, anything as long as you keep it PG-13.
25 More Halloween Boys Costumes
If you haven't found what you're looking for just yet, let's check out the next costumes too, in case you find something you love more for the next holiday!
16. Halloween Costume Idea for Kids – Blue Chicken
This no-sew costume is just too adorable. A blue chicken for your baby boy – and one that you don't have to sew is a hit to us. Check out Fun At Home With Kids for the instructions!
17. Buzz Lightyear DIY Halloween Costume
And here's another no-sew project from Fun At Home With Kids we are in love with! To infinity … and beyond … with Buzz Lightyear!
18. Halloween Costume Ideas for Kids – Cute Owls
This Heart Of Mine made these adorable owl costumes, and we're swooning over how beautiful they are. Wouldn't you love to be able to make these on your own?
19. Halloween Costume for Boys – Thomas the Engine
If your little boy loves Thomas, then this project from Am I A Funny Girl may be a great fit. Learn how to create this show-stopper costume now!
20. Halloween Costume Idea – Scuba Diver
Oh Happy Day shows us how to turn your little one into a tiny scuba diver! Check out all the tips and tricks right after the jump.
21. Toy Story Army Man Halloween Costume Idea
Here's another character from Toy Story that your little one will love. Wild Ink gives us the scoop on what she used to create it!
22. Rocket Man Halloween Costume Idea
Check out this rocket man costume from Real Simple. We love its simplicity and originality, and the fact that you can make it at home is a huge plus.
23. Infant Boy Halloween Costume – Sock Monkey
Grosgrain Fabulous shows us that with the right pajama pattern and fabric, you can make your very own little sock monkey outfit!
24. Cowboy Halloween Costume for Boys
Complete with his own horse, check out this cowboy costume from Made For Mums. Any novice crafter could pull this one off!
25. Scary Halloween Costume for Boys – Mummy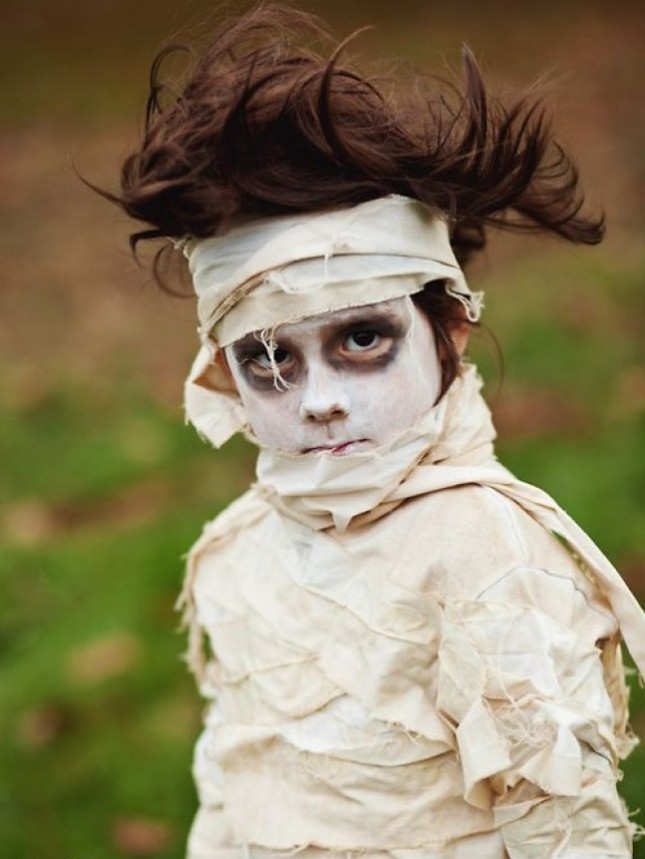 This is the perfect last-minute costume for when time gets away, and your kiddo hasn't been able to make a decision. Check out the DIY at Kelly Gorney.
26. Big Lebowski DIY Halloween Costume
How about dressing up your tiny man as Lebowski? It's easy, it's adorable, and you can see it done here at Skirt As Top.
27. Shark Halloween Costume
Create a comfy shark costume like the one you see here for when Halloween acts as a chillier time of the year. Check out the DIY at Make It Love It.
28. Up! Halloween Costume
This is a costume that the whole family can participate in. And we couldn't help but fall in love with this creation from More Than Words Can Describe.
29. ET Easy DIY Halloween Costume
Here's another costume inspired by a movie! ET couldn't be any cuter than with this DIY costume from Bicycle Store Paris.
30. Curious George Halloween Costume for Boys
Everyone's favorite monkey could be another great inspiration for a made-at-home costume. Curious George is a DIY favorite at Haute Apple Pie.
31. Van Gogh Halloween Costume
How does turning your little guy into the one and only Vincent Van Gogh sound. Hop over to Lovelyish to see how!
32. Lego Brick DIY Halloween Costume
Maybe the tiny man of the house loves Lego-time and wouldn't mind being one for Halloween. Check out this DIY from Wine & Glue to learn how to complete it at home.
33. Classic Hipster DIY Halloween Costume
Oh Happy Day really does have some incredible ideas, and if you're stretched for time and want something trendy. A classic hipster "costume" could be a big hit.
34. Andy Warhol Halloween Costume for Boys
You can always go back to Lovelyish and do another one of their amazing ideas. Dress your dude up at Andy Warhol!
35. Peter Pan's Shadow Halloween Costume
Tikkido made this genius costume, and it's so easy to recreate! Check out the instruction with the link provided.
36. Hot Air Balloon Halloween Costume
Style Me Pretty gives us this gorgeous and show-stopping costume where you can turn your kiddo into a hot air balloon flight!
37. DIY Robot Halloween Costume
Paging Fun Mums made this incredible robot costume, and we can't get over how awesome it is! Is that a slinky we see utilized in such a fun way?
38. Lumberjack Halloween Costume
Eight-year-olds can't grow beards, but if he wants to be a lumberjack, he'll need to figure out how! You have to see this adorable DIY costume from Make It Love It!
39. Mr. Fox Halloween Costume for Boys
Mom Inc Daily made a gorgeous Mr. Fox costume for a special little man. Check out the details after the jump!
40. Dino Tail Halloween Costume
Add a tail to your little boy's get up and have him transform into a dinosaur. Hop on our to Tater Tots and Jello to find out how!
DIY Halloween Costumes for Little Boys: Closing Thoughts
We hope you enjoyed these 40 costumes that we've showcased, and even if you aren't going to choose to make one from our list, you'll surely be inspired to have an idea of your own. In the end, don't forget that Halloween is mostly for your kids, and if you really want your toddler to have a great time, make sure that you're reading this article together with him so that he can choose what he likes most.
If you want to read more DIY Halloween ideas, go ahead and leave us your suggestions in the comments section below, and go ahead and make a similar list of ideas that you can try out this year, all so you can really get into the spirit of Halloween!
The post Boys Halloween Costumes: 40 DIY Halloween Costumes to Try This Year appeared first on DIYs.com.