Despite Northern Italy's harsh winter, Bologna is a charming city to visit in any season.
It comes alive in December thanks to the popular festival of S. Lucia, the lights, and the Christmas trees decorating the city center, but it's a vibrant place in any other month thanks to the presence of many Italian and international students attending the oldest university in Europe.
When in Bologna, you'll be able to spend some time outdoors even on the rainiest days thanks to its 38 Km of arcades allowing visitors to go sightseeing and discover the old town in any season. If it gets too cold to walk, there are plenty of restaurants and cafés to spend some time tasting the main gastronomic specialties of Emilia Romagna, like tortellini, Bolognese pasta, or crescentine.
Dive into lesser-known Bologna's winter!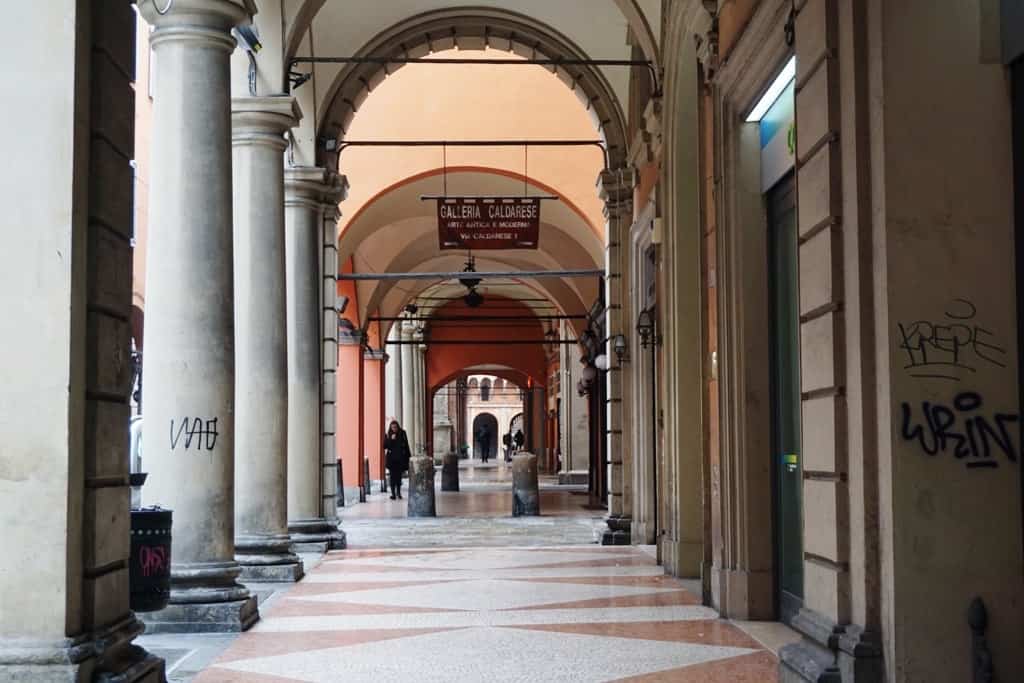 Disclaimer: This post contains affiliate links. This means that should you click on certain links and then subsequently purchase a product, I will receive a small commission.
Things to Do in Bologna in Winter
Bologna in November
Weather in Bologna in November
The minimum temperature in Bologna in November is 6°C, and the maximum temperature is 11°C. Winter settles in town early in November, which is generally a rainy and grey month.
Events, celebrations, and traditions in Bologna in November
Bologna Jazz Festival lasts a whole month with a packed schedule of shows and concerts featuring the best Italian and international jazz musicians. More information at Bologna Jazz Festival.
Late November: Choccoshow, a chocolate exhibition held in XX Settembre Square and features several stands offering handmade chocolate products and sweet treats. More information at Cioccoshow | La Magia del Cioccolato a Bologna.
Things to do in Bologna in November
Take advantage of one of the last mild days of the year and walk up to the Shrine of Madonna di San Luca. You can reach it with a pleasant walk under the longest arcade in the world, starting from Saragozza Gate and getting to the top of the hill overlooking the city. You can reach the Shrine in about 50 minutes and enjoy a great view from there. For more information, check here.
On a sunny day, climb up to the top of the Asinelli Tower to enjoy one of the best views of Bologna's skyline but don't do that if you're a student and you're about to graduate: it is said it brings bad luck to undergrads! Book your ticket in advance here.
Why visit Bologna in November
Pros: it's the mildest winter month
Cons: it rains a lot
Bologna in December
Weather in Bologna in December
The minimum temperature in Bologna in December is 2°C, and the maximum temperature is 7°C. It's cold, but it's not particularly rainy.
Events, celebrations, and traditions in Bologna in December
Late November-Dec 24th: French Christmas Village in Minghetti Square. Visit this unusual Christmas market, where you'll find many typical French products, from local wines to macarons to soaps and scents.
December 13th: the festival of Santa Lucia is one of the most beloved events of locals, and it's basically a craft fair taking place under the arcades in front of the Chiesa dei Servi. You'll find the characters of the nativity scenes and plenty of handmade decorations for your Christmas tree and home. More information at Antica Fiera di Santa Lucia.
December 24th: a local tradition consists in cooking tortellini at home on Christmas Eve. If you're not going to spend Christmas at a local's house, you should at least taste this famous specialty at a restaurant!
New Year's Eve: a great party takes place in Maggiore Square, turning the city center into an open-air club with a DJ set. At midnight, don't miss the traditional burning of Vecchione, which is a giant puppet stuffed with fireworks.  
Things to do in Bologna in December
Visit Bologna's beautiful churches and don't miss the iconic Basilica of Santo Stefano, better known as "The Seven Churches."  In December, you can also see the oldest nativity scene in the world, which is kept inside the basilica.
Have a walk in the beautiful Neptune Square to watch its famous fountain and the main Christmas tree decorating the city center.
Enjoy a cooking class and learn how to cook the main local dishes: I recommend Bologna Dining Experience at a Local's Home.
Why visit Bologna in December
Pros: join the magic of Christmas in Bologna!
Cons: it's rather cold
Bologna in January
Weather in Bologna in January
The minimum temperature in Bologna in January is 1°C, and the maximum temperature is 6°C. January is the coldest month of the year.
Events, celebrations, and traditions in Bologna in January
January 6th: the iconic Befana meets the kids in Lucio Dalla Square at Santa's House! There's also a lottery whose prize is a giant Befana's sock stuffed with sweet treats!
Things to do in Bologna in January
Why visit Bologna in January
Pros: low season means lower fees and fewer visitors
Cons: very cold
Bologna in February
Weather in Bologna in February
The minimum temperature in Bologna in February is 3°C, and the maximum is 9°C. February can be rainy, but temperatures rise later in the month.
Events, celebrations, and traditions in Bologna in February
Carnival: don't miss the traditional parade of allegorical floats and the local character of Dr. Balanzone. At Carnival, the traditional Italian sweet treat is made of deep-fried dough in the shape of ribbons and sprinkled with sugar. This specialty has many different names according to the Regions, and in Bologna, you shall ask for some "sfrappole," and not "chiacchiere" nor "gale" nor "bugie" as you would call them in other areas of the Country!
Things to do in Bologna in February
The best landmarks of Bologna are its churches, and you should visit at least the Basilica of San Petronio with its unfinished façade giving it its austere look.
Why visit Bologna in February
Pros: Carnival events
Cons: it's cold and rainy
What to pack for a winter trip to Bologna
Fleece jacket
Wool sweaters
Scarf, gloves, and hat
Winter waterproof jacket
Waterproof shoes or boots
Jeans/long trousers
Long sleeves t-shirts or shirts
Umbrella
Backpack (and a small bag for the night)
Remember to dress in layers you can take off in heated indoor spaces!
Where to eat and drink in Bologna in winter
Restaurants
Rosmarino Pizza & Cucina: a brand-new restaurant that has already earned a great reputation among pizza lovers.
Trattoria da Vito: a historic place that is still beloved by the fans of a famous Italian singer who passed away a few years ago: Lucio Dalla. He used to visit this restaurant a lot with his friends, and there are still many pictures of him on the walls.
Il Caminetto d'Oro:  it's perfect for a special occasion with its refined menu and its elegant location.
Cafés & Bakeries
Caffè Terzi: coffee lovers will find several different blends and aromas.
Gino Fabbri: a wide choice of cakes and baked goods of any kind. It's one of the most famous bakeries in town, so there's often a long line!
Regina di Quadri: it is located just outside the busiest area of the city center, and it's a great location for a relaxing break with some coffee and pastries.
Why visit Bologna in Winter
You can enjoy some Christmas magic and visit the famous St. Lucia's market;
Bologna is one of the best places to taste some Italian gastronomic specialties, and winter is the perfect season to visit restaurants and cafés;
With its 38 Kilometers of arcades, you can go sightseeing even on a rainy day;
There are several beautiful churches and interesting museums to visit, and spending a whole day indoors is not a problem in Bologna;
Low season means lower fees and fewer visitors;
Carnival is a funny time to visit Bologna;
The post Bologna in Winter appeared first on travelpassionate.com.