A Peek Into Our Week (the craziest week ever!)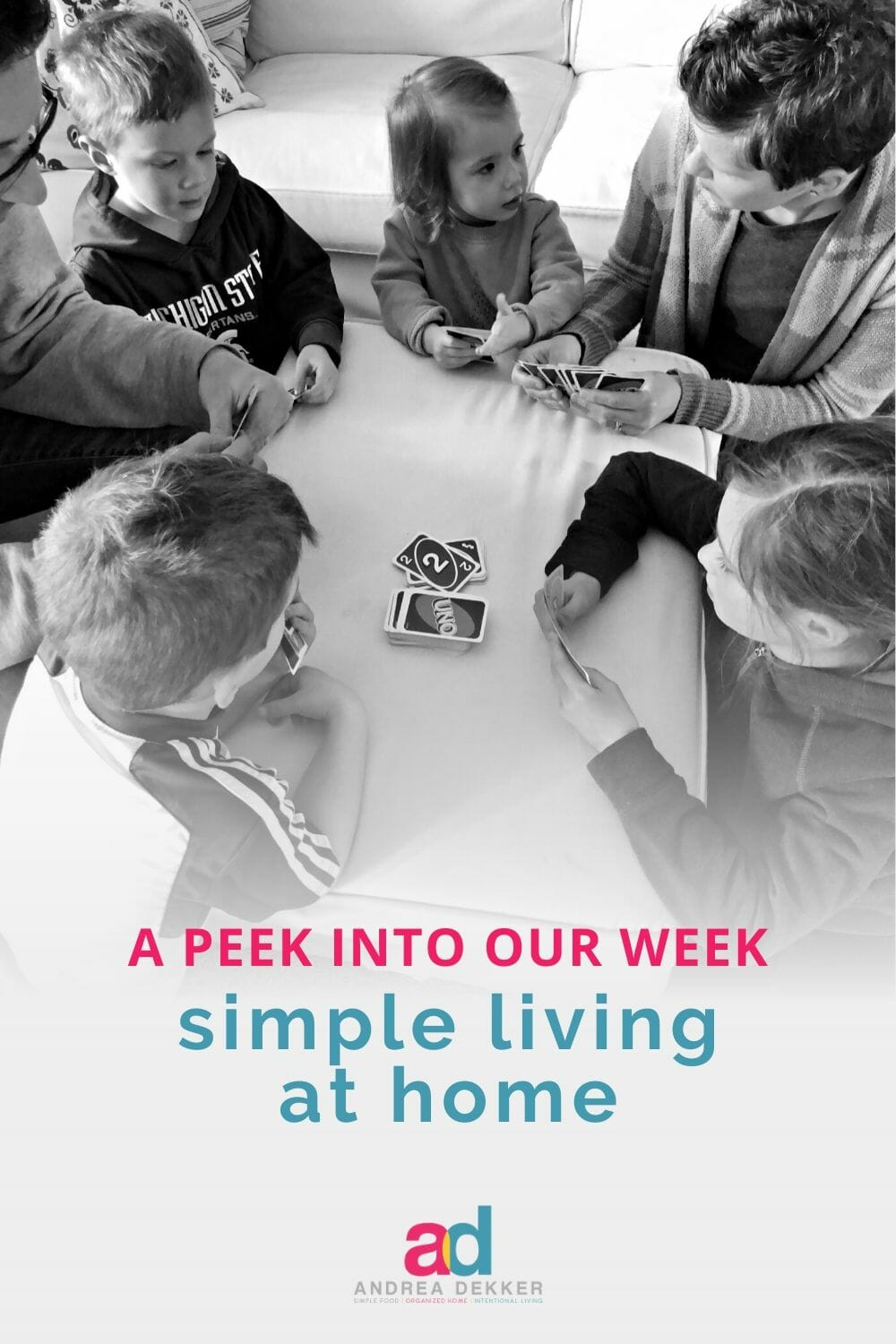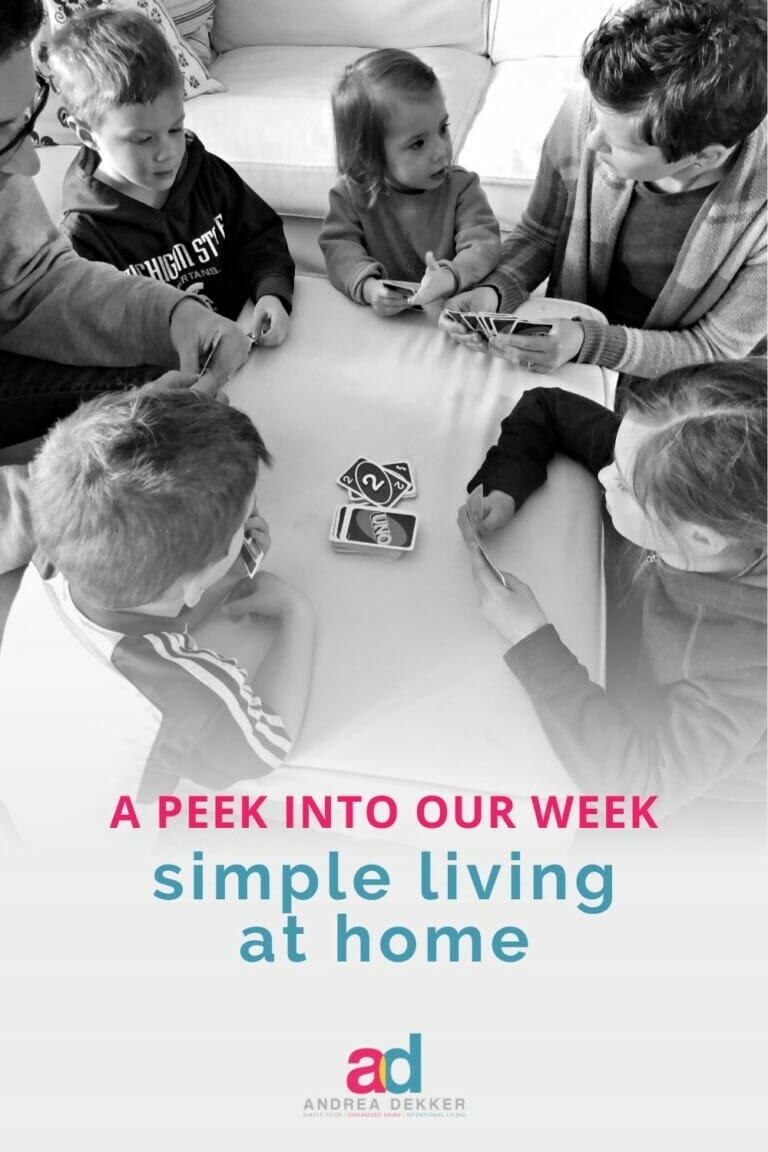 It's been a LONG time since I shared a Peek Into Our Week post… but I figure last week deserves its own post.
What a week it was! 
I love being at home — truly, I LOOOOOVE being at home. But last week threw me a total curveball with very little time to prepare! 
We went to bed on Thursday, March 13, with zero indication that schools (and basically all civilization) would shut down for the next few months.
When we woke up on Friday, March 14, our inboxes were filled with emails from Dave's school, the kids' school, our church, local organizations, etc. etc. All announcing they would be closed for the foreseeable future. 
What! 
Over the next few days, Dave was flooded with information about how to "flip" his classroom and begin teaching all his classes virtually (what a year for him to have FOUR preps!) 
He has spent hours upon hours upon hours reworking lesson plans, making videos, emailing students and parents, holding live office hours where students can ask questions in real-time, and learning all sorts of really cool (but slightly overwhelming) technology to make learning happen for his students. 
The kids helped him test out some new technology to make sure it worked before sharing it with his students. 🙂
Meanwhile, my normally almost empty inbox has been inundated with 85 billion emails from all our kids' classroom teachers, specials teachers, principals, and other leaders.
Their teachers are amazing and working so hard to help our young children continue learning outside of the classroom. I've been filing their emails away into special email folders and picking and choosing a few resources to implement each day in an effort to reduce how overwhelming it all feels right now!
I've refilled our printer's ink cartridges once, and it's already flashing "low ink" again. I'm certain I killed at least 2 trees with the number of worksheets I printed for the 3 older kids last week.
But we're making it! 
And truthfully, aside from the fact that I feel completely inadequate as an elementary school teacher, I DO really enjoy being home with the kids all day. 
I love planning activities to do at home (not necessarily school work). And I love including the kids in all the normal mundane parts of my day. 
Basically like I do all summer long!
If you've ever wondered what daily life is like for our family… THIS is it! 
I've gotten so many emails and messages from readers saying they finally understand what "living like the Dekkers" must feel like. 
Dave and I have also joked about the fact that "social distancing" and staying home is really not a big change for our family. 
Aside from missing school and church (and not being able to go to the library or invite people over for dinner), THIS is exactly how we spend our days, our nights, and our weekends. 
Yes, we have stressful days that are busier than normal.
Yes, we get angry and annoyed with each other at times.
Yes, our kids fight and argue and talk back just like other children.
Yes, we get Culver's every now and then.
But, the vast majority of our days are spent very simply at home… by choice!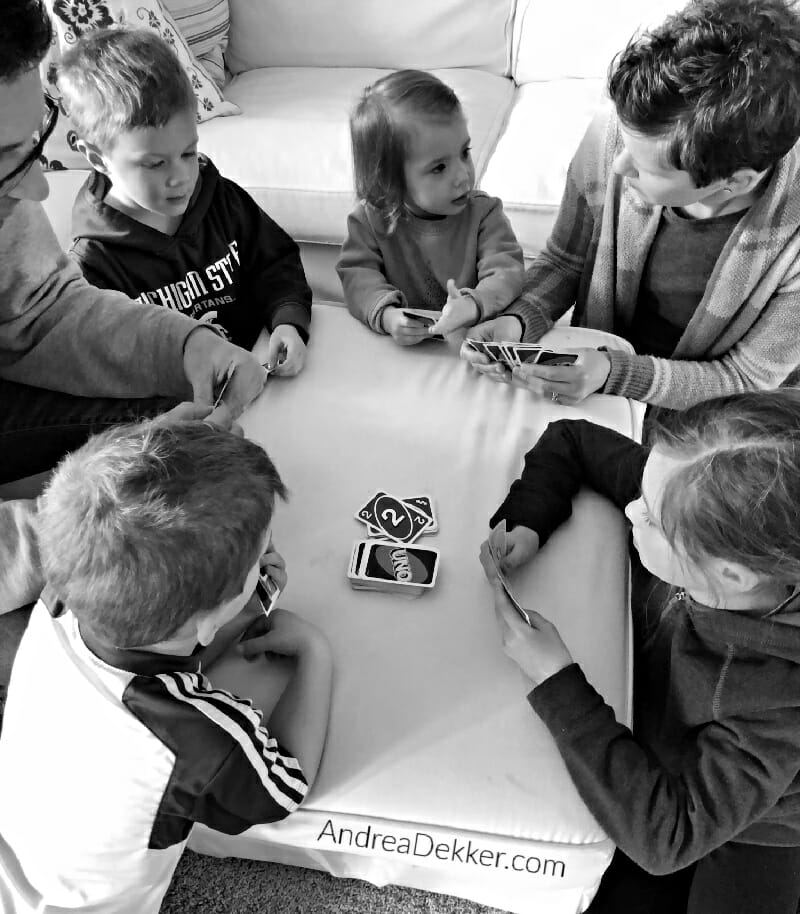 This is not necessarily good or bad, right or wrong. It's just what WE have chosen for our family for this phase of life. 
This is literally what my planner looks like for the week! It's unreal!
We had my 88-year old grandma over for a day last week.
She ate breakfast and lunch with us and helped peel apples while I cooked, milled, filled, and processed 45 quarts of applesauce. 
NOTE: Here's a more detailed post about how I can applesauce. 
It was so interesting to talk with my grandma while we worked. 
She's losing much of her memory, but boy could she remember intricate details of her childhood – specifically growing up in the height of the depression. 
She shared how she only had 2 dresses (one for school, one for church), how they "darned" their socks until there was almost no sock left, and how they saved EVERY scrap of usable fabric to make into something else. 
Truly, they wasted nothing.
By age 10, she was doing almost all the cooking and cleaning (and caring for her younger brother) because her mother was very weak after multiple miscarriages and stillborn babies. 
As I listened to her stories about growing up in the Great Depression, I couldn't help but think how fortunate we are right now. 
Yes, there's quite a bit of unrest in our current economy (we've lost a lot of money too), and so many really fantastic opportunities will be missed (vacations, weddings, graduations, field trips, Easter Sunday services). And of course, there are the rising death counts that are so sad to read.
But simply "being stuck at home" certainly isn't all that bad in the grand scheme of life. 
We are alive!
We have closets full of clothing (probably too much clothing). 
We have pantries and freezers filled with food.
We have reliable news sources to stay up-to-date on what's happening (sometimes a blessing and a curse).
We can easily stay connected with friends and families via phone, skype, email, social media, etc.
And there's always Amazon Prime where we can order anything we want and have it in 2 days! 
If you want to enjoy a simpler lifestyle, one of the easiest ways to do that is by staying home and limiting extra commitments. 
I know we might all feel a little (or a lot) stir crazy, but in many ways, "social distancing" might be just what so many of us need to calm the chaos of our over-scheduled, over-stressed, over-committed lifestyle. 
Mandatory instruction to slow down.
Enforced rules to simplify.
Permission to clear our schedule and just stay home. 
Sign me up!
Books I've Read (or am reading):
Looking for something to fill your time at home? I've recently enjoyed the following books. 
**Don't miss Amazon's fantastic freebie — 2 FREE months of Kindle Unlimited! It's valid even if you've used a free trial in the past! They have audiobooks and children's books too — it's a perfect way to pass the time at home.
Our Weekly Menu Plan: 
Our fridge is getting emptier (I haven't gotten groceries in almost 2 weeks). However, we still have plenty of grain, dried beans, rice, oats, lentils, and other baking necessities in the pantry.
We have a freezer full of beef. And we have enough canned jam, jelly, salsa, veggies, and applesauce to last us a full year! 
SUNDAY: 
MONDAY:
TUESDAY:
WEDNESDAY:
THURSDAY:
FRIDAY:
SATURDAY:
We also enjoyed plenty of goodies as we did lots of baking throughout the week (I figure this counts as "math" and "home economics"… right!?)
I'd love to know what you're doing to pass the time at home? 
I'm working to come up with some helpful resources for those who are "stuck at home" and would like to start the process of decluttering, purging, cleaning, organizing, and simplifying.
If there's a specific question or topic you're interested in (regarding simplifying your home or life) please email me or leave it in the comments below!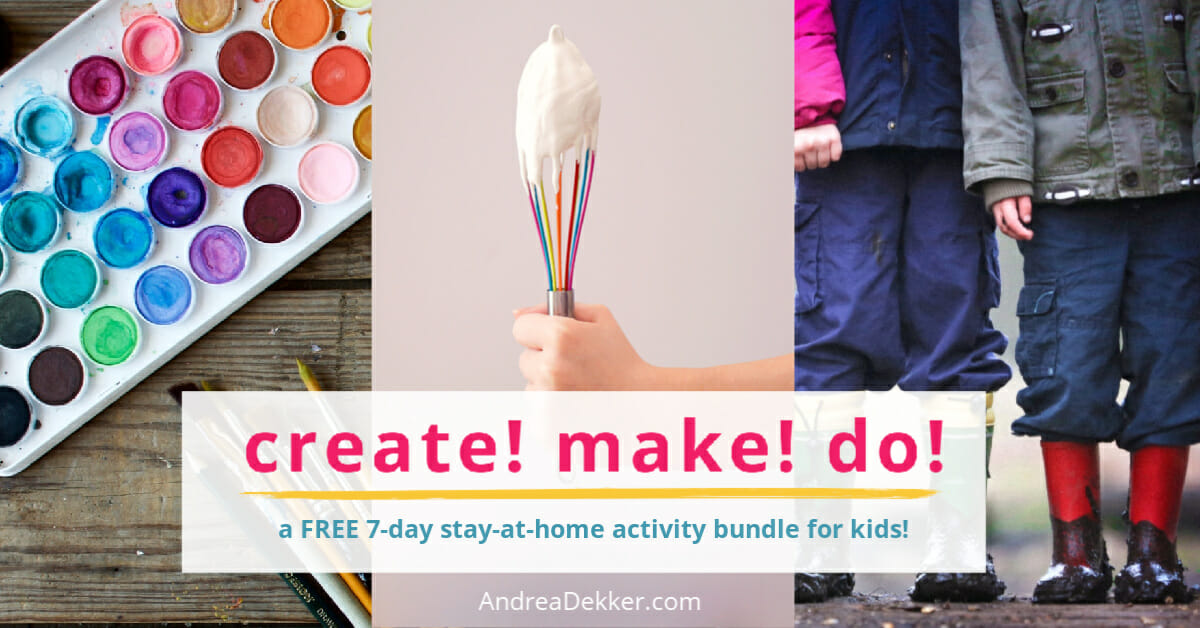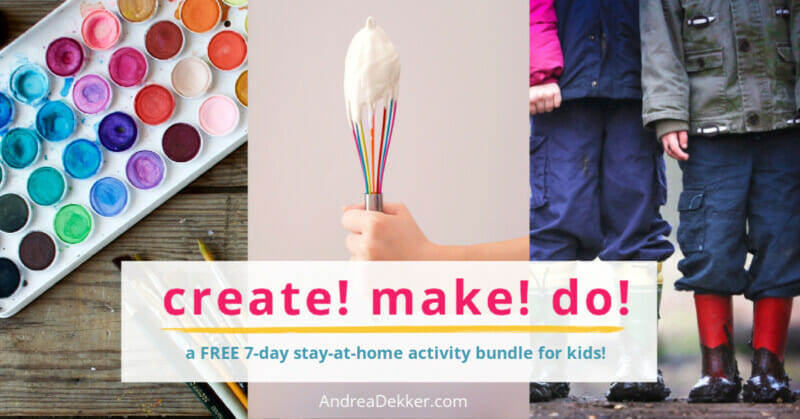 In the meantime, I'd encourage you to take advantage of my FREE Create! Make! Do! stay-at-home activity bundle for kids.
And PLEASE share it with those who are home with young children!
The activity bundle includes 1 simple creative project, 1 kid-friendly recipe, and 1 family-friendly activity each day for 7 days — all of which can be done FROM HOME with minimal effort!
This is certainly a crazy and somewhat unsettling time, but I think there are SO many life lessons we can learn if we tune out all the media hype and tune into our homes, our families, and our communities. 
Not in a selfish way — but simply to reconnect and regroup again after months (maybe years) of living at a frantic pace. 
Even for the most extroverted personalities, a little downtime at home can't be the worst thing ever… can it?
And if you're one of the amazing medical professionals "on the front lines" working to keep us safe… or working in the grocery stores, for Amazon, or any other job that does not get "time off", know that we are all so grateful for you!
The post A Peek Into Our Week (the craziest week ever!) appeared first on Andrea Dekker.