7 Reasons To Stock Underwear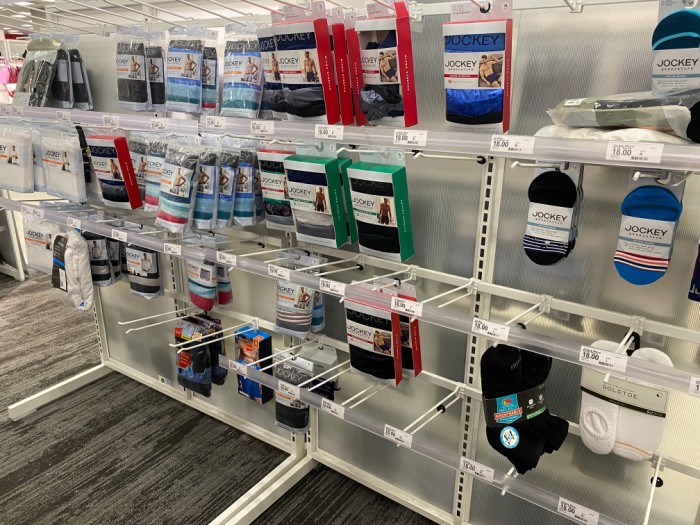 Today, I want to talk about 7 reasons to stock underwear. Gwen M. sent me an email asking if I had ever written about stocking bras, underpants, t-shirts, and socks. I haven't written a single post on that subject, but I decided my readers might possibly appreciate some suggestions on why stocking up on them is important.
Well, with what's been going on the last few months regarding supply chain issues, and the emphasis from so many circles that cleanliness and proper personal hygiene are critical to limiting health risks, it sure seems appropriate to talk about stocking up on these personal items we all use. Thank you again, Gwen.
Here's the deal, we all wear underwear, so there, I said it. So, it only makes sense that we all need an inventory of underwear of different kinds. Let's be honest here, I bet all of us have heard from our mom or grandma as we grew up, "make sure you have clean underwear on in case you have an accident." My mom used that phrase as I grew up, particularly when I started to drive. She didn't want me to be taken to the hospital wearing dirty underwear.
Heaven forbid we got in a car accident and we had holes or stains in our underwear! If you took your shoes off, holes in your socks not only were uncomfortable but grandma may have been mortified if she saw holes in your socks.
We all know shelves seem to be more scarcely filled lately. At least grocery stores, right? As part of my research for this post, I headed over to a local store that carries food, groceries, home decorations, and clothes of all kinds, including underwear. Why, not, right? I wanted to see if those shelves or racks were slim pickings in the underwear department.
I want you to think about the stores you like to frequent when shopping for your favorite brands of underwear, bras, and socks. The next time you're near one of those stores, please check out the shelves or racks for the ones you would purchase. You may want to stock up on your favorite clothing as well. When in doubt, stock up.
I went to a store called Dillards, or at least I thought the store was still there in Orem, Utah. Nope, it looks like a distribution center now. I love housecoats from there and I like to buy them when they are end of the season and at half price.
I was pretty disappointed to see it had lots of shipping trucks but no doors to walk in and look for bargains. Here in Utah, it's pretty much the norm now to see many of the retail stores in shopping malls closed forever and online shopping only. The days to try things on are becoming a thing of the past, it seems.
Items You May Want To Stock: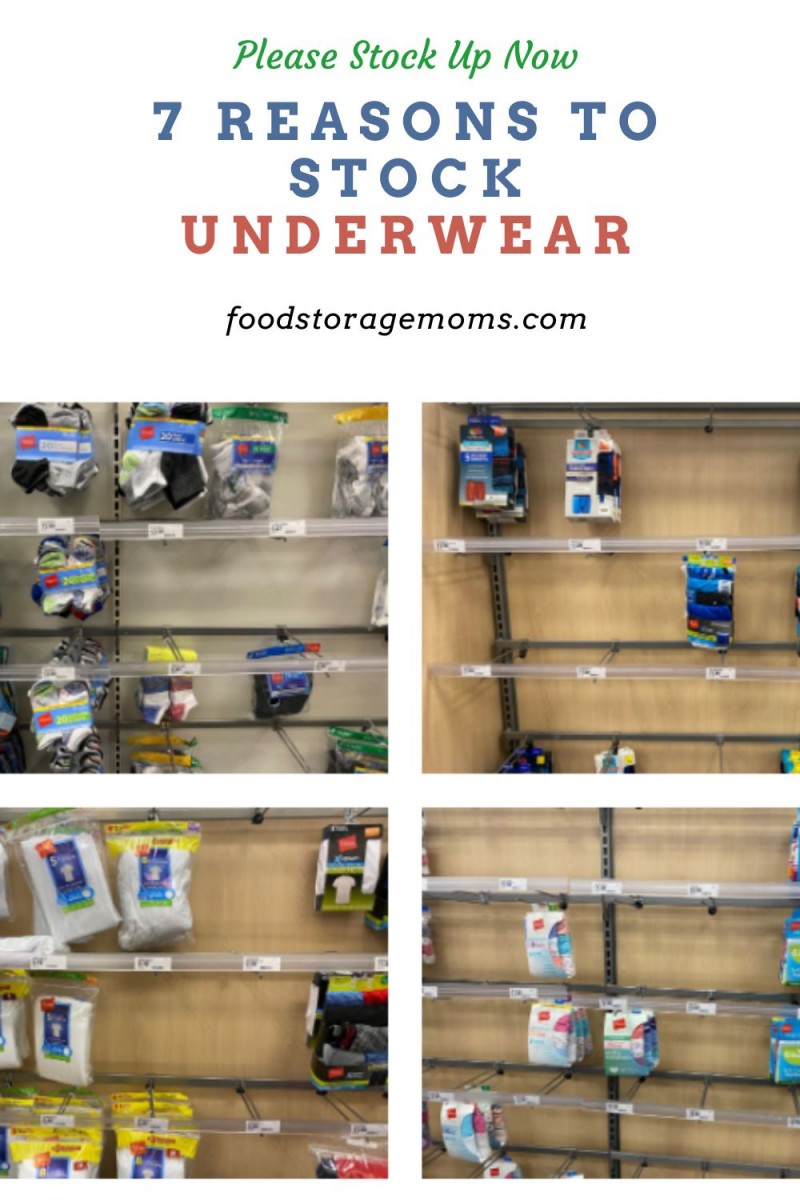 7 Reasons To Stock Underwear
The past year or so has been a frustrating one when it comes to commodity shortages and the related higher prices for many things. For a long time, you could buy a refrigerator but not a freezer. I have a friend who ordered a new front entry door from one of the big box home goods suppliers and they ended up waiting for over six months. We've heard about shortages of lumber and now cement, making the construction of homes and commercial buildings experience cost overruns and price increases.
I didn't think shortages could carry over to the clothing industry. On a recent visit to an upscale department store, I overheard a sales clerk tell a prospective customer that the store didn't carry "plus" sizes, but that they were available online. Many stores were caught with larger inventories than needed for many items during recent lockdown periods when customers couldn't visit the stores or were too afraid to do so, even on a limited basis.
Now many of those stores have cleared out those excess inventories and aren't sure what to expect when it comes to supply and demand as the new school year approaches. As you can see from the pictures below, shelves at a popular department store near my home have a limited stock of underwear, briefs, and socks. Yes they had some inventory, but it may not include the brands or sizes they normally carry, or the ones you want.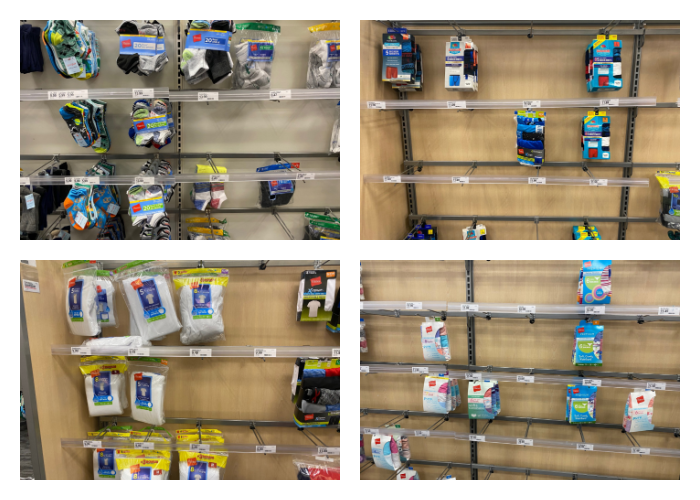 1. Stores are Stocking Less of Everything
As consumer buying patterns have changed over the past 18-24 months, with fewer people visiting stores and doing more online purchases, retailers are moving to limit what is on display. You may be able to buy what you need online, but the in-person experience may not present the positive shopping trip you had hoped for. If you have a growing family with kids needing larger sizes or different styles, having to guess from what you see on your computer screen could be a challenge.
If you are forced to make those critical purchases online, I suggest you carefully check out the store's return policy so you aren't stuck with an item you can't use or return.
2. Human Nature Dictates We Want Clean Underwear
Whether it's a day working in the yard or on your laptop for hours, there's nothing like a shower or bath and then fresh clothes to make you feel on top of the world. Unless you love doing multiple loads of laundry during the week, it's great having a few drawers full of clean underwear ready at all times. Having the right "undergarments" that feel soft, supportive, and fit just right makes that night on the town or evening in front of the TV all the more enjoyable.
Yep, we may want to go braless at times, but the practical side of life dictates we need choices in every underwear category that are clean, comfortable, and fit each occasion. One day it may be that sports bra for you and comfortable briefs for him when working out. On other days it may be a strapless bra or boxers for the long evening out in dressy clothes. It's hard to imagine putting back on some underwear you wore yesterday because you didn't have time to wash them in the sink.
3. You May Not Be Able to Find The Brands You Love
If you're the fussy type, be sure to have multiple pieces of underwear in those dresser draws because you may find it hard to locate exactly what you want in the brands and styles you're used to. I don't feel I need the very best and more costly brands, but I don't want to purchase items that won't last or feel comfortable. As shown in the pictures above, some stores just aren't carrying the inventory we're used to seeing, so if you do find what you like, buy enough to last a while and give you the choices for daily wear you want.
4. The Quality Seems To Be Going Down
Speaking of choices, do you feel like the quality of clothing, including underwear, is on the decline. It sure seems like my clothes used to last longer before I had to replace them. It may be a function of so many items being manufactured "offshore" rather than right here in the good old USA. I can't believe how many clothing items are being made in China and other parts of Asia.
Again, if you find what you want in the variety and quality you're used to, buy some extra sets so you have enough to last you a while.
5. No One Wants Worn Out Underwear
One of my favorite brands has gone out of business, so I'm in the process of trying out new options. When in doubt try new brands so you have a few extras available.
6. Socks with Holes Just Aren't Right
Mark's mom used to darn his socks when they got holes in them. She'd sit and watch TV while she made sure those holes disappeared. She used a light bulb inside the sock to make the sock the right shape as she pulled the sides in to fill the gap. Well, I'm not one to darn socks, even though I know it could save me some money. It's just me, but I buy good quality and expect them to last. If they get a hole, out they go.
7. Kids and Grandkids Out Grow Underwear and Socks
When my four girls were growing up I made most of their clothes, until they each decided they were too old for "handmade." I loved to sew, and when they were young, they seemed proud they were wearing something their loving mom had made for them.
I felt blessed to have all girls since they could share and/or pass down the clothes over time. I also felt lucky I wasn't having to deal with growing boys who tend to be hard on clothes as they roughhoused or played outdoor sports. We now have a bunch of grandkids (17) made up pretty much evenly of boys and girls. I watch as my daughters are having to deal with worn-out or outgrown clothes, particularly the boys working on their bikes and cars, or being fully involved in sports.
Mark and I used to give the grandkids clothes for birthdays and Christmas. Now, it's funds sent by Venmo so they can purchase what they really want. I'm so grateful for the posterity we have, and I'm also grateful their parents are having to deal with replacing all the clothes they go through each year. Whew!!
Other Posts
Final Word
Just as I suggest every family needs to be prepared for emergencies, families need to plan ahead and have extra underwear for every family member. Yes, we take our seldom-seen underwear for granted, but we sure miss them if we find ourselves dealing with power outages, days on the trail when hiking or camping, and other scenarios. Please stock up on those items you feel you need.
With good quality clothing becoming harder to find, take some time and find what works best for your family's financial and preparedness needs. We all need to feel comfortable and confident as we interact in a family, school, work, and social setting. Having clean clothes, particularly our underwear, goes a long way in achieving those goals. May God bless this world. Linda