5 Useful Things People Really Do to Help Get and Keep Beautifully Organized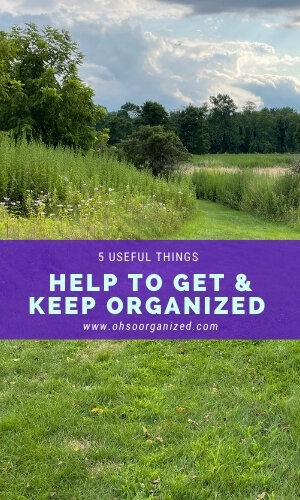 Does getting organized feel elusive? If so, don't give up because there is hope. In the almost 30 years I've been helping people get organized, there are successful organizing habits that I've observed. Even when few are applied, the results can be life-changing.
Being organized will look and feel different for each person.  Someone's end goal can be another's starting point. What matters is finding the level of order and organization that feels right for you. 
Let's look at the useful things people do most frequently to get and stay organized. As you read, note the ones you already do and concepts that will be helpful to try. 
5 Useful Things People Do to Help Get and Keep Organized
1. Make a Plan
When you think of the word "plan," what comes to mind? Are you imagining detailed lists, charts, and graphs that track your every move? Or, do you think of a plan as something loose and flexible? To become and stay organized, some type of plan needs to exist. The format should align with how you best function. I've seen that both detailed and loose plans work. However, with no plan, getting and staying organized won't happen. 
Both ways of planning work for me, depending on what I'm doing. Currently, I have a long-term goal to reduce the amount of stuff in my life. My plan isn't a detailed room-by-room-do-this-by-x-date proposition. It's a low-pressure, loose plan. I have one simple daily repeat on my to-do list that says, "Edit & release some stuff."  I go to the room, drawer, or closet I feel like doing that day and spend 15-30 minutes editing something.
Some might prefer having a more specific plan, listing each room, and detail the exact things that need editing or organizing on a particular date. This also works. It just depends on what you need to stay motivated and on task. There is no right or wrong.
2. Be 'Edit' Aware
One of the reasons that clutter accumulates and disorganization happens is we stop listening to our time to edit antenna. What the heck is the edit antenna? This is the ability to notice when things are piling up and making an area unmanageable. Awareness is essential for getting and staying organized. This edit awareness cues you to activate decision-making. That, in turn, will help you release things that you no longer want, need, or belong elsewhere.
The visible cues can include . . .
an unwieldy pile of unopened mail gathering on the dining room table

a stuffed sock drawer that can no longer close

some random objects that have taken up residence in the wrong rooms

a crowded clothes closet, with the feeling you having nothing to wear

many back-to-back entries on your calendar without time to breathe
3. Get 'It' Together
Becoming and staying organized involves putting similar things together in the area you are going to use them. Organize so things are easily identifiable and readily available when you need to retrieve or return them. We describe this in various ways that include creating zones, grouping like-with-like, organizing by the ease of use, or corralling related stuff into bins, trays, or boxes. 
Think of the hot beverage zone in the kitchen, which includes an assortment of tea, coffee, hot chocolate, mugs, sweeteners, and filters. Items are strategically placed in the cabinet next to the coffee maker and electric kettle. When it's time to brew your morning cup of Joe, everything you need is in one place. 
4. Return Home Today
Closely tied to the like-with-like concept is the idea of establishing specific 'homes' for all of your belongings. Organizing our stuff involves choosing the most helpful location for things to live. It's unlikely that you would store your underwear in the kitchen, although that might be the best spot if it's where you get dressed. But for most of us, having an underwear drawer in the bedroom or dressing area is a more practical location.
The beauty of having a specific home for underwear is you know where to find a pair when getting dressed, where to put the clean, newly washed ones, or where to find extras when packing for a trip. Creating a home works for underwear and everything else you own too. 
Establishing homes is not just about creating specific spots but returning things to their location. That's what "return home today" is about. Imagine life in pre-pandemic days when you left your house in the morning to go to work and came back when you were done. You physically returned yourself home. You completed the cycle of out/in, which readies you for the next day.
Apply that same concept to your stuff. Something leaves its home. That's OK and expected. It might leave for a few minutes, hours, or possibly days. Like gravity, what goes up, must come down. With our stuff, what leaves its home gets returned. This includes . . .
silverware back to the cutlery drawer

pens back to the pencil cup on the desk

keys back to the zipper compartment in your bag

cell phone back to the charging station

pants back to the hanger in the closet
5. Make a Quick Exit 
You did some decluttering and identified things to release. In the process, you filled four 30-gallon bags of clothes, two big boxes of dishes and housewares, three shopping bags of linens, two boxes of books, and a large bin of toys. They are contained and ready to exit your house. However, the bags and boxes of donates continue to sit and take up space. The organizing process isn't complete until the stuff leaves your home.
One of the things people do to get and stay organized is to physically remove the outtakes as soon as possible. Once you identify the giveaways, keep going. Bring them to your local charities or arrange to have them picked up. Focus on that quick exit and then enjoy your clearer, more organized space.
There are many things people do that help them get and keep organized. Which ideas resonate with you? Are there other common strategies you do or have observed? I'd love to hear your thoughts. I invite you to join the conversation.