25 Easy, Inexpensive and Tasteful Gift Basket Ideas and Recipes
These 25 easy gift basket ideas are an inexpensive and tasteful way to make great holiday gift baskets. Youll find tips, specific themes and easy mix recipes for great and inexpensive gifts!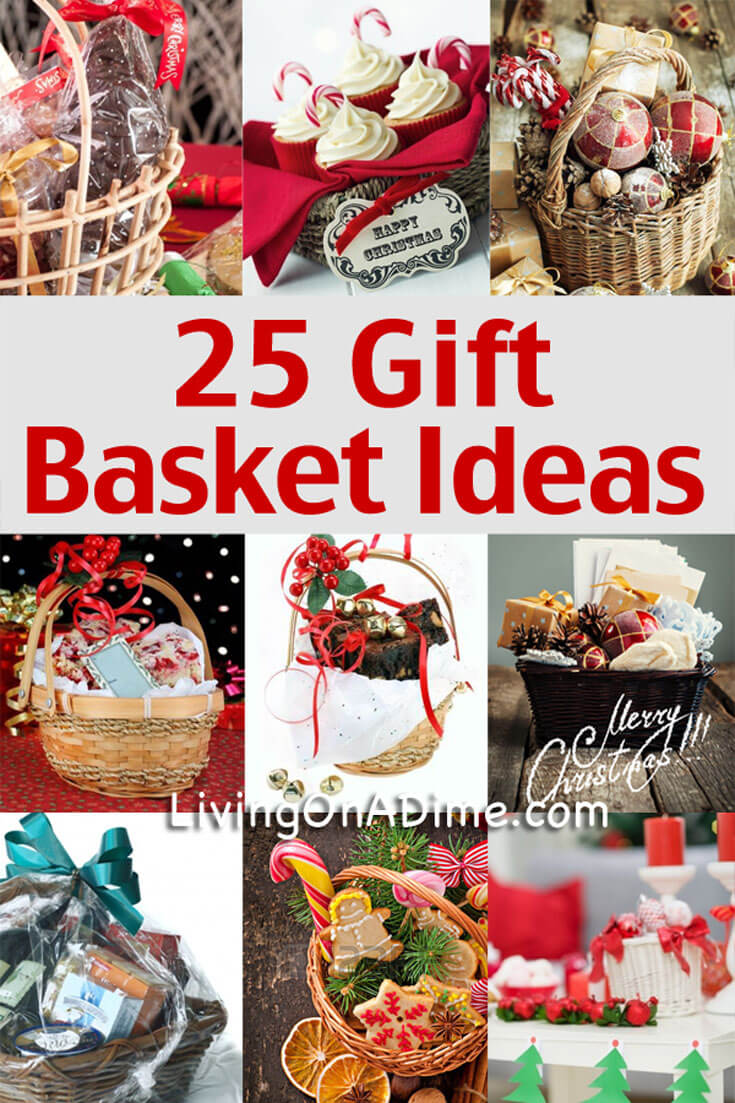 Gift Basket Ideas And Recipes
Need Gift Ideas for Christmas but dont want to spend a lot? Here are some tips to help you remember your friends without breaking the bank:
Buy items in sets and divide them among the baskets. Buy a four pack of nail polish for four ladies baskets or buy packs of whistles or other party favors for the kids.
Remove individual popcorn, coffee or cocoa packets from their boxes. They will fill the baskets better.
Shop garage sales and thrift stores for baskets and other containers.
Dollar stores have lots of great inexpensive gift ideas. Browse!
Use cellophane bags to package your mixes. They are inexpensive when purchased at party stores or florists.
A gift can be as simple as tea bags in a tea cup tied with a pretty ribbon. A large soup mug and saucer with soup mix or a small glass bowl with some potpourri might also make a simple but nice gift.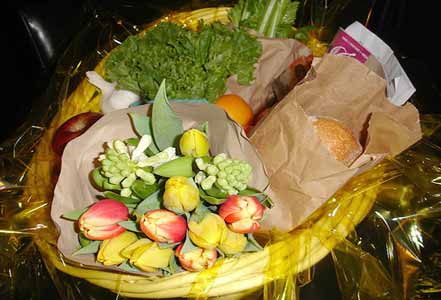 Try making these specialty gift baskets:
Football Fan (teenage boys, brothers, fathers and brothers-in-law!) Fill a large bowl purchased at the dollar store with candy bars, bags of microwave popcorn, sodas, chips, dips, a favorite football flag or hat, and a calendar of game days.
Fisherman In a tackle box or fish bowl put hooks, bait, line, hot chocolate or sodas, trail mix, gloves, fishing magazines and a fish pillow.
Dog In a dog bowl, place a ball, old sock with a knot tied in it, dog bones, rawhides, a leash, a name tag and a brush. You might include a picture of a mailman with the enemy written on it.
Cat In a cat litter box, place a catnip toy, cat food, a poop scoop, a leash, a name tag and a little rubber mouse.
Car In a large bucket, place fuzzy dice, air freshener, wax, car wash, chamois (Shammy), tire cleaner, a car trash can, a key ring, ice melter for cars and an ice scraper.
Baby Basket Spray paint a basket white and line it with a baby blanket or use a diaper bag. Fill with bibs, baby oil, baby lotion, baby powder, diaper ointment, a teething ring, burp cloths, wipes and a rattle.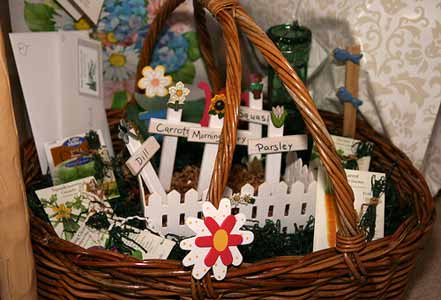 Relaxing Basket Line a basket with a hand towel. Add a lavender candle, bath oil or bubble bath, bath salts, bath balls, a favorite magazine or book, a poof and scented soap, and a do not disturb sign (Make one out of a piece of cardboard).
Coffee Lover In a basket, include flavored coffee packets, cinnamon sticks dipped in chocolate, wrapped in cellophane and tied with a ribbon, cookie mix or cookies, flavored powdered creamer and a coffee cup.
Bakers Delight Line a large mixing bowl with a dish towel. Add cookie mixes, hot chocolate mixes, brownie mix, muffin mix, a package of walnuts, measuring cups and pot holders. Of course, be sure to include a copy of Dining on a Dime
Ice Cream Lover Place tissue paper on the bottom of a basket. Add sundae dishes, an ice cream scoop, nuts, hot fudge sauce, butterscotch sauce, chocolate syrup, Maraschino cherries and a gift certificate for 2 1/2 gallons of ice cream.
Soup Basket- In a basket, stock pot or bean crock, add large soup mugs, 7 bean soup, cornbread mix, cookie mix and oyster crackers wrapped in cellophane bags and tied with a ribbon.
Nail Polish Basket- In a pretty bucket or basket, add a variety of nail polish, emery boards, nail clippers, polish remover, cotton balls, hand cream, cuticle cream and a nail buffer.
Family Night In a large bowl, add a puzzle or game, popcorn, candy bars, soda, hot chocolate mix and mugs.
Fruit Basket- Line a basket with tissue paper. Add apples, oranges, hot chocolate mix, various teas and dried fruits (like figs or raisins). Sprinkle in the shell nuts on top of everything.
Cookie Delight-In a basket lined with tissue paper, add two cookie mixes in cellophane bags or jars tied with ribbons, Russian Tea (also in a cellophane bag or small jar tied with ribbon), cookie cutters, a teacup and two pot holders.
Chocolate Lover- In a basket, add Hot Chocolate Mix, Brownie Mix, Chocolate Peanut Butter Cookie Mix, Party Mints, Mexican Hot Chocolate Mix and a small package of marshmallows.
Hot Chocolate Mix Recipe
8 cups dry milk
4 3/4 cups powdered sugar
1 3/4 cups cocoa
1 1/2 cup non-dairy creamer
1 sm. pkg. instant chocolate pudding mix
Sift the ingredients into a large bowl. Place the mix into an airtight container.
Attach this to the jar:
Hot Chocolate
5 Tbsp. (1/3 cup) Hot Chocolate Mix
1 cup hot water (not boiling)
marshmallows or whipped cream
Place the Hot Chocolate Mix into a mug. Add hot water. Stir until Hot Chocolate mix is dissolved. Garnish as desired with marshmallows or whipped cream. Serves 1.
Apple Cinnamon Muffin Mix Recipe
2 cups flour
1/2 tsp. baking soda
1/4 tsp. salt
1 tsp. baking powder
1 tsp. ground cinnamon
1/2 cup raisins and/or nuts
In a bowl, mix together first 5 ingredients. Place in an air tight container. Package raisins and nuts separately.
Topping
3 Tbsp. sugar
1/4 tsp. cinnamon
1/4 tsp. nutmeg
Mix topping ingredients in a bowl. Package in a small cellophane bag.
Attach this to the jar:
Apple Cinnamon Muffin Mix
To prepare, preheat oven to 350 degrees. Mix together: Apple Cinnamon Muffin Mix, raisins and/or nuts, 1 cup apple juice, 2 Tbsp. oil, 1/2 cup applesauce.
Stir just until combined. Spoon into lightly greased muffin tins and bake for 20-25 minutes or until toothpick inserted in center comes out clean. While still warm, dip in melted margarine and then topping. Makes 12-15 muffins.
For more gift basket tips and recipes like these, check out our Dining On A Dime Cookbook!
Would you like to serve food that will lower your grocery bill and your family will love to eat?
Click here to get the Dining On A Dime Cookbook, with tasty recipes and great tips to make your life easier and save you money!
The post 25 Easy, Inexpensive and Tasteful Gift Basket Ideas and Recipes appeared first on - Living on a Dime To Grow Rich.