20 Ice Cream Shops In Singapore With Locally-Inspired Flavours Such As Horlicks And Kueh Dadar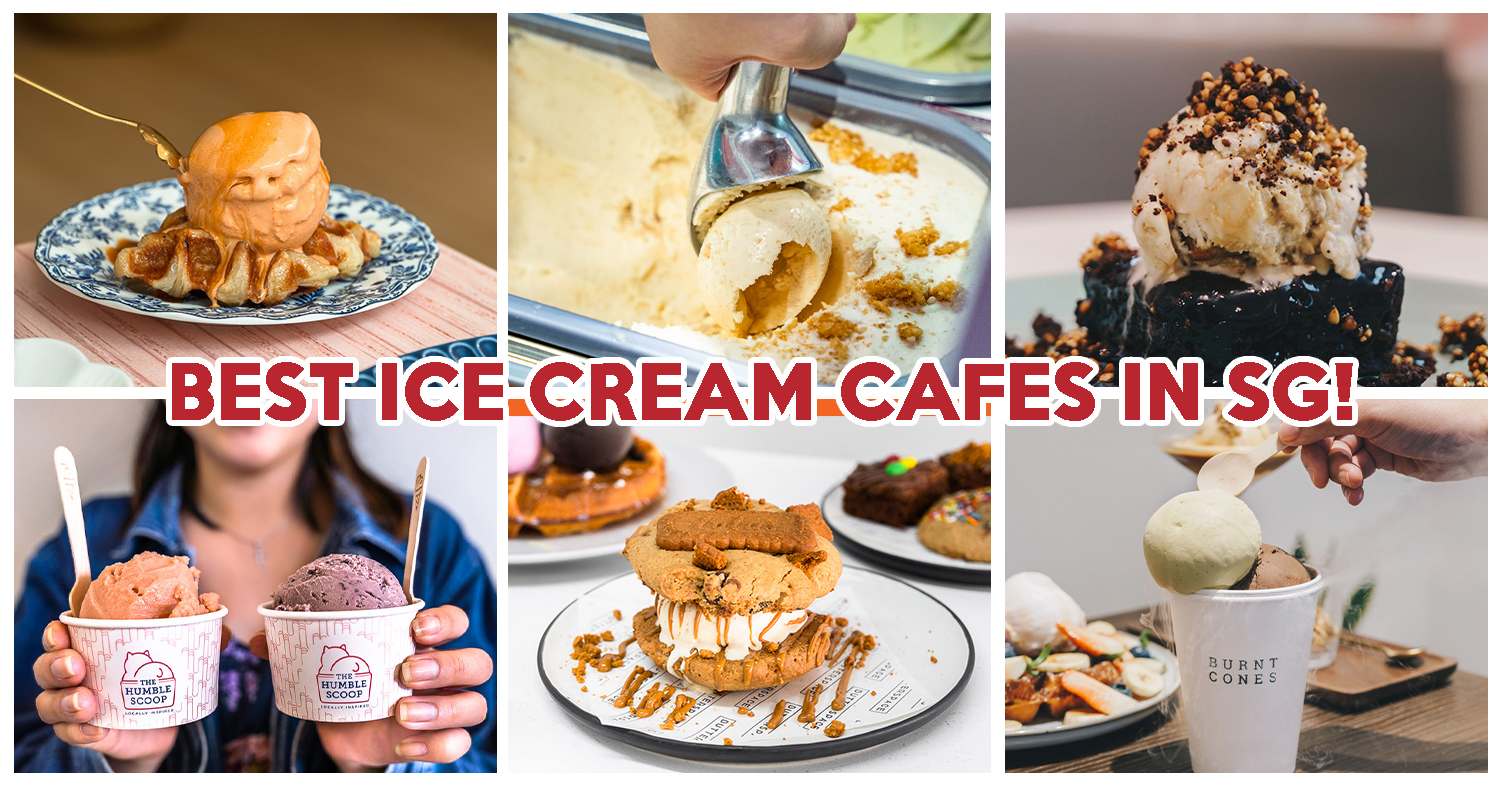 ---
Locally-inspired ice cream shops in Singapore
---
Nothing comes close to the satisfaction of being served a big scoop of ice cream on a hot day. But rather than succumbing to your usual picks of vanilla and chocolate, give your taste buds a surprise with some locally-inspired flavours.
Singapore is a hotbed for ice cream shops with innovative sweet treats. Think crowd favourite flavours like Milo Dinosaur and durian, or if you prefer having breakfast for dessert, maybe a scoop of Kaya Toast ice cream will do just the trick. Here are 20 ice cream shops in Singapore serving up some of the most unique locally-inspired flavours.
---
1. Butterspace Bakery
---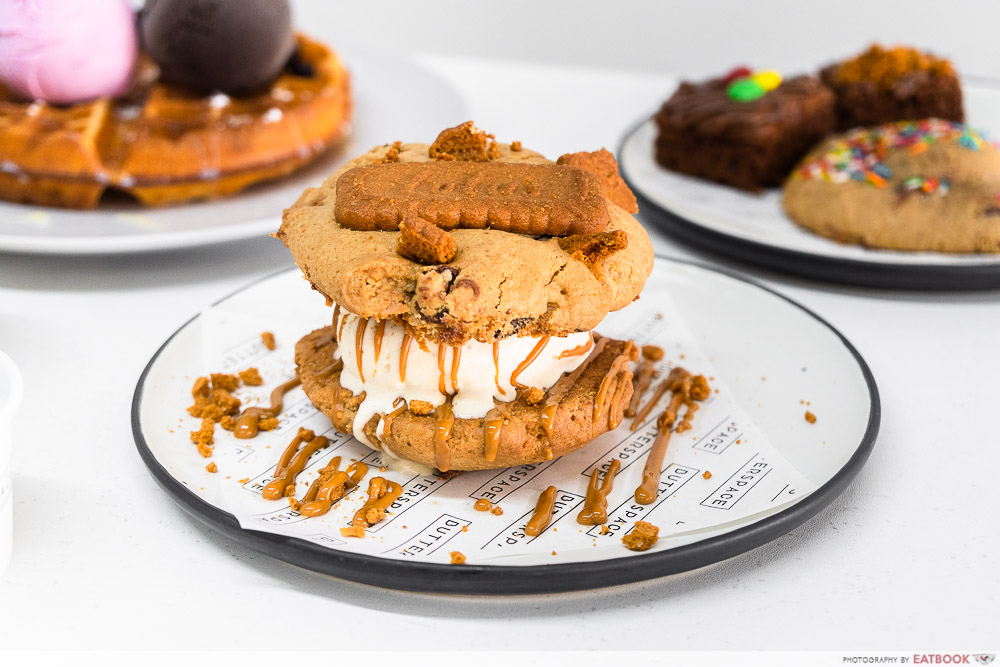 Easties can check out Butterspace Bakery in Bedok for ice cream cookie sandwiches, waffles and more! This late-night spot opens till 2am daily, so you can get your sugar fix even past midnight. A popular flavour is Horlicks ($3.50), which is said to be deliciously sweet and malty. Alternatively, go for the Cookie Sandwich ($8.50), which comes with your choice of ice cream, topping, sauce, and cookie.
Another popular flavour to try is Grape Yakult ($4.30), a fruity, purple-tinted ice cream that takes a nod to everyone's favourite probiotics drink.
Butterspace Bakery Review: Ice Cream Cookie Sandwich And More Till 2AM Daily In Bedok
Address: 55 Chai Chee Drive, #01-198, Singapore 460055
Opening hours: Wed 4pm to 2am, Thurs-Tues 12pm to 2am
Tel: 9850 7754
Website
Butterspace Bakery is not a halal-certified eatery.
---
2. Tom's Palette
---

Image credit: Tom's Palette
Veteran ice cream makers Tom's Palette have served up over 190 flavours of their house-made gelato over the years. This collection includes flavours that would only make sense to locals, such as Kueh Dadar, Salted Egg Yolk, and Soya Bean Dough Fritters. They even had a special Pipagao flavour for CNY 2022! 
A single scoop in a cup is priced from $4, while a single scoop in a cone goes for $5. If you want to savour more at home, you can take home a tub of ice cream for $18 too.
Address: 51 Middle Road, #01-01, Singapore 188959
Opening hours: Mon-Thurs 12pm to 9:30pm, Fri-Sat 12pm to 10pm, Sun 1pm to 7pm
Tel: 6977 9749
Website
Tom's Palette is not a halal-certified eatery.
Tom's Palette Reopens At Middle Road With Brownie Waffles, Unique Ice Cream Flavours And More
---
3. Dopa Dopa Creamery
---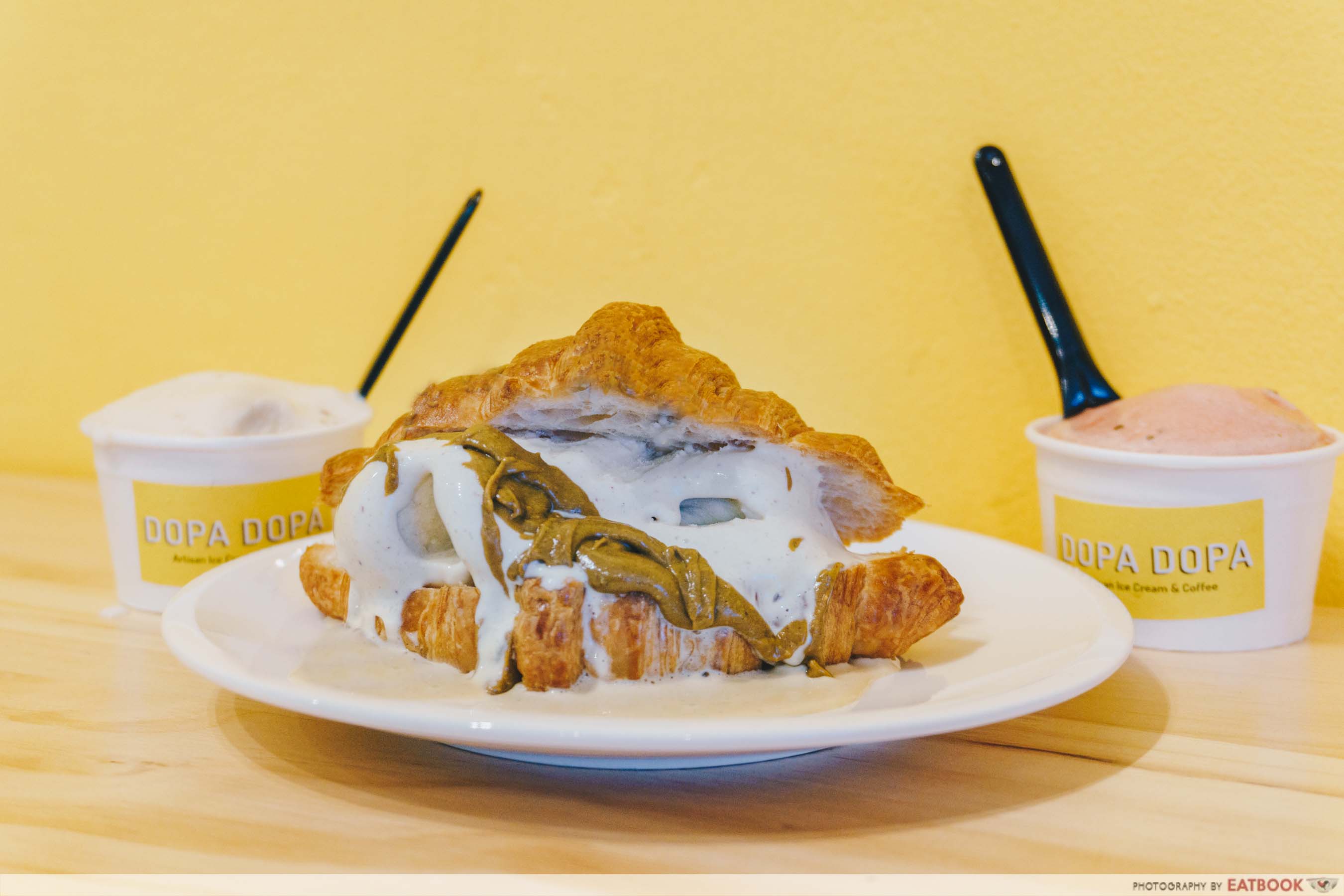 Ice cream and pastries are a match made in heaven, and Dopa Dopa Creamery is where you can get your fix. Whether you're craving a Croissant ($5.30) or a kouign-amann known as the Happy Patty ($6) at Dopa Dopa, you can easily pair the freshly-baked pastries with delicious scoops of their house-made gelato.
You won't go wrong choosing their signature Pistachio flavour, made with nuts roasted in-house, but keep an eye out for their Singapore-style seasonal flavours such as Coconut Pandan with Gula Melaka. A single scoop here starts at $4.30, and premium flavours are an additional $1.
Check out our full review of Dopa Dopa.
Address: 29 South Bridge Road, #01-01, Singapore 058665
Opening hours: Mon-Thurs 12pm to 10pm, Fri-Sat 12pm to 10:30pm
Tel: 9123 2143
Website
Dopa Dopa Creamery is not a halal-certified eatery.
Dopa Dopa Creamery Review: Gelato Croissant Shop At Clarke Quay
---
4. Lickers
---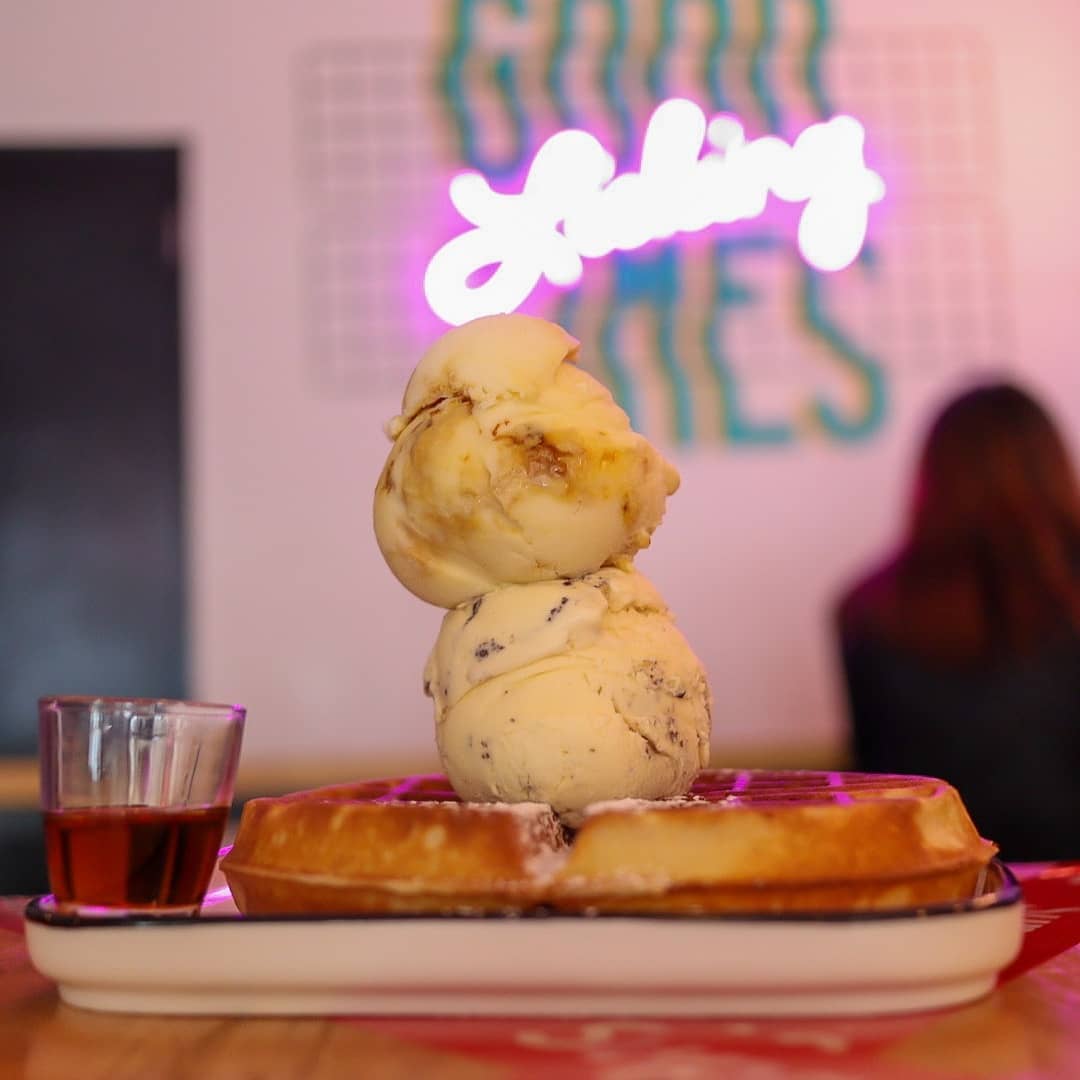 Image credit: @shiokubutsu
A late-night ice cream run hits different, and with two stores in Hougang and Telok Blangah, Lickers is perfectly situated for heartlanders to satisfy their midnight cravings.
Their innovative yet familiar flavours including Milo Mallow and Mao Shan Wang complement their conventional offerings such as Roasted Pistachio and Hazelnut Truffle. A single scoop starts at $3.50, and you can add a waffle for just $4.50.
Website | Full list of locations
Lickers is not a halal-certified eatery.
Shake Shack Suntec City Opens On 30 September With Limited Edition Fried Shallots Burger And Matcha Ice Cream
---
5. Kind Kones
---

Those of us who are unfortunately lactose intolerant can find solace in the ice cream from Kind Kones. The vegan ice cream parlour prides themselves on only using natural and fresh ingredients. This means that their ice cream is free from dairy, soy, refined sugar, egg, preservatives, and artificial additives.
You might think that the lack of these ingredients will dull the ice cream, but we can assure you that they're still as tasty. With a menu that has a wide assortment of flavours like Pandan Gula Melaka and Keto Avocado Coconut, you won't be disappointed if you're after a healthier ice cream option. A single scoop starts at $5.90.
Check out our full review of Kind Kones.
Address: 583 Orchard Road, #B1-27, Forum The Shopping Mall, Singapore 238884
Opening hours: Daily 10am to 10pm
Tel: 9010 8557
Website
Kind Kones is not a halal-certified eatery, but is dairy- and egg-free.
Kind Kones Review: Vegan Ice Cream In Singapore With Pandan Gula Melaka And Black Forest Flavours
---
6. Creamier
---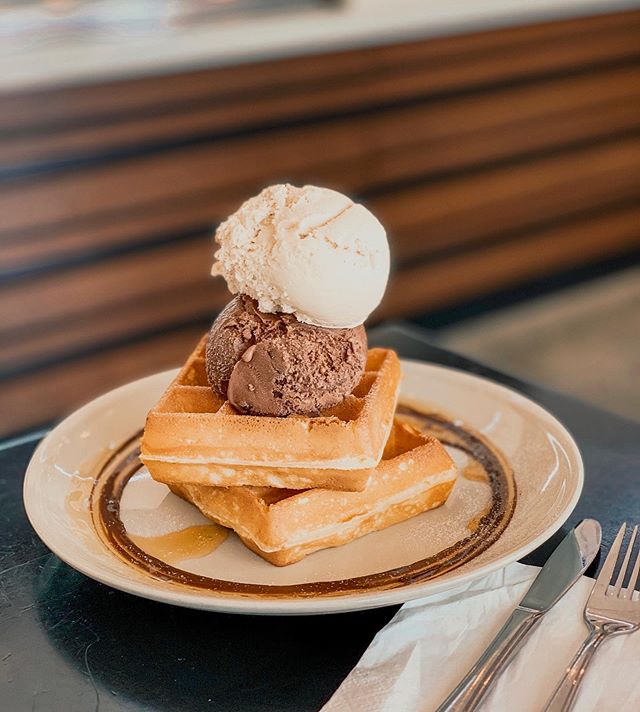 Image credit: @bobanomz
You might be familiar with Creamier as it is one of the OG heartland dessert cafes. Its humble beginnings in Toa Payoh saw the founders churning delicious ice creams every morning to ensure a degree of freshness.
This tenacity led to widespread success, leading them to collaborate with Chef Franco Brodini of the Shangri-La Hotel to create their signature flavour, Sea Salt Gula Melaka. Another locally inspired flavour is the limited-time-only Kopi Peng, made with sock-brewed, margarine-roasted coffee beans.  A single scoop starts at $3.90. while a Waffle Set (with a single scoop) will set you back $9.70.
Website | Full list of locations
Creamier is not a halal-certified eatery.
---
7. The Daily Scoop
---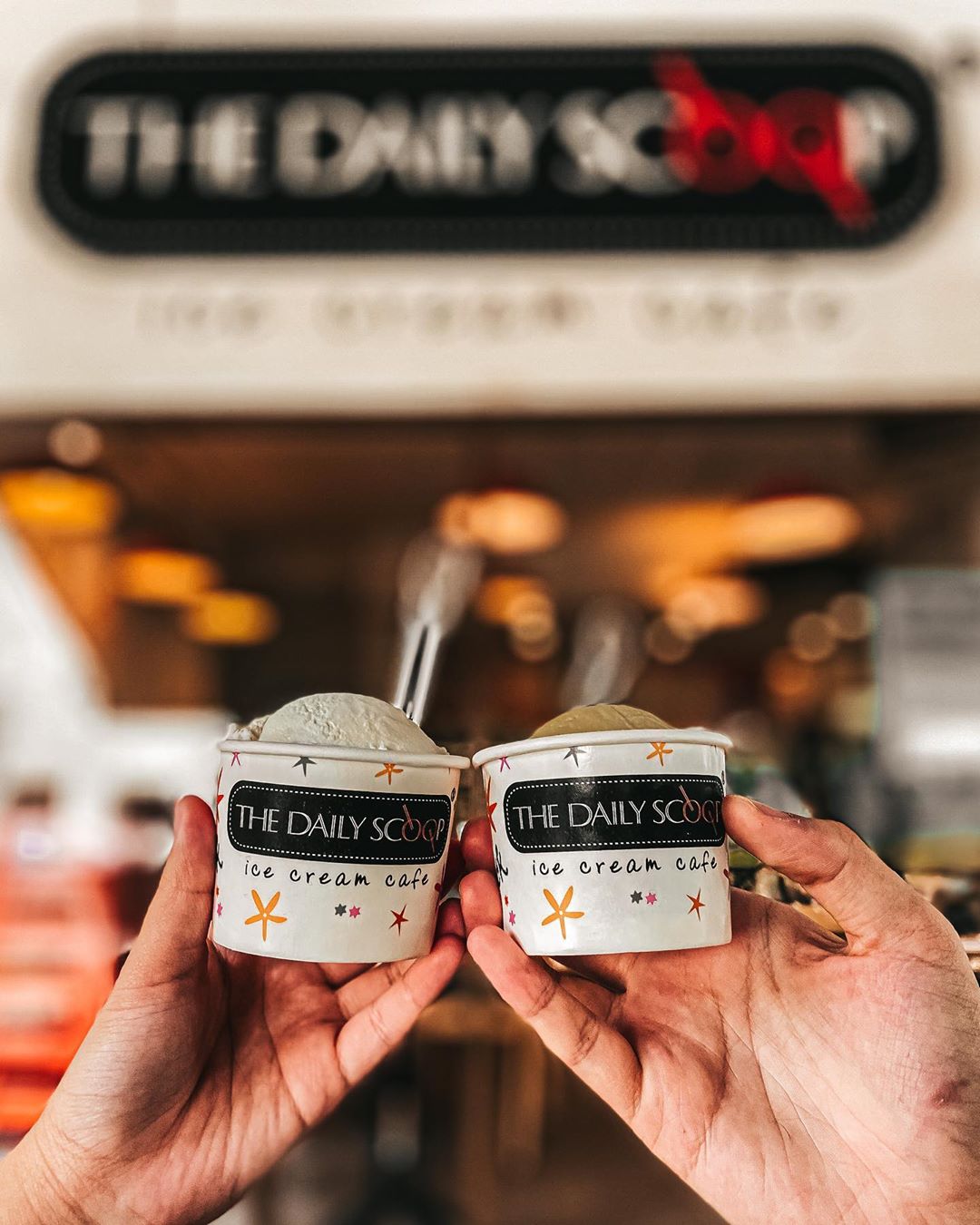 Image credit: @fatslifes
We can safely assume that most students past and present would have spent at least one study session at The Daily Scoop, given that they were one of the earliest local ice cream chains in Singapore.
Over time, the shop has graduated from their traditional flavours into more experimental ones. Other locally-inspired flavours on the menu include Chendol and Mao Shan Wang. If you love bandung, try their Rosy Cloud, which combines milky gao bandung ice cream with mini marshmallows. A single scoop of ice cream starts at $3.50.
Website | Full list of locations
The Daily Scoop is not a halal-certified eatery.
---
8. Geometry
---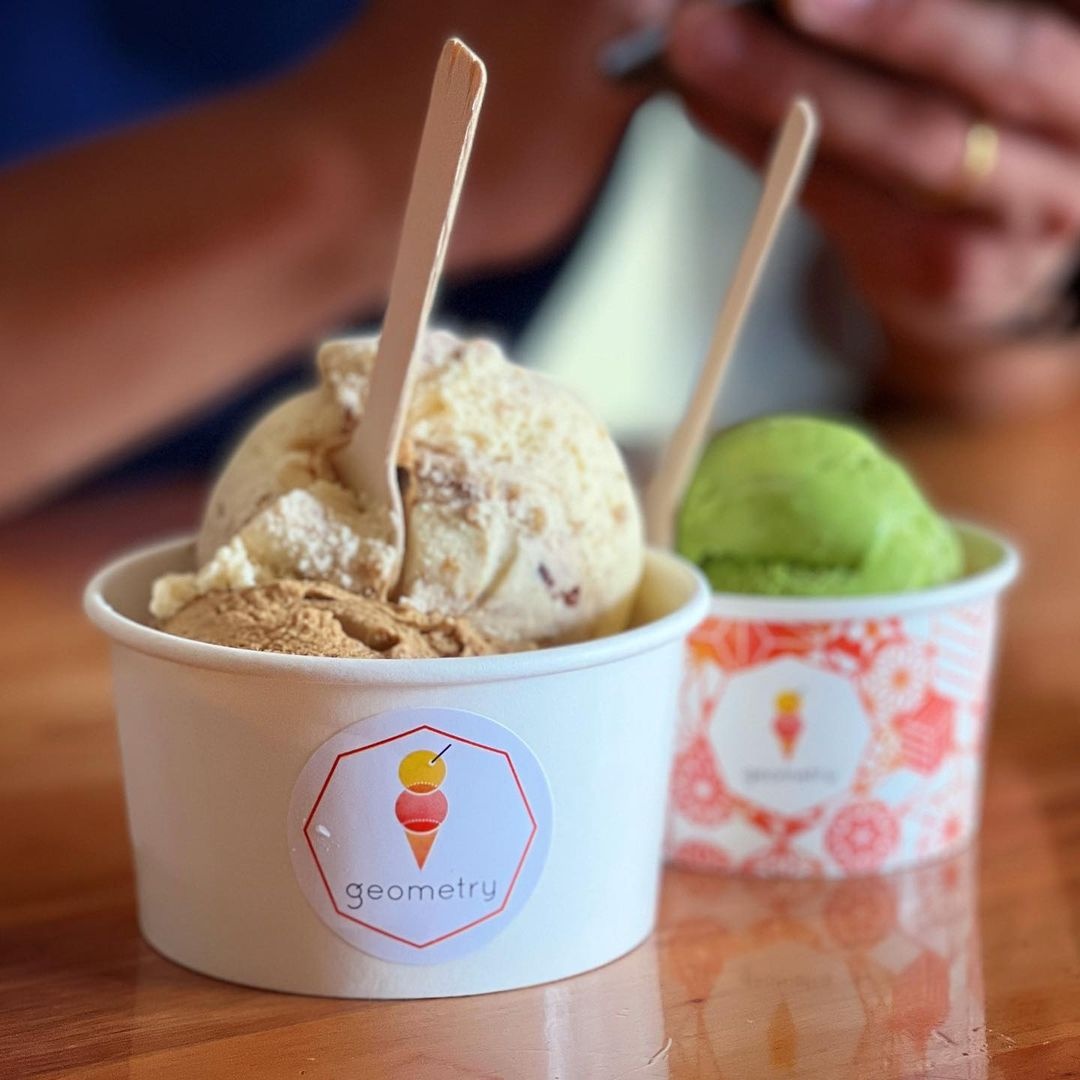 Image credit: @but.i.digest
Don't let the quaint and cosy interior of Geometry fool you—their menu boasts some truly delicious local and Asian-inspired gelato flavours, including their best-selling Earl Grey Tie Guan Yin ice cream.
Coffee addicts should try the Kopi Guyu, a limited-time special that's made to taste like a cup of robust kopi paired with a slab of butter. If you're not that fond of tea-based flavours, you can also opt for the sesame-based Goma or something more familiar like Milo. A single scoop of gelato is priced from $3.20.
Address: 2 Jalan Bukit Merah, #01-5142, Singapore 150002
Opening hours: Sun-Thurs 12pm to 9:30pm, Fri-Sat 12pm to 11pm
Tel: 6255 6366
Website
Geometry is not a halal-certified eatery.
---
9. 2nd Serving
---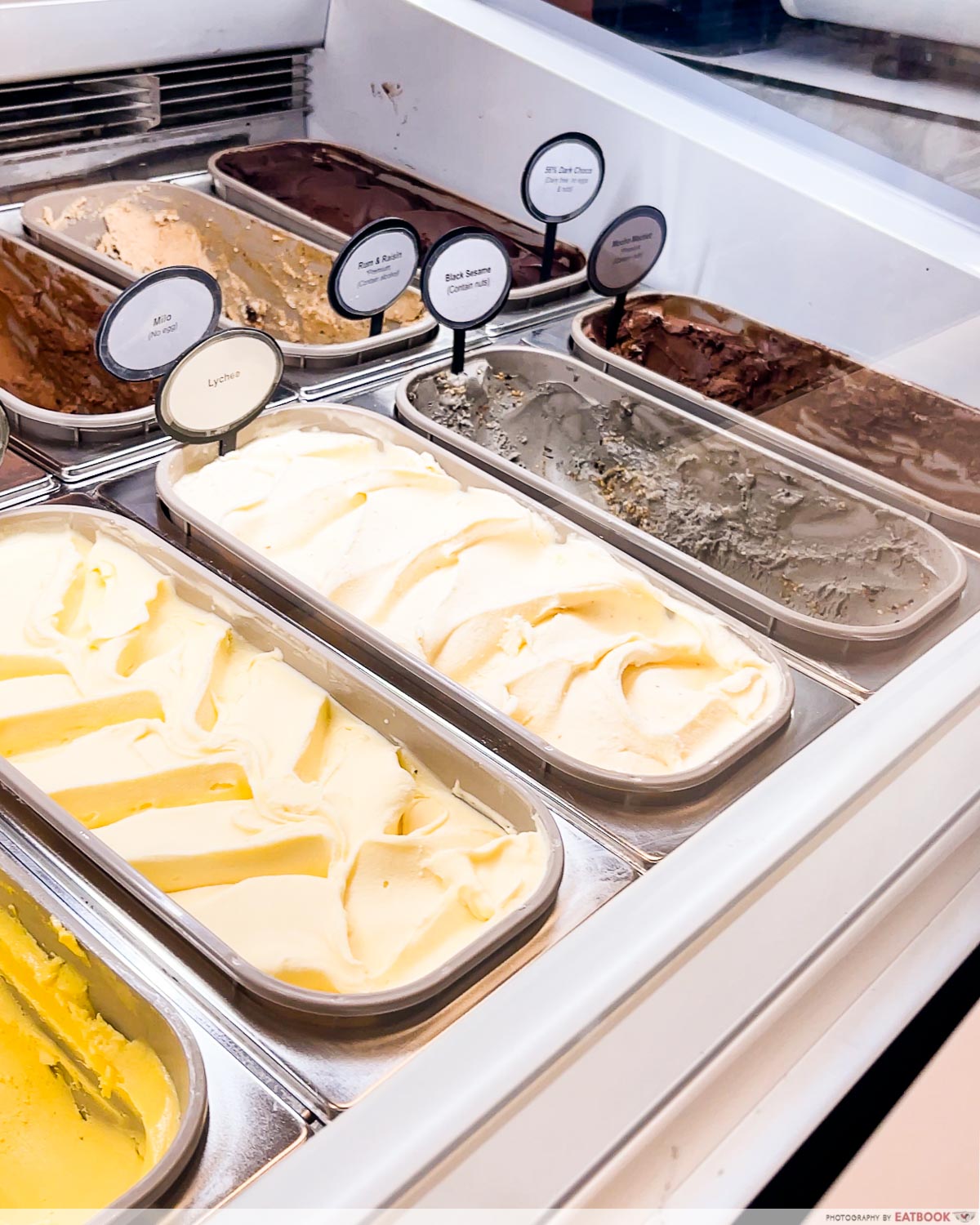 Located a short walk from Holland Village MRT Station is 2nd Serving, a cute ice cream cafe tucked behind a vending machine door. This new-ish cafe is most known for their tea-infused gelato and Brownie Mochi Waffle ($7.50), which we're big fans of.
You'll also find some gelato flavours with a local influence, such as Black Sesame, Lychee, Tropical Coconut, and Milo. Gelato prices start at $4.50 per scoop. Wash everything down with an artisanal brewed tea ($7.50), served in a bottom-dispensing teapot.
Address: 41 Holland Drive, #01-07, Singapore 270041
Opening hours: Thurs-Sat 12pm to 11pm, Sun-Wed 12pm to 10pm
Website
2nd Serving is not a halal-certified eatery.
2nd Serving: Newly Opened Ice Cream Cafe Hidden Behind A Vending Machine
---
10. Burnt Cones 
---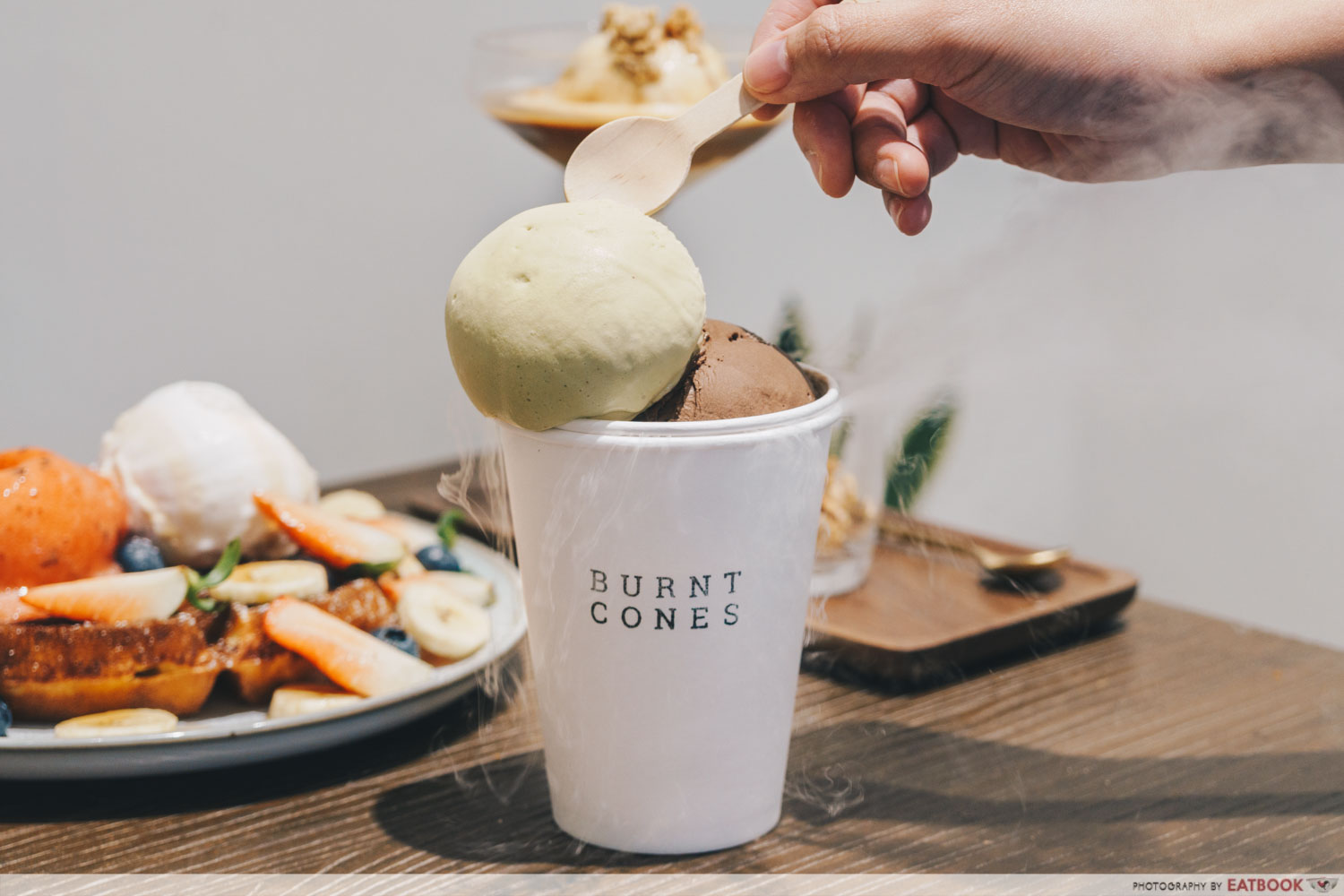 Another late-night ice cream cafe for your supper fix is Burnt Cones in Clementi. This cosy cafe opens till midnight, serving waffles and gelato in flavours such as Kaya Chendol and Black Sesame. There's also an Ube flavour, perfect for orh nee fans. The gelato is priced from $5 for a single scoop.
If Clementi is out of the way for you, consider heading down to their other two outlets: NEWest Mall in West Coast and The Sail at Marina Bay.
Address: 105 Clementi Street 12, #01-02, Singapore 120105
Opening hours: Mon-Fri 11am to 12am, Sat-Sun 9am to 12am
Tel: 9711 1097
Website
Burnt Cones is not a halal-certified eatery, but their food contains no pork, lard, or alcohol.
Burnt Cones Review: New Clementi Cafe Open Till 12am For Waffles And Gelato Such As Yam And Pistachio
---
11. The Humble Scoop
---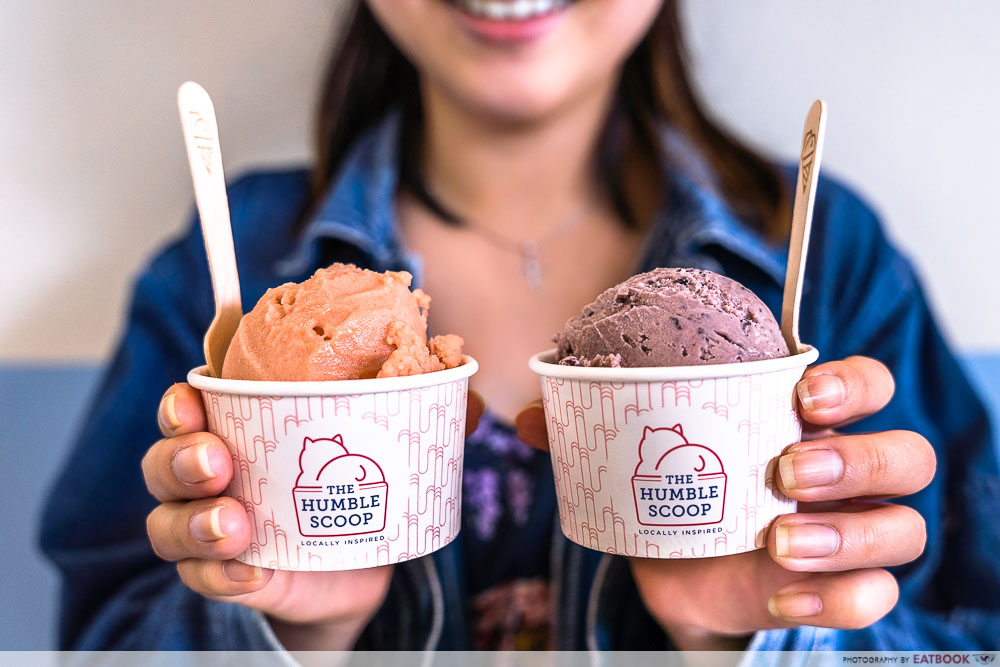 For nostalgic ice cream flavours, head to The Humble Scoop at Upper Serangoon or Katong. This ice cream cafe is popular for their locally inspired, handcrafted ice cream, in flavours such as Orh-Bee-Good ($4) and Guava Sourplum ($4). The former, inspired by pulut hitam, comes with black glutinous rice and flavours of coconut. For something more refreshing, opt for the fruit-forward guava sorbet instead.
Another fan favourite is the In-Kueh-Dible ($4), which combines rich gula melaka with a salted coconut ice cream base for that ultimate sweet-salty pairing.
Check out our review of The Humble Scoop!
Upper Serangoon
Address: 988 Upper Serangoon Road, #01-02, Stars of Kovan, Singapore 534733
Opening hours: Tue-Sun 12pm to 12am
Tel: 8803 5981
Katong
Address: 865 Mountbatten Road, #B1-92, Katong Shopping Centre, Singapore 437844
Opening hours: Tue-Thurs 12pm to 8:30pm, Fri-Sun 12pm to 9:30pm
Tel: 8803 5981
Website
The Humble Scoop is not a halal-certified eatery.
---
12. No Horse Run 
---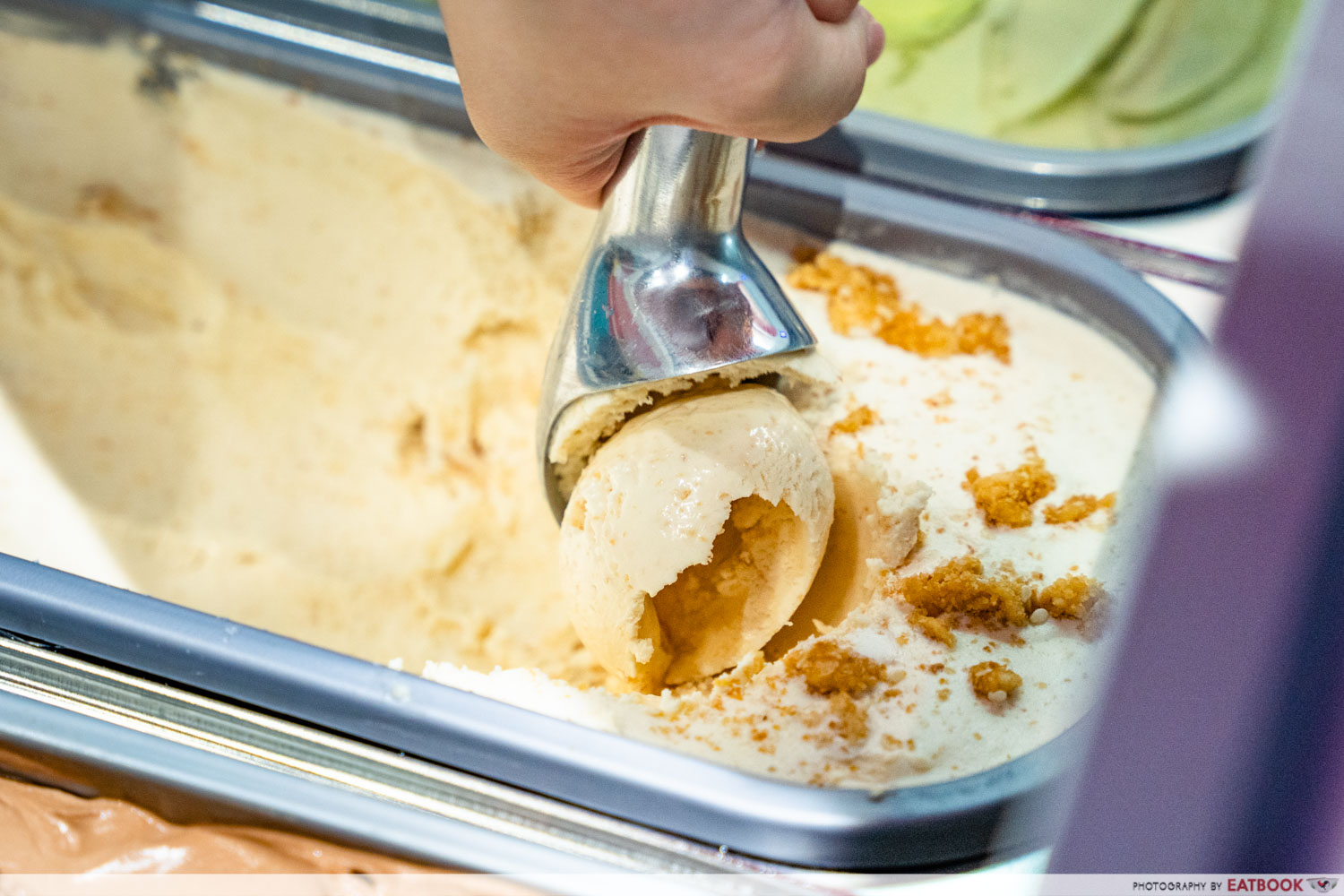 Yishun residents can visit No Horse Run for their late-night hunger pangs. This cosy gelato parlour, located within five minutes by foot from the MRT Station, opens till 2am daily, so night owls can still get their sweet tooth cravings sorted. Try their popular locally inspired flavours, such as Muah Chee ($5), and Roasted Black Sesame ($5). There's also a lesser-seen Cereal Mai Pian ($5) flavour, which comes with chewy cereal bits.
Address: 160 Yishun Street 11, #01-216, Singapore 760160
Opening hours: Daily 2pm to 2am
Tel: 9667 4849
Website
No Horse Run is not a halal-certified eatery.
No Horse Run Review: Smoked Milk, Muah Chee, And Cereal Mai Pian Gelato In Yishun Open Till 2am
---
13. Overrun
---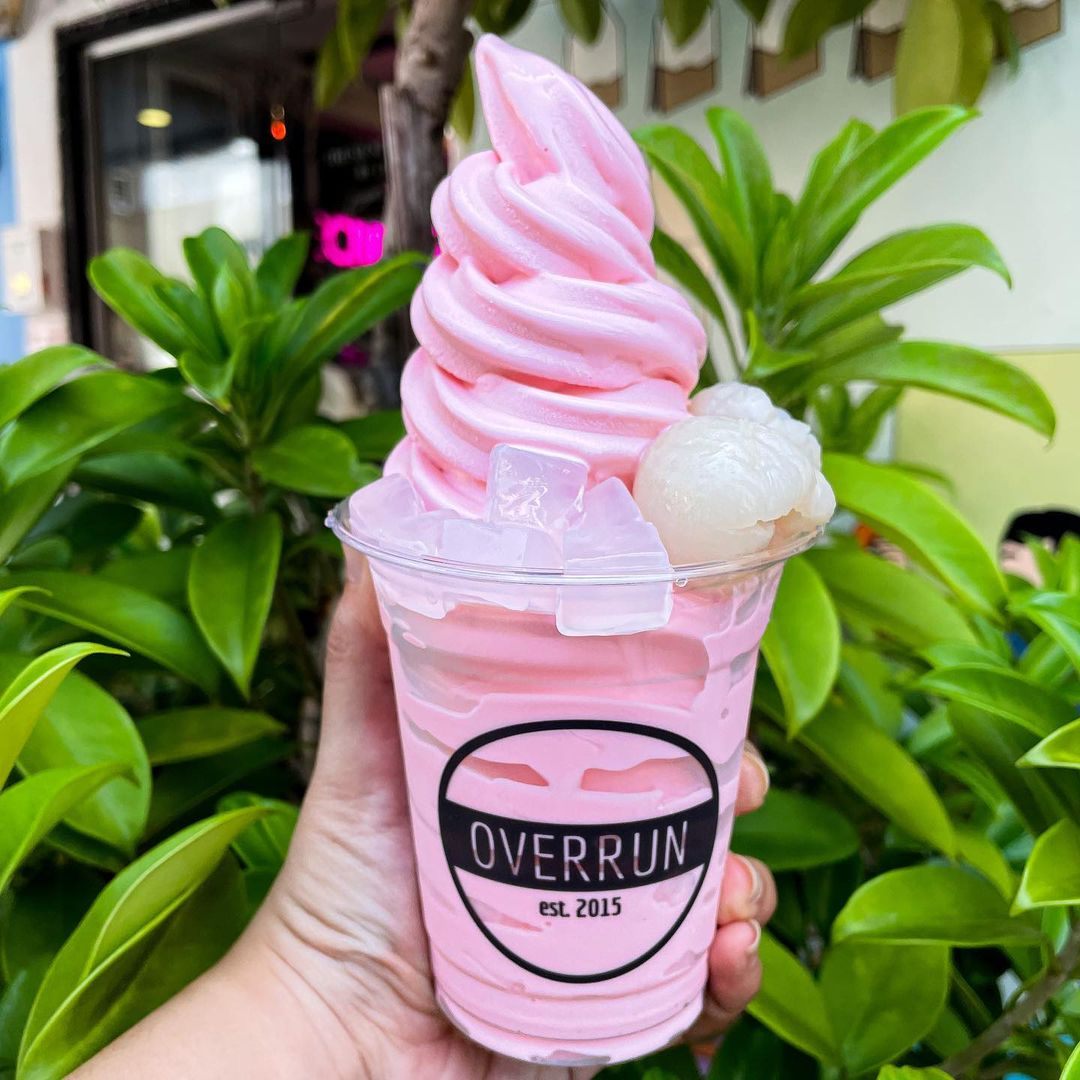 Image credit: @overrun.sg
Overrun is a Muslim-owned cafe that specialises in IG-worthy soft serve dessert creations. Their available flavours change weekly, so make sure you keep your eyes peeled on their Instagram page for updates!
Some past renditions include Bandung Lychee ($9), which sees rose-flavoured soft serve ice cream topped with nata de coco and lychee. Other must-tries are the Durian Chendol ($8.50), and Honeydew Sago ($8.50): honeydew-flavoured ice cream with house-made sago and a salted coconut milk sauce.
Address: 18 Baghdad Street, Singapore 199657
Opening hours: Tue-Thurs 12pm to 8:30pm, Fri 2pm to 10pm, Sat 12pm to 10pm, Sun 12pm to 6pm, or sold out
Website
Overrun is not a halal-certified eatery, but is Muslim-owned.
---
14. Birds of Paradise Gelato Boutique
---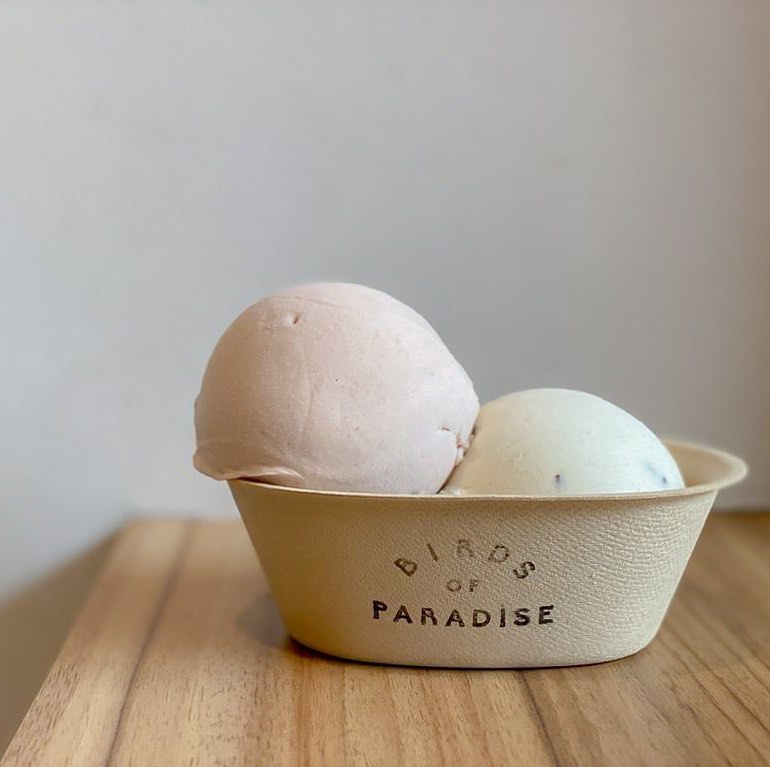 Image credit: @bopgelato
Birds of Paradise Gelato Boutique first shot to fame with their signature White Chrysanthemum gelato flavour. The homegrown gelato powerhouse is well-loved for their botanical-infused, Southeast Asian-inspired creations. From the fruity Lychee Raspberry to the bold Masala Spice, there's a flavour for everyone here.
Prices start at $5 per scoop. Don't forget to try their house-made cones (+$1) too; it's infused with thyme for a unique fragrance.
Website | Full list of locations
Birds of Paradise is not a halal-certified eatery, but their ingredients are free of alcohol and gelatin.
---
15. Ice Bar
---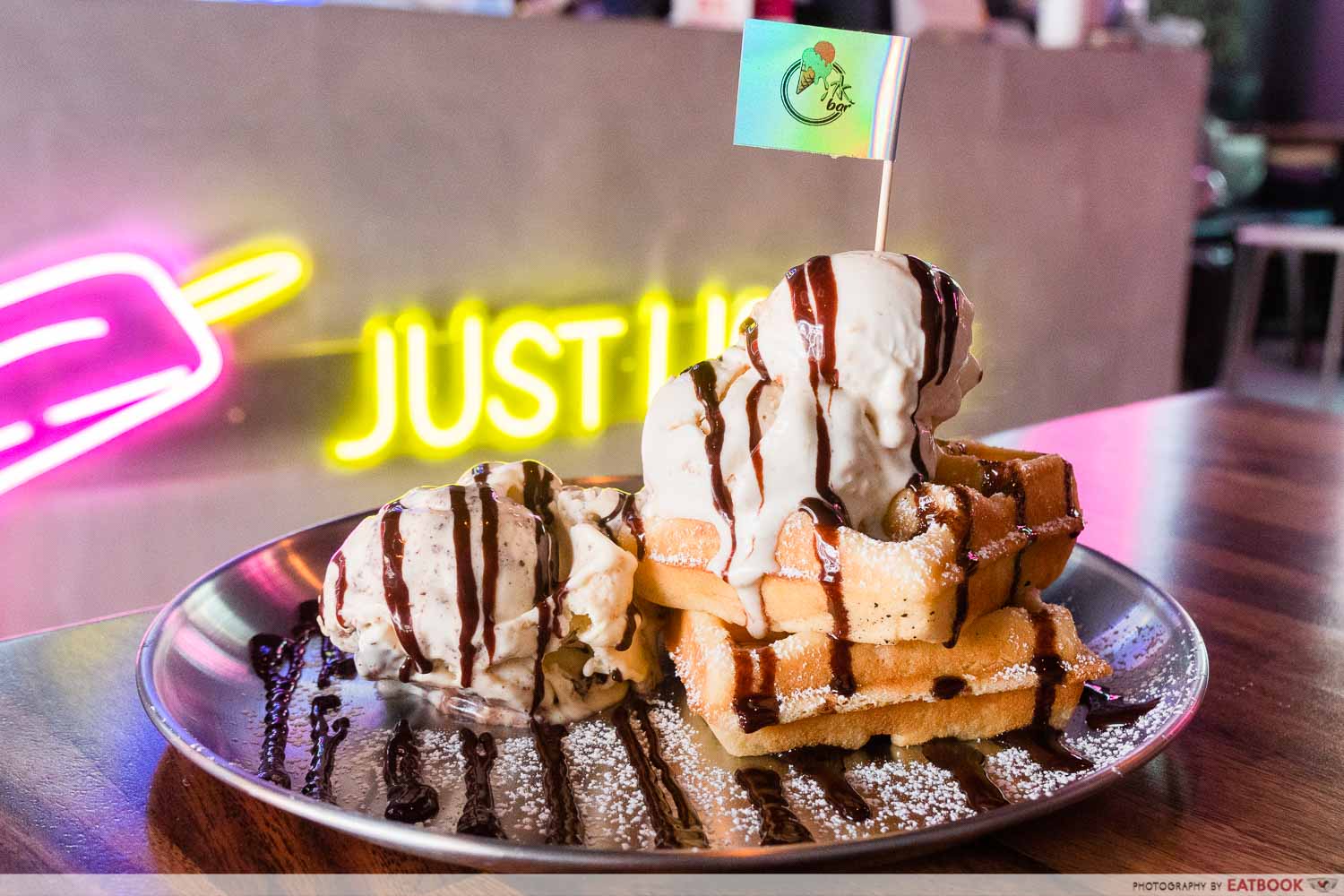 Neon-lit ice cream cafe Ice Bar opens till 2am on weekdays, which is excellent news for those who stay up late. Here you'll find nostalgic gelato flavours such as Grape Yakult, and an Asian-inspired White Chrysanthemum With Goji Berries. Gelato prices are based on three tiers: $4.50 for a single Classic scoop, $5.50 for Premium, and $6.50 for Super Premium.
You can also get waffles here, either in Original ($5.80) or the Charcoal ($6.90) flavour.
Hougang Green Shopping Mall
Address: 21 Hougang Street 51, #02-14, Singapore 538719
Opening hours: Mon-Thurs 2pm to 11pm, Fri 2pm to 2am, Sat-Sun 12pm to 2am
GR.ID Mall
Address: 1 Selegie Road, #02-04, Singapore 188306
Opening hours: Mon-Thurs 12pm to 11pm, Fri-Sun 12pm to 2am
Tel: 8222 3446
Website
Icebar is not a halal-certified eatery.
---
16. Softhaus
---
For keto and vegan-friendly ice cream options, head to Softhaus, tucked in Basement 1 of Great World. Started by famed dessert chef Janice Wong, this bright and bold ice cream cafe houses more than 15 flavours, with 20 toppings to choose from, including speculoos and popcorn.
Some of their most popular picks include the keto-friendly Milk Tea, and the refreshing Mango Banana Passionfruit Sorbet. Those who love their fruit shakes can go for the creamy Avocado Banana, or Coconut Day. The ice cream is priced at $6 or $7 per scoop.
Read our Softhaus review!
Address: 1 Kim Seng Promenade, #B1-K135, Great World, Singapore 237994
Opening hours: Mon-Thurs 11:30am to 9:30pm, Fri-Sun 11:30am to 10pm
Website
Softhaus is not a halal-certified eatery.
---
17. Celine's Gelato
---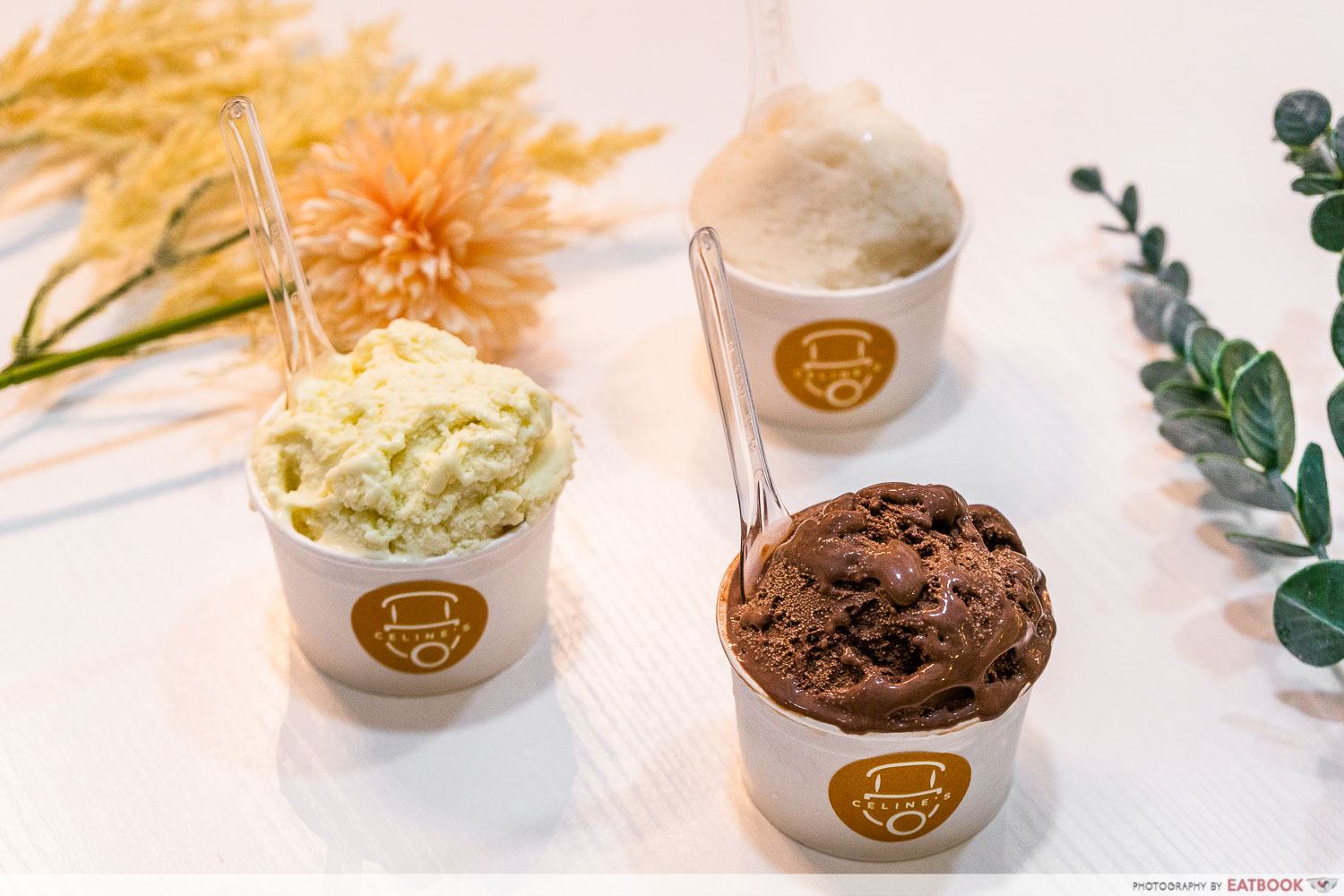 Celine's Gelato is a hidden gem in the Novena estate. The cosy gelato cafe offers a core menu with around six to eight mainstay flavours, along with two new flavours introduced every month. The gelato are stored the traditional Italian way—in a pozetti display.
Fans love their premium D24 Durian flavour, which is said to be rich and aromatic in every bite. Other popular Asian-inspired flavours are the Black Sesame gelato and Yuzu sorbet. Gelato prices start at $5++ a scoop, and you can top up $0.50++ to have it in a cone, or $2.80++ for waffles.
Celine's Gelato Review: $2.80 Waffles And Fresh Bakes Including Matcha Cheesecake
Address: 275 Thomson Road, #01-04, Novena Regency, Singapore 307645
Opening hours: Mon-Sat 10am to 9pm
Website
Celine's Gelato is not a halal-certified eatery.
---
18. Two Bake Boys Cafe
---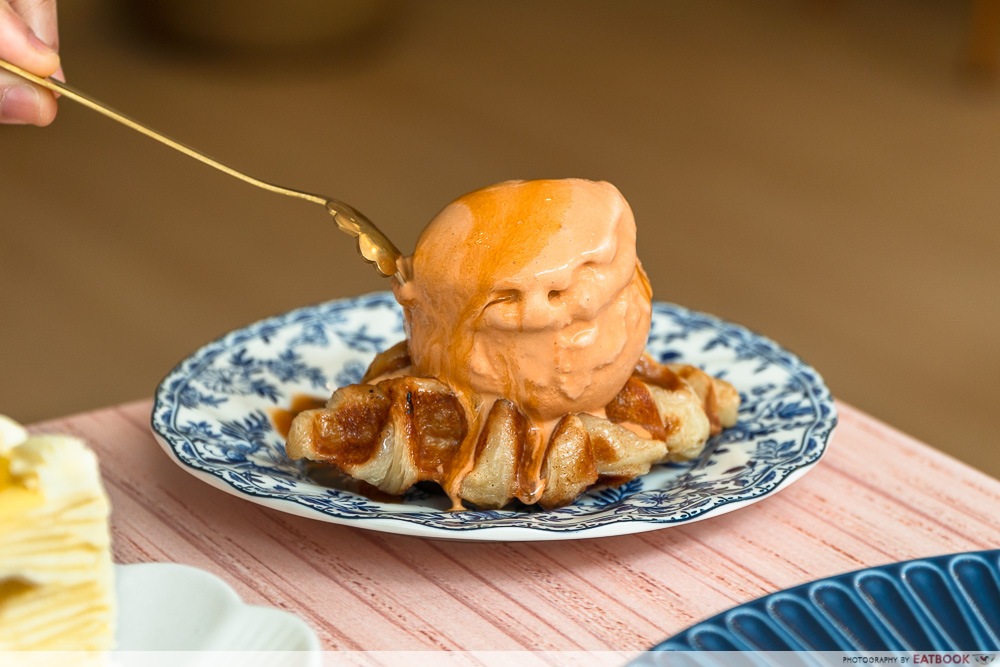 Located an eight-minute walk from Bugis MRT Station is Two Bake Boys Cafe, a resort-like cafe serving Thai-inspired brunch fare and desserts. Choose from a full lineup of gelato here, ranging from classic Tahitian Vanilla ($4.90) to more unique Asian-infused flavours such as Blue Pea Lemongrass ($4.90), Milo Dinosaur ($3.90), and Thai Tea ($4.90).
We highly recommend going for their Croffles Krub ($8), which features freshly baked croffles with a scoop of creamy Thai milk tea gelato on top. If you prefer savoury fare, try their Thai Green Curry Pasta ($16: al dente spaghetti tossed in a fragrant green curry mix, served with mushrooms and plant-based chunks.
Read our Two Bake Boys Cafe review!
Address: 8 Jalan Kubor, Singapore 199207
Opening hours: Daily 10am to 5pm
Tel: 8782 6566 (WhatsApp only)
Website
Two Bake Boys is not a halal-certified eatery.
---
19. Fratello Gelato 
---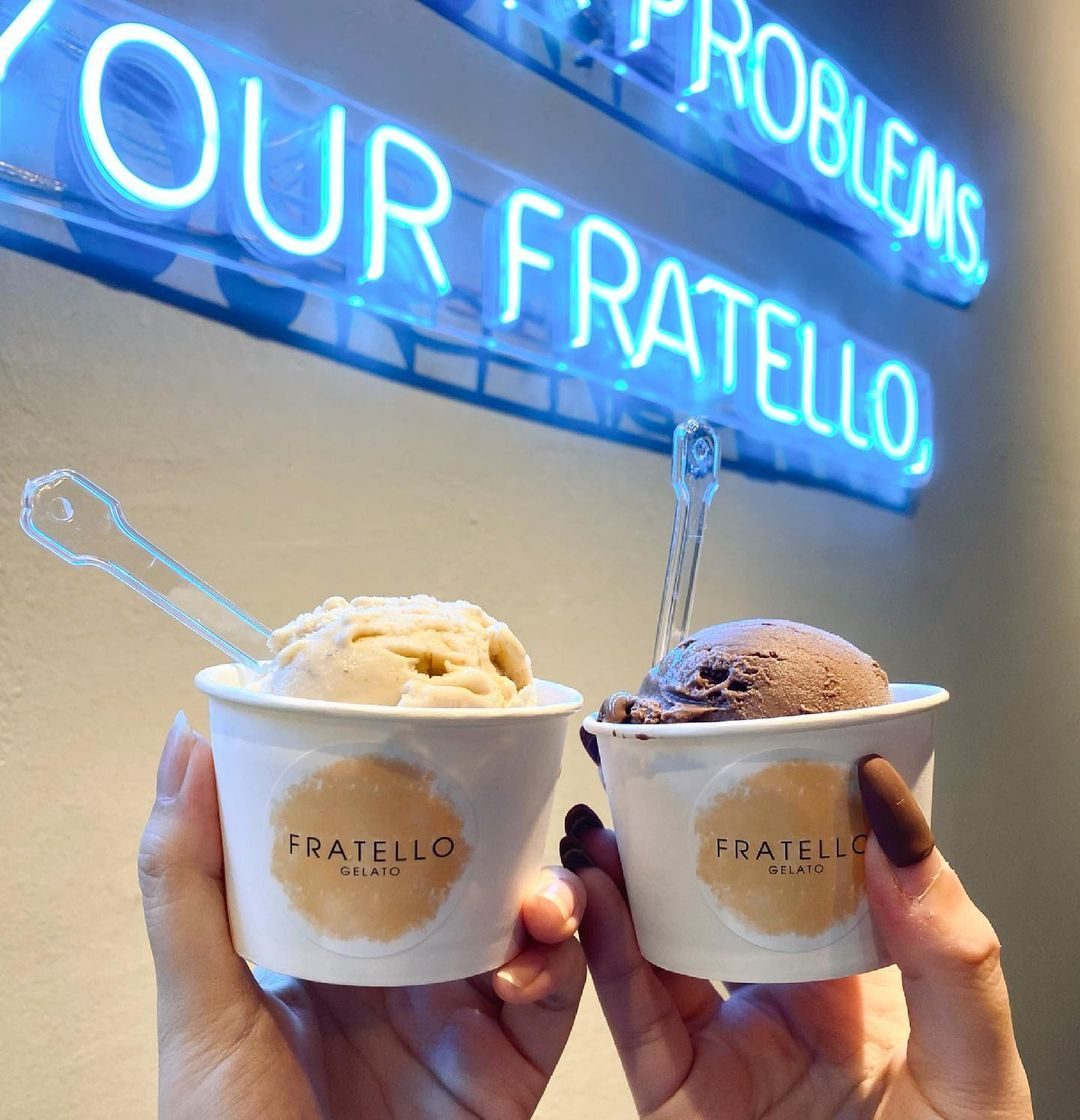 Image credit: @foodaestheticc
Easties have another new gelato bar to try out: Fratello Gelato. This small ice cream cafe in Tampines dishes opens till midnight from Wednesday to Monday, so you can head down for your supper fix with your friends.
Expect a decent variety of flavours to go with your waffles ($5); there's Cold Brew White Coffee gelato if you're in need of a caffeine boost, and a more unique-sounding Salted Blue Pea if you love salty-sweet combinations. Alternatively, the creamy Roasted Banana and Black Sesame flavours are crowd favourites, too.
This Gelato Cafe In Tampines Has Scoops From $4, Flavours Include Salted Blue Pea And Cold Brew Coffee
Address: 824 Tampines Street 81, #01-24, Singapore 520824
Opening hours: Wed-Mon 1pm to 12am
Website
Fratello Gelato is not a halal-certified eatery.
---
20. Inside Scoop
---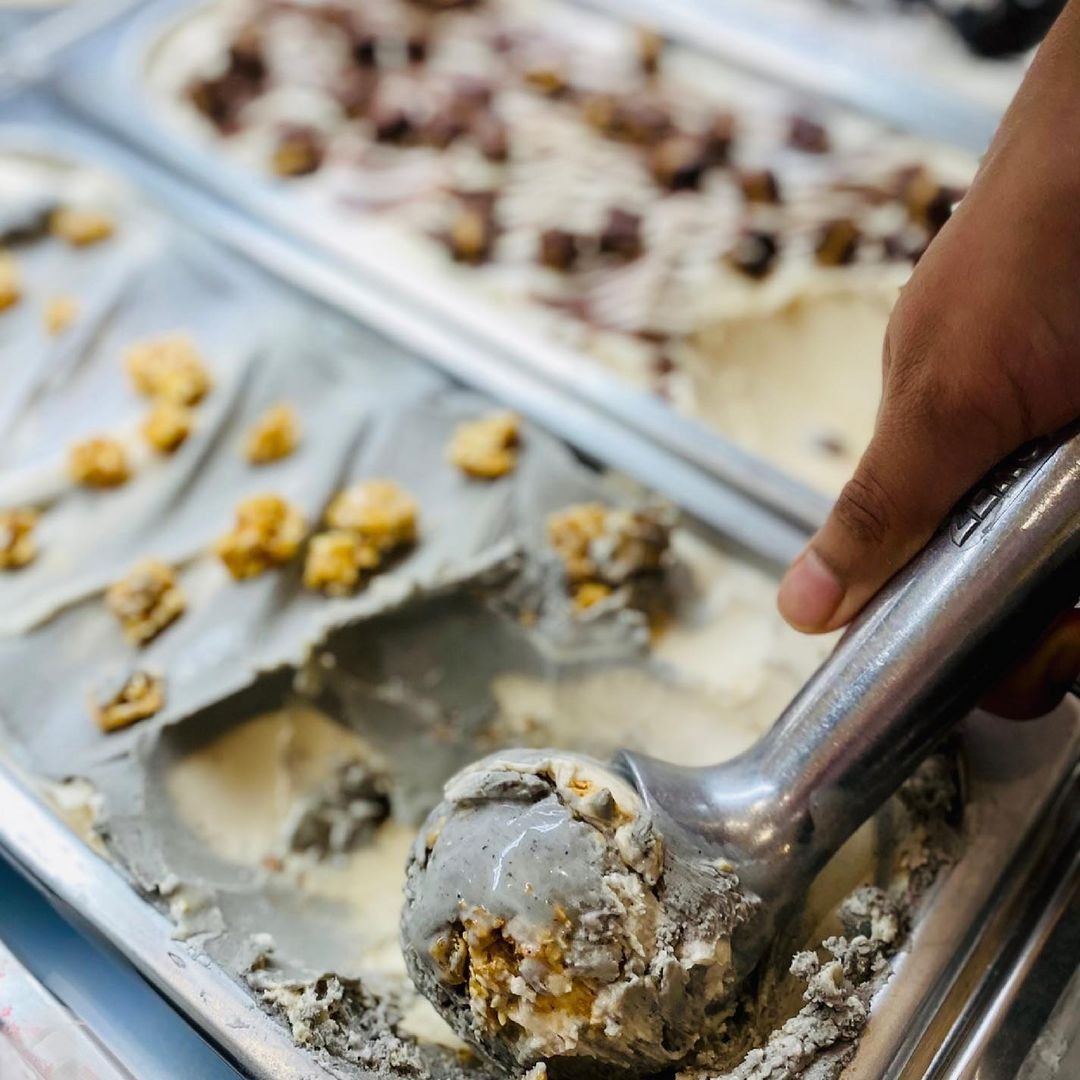 Image credit: @insidescoopsg
Malaysian ice cream chain Inside Scoop landed on our shores last year, so fans in Singapore no longer have to cross the border for their fix. If you're spoilt for choice, go for their bestselling Marbled Black Sesame, stuffed with peanut brittle and fragrant sesame chunks. There's also a highly raved Mao Shan Wang flavour if you're in the mood for durian, and Chempedak ice cream for those seeking something different. The ice cream is priced from $4.80 for a scoop.
Address: 779 North Bridge Road, Singapore 198747
Opening hours: Sun-Thurs 12:30pm to 10:30pm, Fri-Sat 12:30pm to 11pm
Tel: 9114 7566
Website
---
Ice cream cafes in Singapore
---
Depart from your usual choices and go for something nostalgic and locally-inspired instead with our picks at these ice cream shops in Singapore. For more desserts, check out our list of dessert box delivery services! Alternatively, head to Mr Holmes' Raffles Place outlet for cruffins, stuffed doughnuts and more.
Mr Holmes Bakehouse Opens At Raffles Place With Two Men Bagel House Collab And New Cruffins
This article was originally published on 20 September 2020.
The post 20 Ice Cream Shops In Singapore With Locally-Inspired Flavours Such As Horlicks And Kueh Dadar appeared first on EatBook.sg - Singapore Food Guide And Review Site.