15 Cleaning Tips to Make Life Easier
If you're like me, you're constantly on the lookout for ideas on how to be more efficient in my household. I endorse and devour every hack anyone ever has come up with about cleaning, laundry, cooking, and keeping kids busy. Everything that helps me do things faster and save me time, is always welcome. Sometimes, I am literally blown away by the surprising uses of everyday items people come up with. Like with these cleaning tips  They are so genius I can't believe I hadn't thought of them already!
It's great to find simple fixes to get things cleaner, faster. I like to get my cleaning done QUICK! If you're looking to save some time, energy, and money, you are going to love these time-saving tips. Find new ways to work smarter, not harder, and have more time for more enjoyable activities than cleaning.
21 Cleaning Tips to Make Life Easier And Your House Cleaner
1. Clean The Dishwasher And Get Rid Of The Nasty Smells Once And For All
The dishwasher at home works A LOT. Because I HATE washing dishes. And because it works almost on a daily basis, a dishwasher can become nasty. Don't worry! There's an easy way to get rid of the grossness and the bad smells.
This homemade dishwasher cleaner could not be easier! If you've got stuck on food, try this to get your dishwasher smelling great again.
2. Bring Your Mattress Back To Life With This Cleaning Tip
How often do you clean your mattresses? If this question catches you off-guard, you need to pay special attention to this tip.
Is your mattress filthy but you don't have any idea how to clean it? Find out how to do it simply and effectively.
3. The Fun Kids Sock Mopping Cleaning Game That Will Get The Kids To Help With Household Chores
To get your kids involved in tidying the house, you have to turn chores into games. Let them do the super fun job of sock mopping! They will love it and they will burn off some energy.
4. Conquer The Bad Smell In Boys Bathroom With These Cleaning Tips
If you have a little boy or two in your home you might notice the smell of urine in your bathroom. It happens and you can't avoid it. To get that smell gone for good try these awesome tips.
I especially liked the DIY Toilet cleaner recipe. It's simple to make and works like a charm.
Here's what you need:
2 gallons hot water
1/4 cup vinegar
1/4 cup baking soda
1/2 cup borax (optional)
a small squirt of dishwashing soap
Have in mind that you'll need to mix it fresh every time as it doesn't last. But the results are impressive!
5. Cleaning Tips To Get Rid Of Hard Water Marks Effortlessly
Hard water stains can be really hard to get rid of, but these two DIY miracle cleaning recipes make it easy. You can thank me later.
6. The Magical 2-Ingredient DIY Carpet Stain Cleaner That You're Going To Fall In Love With
If you have a set in carpet stain then try this cleaning tip immediately! There are only two ingredients and it works so well.
What You Need:
1/3 bottle hydrogen peroxide
 water to fill the bottle
dark-colored bottle
5 drops of lemon essential oil
Mix and clean! It's so simple and it works every time.
7. Make Your Bathtub Sparkling Clean Agan With A Simple DIY Cleaner You Can Make Right Now
Bathtubs are very, very handy when you have small kids. And for these quiet moments, you manage to seal only for yourself and soak in tons of bubbles and some music… But bathtubs also require special attention when you're cleaning your bathroom.
Using harsh chemicals when cleaning has never been my thing and I've tested quite a few recipes I've seen online. This one really works!
Learn how to make your bathtub sparkle with this DIY cleaner – you've got all the ingredients in your house right now!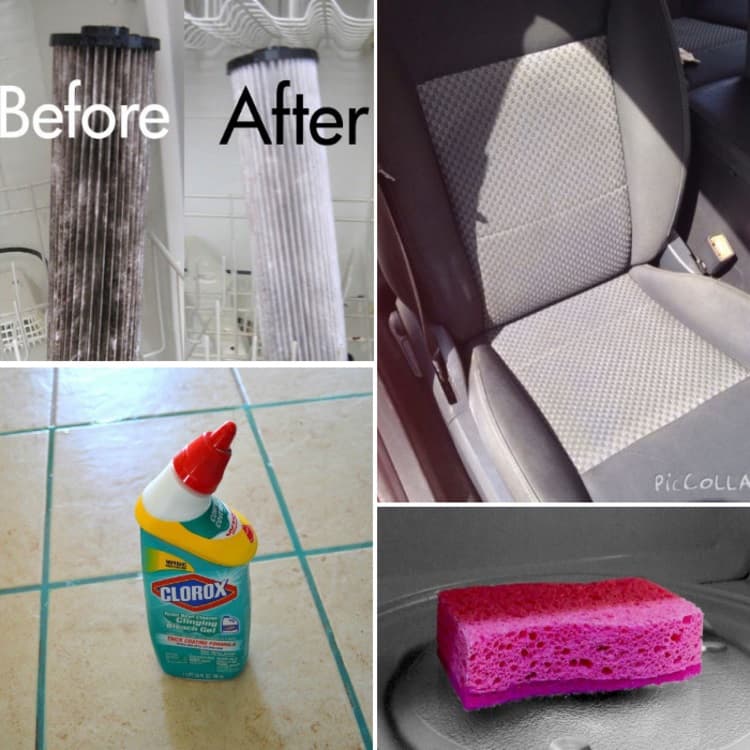 8. Cleaning Tips You've Never Thought Of: Wash Your Vacuum Cleaner's Filter In The Dishwasher To Get Rid Of The Stink
Fed up with a stinky vacuum filter? Toss it in the dishwasher! No, I am not crazy and you read this just right. You will be pleasantly surprised by the wonderful results. Don't put any dishes in with it, though.
9. Remove Water Stains From Upholstery And Have Your Furniture As Clean As The Day You Bought It
Club soda, white vinegar, and Dawn can get water spots and stains out of upholstery. Finally… your car seats can be squeaky clean again! Can't wait to try that one!
10. The Tile Grout Cleaner You've Always Been Looking For
Grout cleaner not doing the job? Are you tired from scrubbing the grouts and still not getting the results you want?
Opt for toilet cleaner instead! Just fill this in the grout lines, let it sit 10-15 minutes, scrub it, and then clean it up. You'll be amazed at the difference!
11. Brilliant Cleaning Tips: Microwave Your Sponges To Kill Germs
A study conducted at the University of Furtwangen in Germany found 362 different species of bacteria on a sponge (via Scientific Reports).

The density of the bacteria was up to 45 billion per square centimeter — which is really high (via NPR).

 

via Mashed.com
Pretty shocking, isn't it? No need to worry, we have cleaning tips for your filthy sponge, too! Zap sponges in the microwave for 2 minutes on high to kill 99% of germs.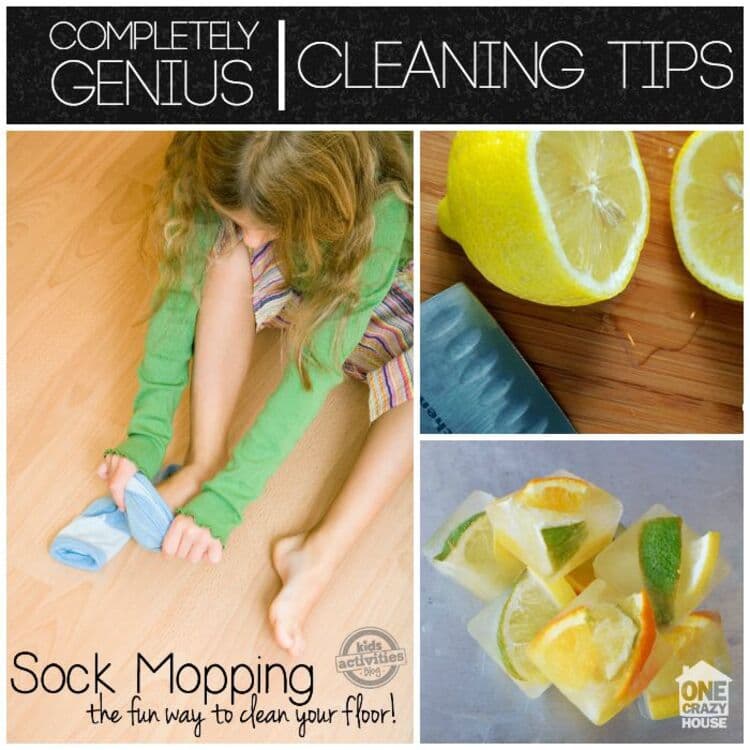 12. Cleaning Tips Everyone Needs To Know About: 3 Ways To Get Perfectly Clean Plastic Cutting Boards
I am not a huge fan of plastic cutting boards but since we have a few at home that we're using, I thought it's time to find a way to deep clean them.
After some research, I found these fantastic hacks for cleaning your plastic cutting boards that are stained and dingy. They're easy to do and you can see which one would work for you, depending on your cutting board's condition. Great ideas that work.
13. Unclog Your Garbage Disposal Painlessly With DIY Garbage Disposable Cleaner
Tell me I am not the only one who thinks clogged disposal is one of their worst nightmares? If your garbage disposal needs a good cleaning, make these disposal cubes that will do all the work for you!
14. Hairstyling Tools Cleaning Tips: How To Clean Curling Irons
How do you clean your hair styling tools? Ever wonder how to clean your dirty curling irons? Here is the secret.
15. Clean Your Slow Cooker With This Easy Hack
I'm sure your slow cooker looks like mine and the inside is covered in gunk. If so, here is how to clean it! The results are spectacular!
16. Sparkling Clean Blinds With A DIY Cleaning Tool
Do you have some dusty blinds? Salad tongs and some rags!! You won't believe how easy it is to clean your blinds with this lovely hack!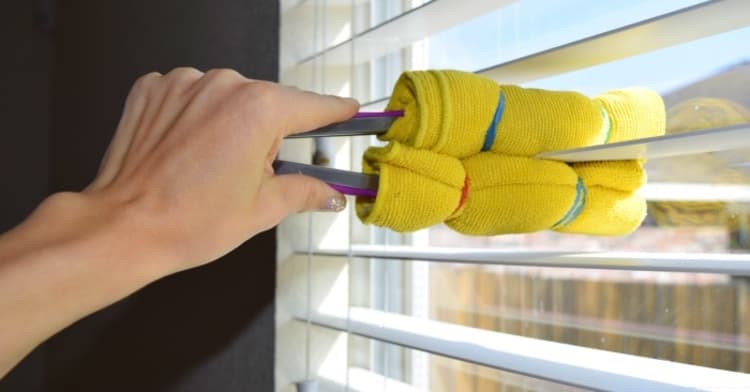 17. Nail Polish On Your Carpet? Try Out This Cleaning Hack
Keep this idea in mind for the next time you paint your nails – this is the way to get nail polish off you're carpet.
18. All The Kitchen Cleaning Tips You Need To Know In One Place
If you're tired of cleaning your George Forman grill each time you use it – stop! All you have to do is cover it with aluminum foil and toss it out after you cook. Here are more kitchen cleaning hacks.
19. Restore Your Dyson Vacuum Cleaner's Sucking Power By Cleaning It The Right Way
Is your vacuum cleaner not as powerful as it used to be? Don't worry, you don't need to buy a new one. Not until you try this cleaning tip. Get your Dyson sucking the way it did when you first bought it with these instructions.
20. The Complete Guide To Washing The Walls In Your House
Here is the quickest way to wash the walls in your house – something I always do after an illness has run through our home.
21. Lazy People Cleaning Tips: The Mop Socks That Will Save You For Washing Your Floors
Why do extra work if you don't have to?? Use your shoes as your mop! Or even your vacuum head! These mop socks cover over your shoes and pretty much anything else to help you trap dust and floor yuckies!
In Conclusion
Don't you just love learning about new quick ways to save time, while taking care of your house and family? And you don't need to make huge and significant changes. Nope!
If out of these 21 cleaning hacks you put in use only 3, you will significantly reduce the time you spend washing and rubbing.
Which one of these awesome cleaning tips are you going to try out first? Let us know in the comments! We'd love to celebrate your win with you!
Did these cleaning tips make your life easier already? Then, you're going to love these cleaning hacks, too:
The post 15 Cleaning Tips to Make Life Easier appeared first on DIY House Hacks - One Crazy House.