10 Best Shoes for Nurses (Reviews & Buying Guide 2020)
Yes, we often equate doctors with Gods, and they do save a lot of lives. But how many of us stop to think about, or even thank, our nurses?
The long working hours, the constant running around between wards, the endless care and support they give their patients it is an unenviable job for sure. Did you know that a lot of these hardworking nurses experience back and foot pain due to the nature of their jobs?
If you are a nurse, you know that standing and running around all day takes a toll on your feet. What you need is a good pair of shoes designed specifically for nurses to keep your feet happy and give you the freedom you need to excel at your job. Read on to learn about the best nursing shoes in the market, followed by a few pointers on how to go about choosing the shoes best suited for you.
Top 10 Shoes For Nurses
1. Asics Womens Gel-Venture 5 Running Shoe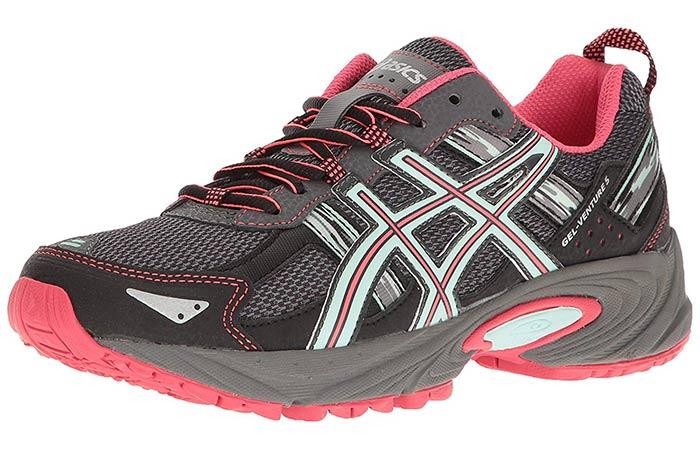 Asics Womens Gel-Venture 5 Running Shoe is a top favorite among nurse shoes, and for good reason. When you are in a job that has got you on your feet all day, in 12-14-hour shifts, you want footwear that is safe, comfortable, and durable.
This shoe promises all that and more. The Rearfoot Gel Cushioning System reduces shock during the impact phase, allowing you to change your speed without injuring your feet suddenly. It comes with a removable sock liner for easy use with medical orthotics. The rugged outsole provides traction and keeps you safe on all kinds of terrain.
Pros
Durable
Lightweight
Provides excellent arch support
Can be worn with compression socks
Attractive design
Available in several vibrant colors
Cons
None
2. Sloggers Womens Waterproof Shoe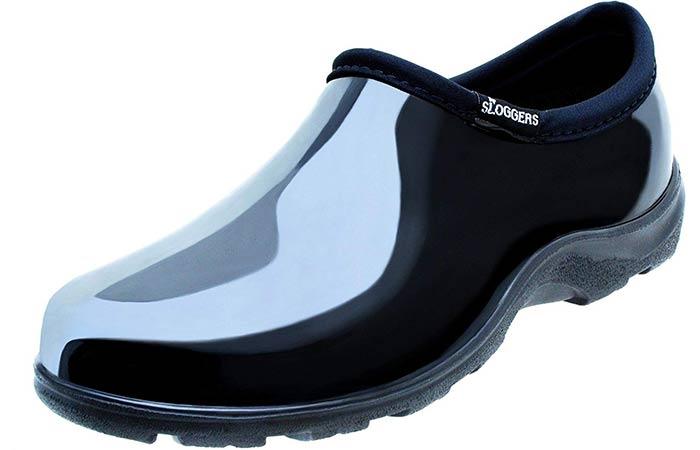 Sloggers Womens Waterproof Shoe can be counted among the best shoes for nurses simply because of its waterproof feature. A hospital is not the most sanitary of working environments, and working as a nurse can expose you to unwanted fluids throughout the day.
These Sloggers are a lifesaver for nurses because they are easy to clean and keep your feet protected from any wet floors you may encounter while on duty. They come in a variety of colorful and attractive designs. They also serve well as gardening shoes to keep your feet dry while working in mud and mulch.
Pros
100% recyclable material
Includes All-Day-Comfort insoles
Lightweight
Soft and flexible upper material that hoses off clean
100% waterproof
Cons
3. Dansko Womens Professional Cabrio Clog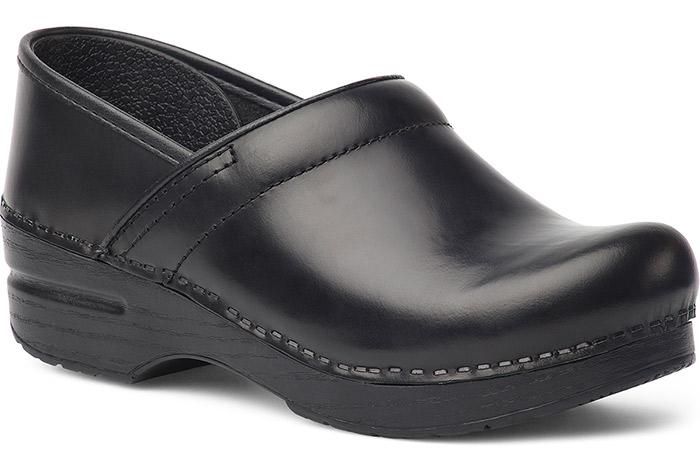 Dansko Womens Professional Cabrio Clogs offer maximum comfort in a delightful variety of designs ranging from serious to fun. Choose one that matches your personality, and you are all set for the day! The Dansko Clogs are high on comfort, with a roomy toe area for people with wide feet.
The polyurethane outsole has a rocker bottom that offers shock absorption and protects against injury. These Dansko nurse shoes also have a padded instep collar that pampers your feet, especially on the days when you need to keep standing for long periods at a time.
Pros
Made of 100% leather
Wide heel strike for greater stability
Rocker bottom provides shock absorption
Memory foam footbed gives cushioning and support
Easy-to-clean
Attractive designs
Cons
4. Slow Man Womens Walking Shoes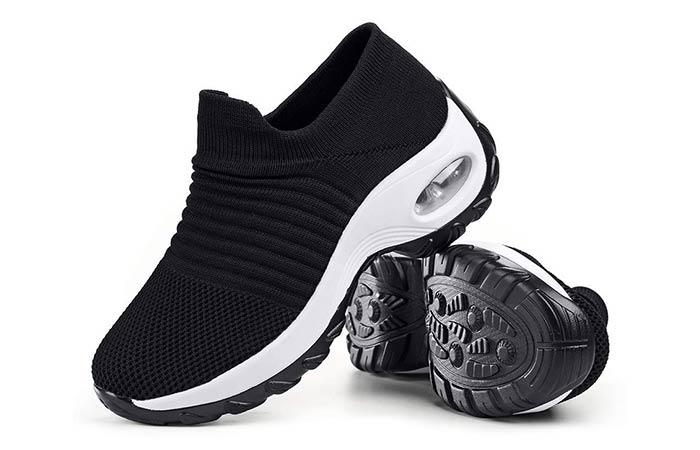 Slow Man Womens Walking Shoes are among the most comfortable nursing shoes out there. They are incredibly lightweight and flexible, making you feel like you are just wearing socks. The smooth, breathable fabric and wide round toe area allow increased movement and enjoyable experience, especially when you are standing or running around all day.
The MD outsole and classic air cushion design are a bonus, making this pair a must-have in your shoe closet. The high-quality rubber keeps these shoes wear-resistant and suitable for daily use, even in strenuous jobs that require a lot of walking. The design is going to fetch you compliments from fellow nurses for a long time.
Pros
Lightweight
Breathable material
Non-slip rubber
Perforated arch for ventilation
Easy slip-on closure
Cons
5. Adidas Womens Cloudfoam Pure Running Shoe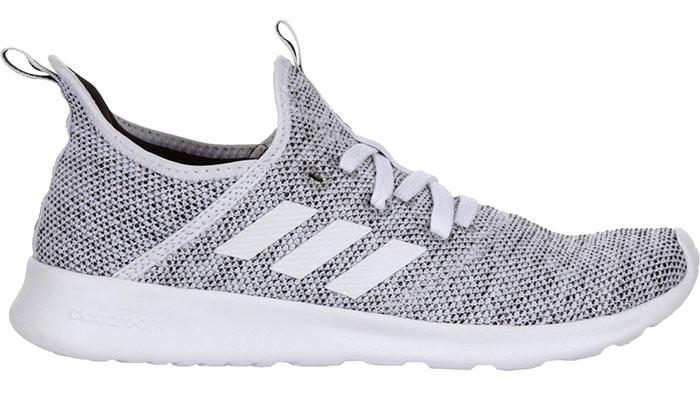 Adidas Womens Cloudfoam Pure Running Shoes attractively blend the feel and flexibility of lightweight sneakers that have been used for running, with an extremely modern look and design. The iconic Adidas logo is seamlessly displayed on the sides of the innovative and breathable knit textile upper.
For maximum comfort, these nursing shoes feature pillow-soft cushioning that keeps you at ease all day. The cloudfoam memory sock liner provides superior step-in comfort as it molds to your feet. These shoes are available in an exciting variety of colors and designs, so feel free to choose one that best suits your style.
Pros
Soft cushioned sole
Breathable material
Lightweight
Easy slip-on style
Available in fun colors
Cons
Not waterproof
Sizes may run large.
6. New Balance Womens FuelCore Nergize V1 Cross Trainer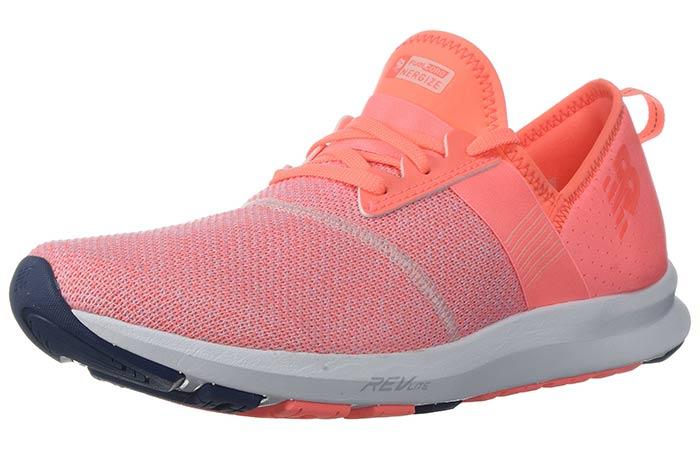 New Balance Womens FuelCore Nergize V1 Cross-Trainer adds a dash of attitude to your look, whether you are dressed for work or out in athleisure. This versatile piece of footwear pairs beautifully with dresses, jeans, and leggings, and gives you your signature style.
The New Balance nursing shoes are ideal for casualwear and come with a textured, breathable mesh upper and comfortable slip-on design. They offer additional lace-up support if you want a more snug fit. The signature REVlite cushioning in the midsole gives you the most comfortable yet lightweight experience, even when you are on your feet all day.
Pros
Lightweight
Attractive design
Cushioned midsole
Roomy toe box
Cons
Lack of arch support
Not waterproof
7. Puma Womens Tazon 6 FM Cross-Trainer Shoe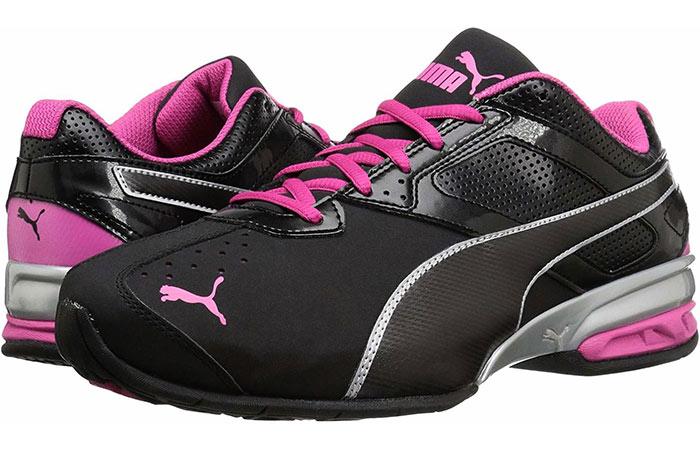 Puma Womens Tazon 6 FM Cross-Trainer Shoe has a sleek, streamlined silhouette that is sure to turn heads and fetch you compliments at work. It has a synthetic leather upper, and its midfoot saddles offer the best fit and comfort. The EVA material in the heel area absorbs impact and protects you from injury.
The attractive and stylish design is also available in 4 alluring colors, giving you more choice. They are priced competitively but may be expensive depending on the size or shade you choose.
Pros
Lace closure for a snug fit
Breathable EcoOrthoLite sock liner
TPU shank for increased stability
Cushioned midsole for comfort
Cons
Not very breathable
Not enough arch support
8. Skechers Womens Flex Appeal 2.0 Sneaker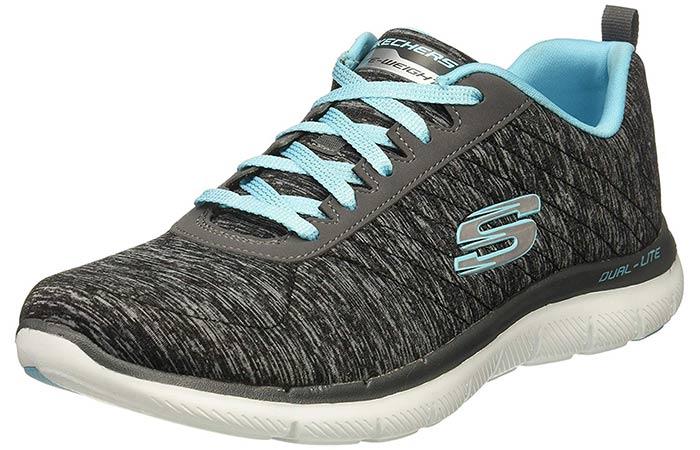 Skechers Womens Flex Appeal 2.0 Sneaker is an irresistible combination of comfort and style. The upper is made of soft jersey knit fabric, and the lace-up closure gives it an athletic look. It features a unique air-cooled memory foam insole that keeps your feet from hurting, even after standing for long hours throughout the day.
The smooth synthetic overlay at the laces panel adds extra durability for long-lasting shoes. This nursing shoe also boasts the FlexSole 2.0 a lightweight, shock-absorbing midsole. You can take your pick from a variety of cute shades and go as colorful or monotone as your workplace demands.
Pros
Offer superior comfort
Attractive design
Lightweight
Sturdy material
Cons
Sizing issues
Not waterproof
9. Alegria Womens Keli Professional Shoe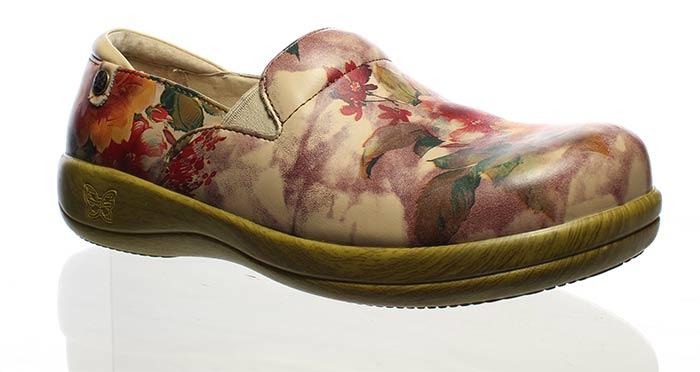 Alegria Womens Keli Professional Shoes are the best shoes for nurses who like to be fashion-forward. These beauties are both comfortable and colorful, so you keep smiling all through your shift. Your feet dont complain at the end of the day, and the vibrant colors and prints keep spreading cheer to anyone who looks at them.
The Alegria Keli provides fantastic arch support and cushioning for your sole. This is due to the signature Alegria footbed, which comprises of layers of polyurethane, cork, and memory foam. The structured outsoles promote perfect posture and reduce stress on your joints and muscles.
Pros
Stain-resistant upper
Easy slip-on closure
Slip-resistant outsole
Cons
Expensive
Sizing issues
Color may wear off quickly.
10. Clarks Womens CloudSteppers Sillian Paz Slip-On Loafer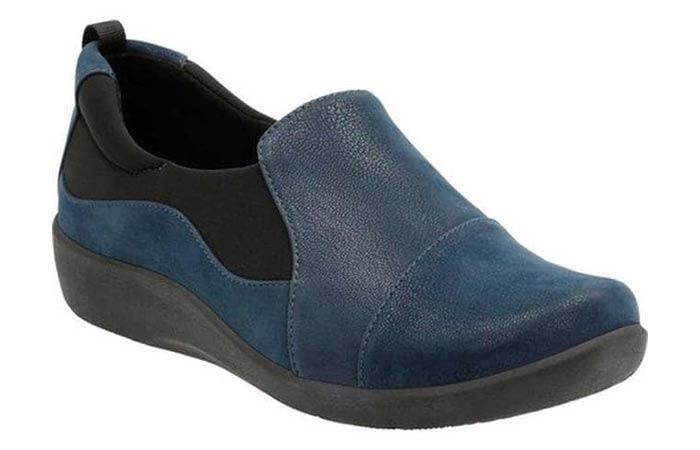 Clarks Womens CloudSteppers Sillian Paz Slip-On Loafers offer optimum comfort and look professional at the workplace. The latest model from the CloudSteppers collection, the Sillian Paz, is high on comfort, which is the first requirement of all nursing shoes. It is also shock-absorbing, breathable, and water-resistant.
Additionally, it also has a soft fabric lining, a lightweight and shock-absorbing EVA outsole, and a removable cushion-soft ortholite footbed that can be washed easily in the machine. These comfortable slip-on shoes are perfect for nursing and other jobs that require you to be on your feet all day.
Pros
Waterproof
Removable insole
Ortholite footbed
Cons
Sizing issues
No arch support
Not breathable enough
Though nursing shoes look very similar to the usual running shoes and sneakers, there are some fundamental differences between them that set them apart. Check them out below.
How Do Nursing Shoes Differ From Other Shoes?
There is a common misconception that a good pair of running or walking shoes can double up as the perfect nursing shoes. But it is not that simple. Some technicalities distinguish shoes for nurses from other athletic shoes.
Nurse shoes are supposed to be extremely lightweight because the job demands you to walk around a lot. It may seem like a small thing, but it impacts how your feet feel at the end of a particularly hectic day.
Medical clogs that are designed for nursing staff are made of sturdy, waterproof material to protect against spills and other damage.
The soles have grips built into them for slip-resistance, so you dont injure yourself when rushing to the ER on slippery tiles.
The soles have added cushioning and arch support to minimize the stress on your ankles, knees, and spine.
Most nursing shoes have an easy slip-on, slip-off closure. The laces or ties, if present, are more decorative than functional.
The job of a nurse requires you to be on your feet all day long, and footwear to suit these demands needs to be high on both comfort and support. There are quite a few advantages of using shoes that are specially designed for nurses. Check them out below.
The Benefits of Using Nursing Shoes
The high-quality fabric that goes into making shoes for nurses guarantees longevity and durability.
They come in highly professional yet stylish designs that go well with your scrubs.
Nursing shoes are easy to clean and usually water-resistant.
They are slip-resistant and protect you from workplace injuries.
If you have foot ailments like plantar fasciitis, the arch support provided by nursing shoes can ease your pain.
Nursing shoes are comfortable enough that you dont feel pain at the end of a long day.
Now that you are aware of all the benefits of investing in a good-quality pair of nursing shoes, take a look at the factors to consider before you hit Add to cart.
Things You Should Consider When Buying Nursing Shoes Buying Guide
1. Design
This is extremely crucial, and we are not talking about the aesthetic appeal. When buying a nursing shoe, you need to look for footwear that puts comfort first. It must have a wide toe box and a reinforced heel. It should fit you well and be easy to put on and take off. Slip-on designs are always preferable to lace tie-ups.
2. Materials
The shoe you pick must be made of breathable material to prevent your feet from sweating. Remember, you are going to be wearing them for 12-14 hours a day, so you dont want to get hot in them. Mesh fabric wicks off moisture quicker, so mesh shoes are handy for general wards. For nurses in the ER, however, you need something waterproof that does not let you come in contact with bodily fluids or unsanitary liquids. Leather or faux leather is the right choice here.
3. Cushioning
The best shoes for nurses are ones that provide sufficient support and cushioning. Look for memory foam insoles and shock-absorbing midsoles. To be extra-safe, check with your doctor for suggestions, especially if you have plantar fasciitis or other feet conditions.
4. Traction
Before finalizing your choice, take a look at the soles. This is the part that comes in contact with the floor. Your sole must be able to deal with smooth, slippery hospital floors and keep you stable. Check the traction and slip-resistance offered by the shoes before buying them.
5. Arch Support
This is another critical factor that you must check because different people have different types of arches. Take a look at the specifications mentioned by the manufacturer and ensure that your shoes are genuinely suitable as well as supportive. This can go a long way in keeping your feet relaxed and happy, even during the most stressful shifts.
That was our round-up of the best shoes for nurses. We hope the buying guide helped clarify any doubts you had about buying nursing shoes, especially if this is your first time. Which of the shoes on our list did you like best? Would you like to add any of your all-time favorites to this collection? Let us know in the comments section below.
The post 10 Best Shoes for Nurses (Reviews & Buying Guide 2020) appeared first on STYLECRAZE.