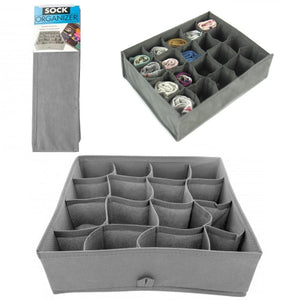 1 Sock Organizer 16 Section Drawer Underwear Closet Home Storage Box Case Folds

Organize your socks for easy access with this Sock Organizer Storage Box featuring a fabric-covered box with cardboard reinforcement and 16 compartments.
Box measures approximately 12" x 3.625" x 12" with 3" x 2.75" x 3.25" compartments.
Box is easily formed by popping it up and zippering the bottom and it folds flat for easy storage.