YEEZY As Pie? Adidas x Kanye West's Shoes Are Making People Hungry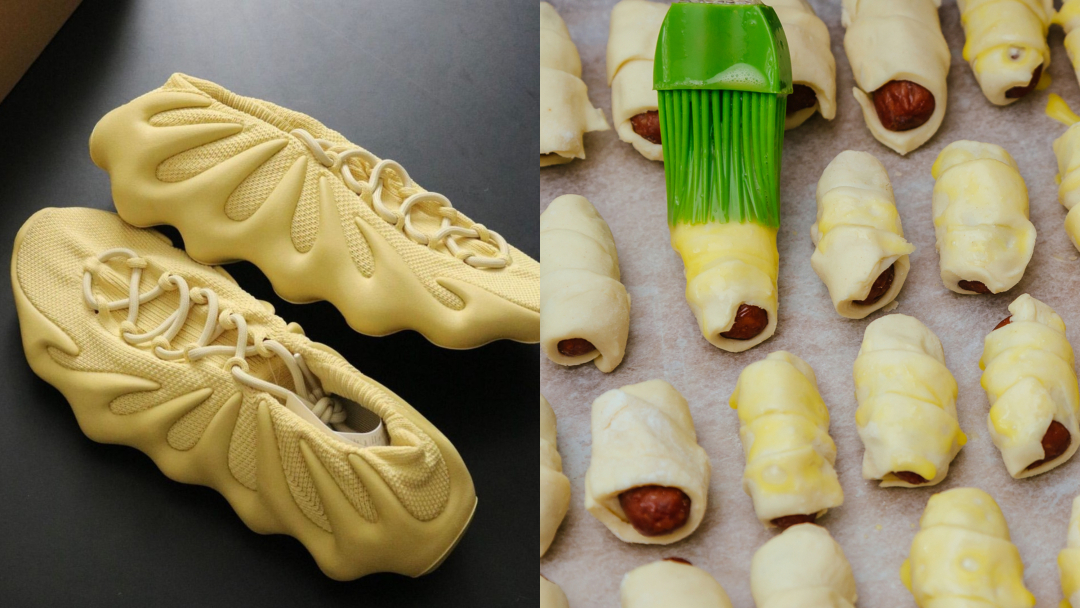 Images via YEEZY, 114647704 © Photovs | Dreamstime.com
The words, "I'm so hungry I could eat a shoe," haven't been truer than when people looked at these YEEZYs.

While the Adidas YEEZY 450 sneakers in the 'Sulfur' colorway have been around for months, the streetwear label founded by Kanye West recently tantalized fans again by sharing a photo of the sock-style footwear and asking them what they felt about the pale yellow shoe so far.

Unfortunately for the brand, fans thought it was a half-baked design.
The sneakers were immediately likened to food items ranging from bread bowls to pastries and dumplings.

"I asked for the dumplings pan-fried, not steamed," said one person.

Greggs, a popular bakery chain in the UK, responded that the sneakers, worth US$200 of dough, look like "two sausage rolls short of a multipack."
Two Sausage Rolls short of a multipack https://t.co/KNJ6RIT3jy
— Greggs (@GreggsOfficial)
July 11, 2022
Others joked that the pasty goods needed more time in the oven.
The internet had a field day cooking up a storm. Check out more reactions below.

Also, if you can only stomach something with a deeper doneness level, the same YEEZY 450s are available in grilled 'Cinder' and burnt 'Utility Black'.
I'll have them, but only if they come with the soy and rice vinegar dip.  I'm not keen on the sweet chilli. pic.twitter.com/7cJqvw17yn
— Dinky Frinkbuster (@SkipMcGowan)
July 11, 2022
the new yeezys look like a Great British Baking Show challenge gone terribly wrong, like lemon tarts that were meant to look like sneakers suddenly collapsed in the middle and they just brought this to the judging table and cried pic.twitter.com/ZQBlvB6QyR
— @PiaGlenn (@PiaGlenn)
July 11, 2022
Looks like the failed recipe I tried off of Tik Tok 😩 pic.twitter.com/kUGNcq4jYm
— Nancy (@nancylasocki)
July 12, 2022
Cavatelli 😂 pic.twitter.com/4Ti7IvHvtb
— ilona🤨 (@iateasaladagain)
July 11, 2022
I FEEL AS THOUGH THEY NEED TO GO BACK IN THE OVEN FOR ANOTHER 20 MINUTES AS THEY HAVEN'T RISEN YET https://t.co/q5wEVbEVSp
— Sean (@spectune_)
July 12, 2022
giphy feels me pic.twitter.com/6EOctjq21t
— @PiaGlenn (@PiaGlenn)
July 11, 2022
.@GreggsOfficial these are undercooked https://t.co/T4wDJAqUBA
— Alexandra Haddow (@MissAHaddow)
July 12, 2022
The pleats on these dumplings are insane. https://t.co/xARgQlsUe1
— Jon Kung (@ChefJonKung)
July 13, 2022
These are just culurgiones pic.twitter.com/pPSkcCbRjQ
— EKSTASIS (@EKSTAS1S)
July 12, 2022
— jenny_tightpants🪑 (@halomancer1)
July 11, 2022
[via The Independent, Chronicle, Mothership.sg, images via various sources]