Winter Haven KAL 2022 – Week 2
Hello again – it's Week 2 of the Winter Haven KAL already!  I hope you've had chance to make the most of your cosy space this week!
Thank you to everyone who took the time to get in touch through the blog comments, on social media or by email – it's been great to hear from you and I'm so pleased that you're joining in with the KAL!
It's been the first full week of back to school and work here and it's not easy to get back into the routine when you've used to lazy mornings during holidays, is it?!  I've been very glad of the necessity to sit in my cosy space – well, you can't run a KAL and not take part yourself, can you?! – as it's ensured that I've not tried to keep going for too long in the day.  It sounds like it's been something similar for some of you so we can keep encouraging each other to make time for ourselves for another couple of weeks!
I've thoroughly enjoyed seeing so many posts on Facebook and Instagram (you can find them using the hashtag #WinterHavenKAL – don't forget to add yours!) and what's been really lovely is that the posts are encouraging more people to join in who didn't think they wanted to be part of a KAL!  Yes, of course I want the whole world to knit my socks patterns

,  but just as important is making sure that we try to rest and recharge too, so the more people we can encourage to do that, the better!
I think what helps is that this KnitAlong is very flexible, especially as I've got more patterns for you to choose from these days alongside the Basic Socks and the new Easy Mosaic Socks pattern, and as your Haven will be a space in your house then you haven't got to leave it to go anywhere else, which makes it much easier to take a few moments for yourself.  If you're new to the KAL, it started last Friday and the last post will be on Friday 28 January so there's still time to find yourself a cosy space, pick up a WIP or start a new project, and join in.  The first post which tells you all about the KAL and how it works is here.
Quite a few people have mentioned that January is a difficult month for them and the Winter Haven KAL has shown them that they're not alone.  No, I really don't think you are.  So many people find January difficult for so many reasons, but even if we sit on our own in our Haven spaces, we are connected and this is one of those times when social media does what it's supposed to do and we can all feel part of something bigger.  I didn't plan the KAL like this deliberately in the beginning but I like the way that it's working out like this.  It feels like it's meant to happen in this way and I am glad.
This week, I'm going to talk a bit about what I've been doing, but I'm also going to show you what others have been doing as well – I love that we are all taking part in this KAL together!
My space
Looking back on last year's KAL post, we had snow at this time last year in the UK but this year the Winter has been incredibly mild in the UK.  We did have frost this morning and the car temperature said it was -1°C on this morning's school run, but it's still warmer than it should be.  Never let that be an excuse for me not to light the fire, though!  I love everything about our open fire – the smell of the coal, the crackling of the flames, the warmth (of course!) and the way that it lights up the room in such a lovely, cosy way.
It's been great to read about your cosy spaces … I'm terribly nosey and I do like to see where you sit and knit!

  Would you like to see some other Winter Have spaces too?
It's definitely Winter where Sharon is … she emailed to tell me that she was "sitting in my favorite chair with my feet up and a blanket over my legs.  It's snowing like crazy and it's 13 degrees  today in my town in Ohio."  I'm assuming that 13 degrees and snowing must be Fahrenheit as it's been 13 degrees here recently with no sign of snow, so a quick conversion to Celsius tells me that it's -10°C  and that's blooming cold!
Arlene has got herself set up next to her stove … good plan!  I think Arlene is using one of the new Zandra Rhodes colours for her socks.
Bev has been watching the rugby whilst she's been knitting in her Haven (it's obviously a good time of year for the sport … I must admit that I've been watching Ski Sunday – all that snow!

)  Bev is using Hope yarn from Yarndale and Rico Superba Tweed for contrast.
Catherine is multi-tasking in her Haven.  She said (via Facebook), "My knitting tonight is with the 8 month old asleep on top of me.  With headphones in and a knitting podcast on."  Babies are extremely good at helping with the knitting when they're sleeping!
Jane's Haven space looks lovely with the sunshine behind her.  We haven't seen much of that in the UK just lately so it looks like a great spot to catch the light!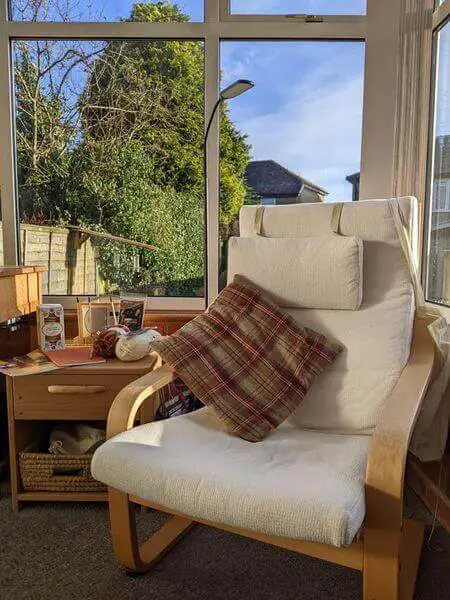 Mary Beth is knitting Split Mittens and it looks very cold where she is!
Over on the other side of the world (from me – if you're in Australia or New Zealand it's where you live

), it's Summer for Brenda and she's knitting whilst drinking tea and watching the Ashes as well.  There's absolutely no reason why you can't have a Haven in the Summer as well as the Winter!
Thank you for showing me (and us all!) your photos – I'll have some more for you next week!
Project
How have you been getting on with your projects?
I can't tell you how brilliant it has been to see so many Easy Mosaic Socks on the go this week – some pairs are even finished which is super-speedy knitting!  I don't think I knitted my own socks that quickly, but my excuse is that I need to write the pattern at the same time!
Oh, I must tell you because I was so enormously thrilled, that the pattern made it to the Number 1 spot on Ravelry's Hot Right Now page for free mid-calf socks and Number 8 in all patterns.  Oh wow, oh WOW!  The Hot Right Now patterns are based on the number of views in a 24 hour period so that was really incredible for me to see.  I do know that Ravelry isn't a place where everybody can go at the moment so I'm not going to show you the screenshots that I took (this might never happen again, I want to remember it!) as I have been told that even screenshots can cause the eye and migraine issues that some people have, but if you do use Ravelry and you did check out my pattern – THANK YOU!
My own project for the Winter Haven KAL is to finish off at least one of the pairs of socks that have been languishing in project bags in my little study.  I've made good progress with the Falling Hues WIP sock this week.  I've finished the leg, the heel flap and turn and now I'm about to start the gusset.  It's grown really quickly, I don't know why I've left it so long to get it finished!
I have got another WIP to tackle after this one … but we've recently found out that one of big daughter's friends is expecting a baby later on this year and I REALLY want to make a baby cardigan for her in Winwick Mum yarn – I'm thinking that Spring Green would be perfect for someone who wants to wait until the baby arrives before knowing whether it's a boy or a girl.  It's been absolutely years since I made any baby clothes at all and I'm a bit overwhelmed by all the choices on Ravelry so if you know of a pattern name that I can look up, please do tell me!  At the moment, the Newborn Vertebrae (Ravelry link) is at the top of my list but I'm open to suggestions!
Shall we have a look at some of your projects now?  Oh, there were so many photos and I've tried to include as many as I can.  Thank you so much for sharing them on social media so that I can see them!
First up, look at ALLLL the colour combinations for the Easy Mosaic Socks!  Wow, there are so many of them!  They're not all in Winwick Mum yarn as the KAL only requires that you use Winwick Mum yarn or a Winwick Mum pattern and not both, and don't they look fabulous?  These socks have been a great way to use up stash, and what I have loved most is the number of people who have said, "Oh, they weren't as hard as I was expecting"!

As you can imagine, I can only show a selection otherwise we'd be here all day (I wouldn't mind that but you might get a bit twitchy after a while

) so I've split them into three collage photos – this first one is using Winwick Mum yarns …
I've seen lots of pairs using Autumn Leaves and Milk Bottle like my socks, and then I think the next most popular has been Summer Sunset.  It's been great to see how different the yarns look with all the contrasts – they look fabulous, don't they?
These next collages are yarns that aren't Winwick Mum yarns but also work brilliantly.  First up, two solid colours together.  Don't these look great?
And finally, other variegated and striped yarns.  I love them all!
You don't have to knit the Easy Mosaic Socks to be taking part in the KAL, though, and there are some other projects ongoing too …
Claire has been knitting an Easy Lace Sock …
This is such a good pattern if you're brand new to lace knitting – only 4 stitches again so it's very easy to get the hang of it!
Heidi is knitting an Aardvarkish Shawl in Hidden Gem yarn …
Aardvarkish is a one-skein shawl that starts off with a very large cast on but then reduces to much fewer stitches – I alway feel that shawls that increase to more stitches can be a bit daunting so I wanted to design one the other way around!

Karen has knitted a pair of Shortie socks – always a satisfyingly quick knit!
Do tag me into your photos, or email if that's easier as I love to see what you're working on. More project photos to come next week!
This week's recipe
I decided that after making vegan chocolate brownies for big daughter last week, I had better find something that would impress not so small daughter this week and so we (I got her to help!) have made ….
pink popcorn!
Not so small daughter loves popcorn so I knew that she would help me out if I couldn't eat it all in my Haven space (and I don't mind sharing) but I wanted to see if I could find some different toppings.  Imagine my … surprise? delight? shock? horror? … at finding this blog post of 50 ways to get creative with your popcorn (50?!!) and to be honest, I can't see that I am ever going to want to eat curry, bacon or buffalo wing-flavoured popcorn but they are certainly creative!
I love the way that popcorn goes from this …
to this …
it looks so completely different to it started that you'd never think the two were related!
Turning the popcorn pink was super-easy to make and you can find the recipe here.  We only made a quarter of the quantity as there's a lot of sugar in this recipe, but it was fun to make (I love the sound of popping corn in a hot pan!) and kept us both amused.  There's no indication of how much food colouring to use so we had to make a decision from full vampire to under-the-weather Barbie and I'll be honest, looking at what was in the pan I was a bit worried!  However, this is what we ended up with, which isn't that bad at all.  It does look a bit more pink in the photo than in real life, and it tastes OK.  We may not make it again (I think I prefer the white fluffy version!), but it was a bit of fun for this week and I get to eat it in front of the fire.  What's not to like?!
Dawn has been recovering from Covid and has set up her Winter Haven space in bed so she's been super-cosy.  It's good to see that she's got treats to keep her going when she feels well enough to eat them, and I love that she has her cosy fire with her too!  (She's actually finished her socks already – you can see them in the collage picture above!)
It's absolutely fine if you don't want sweet treats in your Haven (or any treats at all!) because I know this time of year is one of resolutions and there's a lot of temptation to over-indulge over Christmas!
Something green
Well, I have a lovely treat in my Haven this week … my husband bought me a pot of lilies and they are just coming into flower.  I think lilies are my favourite cut flowers – we've always been lucky that our cats have never been interested in them, but I do know to keep them well out of the way of feline investigations – and I feel very spoilt to have a growing pot of them in the house in January!  I'll be able to put the bulbs in the garden afterwards, or perhaps keep them in a pot that I can move more easily in the Winter.  I've had problems with lily beetle in the garden in the past so haven't grown them for a while – I'll just enjoy them in the house first!
Light it up!
As well as having my wax melt burner going this week, I've been using home made wax firelighters to light the fire as well so there's been plenty of lighting up!  There's usually a bit of wax left in the burner once the smell has all gone so I save them up, re-melt them and turn them into firelighters – if I'm lucky, I get a waft of incense when they burn in the fireplace too!  They're super-easy to make and you might well make them for yourself already, but I'll write a new post about them another day just in case it's something that you don't already do but think it might be useful.
Listen up!

What have you been listening to this week?
I wanted to catch up with the New Year post from Making Stitches podcast (and not just because I'm in it!

) so I have managed to listen to that.  I don't listen to many craft podcasts, mostly because they're all generally too long for me and many of them are videos as well – I spend too much time buzzing from one room to the other and miss things, as I mentioned last week – but Lindsay's Making Stitches episodes are all usually around half an hour and that's a good length of time for me.  Lindsay has a background in radio presenting and you can tell by the way that she speaks and the questions that she asks; her episodes remind me of a knitting-focussed Radio 4 programme and I thoroughly enjoy them, and the wide variety of guests that she has met too.
Louise recommended the Fortunately … with Fi and Jane podcast in the comments last week and I've not quite had time to listen to a whole episode yet but these look fun so they're definitely on my list for this next week.
Fiona told me about another breathing expert (after me mentioning the book I've been reading last week) called Patrick McKeown and I've found an interview he did with James Nestor, the man who wrote the book I've been reading, and that's an interesting listen too.  The link for that is here if you're interested.
Self-care
I'll be honest with you, I've found it quite a challenge to make time for my own self-care this week, what with back to school and work goings-on, but that has actually made me more determined to find a way to fit it in.  I'm back to getting up earlier than everyone else so that I can do some exercise – for quite a lot of last year I was doing Lucy Wyndham-Read's fitness videos which are free on YouTube and great for all abilities – most of them are really short and yet still effective so it was no real hardship to do them, but now I've swapped the HIIT for stretches after watching a TEDx talk by Roger Frampton about the damage that too much sitting down can do to you (I spend a LOT of time sitting!) so I decided that I would focus on keeping my back strong and healthy for a while instead, and then go back to the HIIT workouts later in the year.
I'm aspiring to be able to hold myself up on a piece of furniture just like this photo on the cover …

I also set up my menu plan for the month.  I've been doing this for some time and it really does make a difference to know what I'm going to cook each day (not to mention that it saves both time and money on the supermarket shop), but our schedule has changed now in that my husband isn't working at home all the time any more, and big daughter has got a new job which means that she's late some days … added to which we've got the veggie/sometimes vegan/always lactose-intolerant considerations to throw into the mix.  Our menu plan is turning into something of a military operation and I don't think that I'm going to manage very well this year if I don't stay on top of it.  This is self-care at it's utmost for me as I find nothing more stressful than having to think of what to cook in all the variations on the spur of the moment!
I finished the book on breath that I was reading last week and I thoroughly enjoyed it.  I don't think I've ever said that about a text book before, or have even read one cover to cover, come to that (which doesn't bode well for my furniture gymnastics!) but this one really kept my hooked.
I've decided to change tack completely now and am making a start on my new Milly Johnson book – I love Milly Johnson's writing; her sense of humour really makes me laugh, and I read one of her books during the KAL last year (and then another, when my friend Susan sent me one I hadn't read before!) so it's starting to feel like a KAL tradition!
I did get another book through the post but this doesn't look anything like as exciting and whilst it may be something that my future self will be glad I've read, I am not sure that I'm going to find it the page-turner that Milly Johnson will be!
Thank you
This is the third year of the Winter Haven KAL and I have to say that now, remembering to be grateful is getting easier.  I don't always remember to write it in my book for the rest of the year (I'm very good in January as it's a focus point for the KAL!) but I do often say my thank yous when I'm out walking with the dog and my mind is dropping things into place with the rhythm of my footsteps.  Walking is such a good activity for me; by the time the dog and I are home, my day is sorted in my head and I'm ready to sit down to work.
This week I have been grateful for … that No 1 spot on the Ravelry pattern charts … wow!
I have also been grateful for my lovely friend who remembered that I liked chocolate penguins and sent me some more of them …
Having the opportunity to visit Lucy in Skipton – I'm grateful for my car, for the petrol to drive it and for her friendship.  Oh, and the sheep that I saw on the road over the moors.  I do like seeing sheep.  I wrote a blog post about it.
Thank you for being part of the KAL with me this week, I have so enjoyed having you be here with me!  Don't forget to keep tagging me into your posts so that I can have a nosey into your cosy spaces and see your projects – the hashtag is #WinterHavenKAL.
I hope you have a wonderful week in your Winter Haven – see you next Friday! xx
The post Winter Haven KAL 2022 – Week 2 appeared first on Winwick Mum.