Winter Haven KAL 2022 – it's nearly here!
We're counting down to this year's Winter Haven KAL!
The KAL starts on 7 January 2022 (this Friday), so I thought that with just four days to go (and three before the new pattern is released!), it would be a good time to tell you a bit more about it, what's involved and what you'll need to gather together to join in and get cosy.  (Don't worry, it's not any kind of complicated scavenger hunt, you may well find everything you need around your house!)
You may remember the socks in the photo from last year's KAL – they're the ribbed version of the Basic 4ply Knee High Socks knitted in the Brightside colourway.  I like to design a new pattern for the KAL every year and I'm really looking forward to sharing this year's pattern with you in a couple of days!
 So what's it all about then, this Winter Haven KAL?  
Well, it's about resting and recharging our batteries during January after all of the busy-ness of the holiday celebrations and the events of the last year.  It's been a tough couple of years for everyone, some more than others, and even if we were able to celebrate with loved ones and friends this year, it was always with health concerns at the back of our minds.  Living in this prolonged state of heightened stress is not good for anyone and the Winter Haven KAL is a reminder that we need to take some time for ourselves, even just a few minutes in the day, to make sure that we are ready to face the coming year.
You've posted a cosy-looking fireplace photo … can you only join in if you live somewhere where the Winter is cold? 

No, not at all!  My experience of Winter is that it's generally cold, usually wet and often a bit miserable after the Christmas holidays so this is what Winter looks like to me.  Personally, I love the month of January with these cosy fireplace moments and with still a chance that it might snow (I live in eternal hope), days where the whole year stretches out in front of you with possibilities and an opportunity to think about what you want to do with your time.  Oh, and to finish off all that Christmas chocolate that's still around! – but I do know that it's not the same for everyone.
Your Winter might look completely different, and that doesn't matter at all as what's important in this KAL is the "haven" part and you can have that anywhere in the world.  The dictionary definition of a haven is somewhere that offers refuge, rest and even sanctuary and that's something that we can all be glad of, whatever the weather!
 Will I like the project that you have to make to take part?
I hope so, because you're going to choose it!
Because it's a Winwick Mum KAL, I'd like you to use a Winwick Mum pattern and/or Winwick Mum yarn to join in.  This means that you can use stash yarn or leftovers as long as you use one of my patterns, so don't worry if you can't get hold of any Winwick Mum yarn, you can still be part of the KAL.  Alternatively, you can use any other pattern with Winwick Mum yarn and that would be lovely too!
The Winwick Mum pattern choices are all here and that includes hats, shawls, cowls and mittens, not just socks – the point of the KAL is that we create some time for ourselves so you need a project on your needles (or even your crochet hook if that's more your thing) that's going to give you some pleasure.
If you're brand new to socks, feel free to join in by using the Sockalong tutorials and Basic 4ply Socks pattern, and if you've always knitted that pattern, why not try another pattern this time?  There are in-depth photo and video tutorials for my Easy Cable, Easy Lace, Patchwork and Easy Colourwork socks, and tutorials to go with some of my other patterns too.
Don't forget the Winwick Mum Collection pattern books to go with the Winwick Mum yarn – the first Winwick Mum collection and the second Seasons collection – you might not have tried one of those yet but the book is sitting on your shelf … maybe this is the time to dust it off!
There's also a brand new pattern coming out on Thursday (6 January) which I'm going to share on the blog especially for the KAL.  I gave you a sneak peek the other day and here's a proper look at what the pattern looks like …
You may have seen this photo on Instagram already but I think you can see the socks much more clearly here and I hope you like them!  The pattern is something a bit different and I've created a photo tutorial to go with the pattern as well … I'm going to keep you in suspense about it for just a little longer but I will tell you that it's suitable for adventurous beginners (so that means that you might have knitted at least one pair of socks before so that you're confident with how a sock is put together, but not necessarily if you love the pattern and you want to jump straight in with this one!) and that it's not colourwork, so don't be put off before you start …
If you're looking at stash yarns to knit these socks, I can tell you that this pair is a 60 st cast on, the leg is 6 inches (15.25 cm) long and they're sized for my UK size 5 feet so that means the foot is about 9.25 inches (23.5 cm) long.  I used 45g of West Yorkshire Spinners Signature 4ply in Autumn Leaves as the main colour and 25g of West Yorkshire Spinners Signature 4ply in Milk Bottle as the contrast.  Obviously, the amounts will change if you change the size of the sock but that at least gives you a guide!  Also, I think this pattern will work beautifully with any of the Winwick Mum stripes because of the way they blend into each other, so don't feel that you have to use Autumn Leaves if you prefer one of the other colourways

It doesn't matter if it takes you more or less than four weeks to finish it – you can always start something else if you finish early, or continue after the KAL has finished if you've got a bigger project.
What yarn can I use?

Well, I'd really love you to use Winwick Mum yarn, so if you've got some in your stash then you've got time to dig it out (this is a great opportunity to use up some of your stash!) or a good excuse for a shopping trip to your local yarn shop or online WYS stockist!  As you've seen, there are quite a few patterns using the Winwick Mum yarns now so you can see how they knit up and there might be one (or two) that you'd fancy trying out.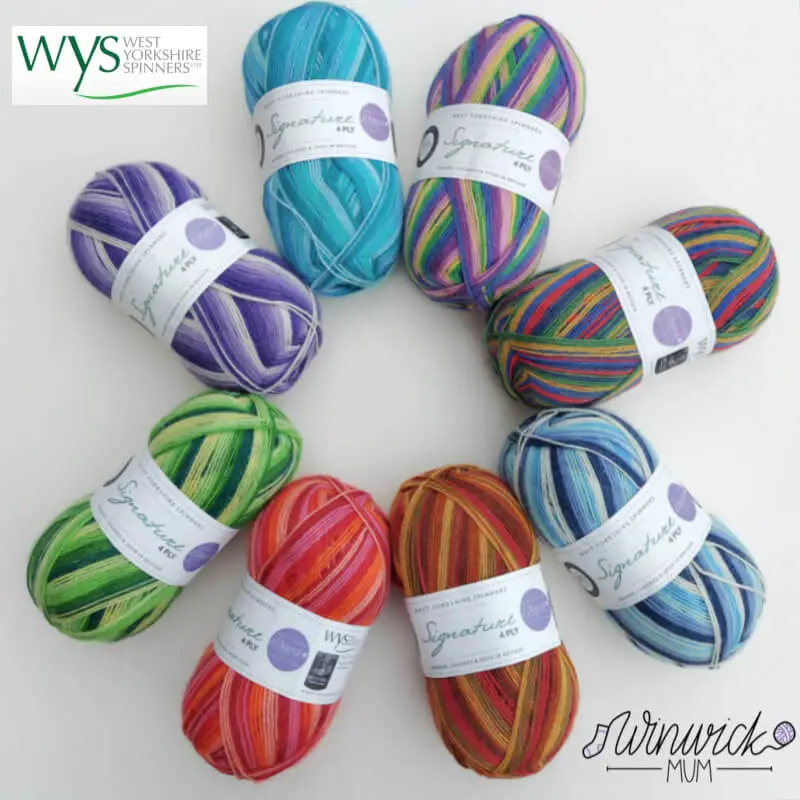 Winwick Mum yarn is part of the West Yorkshire Spinners Signature 4ply range – if you haven't heard of it before you can read the story of how it came about here; it's available from many local yarn shops including City Knits*, Northern Yarn*, online retailers such as Black Sheep Wools and Wool Warehouse, and if you're overseas there's a stockist list here on the WYS website.
However, I also know that not everyone has any, or can get any for various reasons, or it might not suit the pattern you want to make – or you might just not like it (that's fine, I love it enough for both of us

) so rather than feel that you can't join in, use another yarn instead but do please use one of my patterns to join in with the KAL.
Do I need anything else?

Yes!  You'll need a space that's going to be your Winter Haven.  A favourite armchair?  Your spot on the sofa?  A chair outside on a porch or in the garden, perhaps, if you live somewhere warm enough to sit outside?  It's up to you, but choose somewhere that can be your space for a short while, a place where you can sit and take a few moments to yourself.
Here's mine, a rocking chair by the fireplace …
It's been this same spot every year and I love it!  I've got some extra fairy lights to add a cosy feel to the corner, and I will be very comfortable just there with my knitting and the fire crackling away!

You'll also need a notebook and pen.  It doesn't have to be a fancy notebook – this is an old one that I found in a cupboard which I think was a gift at one point – but it does need to be something that you can write in and keep safe, rather than Post-It notes or little scraps of paper.  This is the one I used for the last KAL and despite my best intentions, I didn't fill it so I'm going to use it again this time.
Have you got a spare project bag?  Put your KAL work in there, along with the accessories that you know you will need so that you're not hunting around for them when you want to use them.  You might only choose to work on your project during spare moments, or it might be your go-to for the month, but I think there's always something lovely about putting a new project in it's own bag.  You don't have to have expensive designed-for-purpose bags – the one that I usually take on holiday with me once contained pillow cases (for some reason they came in a small bag that's just the right size for a ball of sock yarn!), and when I first started knitting socks, I used a fancy wash bag that had zip pockets for storing my needles (I was more pleased with that than the smellies that came with the bag as a Christmas gift!

) –  you can be creative with what you have already.  Of course, it's always an opportunity to buy or make yourself a lovely new project bag (using stash fabric, perhaps?!) so choose to do whatever will make you feel happy when you're sitting in your Haven space.
My project plan for this KAL is to finish off some of the WIPs that I have – Winwick Mum patterns, of course! – so you'll probably see a couple of different project bags as I go along.  I wrote about the WIPs that I've got in this blog post which might even give you a couple of ideas for patterns to use if you're still undecided!
As the purpose of our Winter Haven will be to bring some light to the dark January days, you'll need some light – not just a reading or craft light which may well be necessary depending on where your Haven space is, but something that evokes the feeling of cosy, of being safe in your own little halo of brightness.  How about a candle and maybe some fairy lights if you have them (perhaps keep some out from the Christmas decorations box just a little bit longer?).
A scented candle would be lovely if you've got one – but any candles will be fine; tea lights on a saucer or a household in-case-of-power-cuts candle in a jam jar would be perfect too.  There's something about the glow from a candle flame that is very calming, I think, and is just the right thing for our Haven.  Battery-operated candles also have a warm glow and are safer if you've got children or pets around.
I love using my wax burner and soy wax melts, so that's definitely coming into my Haven with me – I love the patterns from the burner too!
You might also like to find a book that you've been planning to read.  I was given some new ones at Christmas that I'm looking forward to getting stuck into, although I've already started the James Nestor one, "Breath", and it's fascinating and "Everything is Figureoutable" is actually big daughter's but I'm a big fan of Marie Forleo and I'm sure big daughter will let me read it

   This time of the year is always a good time to dig out some of the self-help/self-care books on my book shelf too.  It's easy to think that once you read a book like that, you'll remember everything that's written on the pages but I often find some new nugget of information that is just what I need at the moment.
Some treats!  Oh, I know we've just had Christmas and everybody is thinking about losing weight and getting healthier, but what's a cosy sanctuary without a bit of chocolate to munch?!  Well, there's going to be some in mine, anyway – I know not everybody eats chocolate so bring along whatever is a treat for you, and you're going to want something to drink too, so have a think about what might be a treat in that department too.  I'll have some suggestions as we go through the KAL, but you may want to stick to your own ideas!  And just in case you're thinking that I'm going to look like a piece of chocolate if I keep going, I'm not eating that much of it since reaching Chocolate Saturation Point the other day and it wasn't good (I get very grumpy and twitchy).  There was going to be a satsuma in that photo too, for a token healthy snack, but I ate it because I wanted to drink my tea and tea tastes terrible with satsuma

Finally, a bit of greenery – something to remind you that the winter doesn't last forever and that the plants and flowers will come back to life again.  Bring something in from your garden – some evergreen stems, or some berries, maybe even some winter flowers if you've got any – or see what is in store in your local greengrocer's or supermarket.  Buy cut flowers or buy yourself a winter flowering plant; choose whatever makes your heart sing!
At this time of year, I move all my house plants into our living room as it's warmer for them and although this is the last year's photo, the hearth still looks the same!   Big daughter is still looking after a friend's Swiss cheese plant (Monstera deliciosa) so we've still got two of them threatening to take over.  They've grown considerably since last year and one of them seems to be making a bid for freedom across the living room floor!
So that's everything we're going to need to get started.  There's no official sign up to do and I'll try to get the first KAL blog post will be up on the blog quite early on Friday to give you chance to read it (perhaps in your cosy space!) and officially think about how you are going to spend January recharging your batteries.  Before that though, take some time this week to think about what project will make you happy in your Haven – the colours, the weight of yarn, the pattern that you've chosen – to gather your other items together (remember, there's no need to buy anything new if you've got things around the house you can use) and then we'll be all ready to start on Friday.
I can't wait!
*  These are affiliate links.
The post Winter Haven KAL 2022 – it's nearly here! appeared first on Winwick Mum.