The Book Industry Charitable Foundation Has Never Been Busier Helping Bookstores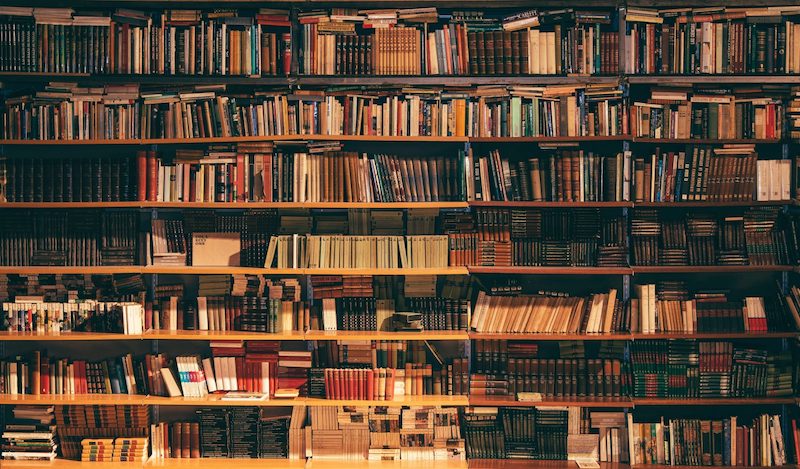 Last August, I wrote about the Book Industry Charitable Foundation, or "Binc," a Michigan-based non-profit created to support booksellers who have fallen on hard times. If a bookseller winds up in the hospital or a bookstore has a flood, Binc can step in and pay their bills, no questions asked (okay, there's a short qualifying application, but that's it).
Now, of course, it's hard to find a bookseller who hasn't fallen on hard times. As the coronavirus pandemic has forced bookstores across the country to close their doors, Binc's mission is more crucial than ever to the survival of the industry. To find out just how bad the situation is, as well as how Binc has adapted to it, I reached back out to Kate Weiss, Binc's Communication Coordinator.
"A lot of booksellers have been furloughed, or had hours cut, or lost their jobs," Weiss told me over the phone. Because of this, since the pandemic started, Binc has seen requests for assistance increase by 321%. And Weiss says she fully expects that number to grow.
But there's good news, too. Parallel to the surge in demand, donations to Binc have also increased. The entire industry, despite significant setbacks, has risen to the challenge to support one another. "The silver lining has been this incredible coming together of every corner of the industry, from agents to publishers to bookstore owners to front-line booksellers," Weiss says.
Because of this generous outpouring of support, Binc has helped more individual booksellers in the last eight weeks than in their last three years combined. From 2017-2019, Binc assisted a total of 275 households. As of mid-May, Binc's year-to-date total for 2020 was 498 households assisted with $483,005 in emergency funds (this includes all assistance cases, both COVID-19 related and otherwise).
But there's good news, too. Parallel to the surge in demand, donations to Binc have also increased.
That's a staggering number, considering that the average amount of annual assistance given over the last three years was approximately $224,000. "We are also in the process of distributing the funds donated to help bookstores and comic book store businesses too," Weiss says. "When all is distributed (by the end of May), over $2.1 million will go to over 1,600 independent community-based businesses. The total distributed over the past eight weeks is over $2.5 million."
The support is coming from all over. There has been no shortage of creative fundraising campaigns to ensure Binc is able to help every bookseller that needs it. For instance, the same day I spoke with Weiss, Stephen King and John Grisham collaborated on an event that streamed online.
"This was such a weird, unpredictable, fun event," Weiss says. "The authors talked about Binc, their love of bookstores, their writing schedules, and their shared loved of baseball (and how much they are missing it right now)…The event was free, but there was a suggested donation to Binc to attend. Over 300 booklovers raised $22,000 throughout the hour-long author discussion, which was matched by a donation from Rick and Becky Riordan. So the event raised $44,000 for booksellers and bookstores." King and Grisham also discussed a possible collaboration, which excited many fans.
"To put it simply," Weiss continues, "we have been overwhelmed with the creative, generous, incredible, amazing ideas from supporters, from Libro.fm's sock campaign to the legendary comic book artist Jim Lee auctioning off sketches on eBay, to Michael Connelly's T-shirt campaign, to Mac Barnett's Book Club Hats, to struggling bookstores giving a percentage of their GoFundMe campaigns to Binc, to sustaining donors increasing their monthly donations, to Bookshop.org donating the affiliate revenue on some of their top titles, to Melville House donating their proceeds from Coping with Coronavirus, and honestly too many more fundraisers for us to list. We are so, so grateful for each and every person who is thinking about how they can support their local bookstores directly and through Binc right now."
In order to keep up with it all, Binc's small team of four full-time and one part-time staff had to make some adjustments. The organization has always prided itself on a rapid response time of 24-48 hours. But that was when they were getting two to three requests a week. Now they're processing 70 to 80 a day.
"There's no way we could have done all this with five people," Weiss says. "There's just not enough hours in the day." The team has expanded by bringing on more contractors and volunteers, and Weiss says that Binc's board has been an incredible asset as well. "We couldn't have expanded and mobilized in the way we did without these incredible people stepping up and saying they could help booksellers and comic retailers," she says.
They used to get two to three requests a week. Now they're processing 70 to 80 a day.
Additionally, they've slimmed down their application and moved everything online. This allows people to access the form from any mobile device and ensures that Binc can process them as fast as possible. There's also a phone number people can call. "We're really proud that on March 15 we started accepting applications from folks who lost their jobs (due to COVID-19)…and on March 17, the first assistance check went out," Weiss says.
The average assistance check is still around $1,000, and Binc's focus right now is on helping people afford rent and mortgage. When I point out that, while it's better than nothing, $1,000 only goes so far when someone is unemployed, Weiss concurs. "It's a little bit of breathing space, but what happens next month?" she says. "That's why we're stressing that Binc is going to be a part of the solution."
The assistance is meant to be a stopgap to get someone through a particularly rough period, until they can get back on their feet. "We're getting aid turned around quickly, and you've got a little assistance coming from Binc, and then you've got a little bit coming from a tax refund, and then you've got a little family support…and then hopefully, these bookstores will be able to start opening again and people will get their jobs back," Weiss says.
But as we well know, nothing right now is certain. Weiss admits that the uncertainty that Binc itself, as well as the entire book industry, is facing right now can seem daunting. But she's grateful that so far at least, they've been able to continue to support those in need.
"We've been humbled and amazed, but not surprised, to see the community coming together to support each other," Weiss says. "And grateful, too. We understand that everyone's facing uncertainty right now, and to give a gift to others is a big deal in any time. But to be trusted [right now] is really a big deal to us."
If you find yourself in a position to support booksellers and bookstores through Binc, consider making a donation.
If you are a bookseller or bookstore in need of financial assistance, you can call 1-866-733-9064 or fill out the online form. Someone from Binc will be in touch as soon as possible.