The Best Trail-Running Shoes for Women in 2020
From muddy local trails to epic mountain runs, we've found the best trail-running shoes for women.
Sure, you could get away with wearing normal sneakers on the trail, but having a pair of trail-specific running shoes provides increased comfort, grip, and protection from rocks and debris.
From sloppy trails of the American South to rocky peaks of the Pacific Northwest, we've spent the past 6 months running, hiking, and testing to find the best trail-running shoes for women. While testing, we focused on choosing a variety of shoe styles to fit each runner's needs and feet — because the shoe each trail runner needs is unique as the trails they run.
This article focuses on the best women's trail-running shoes. In separate articles, we have also outlined the best women's road-running shoes and the best winter running shoes.
The Best Trail-Running Shoes for Women
Whether you prefer a minimalist feel, extra cushion, extreme grip, or a do-all workhorse, we're confident you'll find a new favorite running shoe here. Get ready to lace up and hit the trails.
Borrowing from the elite S/LAB line, the Sense Ride offers excellent functionality without breaking the bank (at least compared to the $180 elite series). Weighing in at 8.8 ounces and with a 27mm heel stack, these shoes offer plenty of protection without weighing you down.
The quick-lace system is great for anyone used to fighting with laces coming undone on the trail. And we like that the breathable mesh keeps feet cooler and helps avoid blisters. It's an all-around solid trail-running shoe for a multitude of terrains and up to ultradistances.
Salomon does tend to run a little narrow, so try on a few pairs to see how they fit your foot. And if you're looking for a more aggressive lug, the popular Salomon Speedcross is a great option.
Weight (per pair): 16.2 ounces
Drop: 8 mm
Price: $120
Best for: Neutral runners looking for an all-around great trail shoe
The Peregrine is a perennial favorite, and for good reason. These tick all the major boxes for comfort, durability, traction, and weight. The cushion provides comfort for long days on the trail, and the reinforced sole protects against sharp rocks and debris. We found them plenty responsive on the uphill and pleasantly forgiving on the down.
The ISOFit lace system has been lauded for providing a custom fit. And while we can't promise it's anything revolutionary, we did find these snug-fitting — an important factor when navigating technical terrain. We mostly used these for trail runs but know many people who choose the Peregrine as their go-to hiking shoe.
The one piece we're not unanimously sold on is the extra-cushioned heel collar. Some testers found it helpful in providing a snug fit whereas others hate how bulky it is. This is a matter of foot shape and preference but is worth noting.
Weight: 18.4 ounces
Drop:  4 mm
Price: $120 ($90 on sale)
Best for: Regular use and variable terrain
If you're looking for a shoe that's comfortable right out of the box, these are a winner. They're impressively light and easily mold to the foot. The tongue has just the right amount of cushion, without being bulky. And the sole is extremely flexible, yet we never felt any rocks or debris underfoot.
With a breathable mesh upper, these are a great choice for summer. They aren't waterproof in any way, so we'd recommend choosing a different shoe for sloppy, wet conditions. And while they aren't our top pick for technical trails, they're a great do-all shoe for hiking, walking, or everyday use.
Weight: 14 ounces
Drop: 4 mm
Price: $100 ($75 on sale)
Best for: Light trail running and hiking
If squished toes are your problem, Topo Athletic is your answer. The wider toebox provides plenty of foot space while remaining snug enough for maximum support. The 6mm rubber lugs proved plenty grippy on slick and uneven terrain. And we like that the sole provides just enough cushion without feeling overly stacked.
We've used them on rough terrain and have been impressed with how well they've held up against abrasions. They don't have a rock plate, so they may not be the best choice for extreme rocky trails. But for logging high singletrack miles, these give toes room to breathe and provide all-day comfort.
If you like the wider toebox design and are looking for a water-resistant trail-running shoe, be sure to check out the Topo Athletic Hydroventure ($140).
Weight: 16 ounces
Drop: 5 mm
Price: $130
Best for: Variable terrain, lightweight day treks, and off-road runs
Shop Topo Athletic Ultraventure
For maximum comfort and cushioning, look no further than the Challenger. The oversized foam sole provides plenty of protection, and the extended toe cap guards against rocks and branches. The 5mm drop and rocker shape can take some getting used to, but the extra padding and breathable upper provide all-day comfort.
The tongue wraps fluidly with the thin collar and is centered by two mesh wings that wrap under the foot. Overall, the cockpit is minimally padded but feels natural and comfortable.
Some testers found it to run large, so we recommend trying on to find the perfect fit.
Weight: 15.4 ounces
Drop: 5 mm
Price: $130
Best for: Anyone looking for a shoe that can transition from trail to road while providing plenty of cushioning
This is a specialized shoe for mud and slop, so it's not a good choice for everyday running. But for mud racing or steep, sloppy trails, this is our top choice on the market. The King MT has gnarly 6mm Vibram lugs to grab soft earth. A Velcro strap over the instep keeps the shoes stable even when wet.
Think of them as mud tires for your feet. We've used them and love them on the super-soft muck of spring. Just don't plan to bang out pavement miles, as these things are dedicated off-road traction!
Weight: 14.6 ounces
Drop: Zero
Price: $140
Best for: Mud racing and steep, sloppy trails
Best Minimalist Trail-Running Shoe: Merrell Trail Glove 5 ($75 on Sale)
Barefoot aficionados will love the Trail Glove 5. These lightweight shoes prevent that "lead foot" feeling, and the thin sole provides plenty of ground feel. We wouldn't wear these on rocky or extreme trails, but for light trails, they provide plenty of protection combined with a barely there feel.
If you're new to minimalist running and zero drop, it's best to build miles slowly. Focus on form when running and work up to longer runs.
Weight: 12 ounces
Drop: Zero
Price: $100 ($75 on sale)
Best for: Barefoot fans who want to hit the trail
Best of the Rest
Anyone looking for a shoe that can gobble up the miles during long-distance races should consider the Kaptiva. The firm cushioning maintains comfort and support during extreme mileage. And the rubber outsoles and pronounced sticky lugs provide plenty of grip.
Complete with 1.5mm rock guards in the forefeet and heels, these do great on rocky terrain. We found their performance slightly below average on loose, gravely trails, but they held up great otherwise. The sock-like fit prevented any slippage and was extremely comfortable. They do tend to run a bit narrow, so runners with wider feet may want to look elsewhere.
Weight: 15.8 ounces
Drop: 6 mm
Price: $139
Best for: Long-distance trail races
These shoes were born from runner requests. During test runs, they kept going off road in the the Saucony Freedom ISO. They loved how the full-length EVERUN midsole felt on trails, and wanted a trail-specific shoe that had the same feel. And so the Switchback ISO was born.
The thing that you'll first notice is the lacing system. Instead of fussing with knots, the BOA system makes lacing up quick and efficient. The tacky rubber lugs provide a low-profile, yet grippy sole. Our testers really like the EVERUN midsole construction and found it offered solid energy return without compressing too much.
This shoe is a great choice for getting out the door quickly and crushing it on race day.
Weight: 17.6 ounces
Drop: 4 mm
Price: $140 ($101 on sale)
Best for: Anyone looking for a lightweight, race-ready shoe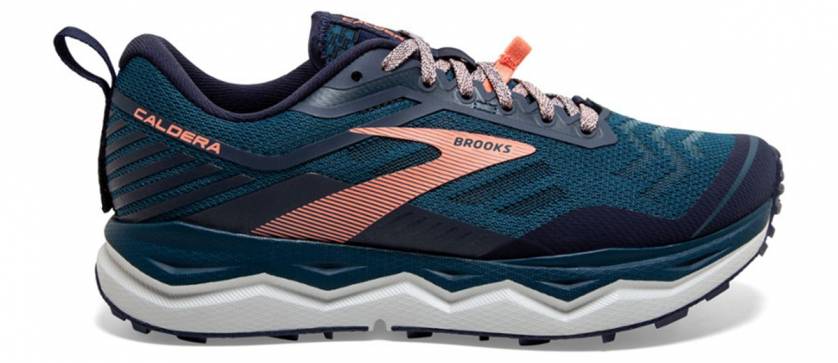 The Caldera offers up extra cushioning on the trail. We found the mesh upper breathes well and molds nicely to the foot. The rubber outsoles weren't as grippy as some of the other shoes here, especially on wet terrain.
But for less technical outings, they did great. And if you like to run on the road to get to your local trails, these are great for that. The roomier toebox will make runners with wider feet happy. And they provided excellent protection against rocks underfoot.
Weight: 20.6 ounces
Drop: 4 mm
Price: $140
Best for: Extra-cushioned trail runs
Trail-Running Shoe FAQ
Which Trail-Running Shoes Should I Buy?
With so many options to choose from, it can be challenging to choose the right trail shoes. Here are three things to consider as you shop:
Set realistic running goals. If you dream of running a 100-miler one day but realistically will use the shoes for 5-mile training loops around your local park, buy shoes for the latter use first.
Consider shoe width. For folks with wide feet, or those running very long distances, a wide forefoot can be a bonus that lets toes splay. The downside is that wider shoes are less precise, can be a little more clumsy, and won't fit well on people with narrow feet.
Test out the tongue. Does it fit comfortably? Will it keep rocks out of your shoe?
For the complete guide to choosing a trail-running shoe, check this out:
How Should Trail-Running Shoes Fit?
Stack and Drop
Unless you're running barefoot, every shoe has a stack. Measured in millimeters, the stack refers to how high the insole sits off the ground. Shoes with more cushion inherently have a higher stack. Furthermore, most shoes have a "drop" in stack height from the heel to the toe.
If you're new to running, experts recommend a lower heel drop; it builds a wider range of motion and strength, which makes you a healthier runner.
Cushion
Stepping into a high-cushion shoe can feel like walking on a cloud. Those running longer distances (or who supinate) will prefer more cushion to dampen the repetitive pounding and provide support. But it can become a penalty. Extra foam adds extra weight.
So, is more cushion better? Not always. It's about finding the right balance between speed and comfort. If you're aiming for a new PR, look for a light, stiffer shoe with a harder cushion and minimal lug friction.
Flexibility
Flexibility is your friend on the trails. You need variability to match the variable terrain. Trail runners will prefer a shoe with a firm outsole and less cushion but a firm toebox to push off of. Flexibility and torsion can help the foot adapt to the trail and prevent injuries.
How Long Do Running Shoes Last?
The life of a shoe depends on a variety of factors, including running style, weight, and how often they're used. But in general, 300 to 500 miles is a good rule of thumb.
So if you run 10 miles per week, your shoes could last 8 months to a year. If you're logging 20 miles per week, plan on replacing your running shoes every 4 to 6 months.
And if you see excessive wear patterns, holes, tears, or notice a decrease in footbed comfort, it's probably time to grab a new pair of sneakers.
---
Have a favorite trail-running shoe we didn't include? Let us know in the comments for future updates to this article.
---
Now that you're feet are ready, let's make sure you have everything else you need to hit the trail:
The post The Best Trail-Running Shoes for Women in 2020 appeared first on GearJunkie.