Snowman Mason Jar for Decor or Gifting
Make a snowman mason jar for Christmas gifting or winter decorating! This is fun holiday project that is perfect for beginners.
Skills Required: Beginner. This project is great if you don't have much crafting experience. You'll be painting, cutting out embellishments, and gluing them to the jar. Honestly it's a great craft for both adults and children.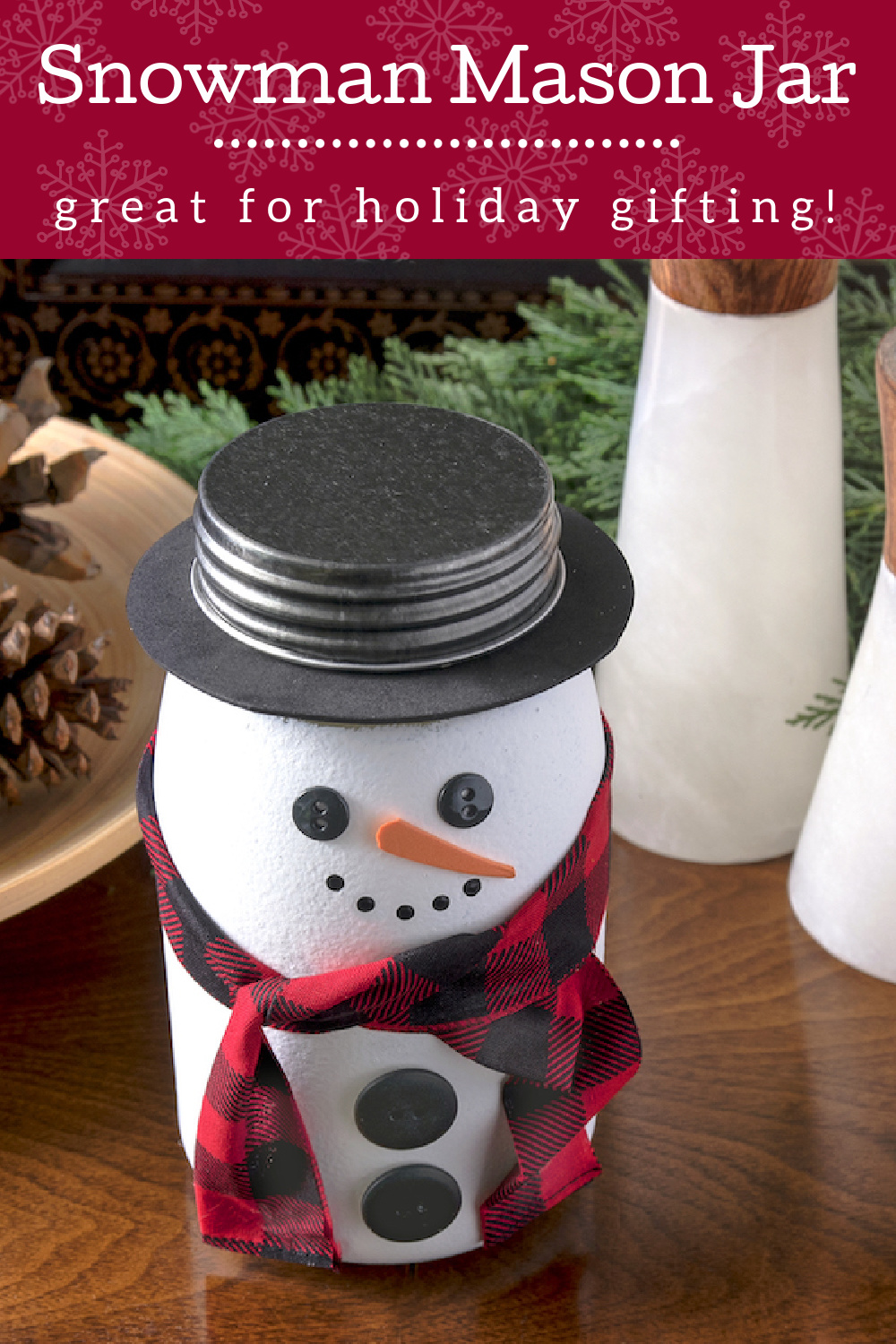 I'm sure, like me, you watched the 1969 classic "Frosty the Snowman" when you were little. Maybe you've never seen it, but let's just say I always wanted a snowman for a best friend. I liked the flower in his hat and his sassy striped scarf.
He seemed like my kind of snowman.
The funny thing is that as an adult, I don't incorporate snowmen into my Christmas and winter decor nearly enough. I tend to like woodland based projects like these wood slice coasters or bold and bright decor like this Christmas peace sign.
I know those are very different genres, but woodland is my normal style and the bold and bright I reserve especially for the holidays. Instead of deer and sparkles this year, I decided to go with a snowman theme. So here is what I started with . . . my snowman mason jar!
This mason jar is not only perfect for rustic or farmhouse decor, it's also a great gift idea. Fill the jar with candies or baked goods, because all the crafting is done on the outside of the jar.
I think my favorite thing about Frosty the snowman jar is his buffalo plaid scarf. I can't wait to show you how I made it!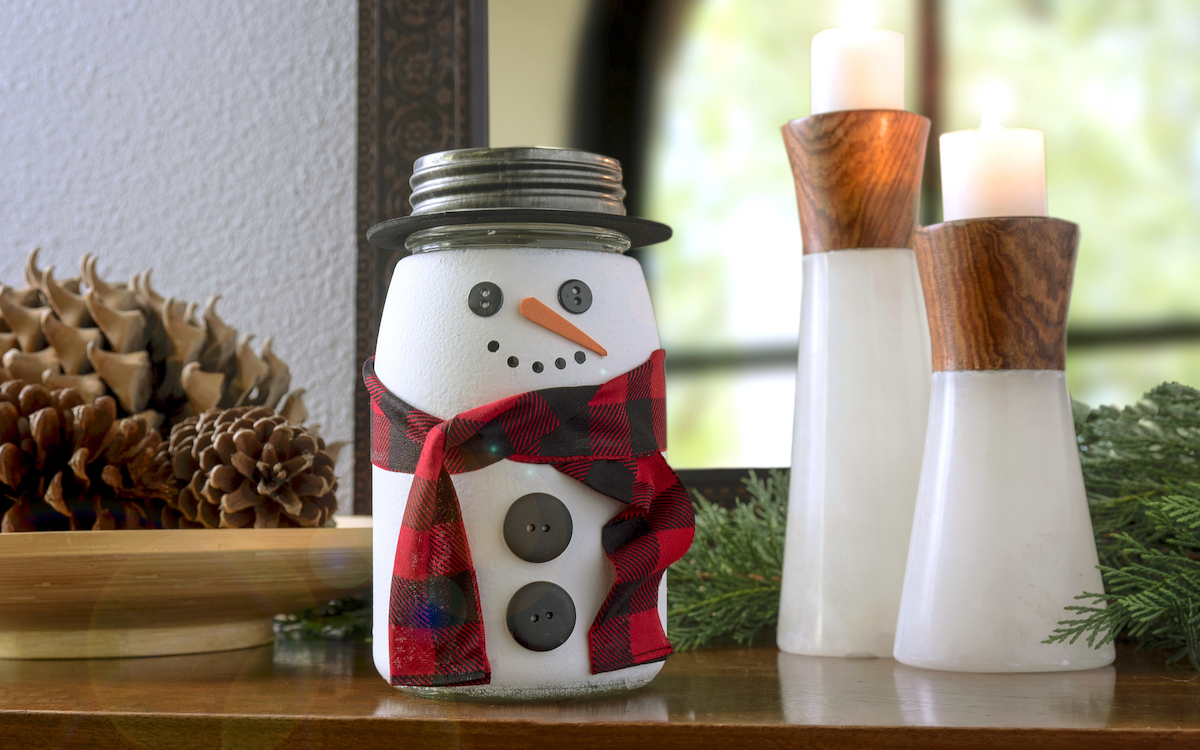 Frosty the Snowman Jar
This snowman mason jar can be completed in five simple steps. You're going to paint the jar, add the scarf, glue down the buttons, add the face, and then make the brim.
Before we get started on the tutorial, I want to share just a few tips with you that might help as you make a jar of your own:
Use multisurface or glass paint on the jar. You can also use white spray paint. I don't recommend regular red craft paint because it will be easy to scratch off the glass.
Glass paint looks worse before it looks better. Use a soft bristled brush or spouncer and don't paint the next layer until the layer before it is dry. Your first layer will be pretty thin. This is where you need the patience. Don't glob the paint on; simply brush it on and it will start to flatten out.
In this post, the paint is "spounced"on with this tool. It gives a bit of a texture to the paint though. You'll find it goes on easier and more consistent, but the results won't be completely flat (very slight texture). If you want to use a brush, go ahead.
---
Gather These Supplies
Glass mason jar – I got mine from Dollar Tree
White multisurface or glass paint
Plaid bandana or fabric
Black buttons – 2 small, 2 large
Orange craft foam or felt
Black craft foam or felt
Craft glue
Brush or spouncer
Pencil or pen
Scissors
Paintbrush
Notes about this project:
Before you begin, you'll want to clean the mason jar. Use mild soap and water or rubbing alcohol and let dry. This removes the oils so the paint sticks.
I used orange and black craft foam because that's what I had on hand, but you can use felt. Or even cardstock.
I made Frosty's scarf out of a buffalo plaid bandana I had in my stash. You could use felt, fabric (think scraps or a sock without a pair), or even knit a small scarf if you are so inclined.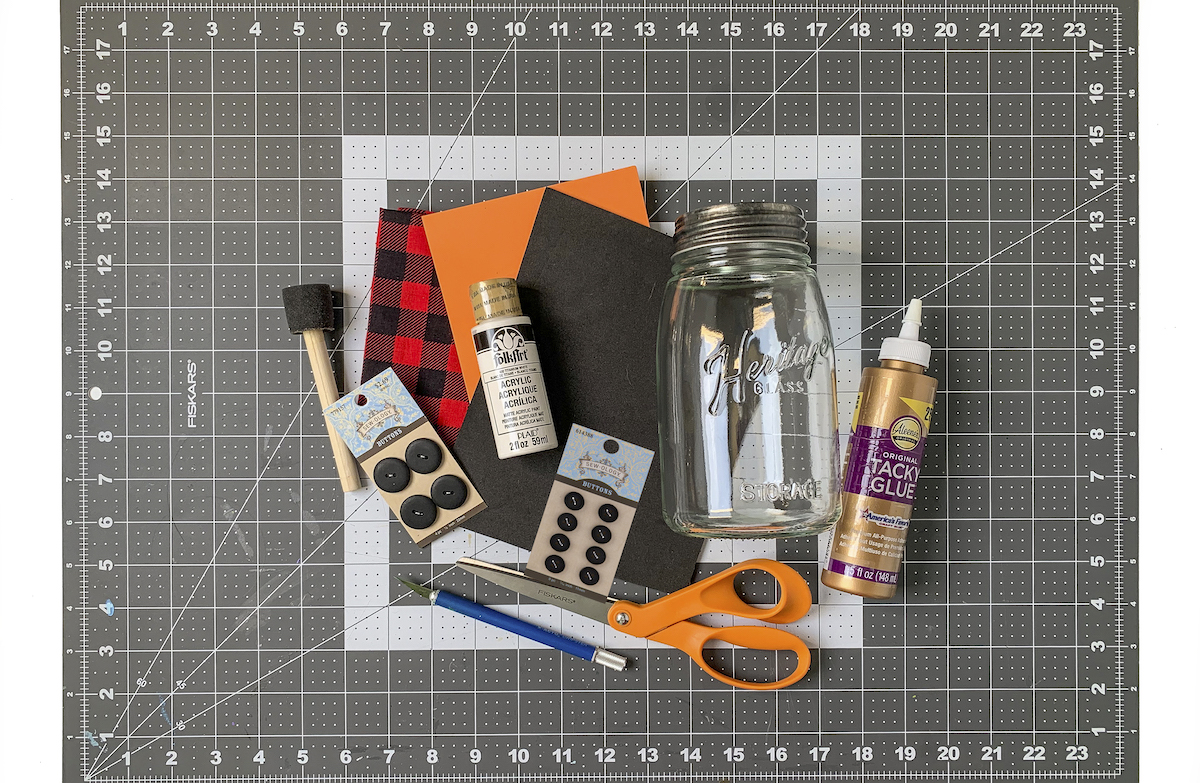 Paint the Jar
To paint the jar, you're going to use a foam spouncer and white glass or multisurface paint. Press the sponge into the paint, dab off the excess, and then press up and down onto the jar.
You want to add a medium layer of paint. It is better to do multiple, thinner layers rather than one thick layer. Work one section of the jar at a time, layering the paint and covering the entire jar. Let dry completely.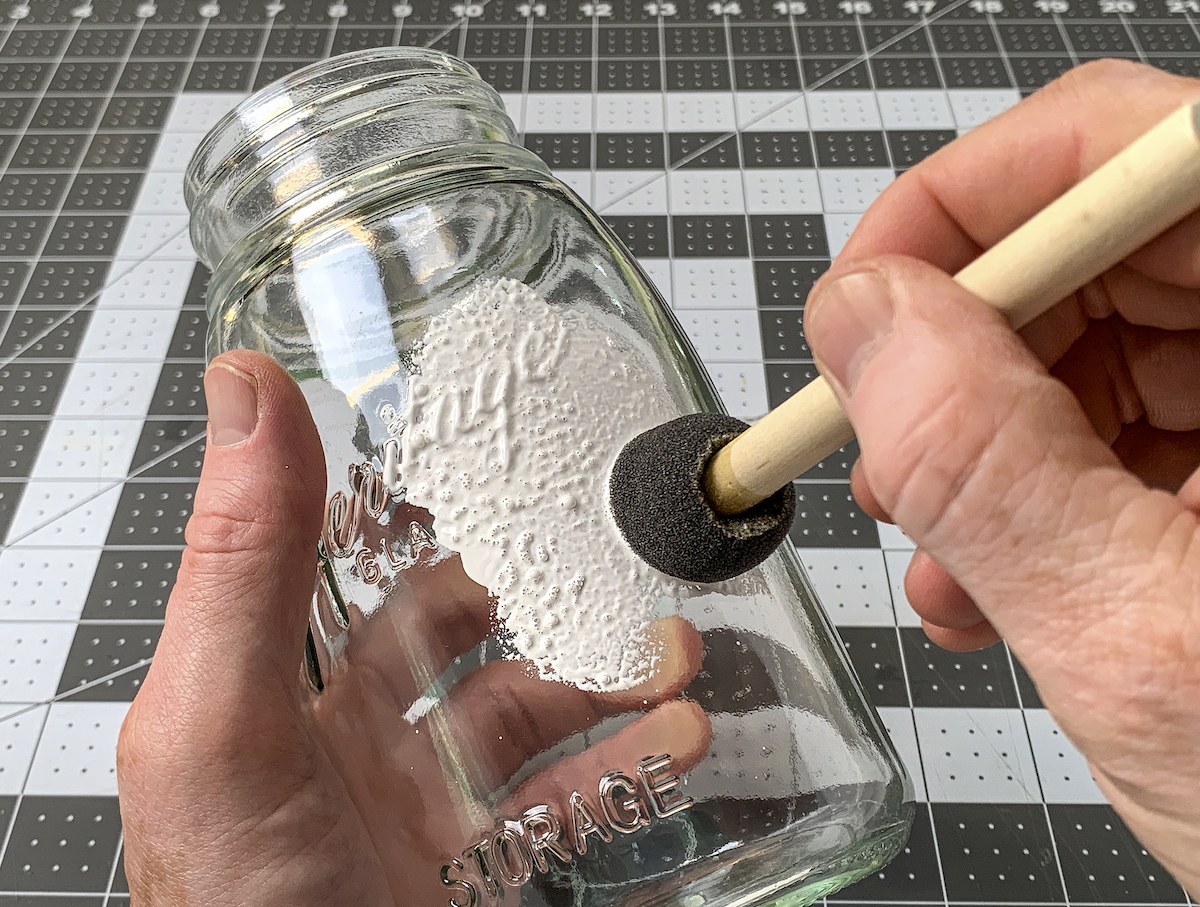 Make the Scarf
While the snowman jar is drying, you're going to make the scarf. I had a 21″ square buffalo plaid bandana, so I decided to use it for the scarf. I cut a 2″ strip off one end, making a 2″ x 21″ scarf piece.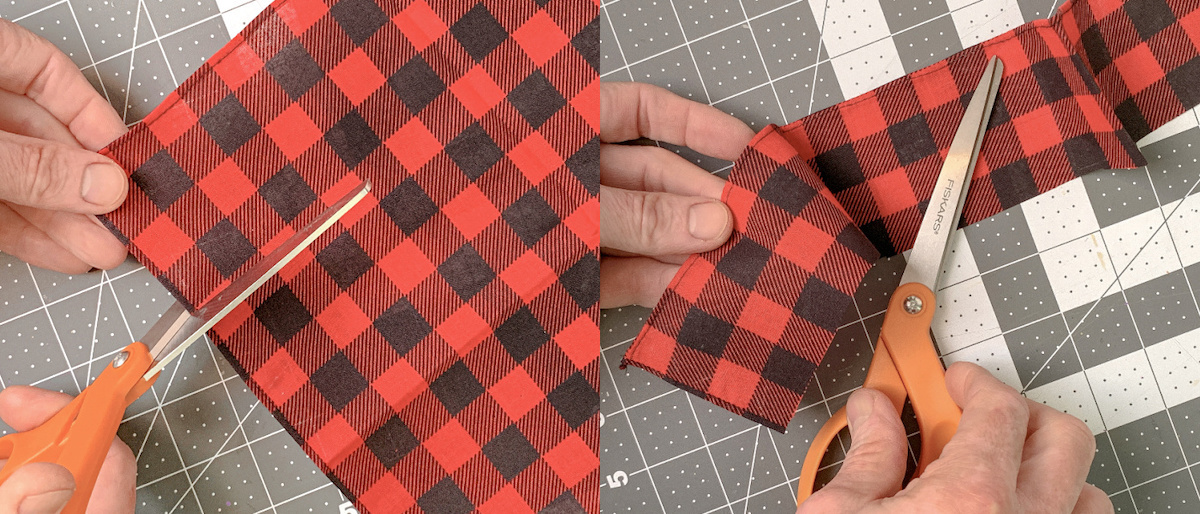 After cutting the piece, fold in half and smooth with your finger. Mine folded pretty easily; you can also iron. Glue the short ends together.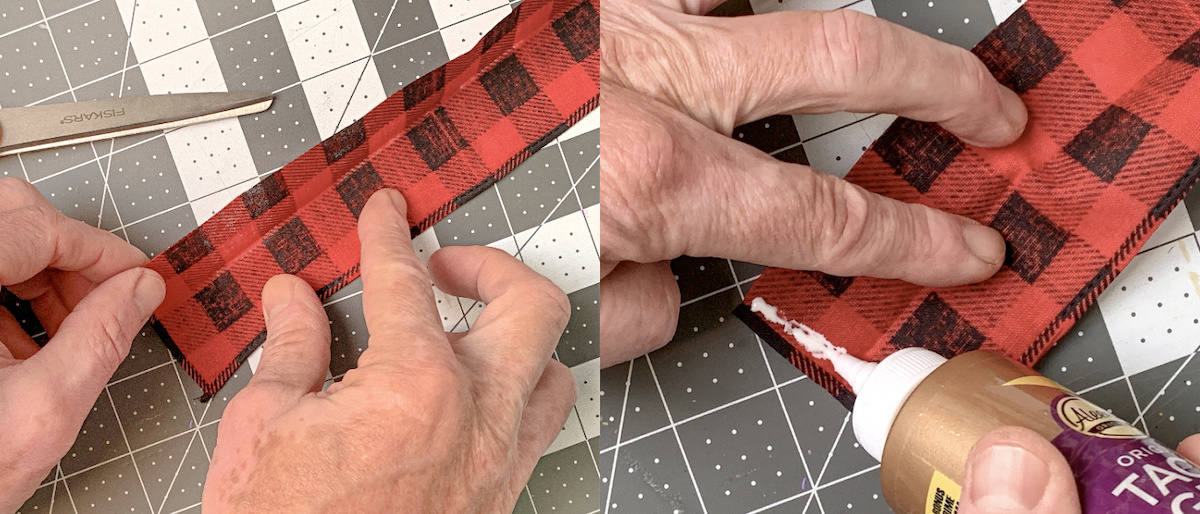 Smooth down and make sure it lies flat. Add glue along the way, wherever you need it, to keep the scarf secure.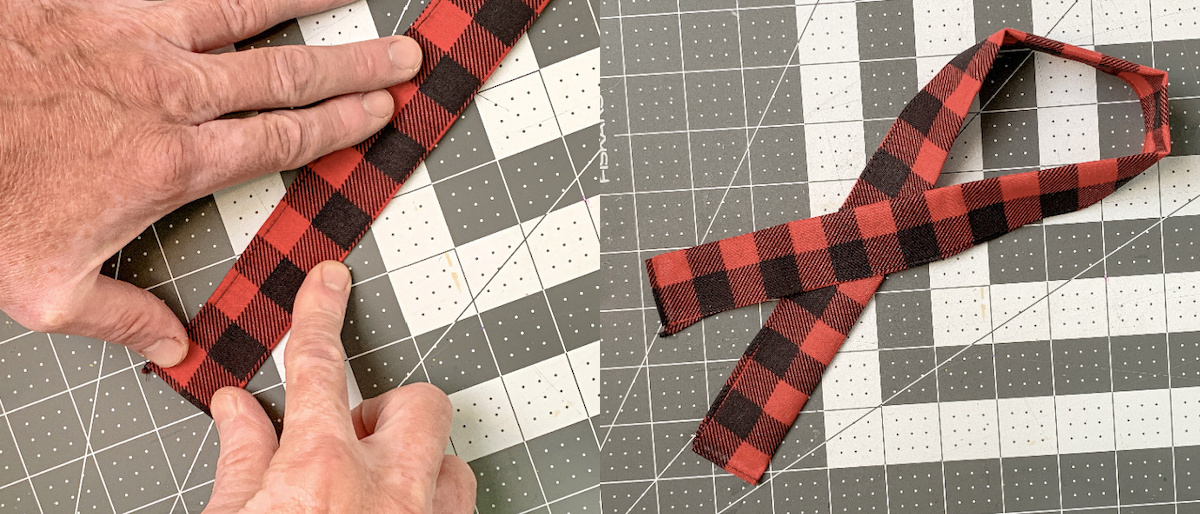 Put a dab of glue in the center of the scarf, laid out on your work surface. Put the jar down into that glue spot . . .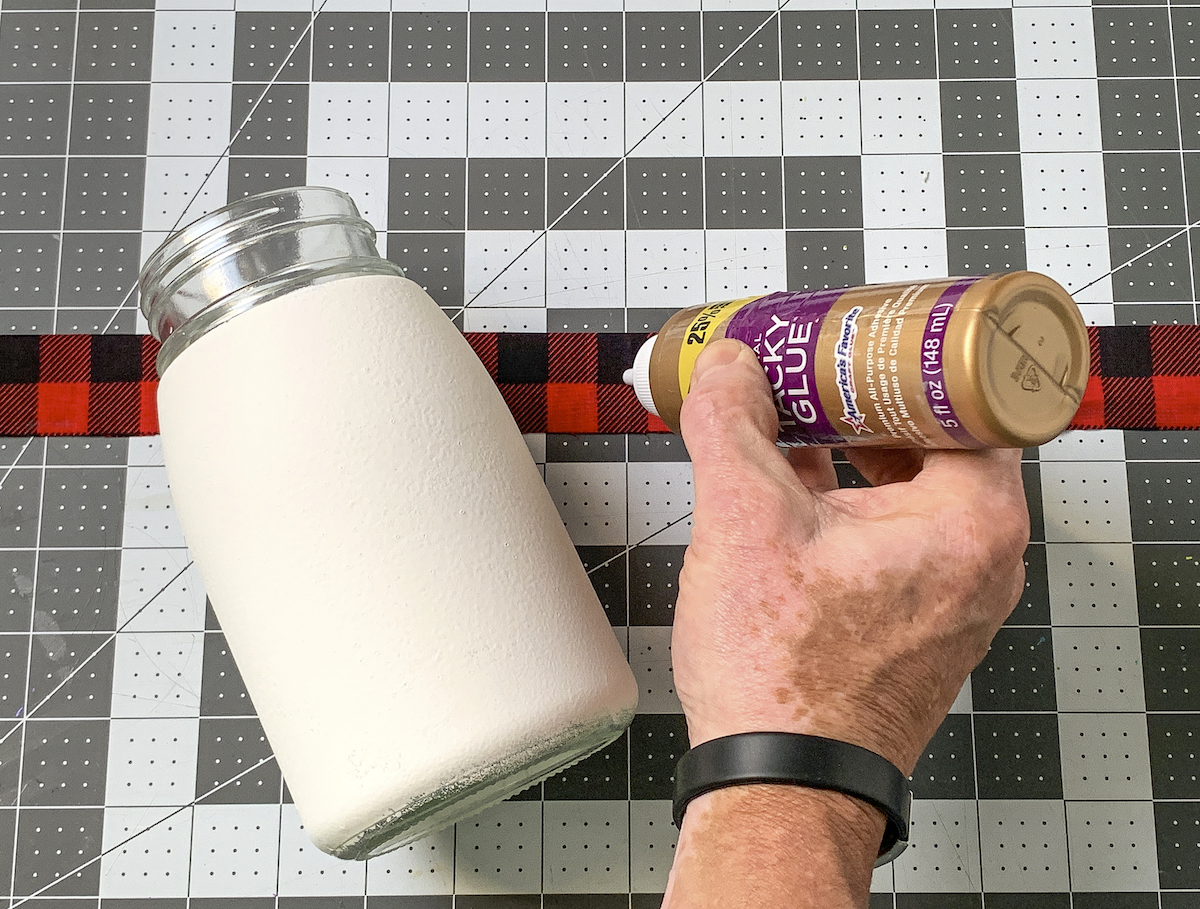 and then the scarf around as shown. Let the glue dry in place.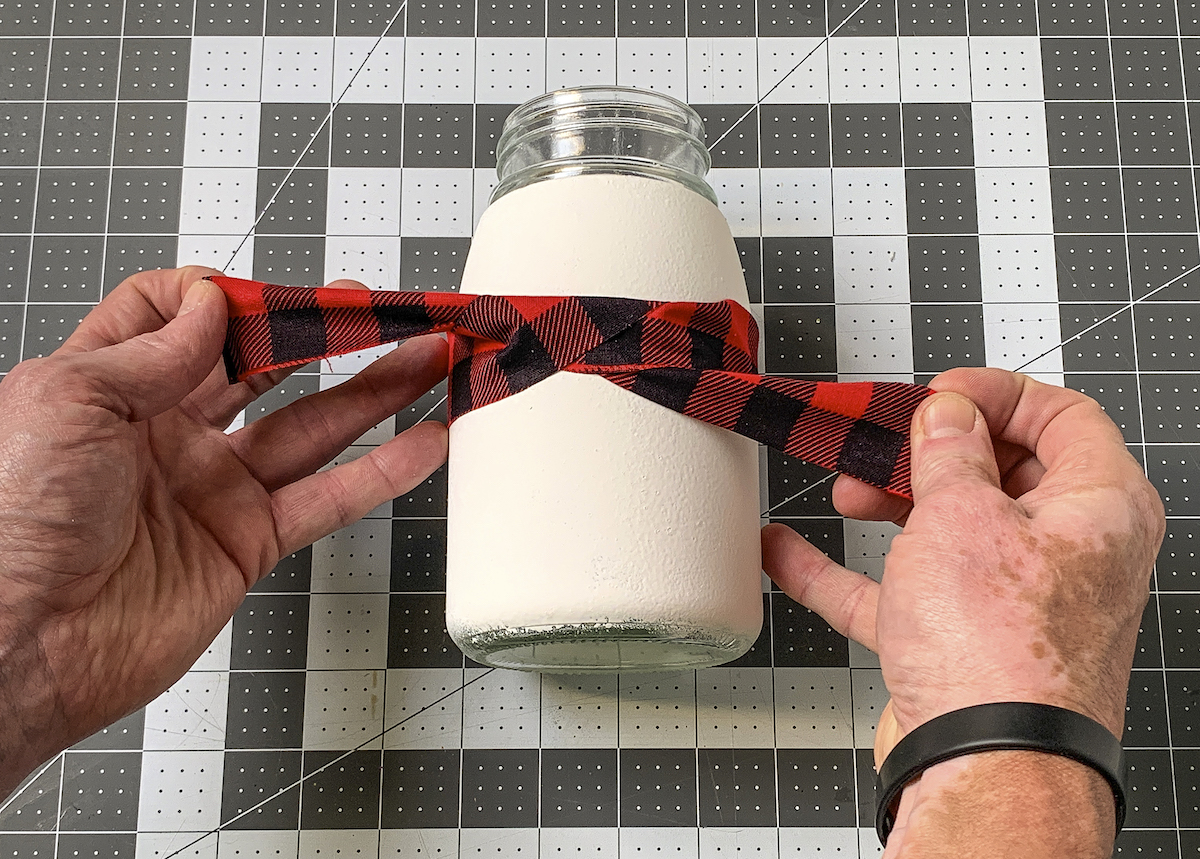 Glue the ends of the scarf in place on each side. Your snowman doesn't want a straight scarf, so you can glue it down with a bit of "movement."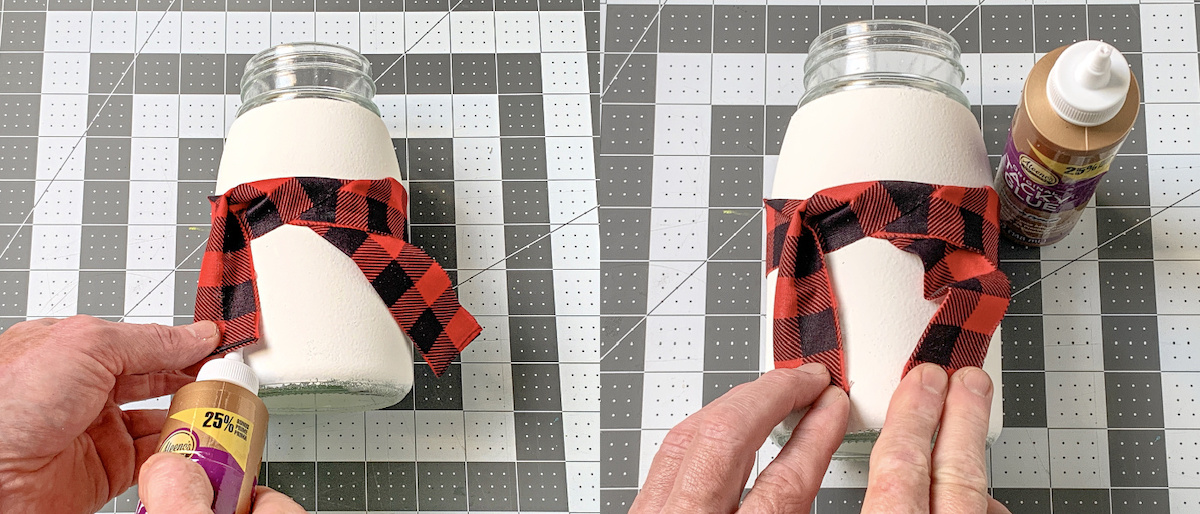 Glue Down the Buttons
Your snowman jar needs some buttons of coal! Take the two large black buttons and glue them onto the front. Let them dry.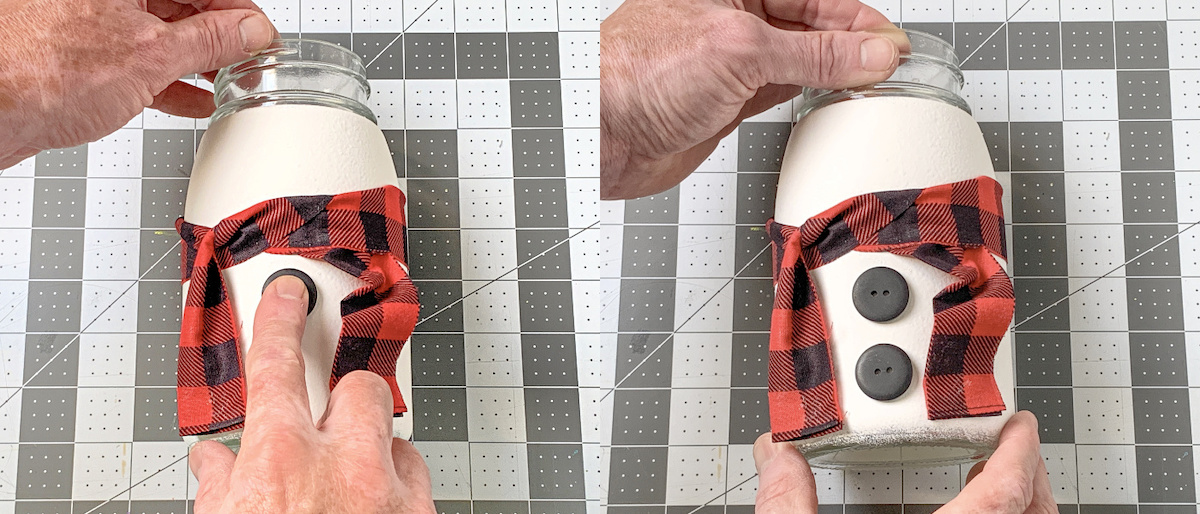 Add the Face
Glue two buttons down above the scarf and below the rim of your snowman mason jar, leaving enough room for the nose and mouth. Let dry.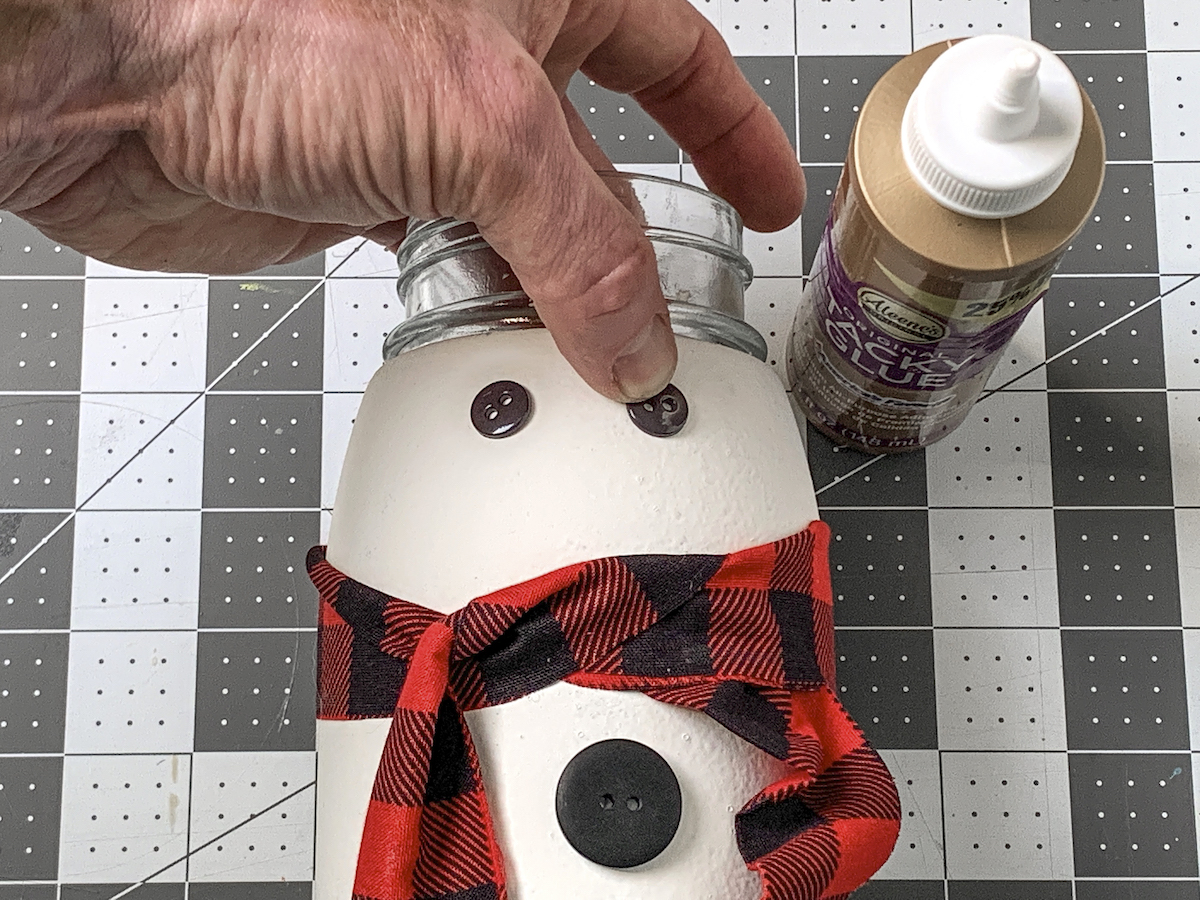 Cut a "carrot" nose out of orange craft foam or felt. Apply to the front of the jar with glue. Let dry.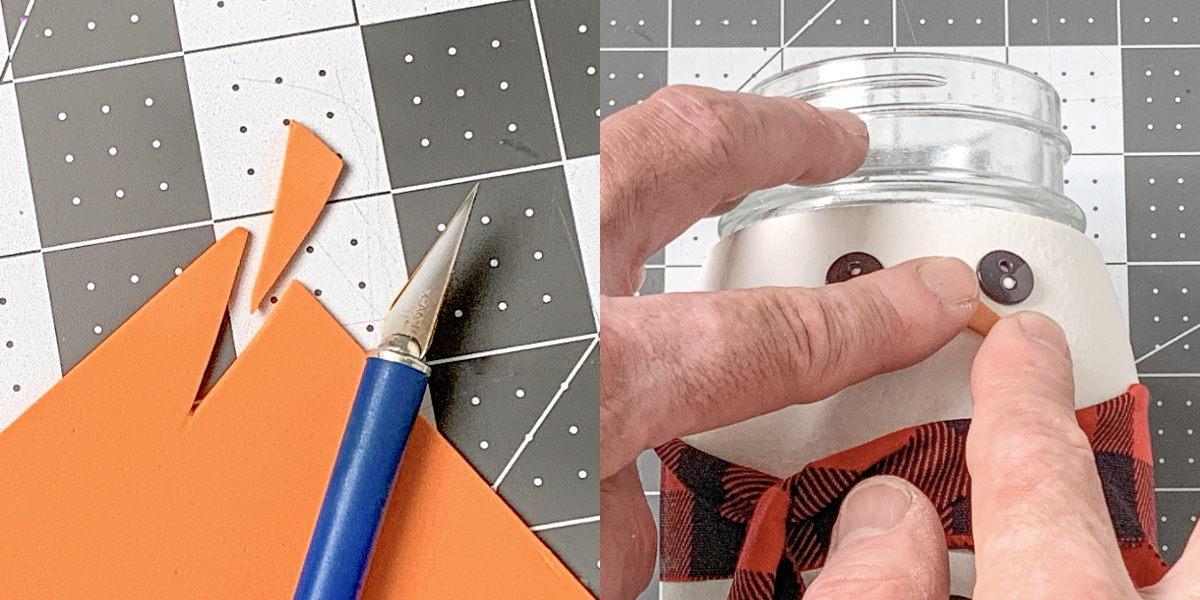 Finish the face by adding a mouth using the end of a paintbrush and black paint. Dot across the front of the jar to make a smile. Let dry.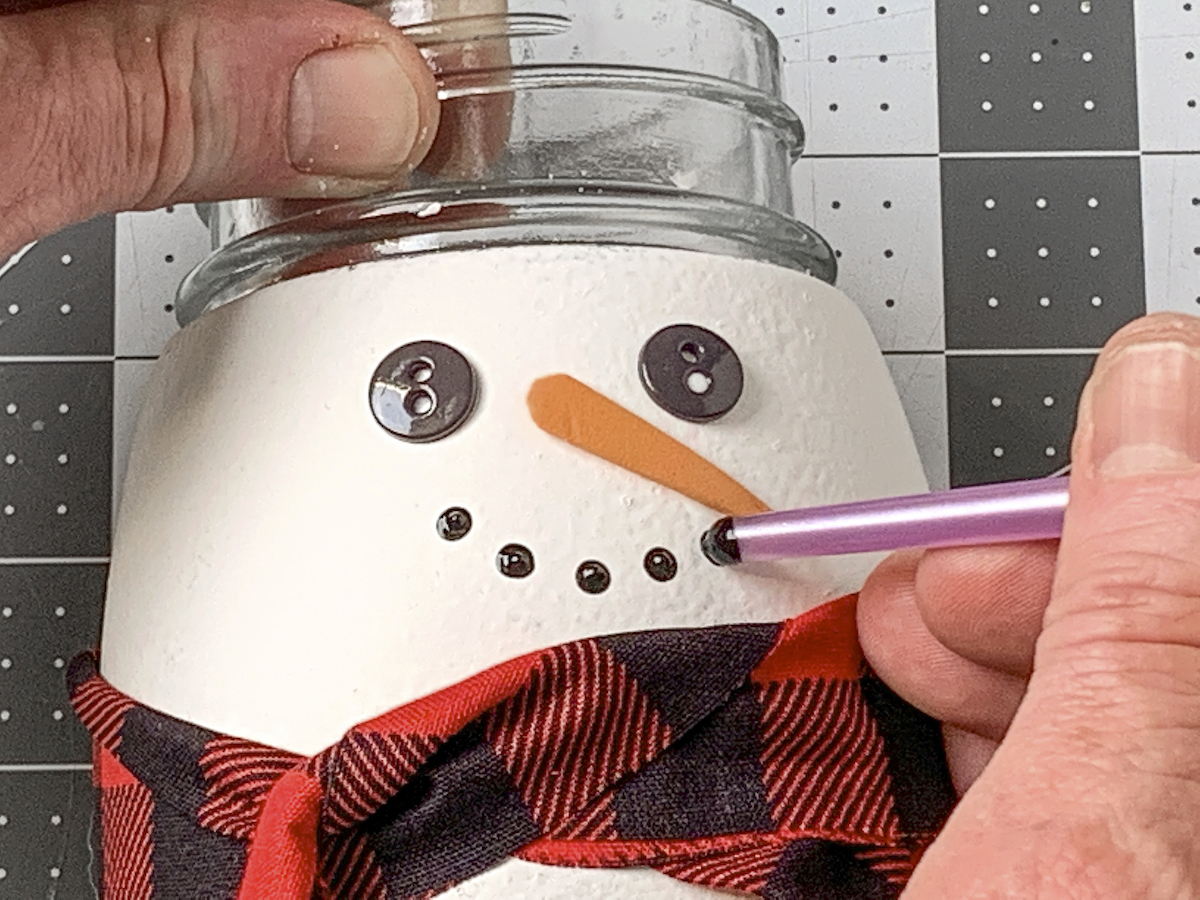 Create the Hat
Cut a circle larger than the size of the mason jar lid (pick an object from your house) out of craft foam or felt.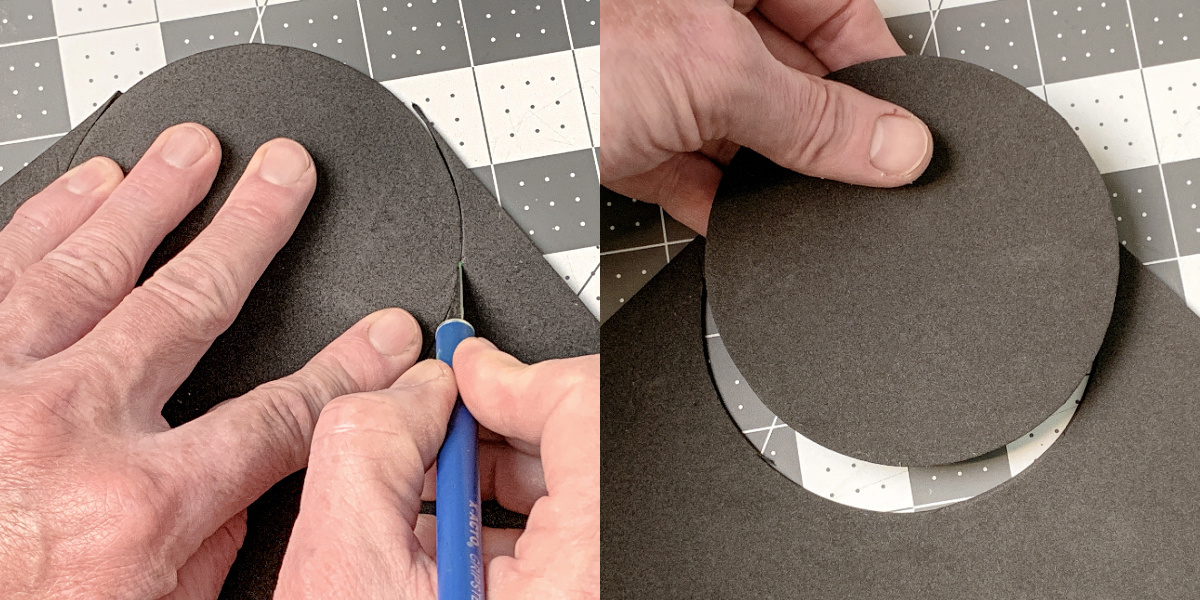 Place the mason jar lid onto the foam and cut out a circle in the middle. You can also trace if you have a pencil or pen.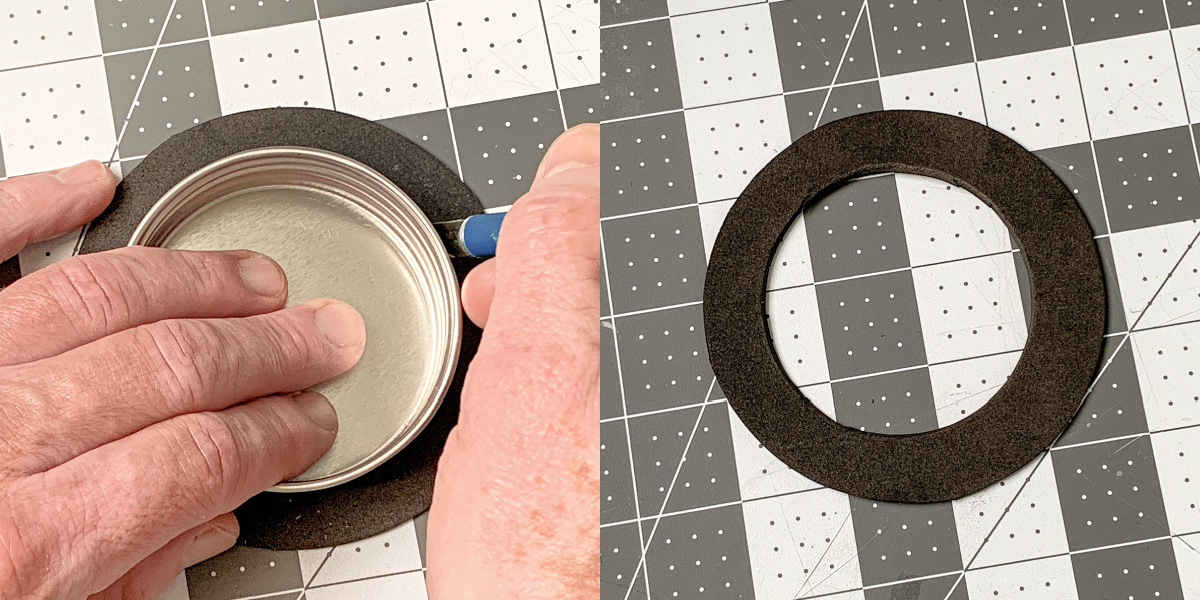 Place over the rim of the mason jar and pull down to create the brim of a hat. Screw the lid down to finish.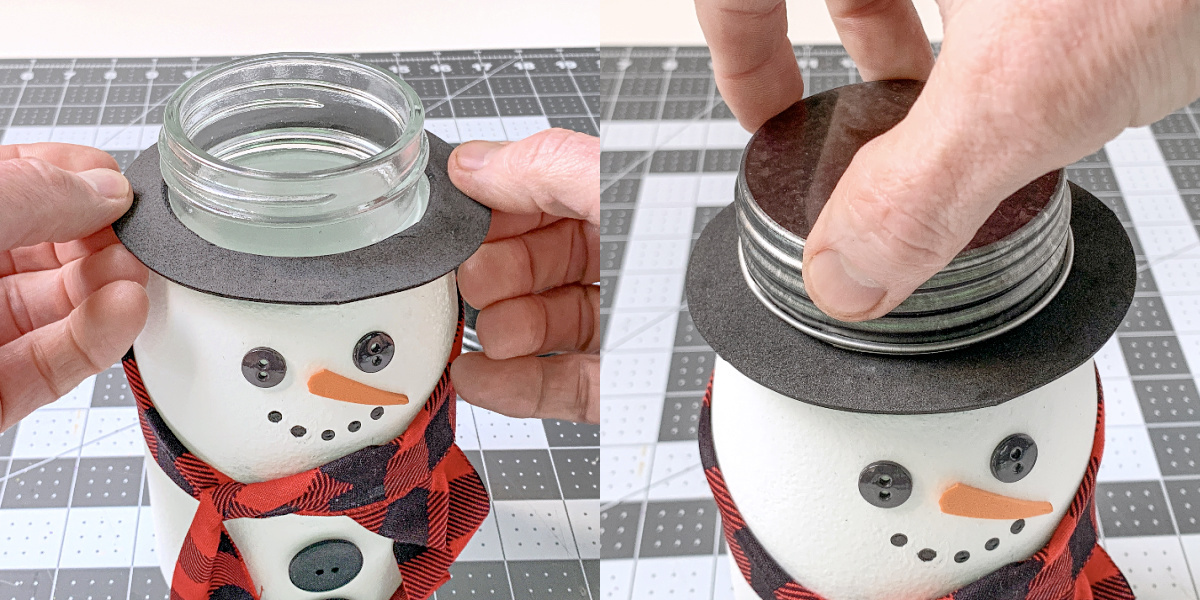 Guest what, my friends? Frosty is done! He is ready for decorating and gifting.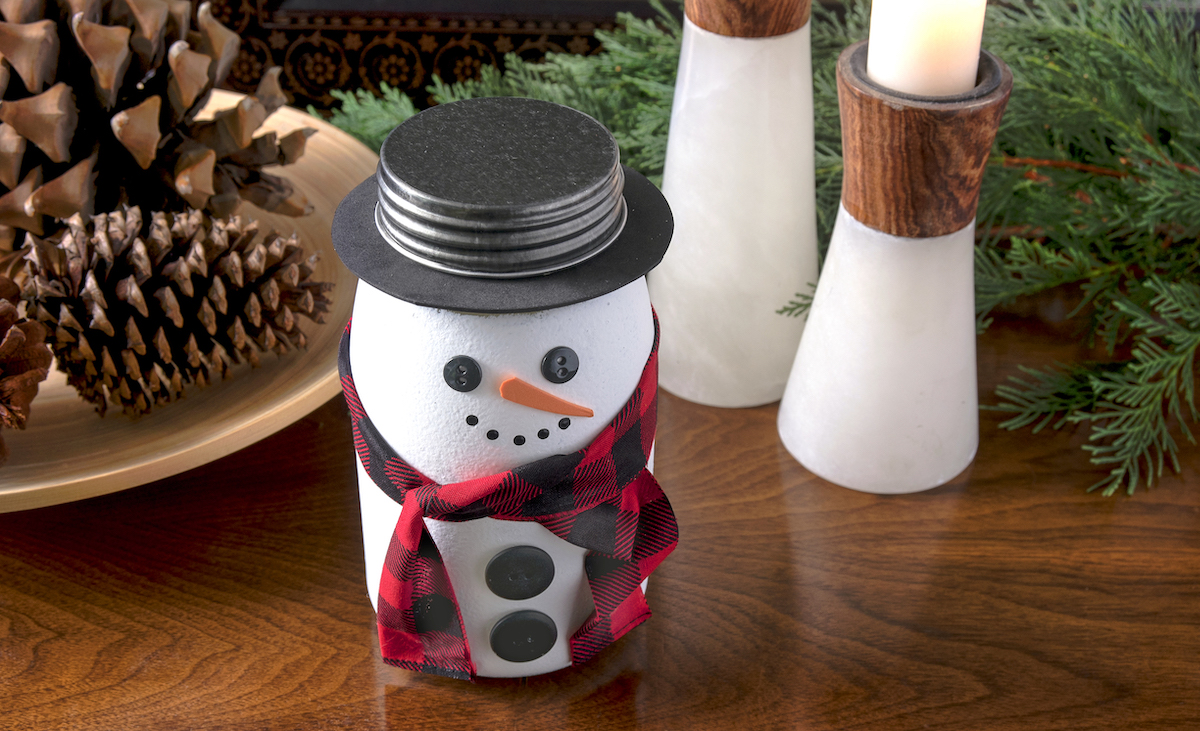 What treats would you put in your jar? Let me know in the comments!
Yield: 1 jar
Snowman Mason Jar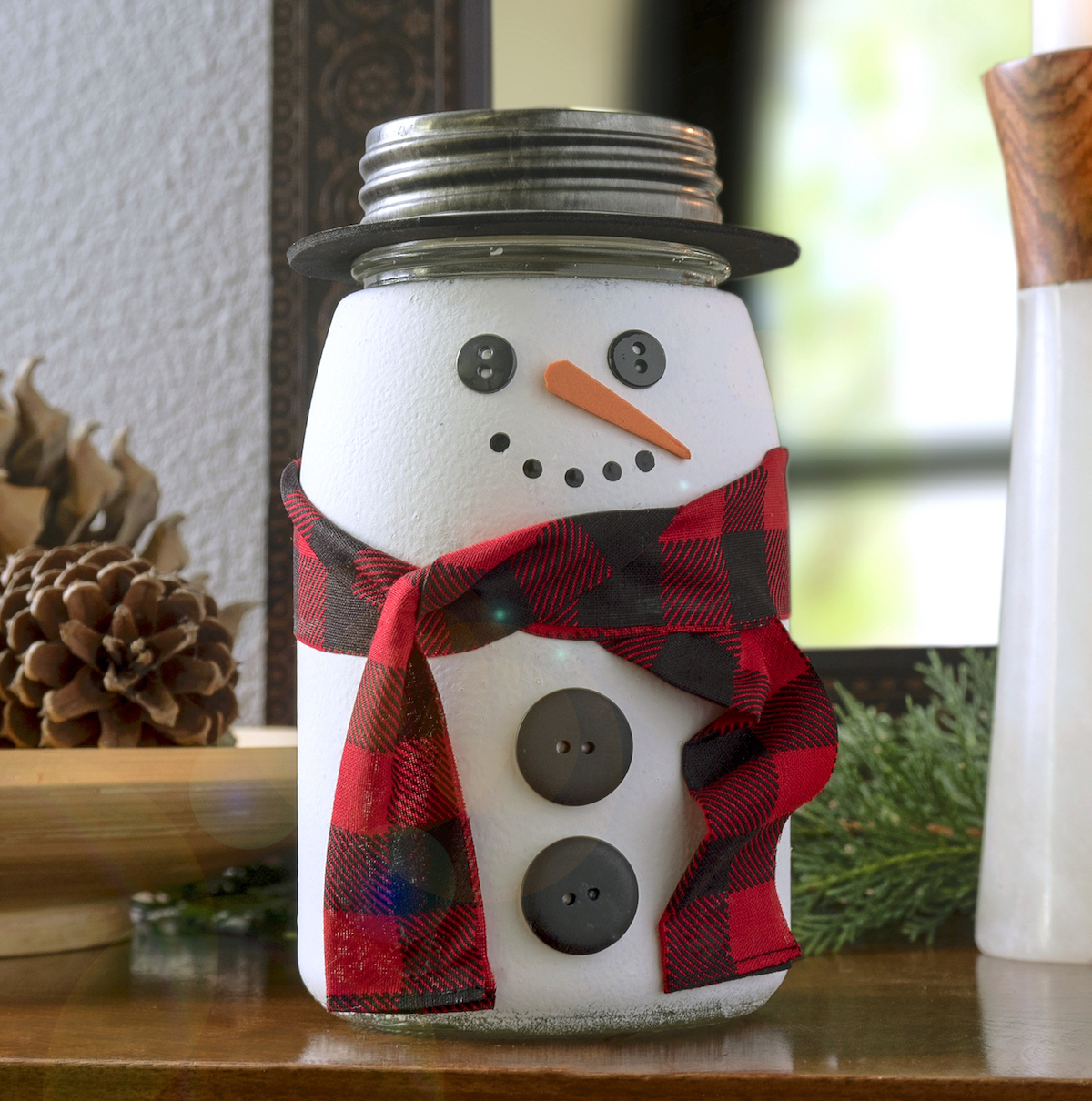 A snowman mason jar is a quick and easy gift idea! This Christmas craft is also very budget friendly.
Materials
Glass mason jar
White multisurface or glass paint
Plaid bandana or fabric
Black buttons - 2 small, 2 large
Orange craft foam or felt
Black craft foam or felt
Craft glue
Tools
Brush or spouncer
Pencil or pen
Scissors
Paintbrush
Instructions
Clean your jar with mild soap and water or rubbing alcohol and let dry.
Start by spouncing white multisurface paint onto the jar, working one section at a time until the jar is covered. Let dry.
Cut a 2" x 21" (approximate) piece of fabric or bandana. Fold in half and glue to secure.
Tie around the mason jar to act as a scarf. Tack down on the ends with glue to secure.
Glue two large black buttons to the front under the scarf. Let dry.
Glue two small black buttons to the front above the scarf to act as eyes. Let dry.
Cut a nose from orange craft foam or felt and attach to the front with glue. Let dry.
Use the end of your paintbrush and black acrylic paint to dot a mouth on the front. Let dry.
Trace a circular object larger than the lid onto the craft foam or felt and cut out. Trace the jar lid onto the center of your new circle and cut out.
Place the brim you just created onto the mason jar and screw the lid on top to finish..
---
Did you enjoy this snowman jar? If so, I'd love for you to check out these other ideas:
The post Snowman Mason Jar for Decor or Gifting appeared first on DIY Candy.