Jo Van Fleet Asked Kirk Douglas For Some Painful Inspiration During Gunfight At The O.K. Corral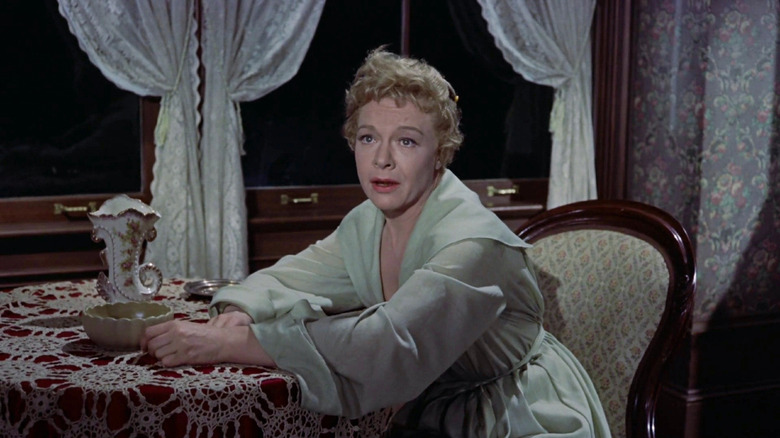 Actors doing the absolute most in commitment to their character have a long history in the film industry. To achieve his coyote-esque look in Dan Gilroy's 2014 neo-noir "Nightcrawler," Jake Gyllenhaal dropped 30 pounds, while Christian Bale's extreme weight loss to play a boxer dealing with drug addiction in 2010's "The Fighter" earned him a Best Supporting Actor Oscar for his troubles. A comedic scene in Martin Scorsese's "The Wolf of Wall Street" wasn't working until Jonah Hill took a real sock in the jaw from co-star Jon Bernthal. But men aren't the only ones unafraid of getting physical for their roles; for John Sturges' western classic "Gunfight at the O.K. Corral," Jo Van Fleet requested help from her co-star, a pre-"Spartacus" Kirk Douglas, to galvanize her for a tense scene by hitting her across the face.
Sturges' 1957 U.S. Western stars Van Fleet as Kate Fisher, a sex worker and the common-law wife of dentist-turned-gunslinger Doc Holliday (played by Douglas). Kate sits near the periphery of the story, which is itself part loose retelling of the mythic 1881 Tombstone shootout and part friendship story between Holliday and lawman Wyatt Earp (played by Burt Lancaster). Fisher's relationship with Holliday is tenuous, and the frustration erupts in her performance, at once raging, desperate, and exhausted. Watch her in action:
Douglas already respected his co-star -- she was an Oscar-winner by then -- but was caught off-guard by the unorthodox request to hit her before filming. It wouldn't even be in the scene, this was purely to get her to the emotional sweet spot needed for her character.
Smackdown At The O.K. Corral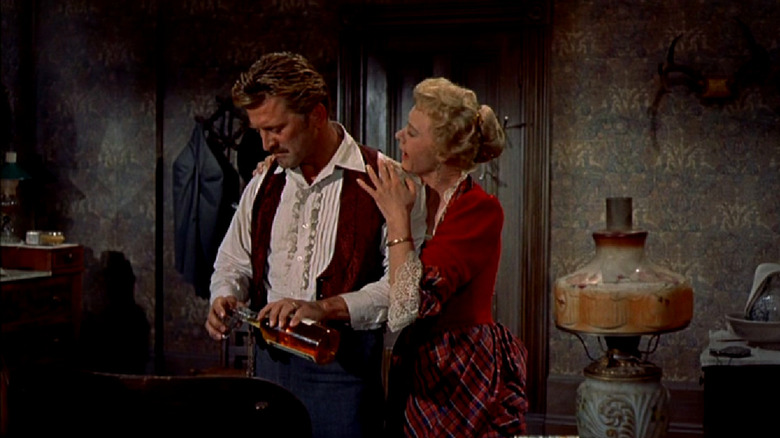 By this time, Jo Van Fleet was on the ascent in her decades-spanning career. Already a stage presence in the National Theater and Broadway, her turn as Jessie Mae Watts in Horton Foote's "The Trip to Bountiful" earned her a Tony Award for Best Featured Actress in a Play in 1954. The following year, she would snag the Best Supporting Actress Oscar for "East of Eden" under the direction of Elia Kazan (whom she had studied with at his Actors Studio). There, she learned his directing sentiments, quoted in "Conversations with the Great Moviemakers of Hollywood's Golden Age" thusly: "I want the breath of life from them rather than the mechanical fulfillment of the movement which I asked for." For Van Fleet, the breath of life for a tense scene could be found in a good smack.
Kirk Douglas' autobiography, "The Ragman's Son," chronicles the moment Van Fleet asked Douglas to give her a helping hand. "Jo wanted to be pumped up before she went on to do a scene," he recalls. "She asked me to slap her." With some reluctance, Douglas complied. Take after take, she'd get a hit and do her scene, sometimes instructing her co-star to put more power into each smack:
"She got ready to play the scene, and asked me to hit her really hard. I said, 'You really want me to?' And I hauled off and whacked her. Her head spun. Burt [Lancaster] stood there with his jaw dropping, watching this sadomasochistic ritual. She shook her head, went and played the scene. Actors are willing to do anything that will help them get a good performance. They're almost willing to sell their souls."
And what was Douglas' ultimate takeaway? "Well, she got the performance. It was a take."
Read this next: The 20 Best Westerns Of All Time
The post Jo Van Fleet Asked Kirk Douglas For Some Painful Inspiration During Gunfight At The O.K. Corral appeared first on /Film.