Four easy weekend trips just across the Georgia state line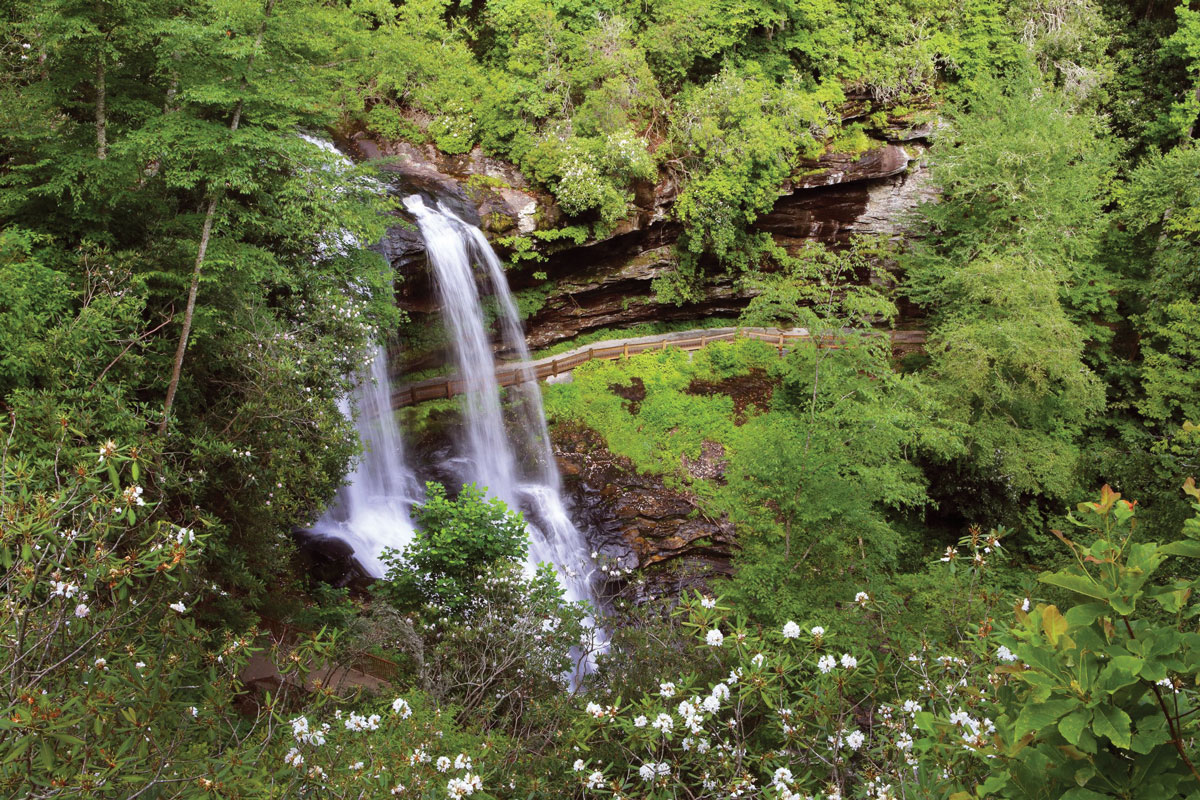 Highlands, North Carolina
I don't know why I didn't think about the bears. The night before, as we'd dined on the outdoor terrace at Skyline Lodge, we'd watched two cubs frolic in the trees nearby. In fact, the hotel's mascot is Butler the Bear (a stuffed version is available for purchase, $30). Yet, we were deep in the woods along Ranger Falls Trail before it occurred to me that we might run into live animals. Fortunately, our group's squabbles about directions must have been loud enough to scare away wildlife, and we reached our destination, a multitiered waterfall on Skitty Creek, without incident. Next time, I'll remember the bear spray.
Rookie hikers are nothing new in Highlands, where city folk go for upscale shopping, fine dining, luxury resorts, and arts series—and outdoor enthusiasts go for hiking, fishing, and exploring one of the most biologically diverse parts of the Appalachians. Our crew fell somewhere in between.
We'd been lured to Highlands by the opening of the completely renovated Skyline Lodge. Designed in the 1930s by Arthur Kelsey, a student of Frank Lloyd Wright, the historic hotel retains its midcentury-modern charm, with period features like hand-cut native stone walls, floor-to-ceiling wood paneling, walnut bed platforms, and hip, low-slung furniture—plus nostalgic accents like electric logs, plaid upholstery, and boob lights. Where the motel courtyard once had a swimming pool, there is now a lush lawn with deck chairs, firepits, and cornhole games, zigzagged above with romantic string lights.
Though the lodge sits on a hilltop not far out of Highlands—which has venerable restaurants like Paoletti, Lakeside, and Wolfgang's—it took us about two minutes after check-in to decide to cancel our downtown reservations and settle into Skyline's groovy bar. The property was refurbished by Indigo Road Hospitality Group, which owns some two dozen restaurants around the Southeast, including Oak Steakhouse, O-Ku Sushi, and Sukoshi in Atlanta. So, not surprisingly, the Oak Steakhouse Highlands excels at charcuterie, steak, potatoes, and seafood (particularly local trout and smoked oysters). But kudos also go to the pastry chef for those melt-in-your-mouth dinner rolls, served that night with ginger butter, and the delicate individual peach soufflés.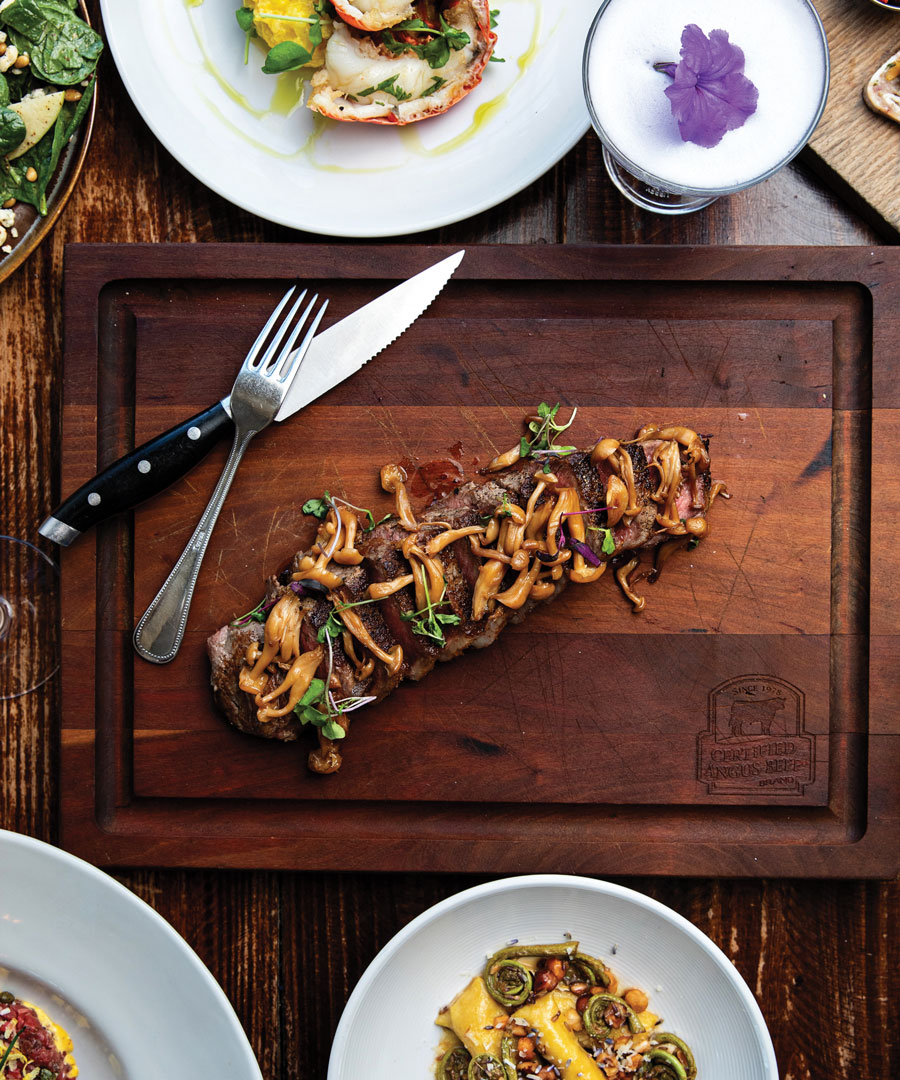 The next morning, after the aforementioned backwoods adventure, we visited two, more accessible waterfalls. Bridal Veil Falls is a lacey curtain of water so close to the road that tourists used to drive behind it. And Dry Falls—an 80-foot cascade that jets dramatically off a cliff—got its name because visitors can walk behind it without getting wet, though that claim is debatable. We toyed with the idea of hiking the easy half mile up to Sunset Rock or following the two-mile loop up Whiteside Mountain (though it was too early for the famous bear-shaped shadow that shows up in October). In the end, we opted to explore the town instead.
Highlands is one of those classic old-school destinations where "summer" is a verb. It would make a good setting for The Marvelous Mrs. Maisel. The Highland Playhouse's repertory theater, the Highlands Cashiers Chamber Musical Festival (helmed by Emory music professor William Ransom), yearly events, and antique auctions offer amusements during "the season." We got our culture fix at the Bascom arts center, which hosts about 10 exhibitions of regional and national artists throughout the year, and where we, coincidentally, spotted two monumental sculptures by Atlanta's Shanequa Gay.
Next, we strolled downtown, where upscale boutiques like Rosenthal's and TJ Bailey's have attracted wealthy snowbirds and Palm Beach regulars for decades. Ogling $500, hand-illustrated scarves by Sabina Savage at McCulleys, I had to remind myself that I don't wear scarves. In an estate jewelry gallery (of which the town has many), my friend was admiring an opal ring when I overheard a customer gushing over her companion's newly purchased five-carat diamond bracelet, adding conspiratorially, "Are you going to tell Jimmy?"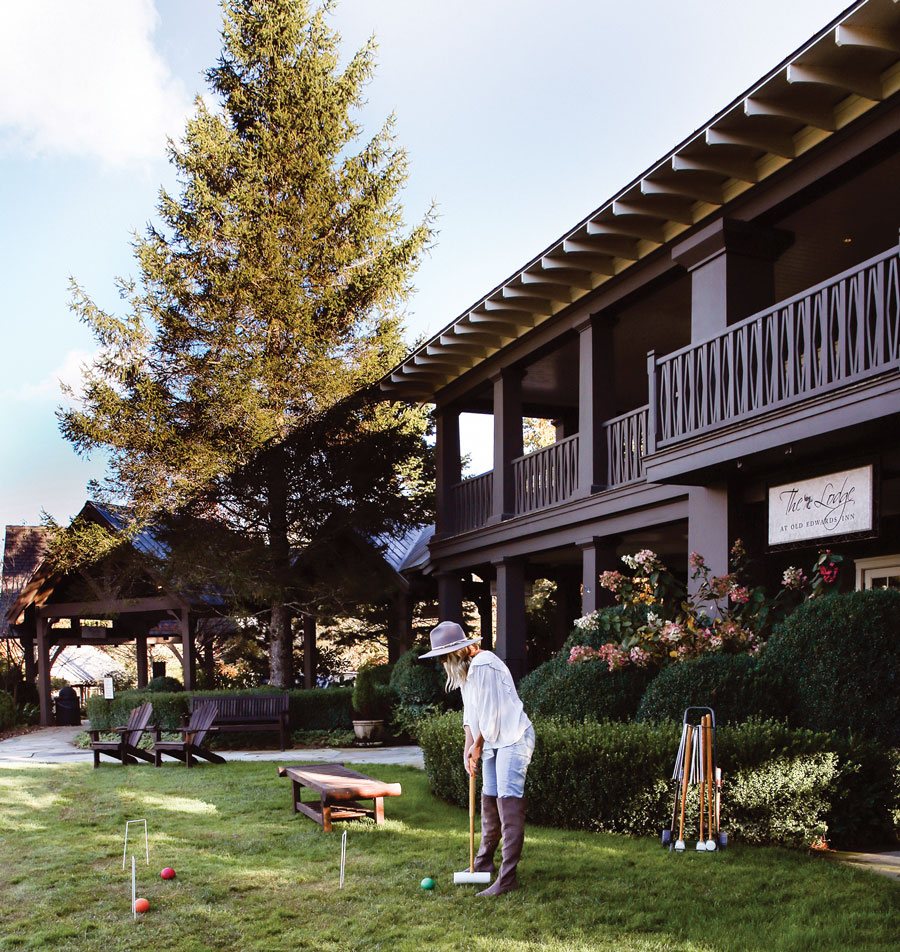 It seems impossible to visit Highlands without spying some new destination being constructed by ever-expanding Old Edwards Hospitality. Owners Art and Angela Williams bought a historic hotel in 2001 and hired Atlanta architect Keith Summerour to update it, eventually turning the property into a four-star, Old World–style resort. The company offers accommodations at the inn—which stretches over five blocks of downtown, plus guest residences—the 200 Main motel, and the nearby Half-Mile Farm. Amenities include a full-service spa, private golf course, fitness facilities, and four different restaurants. This trip included my first visits to their Wine Garden, where we lingered over Aperol spritzes surrounded by flowers and a waterfall—twice—and to the sleek Four65 Woodfire Bistro, which specializes in wood-fired Neapolitan pizzas and cast-iron sandwiches.
On Sunday morning, we skipped Skyline's buffet to grab breakfast on the way out of town. We ended up at Black Bear restaurant mostly because that's all that was open. With its 3-D Elvis photo and cozy vinyl booths, the diner is classic Americana. But its Latinx owners have added their own twist with egg dishes like huevos del rancho—and green beans with onions and bacon served as an alternative to toast. Our stellar brunch gave me one more reason to remember bears in Highlands. —Betsy Riley
Where to visit
The Bascom
323 Franklin Road
828-526-4949
Black Bear
137 Main Street
828-482-7020
Four65
465 Main Street
828-787-2990
Highlands Playhouse
362 Oak Street
828-526-2695
Highlands Cashiers Chamber Musical Festival
507 Chestnut Street
828-526-9060
Lakeside Restaurant
531 Smallwood Avenue
828-526-9419
McCulleys of Highlands
242 South Fourth Street
828-526-4407
Oak Steakhouse Highlands
470 Skyline Lodge Road
828-482-4720
Ristorante Paoletti
440 Main Street
828-526-4906
Rosenthal's Boutique
375 Main Street
828-526-2100
Skyline Lodge
470 Skyline Lodge Road
828-526-4008
TJ Bailey's
343C Main Street
828-526-2262
Wolfgang's Restaurant & Wine Bistro
474 Main Street
828-526-3807
---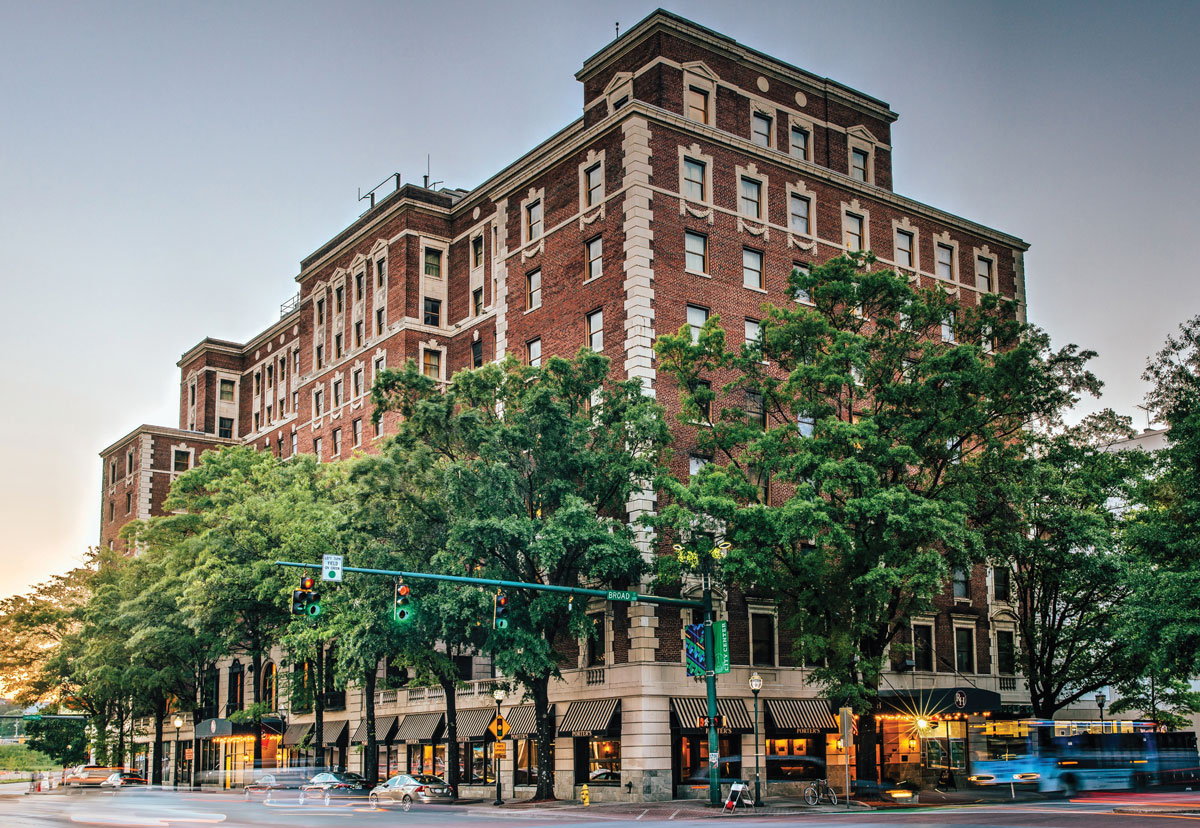 Chattanooga, Tennessee and DeKalb County, Alabama
Like any self-respecting 150-year-old hotel, the Read House in Chattanooga purports to be haunted. It was built on the site of a former Civil War hospital, but the hotel's real draw is Room 311, where a murder is said to have occurred in 1927 (and, later, where Al Capone stayed on his way to federal trial). If you have a spare $666, you too can stay in Room 311, but only in October. Free tours are available for the rest of us.
Lookout Mountain—a segment of the Appalachians that starts in Chattanooga and stretches for 84 miles, across the northwest corner of Georgia and into Alabama—is a kind of vacation catchall. In 48 hours, you can see (low-key creepy) glow-in-the-dark fairytale dioramas inside a cavern at Rock City; bike 16 miles along the banks of the Tennessee River; and lose cell service in one of the deepest canyons east of the Mississippi. If you don't mind a scattershot itinerary, mildly interesting honorifics abound: longest pedestrian bridge, steepest passenger railway, deepest publicly accessible underground waterfall in the U.S.
My husband and I started our weekend at the Read House, the oldest continuously operating hotel in the Southeast, meticulously restored to its Roaring '20s heyday: high ceilings, oversized chandeliers, checkerboard floors. Chattanooga's free electric shuttle stops just outside, on Broad Street, but the city is small enough that you can easily cycle from one end to the other in an afternoon. (It's even easier if you score one of Bike Chattanooga's highly coveted electric bikes, which I did.)
After riding along the Riverwalk, a paved path that runs for 16 miles on the banks of the Tennessee River, we checked in our rental bikes near Rembrandt's Coffee House and wandered through the Bluff View Art District to the two-acre River Gallery Sculpture Garden, situated on a hillside overlooking the river. From there, we passed the Hunter Museum of American Art and hopped on the Walnut Street Bridge, one of the longest pedestrian bridges in the world. Just across it, in Northshore, a left turn takes you to handcrafted, microbatched ice cream (Clumpies Ice Cream Co.) and a right takes you to Brewhaus, a German-American gastropub. Either direction, sets of bronze footprints are embedded into the sidewalk, numbered to teach passersby steps to dances like the mambo and the merengue.
After a beer and a pretzel, we walked to Coolidge Park, checked out new bikes, and rode toward State of Confusion for ceviche, first wandering into a live art auction at WanderLinger Brewing Company and then stopping by American Draft, a tiny beer hall nestled inside a historic train car at the Chattanooga Choo Choo Hotel. From there, you could bike straight back to the Read House to enjoy a complimentary glass of champagne in the billiards room. Or you could, as we did, stop by the Pickle Barrel—housed in a Flatiron-esque brick building built in 1893—where the bar served Picklebacks, shots with pickle juice chasers. (I abstained, not soon enough.)
We started the next morning with a groggy tour of Room 311 and, on our way out of town, grabbed breakfast—inch-thick, fluffy pancakes ("guaranteed to cure your ails from ales")—at Aretha Frankensteins, where band posters and vintage cereal boxes line the walls and the beer tap is a bronze scuba-diving helmet.
Lookout Mountain in Chattanooga gets a lot of tourism buzz, maybe because of the traps there. But the majority of the mountain (50 miles of it) is in Alabama. So, we traced the range 45 minutes south to DeKalb County, Alabama, where we stopped at Little River Falls, the 45-foot waterfall that marks the formation of Little River Canyon. More than 600 feet deep in some places, it's one of the deepest canyons east of the Mississippi River, etched into sandstone over millions of years by Little River—the only river in the U.S. that flows for nearly its entire length along a mountain top. A trail off the boardwalk there runs about a mile through the woods to Martha's Falls (aka the Hippie Hole). If you're looking for a more strenuous hike—I was not—take Little River Canyon Rim Parkway, a scenic route that hugs the west rim of the canyon, 11 miles to Eberhart Point trail.
In nearby Fort Payne (the former Sock Capital of the World!), past life-size bronze statues of hometown band Alabama, past the circa 1941 theater downtown, and nestled in a hillside behind Twin City Used Car Sales, is Manitou Cave of Alabama, where 19th century Cherokee syllabary inscriptions are carved into 50-foot cave ceilings. Manitou Cave, once a ceremonial site for the Cherokees, was used as a ballroom in the late 1800s, then a cold war fallout shelter. The cave was closed during my visit in January (so as not to disturb hibernating bats) but will reopen later this year. To protect its fragile ecosystem—including salamanders and the rare Manitou Cave snail—tours are by request only.
We rented an Airbnb on Lookout Mountain in Mentone, a small town (population 320) and a sleepy one. Be prepared for businesses' limited operating hours. (The Log Cabin Village, 10 tiny shops that make up much of the downtown, is only open Friday to Sunday.) Whatever you do, don't miss Wildflower Cafe, whose Famous Tomato Pie is worth whatever effort you spend to get it.
On our last morning, a Monday, we woke up early, brewed some coffee—Mentone's Tip Top Bake Shop is only open Fridays and Saturdays—and drove to DeSoto Falls, one of the tallest waterfalls in Alabama. There, you could hike 30 miles of trails in DeSoto State Park or rent a kayak and paddle the peaceful west fork of Little River. We passed, still feeling the lingering effects of Saturday night. But here's one last stop to consider: The route from Mentone to Atlanta passes through Summerville, home of Howard Finster's Paradise Garden. —Heather Buckner
Where to visit
Tennessee
Aretha Frankensteins
518 Tremont Street
423-265-SOUL
Bike Chattanooga
888-925-4415
Bluff View Art District
411 East Second Street
423-321-0235
Brewhaus
224 Frazier Avenue
423-531-8490
Chattanooga Choo Choo Hotel (American Draft)
1400 Market Street
423-266-5000
Clumpies Ice Cream Co.
26 Frazier Avenue
423-267-5425
Hunter Museum of American Art
10 Bluff View
423-267-0968
Pickle Barrel
1012 Market Street
423-266-1103
Read House
107 West MLK Boulevard
423-266-4121
Rembrandt's Coffee House
204 High Street
423-321-0235 Ext 3
River Gallery Sculpture Garden
400 East Second Street
423-682-1287
State of Confusion
301 East Main Street
423-760-3473
WanderLinger Brewing Company
1208 King Street #120
423-269-7979
Alabama
Desoto State Park
7104 DeSoto Parkway NE
Fort Payne
256-845-5380
Log Cabin Village
Log Cabin Village Hwy 117
Mentone
828-508-0576
Wildflower Cafe
6007 Alabama Highway 117
Mentone
256-634-0066
Georgia
Howard Finster's Paradise Garden
200 North Lewis Street
Summerville
706-808-0800
Rock City
1400 Patten Road
Lookout Mountain
706-820-2531
---
Wakulla County, Florida
A roadside sign in Wakulla County: ROAD ENDS IN WATER. And it does, 500 feet later. There are a lot of roads like that around here, branching off U.S. Route 98 in Florida and terminating at some marshy spot on the water's edge, or leading to little towns that have maybe two restaurants and a marina. Like St. Mark's, which has a marina and two restaurants. One of them is the Cooter Stew Cafe, which serves burgers and beer and plays music enjoyed by cool dads: Steve Earle, Lyle Lovett. The servers wear T-shirts that read, a la The Big Lebowski: "The Turtle Abides." The restaurant does not actually serve cooter stew—possibly the reason the turtle abides. In the past, people ate so many turtles that their numbers were threatened.
The town of St. Mark's abuts a national wildlife refuge of the same name, part of the Big Bend region of Florida—a quiet respite where the dangling part of the state curves into the Panhandle, worth visiting for its lonely beauty and big skies, its shorebirds and wildflowers and carnivorous plants, its strange little towns and waving salt marshes. If you are lukewarm on people, you may love this corner of Florida, the most forgotten part of what's already called the Forgotten Coast.
Various stretches of road here have been organized into the Big Bend Scenic Byway, which follows the Gulf Coast and swoops up into Apalachicola National Forest, passing through places with interesting names. I stayed in Carrabelle, where visitors are warned to be on the lookout for Florida black bears. I got coffee in Panacea, where beans from Tallahassee-based roastery Lucky Goat were served out of a converted bus parked in a dentist's parking lot. Southwest of Sumatra, deep within Tate's Hell State Forest, I climbed a boardwalk to look out over a patch of dwarf cypresses: trees that, despite being hundreds of years old, are shorter than 20 feet.
The forest takes its name from old Cebe Tate, who survived, but barely, an 1875 walk through the swampy lowlands. In the 20th century, hell was drained and converted to a pine plantation, such that, today, it is cut through with access roads. Despite all the timbering, the state lands encompass natural communities from wet prairies to bottomland swamps to restored longleaf pine forests.
I wandered one morning through the minuscule town of Sopchoppy, setting my intention to return some April for the Sopchoppy Worm Gruntin' Festival, which celebrates a folk method, aka worm charming, of coaxing earthworms from the ground to use for bait. Nearby, you can pick up the Florida Trail, a hiking path that stretches 1,500 miles from one tip of the state to the other, knitting together various public lands. I met it at the Oak Park trailhead: You drive north from Sopchoppy, the pavement turns to dirt, you pass a cemetery, take a left. Wander long enough and you'll wind up in the Bradwell Bay Wilderness, one of the remotest parts of the trail system, and reportedly one of the most beautiful.
Easier is hiking just a couple miles in and turning around. The trail here hugs the bank of the Ochlockonee River, whose swift current burbles around huge old cypress trees. This would be a good place, I thought, to peer over to the other bank and see a bear. It would be the perfect distance: close enough for a good look, but with little chance of tension arising between you and the animal. Alas, though—no such luck. (The Big Bend area also welcomes bikers, with a 16-mile paved path, built atop a converted rail line, that stretches from Tallahassee to the water's edge in St. Mark's; another paved trail begins outside Panacea at Mashes Sands Beach and ends in downtown Sopchoppy—where you can pause to drink a beer at Civic Brewing Co.)
I did see a few manatees, however, at Wakulla Springs State Park, the site of the world's largest freshwater springs, which you can swim in, peer down on through an observation tower, or cruise through on a boat tour. Look out as well for alligators—a 13-footer likes to hang out on the beach (pets are forbidden in that area)—and roseate spoonbills, whose name gives you some indication of what you'll see: They're a striking color, and they look weird as hell. The springs are ringed by ancient bald cypress trees bedecked with Spanish moss; also waterside, a rambling 1930s Spanish-style lodge houses a gift shop, hotel, and restaurant. (Fun fact: Wakulla Springs was a filming site for the 1954 movie Creature from the Black Lagoon.)
The natural springs around here, and their supposedly curative properties, are how Panacea got its name. (Another reason to return: Panacea's Blue Crab Festival, held in early May.) I went there one night to the Seineyard Rock Landing, a seafood restaurant at the end of a road overlooking the water, where there is often live music. I ate blackened grouper while a guy did a cover of Jimmy Cliff's "I Can See Clearly Now," with a sax solo in the middle. Then, the guy switched to Don Henley: "The Boys of Summer." Nobody on the road, nobody on the beach. An old man in a cowboy hat danced around, alone, leaning on his walker. Driving back to Carrabelle, I put "The End of the Innocence" on and tried to sing along while the moon—just one more night till full—shone through the driver's-side window, glaring off Ochlockonee Bay.
Where to visit
Civic Brewing Co.
106 Municipal Avenue
Sopchoppy
850-696-6790
Cooter Stew Cafe
859 Port Leon Drive
St. Marks
850-925-9908
Edward Ball Wakulla Springs State Park
465 Wakulla Park Drive
Wakulla Springs
850-561-7276
Panacea Coffee
9 Alison Avenue
Panacea
The Seineyard Rock Landing
99 Rock Landing Road
Panacea
850-713-0020
---
Greenville, South Carolina
I'd visited Greenville once before, in 2018, and I've always regretted not riding a bike around the South Carolina city back then, as prevailing local wisdom and travel guides insist you must. So, in mid-October, with the first alluring hints of autumn in the air, my family of four overcompensated: We found a massive, hitch-mounted, four-bike carrier on Amazon for cheap, packed it to the gills, headed two hours northeast, and rolled into GVL—as the hip branding now calls it—looking like a mix of Pyrenees Peloton and Beverly Hillbillies.
Greenville had changed remarkably in three years—as you might expect in a town of roughly 71,000 that has swelled by more than 20 percent in one decade. (One accelerant: International companies like BMW have located here, giving the metro area the most foreign investment per capita in the U.S.) Former construction sites had blossomed into mixed-use hubs teeming with college football revelers; bachelorette parties spilled from a new AC Hotel; vacant lots had become brewery patios; and still more cranes towered over a walkable, historic downtown renowned as an urban-revival template. Even our hotel—the approachably sleek SpringHill Suites by Marriott, bedecked with modern driftwood sculptures and windmill palms around a courtyard pool—was just three years old. And, crucially for us, it provided ample bike racks near the valet (as well as cruiser-style bikes for free checkout).
Lured by the sounds of a countrified Leon Bridges cover, we wandered across the street to convivial Fireforge Brewery, a postindustrial brewhouse that felt like it belonged on Atlanta's BeltLine. A hazy IPA called John Hopcock paired well with the best grilled cheese of my life—Buffalo kick, loaded with chicken, for $13.50—and Carolina Kettle Chips. Simple, but satisfying. We zipped through River Street Sweets for fresh pralines, then passed beneath lights twinkling in Main Street's oaks en route to the gorgeous Reedy River Falls. It's a central city treasure that, at night, roars and glows beneath the swooping, iconic Liberty Bridge's pulsating neon.
In the morning, after gorging on fresh waffles and turkey sausage at the hotel, we boarded our Treks and headed for the famed Swamp Rabbit Trail. The 22-mile multiuse greenway slices through downtown along the river. The first day, we opted for the north route, which heads toward the fittingly named town of Traveler's Rest. I hadn't anticipated that the northbound route was literally uphill the whole way, on a slight former railroad incline. We'd barely breached city limits before my daughters, avid urban cyclists at age seven and 10, grew whiny and bored with the bucolic scenery. (I'd figured silos would enthrall them—oops.) That was remedied by a popsicle pit stop at the charming Swamp Rabbit Cafe and Grocery, which was packed with other cyclists.
With gold and maroon leaves snowflaking onto our bike helmets, we reached Traveler's Rest (roughly nine miles) in about an hour and promptly chowed on barbecue at the homey Whistle Stop at the American Cafe. A friendly musician strumming on the rooftop patio insisted we hop off the trail on the way back and tour Furman University's spring-fed lake with views of Paris Mountain—advice we thankfully heeded. We pedaled through canyons of mossy rocks, goofed around on a tire swing, and raced people on every manner of pedaling contraption, including an adult Big Wheel. As easy, outdoor travel destinations go, the Swamp Rabbit is a gem.
Originally intending to enjoy a sophisticated meal on our last night, we instead bounced off two more breweries: Southernside Brewing Company—where we found our favorite drink of the weekend, a Peach Cobbler Milkshake IPA—and Yee-Haw Brewing Co., a lively downtown space with a gigantic outdoor television, plus not-to-miss broccoli casserole and Kölsch. For us, brewery sessions are a pandemic-born pastime that allow space for the girls to run around and partake in their favorite hobby: mercilessly petting every dog they can find. Greenville boasts more than two dozen breweries or specialty beer bars either walkable to each other downtown or a short drive away.
After a requisite visit to the nostalgic, creaky-floored Mast General Store on Sunday, we set out to tackle the south leg of the Swamp Rabbit, which can easily be accomplished in a morning. Snaking back and forth over the river, around green hills and tony neighborhoods, beside parks and tucked-away amphitheaters, it feels like traversing a giant version of Chastain Park—an entirely different experience than the northern segment.
Famished again, having logged almost 30 biked miles in 24 hours, we pedaled into the historic West End neighborhood. There, we stumbled into a colorful hive of outdoor eateries, all stacked Tetris-like in former shipping containers, called Gather GVL. Munching a well-earned spread of gooey-crispy plantains and puffy chicken empanadas dipped in cilantro aioli, listening to a guitarist in a Braves jersey strum a "Dear Prudence" cover, my youngest daughter jutted out a pouty lip and said, "I'm going to miss this place." Girl, the feeling's mutual.
Where to visit:
Fireforge Brewery
311 East Washington Street
864-300-4809
Furman University
3300 Poinsett Highway
864-294-2000
Gather GVL
126 Augusta Street
864-501-5008
Mast General Store
111 North Main Street
864-235-1883
River Street Sweets
12 South Main Street
864-412-5200
Southernside Brewing Company
25 Delano Drive
Unit D
864-232-2053
SpringHill Suites Greenville Downtown
200 East Washington Street (one block off Main Street)
864-720-2901
Swamp Rabbit Cafe and Grocery
205 Cedar Lane Road
864-255-3385
Traveler's Rest
864-834-8740
The Whistle Stop at the American Cafe
109 South Main Street
864-944-7853
Yee-Haw Brewing Co.
307 East McBee Avenue
Suite C
864-605-7770
This article appears in our March 2022 issue.
The post Four easy weekend trips just across the Georgia state line appeared first on Atlanta Magazine.