Everyone In My Clog Group Chat Owns These "Chonky" Rubber Uggs
While Y2K-throwback UGG Classic Mini II boot has been the undeniable comeback shoe of winter, the cozy-footed Australian brand is not about to rest on its nostalgic laurels. Much to our absolute delight, there's a new ahh-ooo-gah clog hitting the drabby winter streets and we are electrified to find out that it's the UGG Tasman X, a waterproof shoe that comes with its own detachable fleece-lined sock. While much of the love surrounding UGG is driven by customers' fond memories of its early-2000s heyday, it's offerings like the Tasman X that remind us that the footwear brand is fearlessly facing the future. Thank you for your service, Classic Mini, but it's time to pass the baton — the earthy suedes are officially being swapped for neon slime green, jolting Miami pink, and the finest wine red. (For the neutrals-only crowd, the Tasman X also comes in plain black and olive green.)
Most Wanted first got wind of this bulbous weatherproof shoe via Kate Spencer, a Most Wanted strategist and burgeoning clog-horse. After discovering the rotund style through a good ol' fashion banner on this very site, Spencer dropped the Tasman X into a clog-fans-only group chat that I'm a part of (working title: the Clog House), which inspired at least one other participant to cop a pair (along with a slew of heart-eye and exploding-head emojis).
The following day, I was confronted with a TikTok post that I immediately shared with the Clog House: NYC-based fashion/lifestyle content creator Caroline Sacks, a.k.a. @caro__beth, predicted that everyone would be clomping around in these waterproof slippers in the transitional weeks to come. "I was on the hunt for the oh-so-sold-out Tazz Slipper and came across its ugly stepsister, the Tasman X," Caroline said, of her kismet discovery. "The chunky shoe reminded me of waterproof sandals from my childhood (e.g. Keens, Merrells), and the neon pink gave me, a seasonally depressed New Yorker, immediate serotonin," She added: "Sure, it isn't as effortlessly cool as the Tazz Slipper, but neither am I."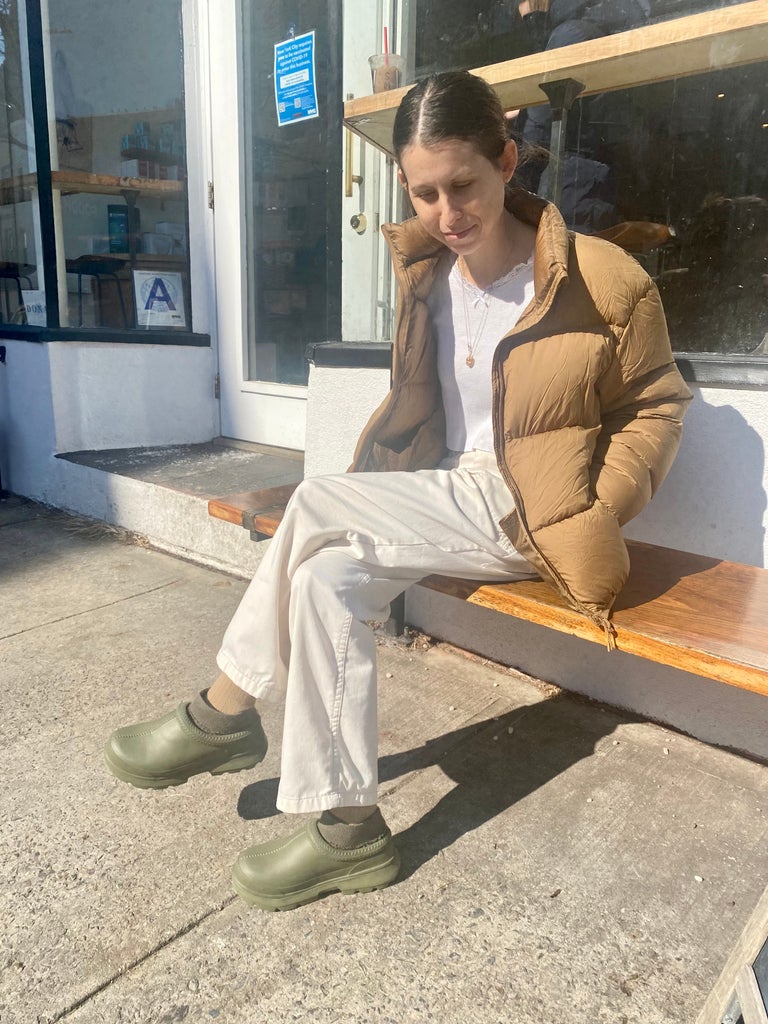 Spencer was also immediately drawn to Tasman X's extra chonk, and ultimately landed on the burnt olive colorway to complement her neutrally-flavored wardrobe. (Although actual measurements are not specified anywhere, the clog's sole IRL looks to have about a 1.5″ lift). "These will also work really well in gross New York weather. They're very reminiscent of the Bottega Veneta puddle boot, but they're more wearable and a whole lot cheaper. The liner is cozy and fuzzy, kind of like your classic UGG, but I will definitely be wearing them without the extra sock once the weather warms up a little," Spencer said.
If you, too, are done with all the laced-up winter footwear and are craving a slip-on clog that will help you put the "spring" back in your step, shop the Tasman X in all the available colorways right now — before they sell out.
At Refinery29, we're here to help you navigate this overwhelming world of stuff. All of our market picks are independently selected and curated by the editorial team. All product details reflect the price and availability at the time of publication. If you buy or click on something we link to on our site, Refinery29 may earn commission.
Like what you see? How about some more R29 goodness, right here?