27 Fun Things: Black Joy Parade, National Margarita Day + More Bay Area Events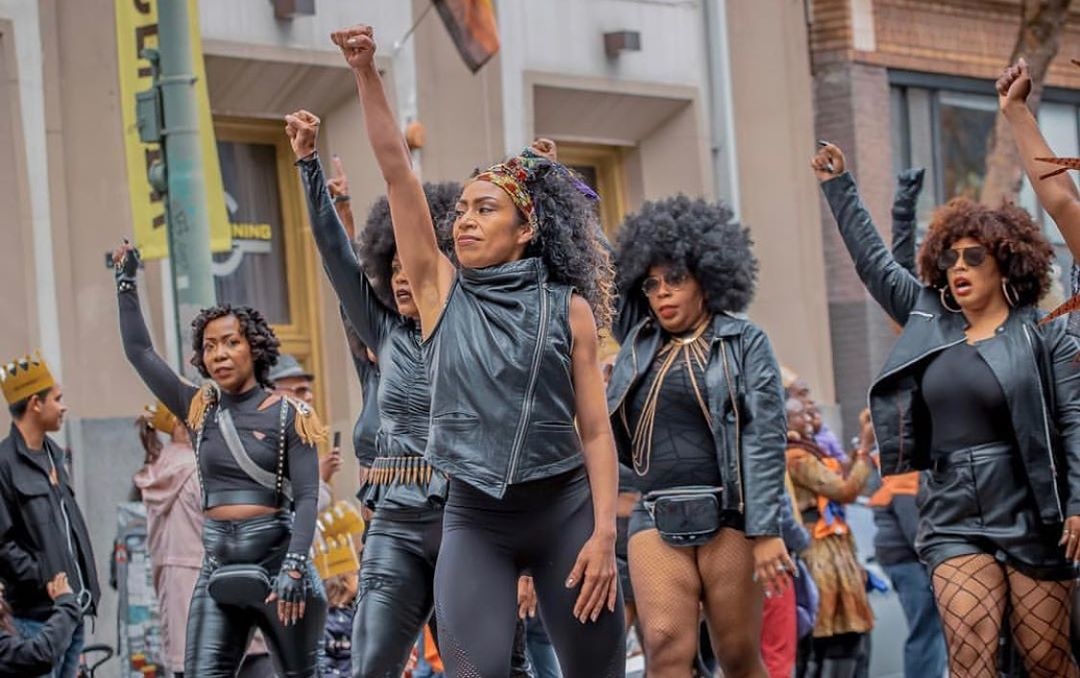 If you're festivaled out, make this week about checking out new restaurants, art exhibits, and breweries.
On tap is the opening of a new, transit-themed taproom in Oakland; a 10-time Tony Awardnominated musical at Victoria Theater; a 67-piece quilt collection by Richmond-based artist Rosie Lee Tompkins at BAMPFA; macarons and tartines at new patisserie Maison Danel; and Oakland's Black Joy Parade, which "celebrates blackness in all its glory."
---
Have a great week.
Monday, February 17th
Check out SFO's new observation deck
7am to 11:30pm daily
SFO, International Terminal, Boarding Area G, flysfo.com
Travelers and those just looking for an excuse to get to the airport alike can check out 180 degree views of SFO's airfield from the brand new 2,997 square foot outdoor terrace. Bring your own food, stake your claim of a chaise lounge or table, and watch aircrafts including the Boeing 747 take off for hoursjust don't miss your flight!! // Free to visit without boarding pass, security check required.
Monkey Monday
6pm to 9pm
Wildhawk, 3464 19th St. (Mission), wildhawksf.com
Go bananas and kick off your week with special Monkey 47 cocktails sipped inside stylish Wildhawk, plus craft your own sock monkey to donate to the children of local non-profit Hamilton House. // Reserve a spot and sock monkey kit on Facebook.
The Future of Staying Informed
6:30pm to 7:30pm
Manny's, 3092 16th St. (Mission), welcometomannys.com
If getting your news via headphones on BART is more your speed than sitting down with the paper every morning, then chance's are you've heard Vox's daily Today Explained podcast. Head to Manny's and chat with Today Explained podcast host, Sean Rameswaram, about the pros and cons of this new digital news model, the future of news, and podcasting in general. // Tickets ($12 and up) can be purchased on Eventbrite.
Annual Animation Show of Shows
Shows today at 12pm and 5:30pm; shows at varying times February 14th through 20th
The New Parkway Theater, 474 24th St. (Oakland), thenewparkway.com
Catch 10 short animated flicks from students and professionals hailing from seven countries during the week long 21st Annual Animation Show of Shows, held at the hip New Parkway Theater. In just 83 minutes, expect to see three films that qualified for 2020 Academy Award consideration, a fable about a fox and bird, two mini-documentaries, and much more. // Tickets ($10) can be purchased on thenewparkway.com.
Tuesday, February 18th
Maison Danel opens
7am to 7pm, Tuesday through Sunday
Maison Danel, 1030 Polk St. (Tendernob), maisondanel.mailchimpsites.com
It's part cafe, part patisserie and part brunch spot, and beyond Parisian in aesthetic. Get a haul of macarons, croissants, croques, open face tartine sandwiches, salads, wagyu burgers, and steak tartare. There are chandeliers, pastry cases galore, fancy chairs, and magnificent silver-white tile work all to channel the dreamiest of Paris vibes.
Hidden Histories of African Americans in the Bay Area
6pm
California Historical Society, 678 Mission St. (SoMa), californiahistoricalsociety.org
Stop by tonight only for a special exhibit displaying rare materials for CHS's collections and a discussion about California's complex, multicultural history with Susan Anderson. Expect to hear about Frederick Douglass's thoughts on the Gold Rush, a woman who stood up for her rights on streetcars 90 years before the Montgomery Bus Boycott, and more. // Tickets ($15 GA and $10 members) can be purchased on californiahistoricalsociety.org.
Get your Creole fix
5:30pm to 9:30pm Tuesday through Wednesday, until 10pm Thursday through Saturday
CreoLa, 900 Stanyan St. (Cole Valley), creolabistro.com
Over 20-year old San Carlos spot CreoLa's new Cole Valley outpost is open! Make a res for cheat day worthy Creole and Cajun eats ranging from cornmeal-crusted Louisiana catfish to crispy boudin ballsand beignets for desert of course.
Wednesday, February 19th
Rosie Lee Tompkins exhibit
9am to 7pm, Wednesday to Friday, 11am to 7pm Saturday and Sunday; on view until July 19
Berkeley Art Museum and Pacific Film Archive, 2155 Center St. (Berkeley), bampfa.org
Explore the largest-ever collection of historic African American quilts by Richmond-based artist Rosie Lee Tompkins, showing 67 of her works. // Tickets ($14) can be purchased at the museum or online.
Korean-American beers and bites
4pm to 12am Wednesday to Saturday, 4pm to 10pm Sunday
Dokkaebier, 1735 Polk St. (Russian Hill), enjoydkb.com
Check out a new pop-up taproom in soft-opening phase called Dokkaebier, with beers made by Youngwon Lee, emphasizing classic styles with interesting ingredientsthink a pilsner that uses bamboo leaves, a witbier with omija berry and gochugaru chili. Food is coming toothink small plates like raw fish with nori chips, oysters, and caviar on a menu from a former chef de cuisine at Saison.
Line 51 Brewery opens
4pm to 10pm Wednesday to Friday, 12pm to 10pm Saturday, 12pm to 6pm Sunday
Line 51 Brewery, 303 Castro St. (Oakland), line51beer.com
Check out a new East Bay brewery with a transit twistLine 51 is a new brewery on the scene with a new taproom that's centered around a giant transit bus, complete with taps set into its side to pour beer from.
Thursday, February 20th
A pretty, new hotel bar
7am to 9am for breakfast, noon to 10pm for the all-day menu
Fisher Loft inside of Palihotel, 417 Stockton St. (Union Square), palisociety.com
The Mystic Hotel's dark, masculine bar, the Burritt Room, closed awhile back. In its place is a new hotel bar and restaurant, Fisher Loft. Design-wise, it's a complete 360bright pinks, teals and yellows create an antique-y, elegant vibe, the perfect spot for cocktails with your girls, or to bring family from out of town. Pop in for breakfast, lunch or dinner with options like mussels, salads, cheese boards, oysters, caviar, sandwiches, and burgers. There's also a daily tea service from 4pm to 6pm.
Jumanji VR
10am to 9pm, daily

Located on the Concourse level adjacent to the food court and Bloomingdales
In Westfield San Francisco Centre, 865 Market St. (Union Square), westfield.com
The Void is bringing back their virtual reality setup to the Westfield San Francisco Centre mall, complete with a round of new immersive experiences complete with smell and touch effects: Jumanji: Reverse The Curse and Avengers: Damage Control. // Tickets ($39.95) can be booked on thevoid.com.
Third Thursday
6pm to 7:30pm
San Francisco Ferry Building, 1 Ferry Building (Embarcadero), ferrybuildingmarketplace.com
Head to the Ferry Building for some post work noms and fun. For activities, there will be interactive art from ArtIsMobilUs, live music by Luminescent Grand, and dance performances by TurfInc. Snack through the various food and beverage merchants while you take it all in. // Find more info on Facebook.
The Full Monty
7:30pm tonight, shows Thursday to Sunday through March 15th
The Victoria Theatre, 2961 16th St. (Mission), victoriatheatre.org
Catch the 10-time Tony Award nominated musical, The Full Monty, packed with hilarious scenes, catchy tunes, and great dancing. // Tickets ($35-$85) can be purchased online at www.bamsf.org.
Friday, February 21st
Orchids in Focus
10am to 5pm, today, Saturday and Sunday
San Francisco County Fair Building, 1199 9th Ave (Golden Gate Park), goldengatepark.com
Love the beautiful buds that are orchids? Head to the 68th Annual Pacific Orchid Exposition to see an array of rare, stunning flowers and thousands of orchids to admire and purchase if you desire. // Tickets ($12) can be found on Eventbrite.
Kinetech Arts: AI Sensorium
8pm shows, today through Sunday
ODC Theater, 3153 17th St. (Mission), odc.dance
ODC Resident Artist Kinetech Arts explores the intersection of human bodies, minds, and machine learning, including the complexity and permanence of technology during this dance-meets-science-meets digital art performance, featuring five dancers. // Tickets ($30) can be purchased on odc.dance.
Sushi Class
7pm to 9pm
The Village Food & Wine Center, 850 Bordeaux Way (Napa), villagenapavalley.com
Master the art of sushi making at The Village's first ever sushi making workshop! Get the low down on how to select the proper fish and ingredients, prepare sushi rice, and handle a knife like a proplus enjoy rolls and sake of course. You'll leave with all you need to know (and a recipe guide) to make your own sushi feast at home. // Register ($175) on Eventbrite.
Cannabis Happy Hour
6pm
Hotel Kabuki, 1625 Post St. (Japantown), jdvhotels.com
Embrace the MJ on the outdoor garden of Hotel Kabuki for this bud-centric happy hour. There will be live DJs, 25 percent off cannabis products, a raffle and more. // Free, RSVP on dothebay.com.
Saturday, February 22nd
National Margarita Day Tasting
4pm to 7pm
The Brixton on Second, 701 2nd St. (SoMa), brixtonsf.com
Like your tequila? Taste the best from brands like Patron, El Tesoro, El Silencio Mezcal, and more at this margarita party. Pair your agave with tacos, ceviche, and tostadas. // Tickets ($25) are available on Eventbrite.
Anderson Valley Winter White Wine Festival
9:15am to 11am riesling seminar; 11am to 3pm for the grand tasting
Mendocino County Fairgrounds, 14400 Highway 128 (Boonville), mendocountyfair.com
Grab your wine tasting glass and head north for this two-day festival. On Saturday, explore wines from 30+ wineries, shop artisan goods, listen to live music, and snack on bites during the grand tasting event. Head over early to enjoy a riesling seminar from five experts with pours and food pairings. // Tickets ($50-95) on Eventbrite.
Women-Owned Warehouse Sale
10am to 3pm
The Assembly, 449 14th St. (Mission), theassembly.com
Explore goods from 10 Bay Area female-owned retailers during this day market, with some nice discounts to boot. Expect wares from Ali Golden, Bells & Becks, Frances Austen, Gravel & Gold, Jenny Pennywood, Kin Label, Le Point, Micaela Greg, Modern Citizen, and Voyager Shop. // Tickets ($10) for early access from 10am to 12pm, or free general admission from 12pm to 3pm.

CatVideoFest
2pm, 4pm and 6pm screenings today; 7pm on Monday
Roxie Theater, 3117 16th St. (Mission), roxie.com
Lift yourself up with a few feline films at this cat video fest (yes, cat video fest). You'll see the best clips, animations, internet memes, and music videos. Proceeds support the Give Me Shelter Cat Rescue. // Tickets ($13) are on roxie.com.
Singled Out premiere
6:30pm
Mersea, 699 Avenue of the Palms (Treasure Island), mersea.restaurant
Watch a new documentary that shares what it's like to be a by-choice single woman, following the lives of five ladies around the world to share what it's like when you make this conscious decision, including local restaurant founder, MeeSun Boice. Indulge in food from Mersea's restaurant while you watch the film from their giant outdoor lawn space. // Tickets ($10) can be purchased on Eventbrite.
Sunday, February 23rd
Brewer's Brunch
11am
Henry's inside Graduate Berkeley, 2600 Durant Avenue (Berkeley), graduatehotels.com
Henry's in Berkeley is putting together a brunch with local legend brewers, Lagunitas Brewing Company. Expect four courses paired with different Lagunitas beers. Dishes include avocado toast, shrimp & grits, chicken 7 waffles, and a sweet cinnamon roll. // Tickets ($55) are on Eventbrite.
Black Joy Parade + Festival
12:30pm
14th and Alice for the parade, 19th and Broadway for the festival (Oakland)
Celebrate the culture, history and future of the black community with this parade and festival of artisans, food vendors, performances, and more. // Free to attend, register via blackjoyparade.org.

Tipsy Tea
12pm to 4pm
The Dorian, 2001 Chestnut St. (Marina), doriansf.com
Enjoy afternoon tea with a boozy twist at the Dorian. The adaptogenic cocktails on hand, including a Chai Old Fashioned, will be infused with spirits from three female owned businesses: SIA Scotch, Absinthia, and Pur Spirits. In addition to sipping fancy, enjoy teatime bites, and socialize with your fellow tea drinkers. // Tickets ($25 for admission, light fare, and one drink ticket) can be purchased on Eventbrite.
Behind the Curtain series
5pm
National LGBTQ Center for the Arts located, 170 Valencia (Mission), sfgmc.org
Check out a fun new theater-focused event to meet the cast of the San Francisco company of HAMILTON. They'll share what it's like to perform in the show, to be an LGBTQ artist in a Broadway show, and tips for how to handle eight shows per week. // Tickets ($20-$30) are on sfgmc.org.