11 Most Comfortable And Stylish Ballet Flats To Try In 2020
Ballet flats or dolly shoes are the perfect footwear with very thin or no heels at all. These shoes were designed traditionally for ballerinas, but due to the comfort and style they offer, many women prefer to wear them on a daily basis. The sheer abundance of designs, colors, and patterns available in ballerina flats makes them suitable for any occasion. So, if you too love ballet flats or want to start by trying a good pair, here are the top 11 options you can consider.
Read on to know more.
11 Most Comfortable And Stylish Ballet Flats To Try In 2020
1. Dana-20B Women's Classic Black Suede Ballerina Flats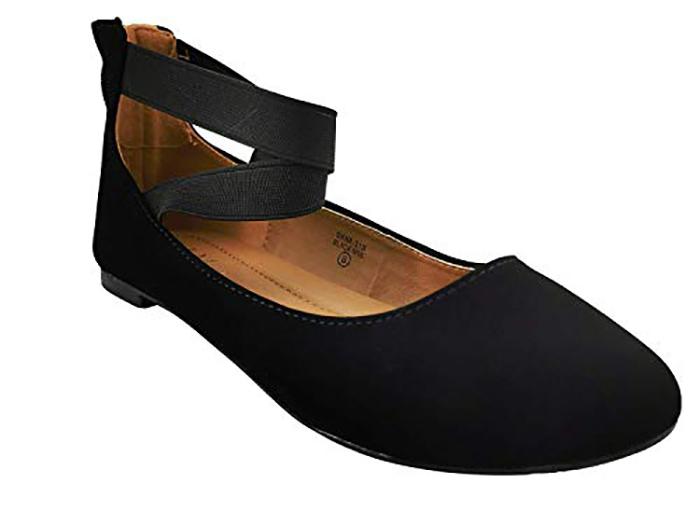 If you are looking for stylish and classic black ballet flats, these comfy flats with cross-string straps are the ones for you. The soft inner lining and synthetic body make these flats flexible and suitable for everyday use. They are made using breathable suede material so you can easily break in them. No tightness, no irritation, and no more blisters! These elegant flats are perfect for formal events, meetings, and casual wear.
Pros
Lightweight and flexible construction
Cross-string design
Does not cause any blisters or soreness
Available in a variety of pretty colors
Cons
Might not fit narrow feet
Completely flat sandals
2. Lucky Brand Women's Emmie Ballet Flat
Lucky women's ballet flats will feel like a second skin on your feet, owing to the soft and cushioned inner lining. These tan ballet flats are ideal for wide feet and will complement your casual outfits. Designed with high-quality material, these shoes offer better comfort than other slim ballerina flats. These flats fold easily and, thus, fit in the smallest corner of your suitcase! The open-top makes them breathable and roomy so your toes will expand freely while you walk. These shoes are great for traveling, walking, or driving and can become your ultimate everyday footwear option.
Pros
Offer a comfortable fit
Breathable and roomy design
Less expensive
Cushioned inner sole
Long-lasting and durable footwear
Cons
Not available in different colors
Sizes may run small
3. Amazon Essentials Women's Ballet Flats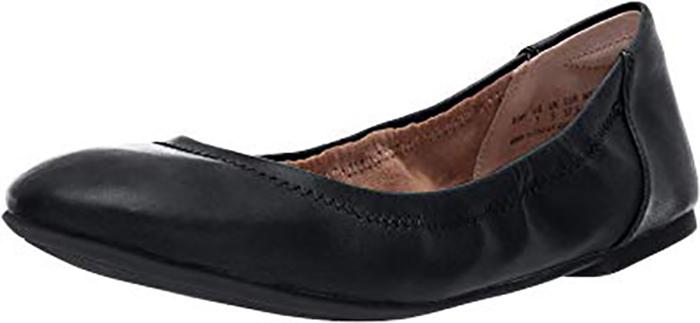 These chic ballet flats are made from 100% synthetic fabric. This versatile and classic product offers a superior fit and comes with an absolutely comfortable rubber sole. There is ample space for your toes, thus not causing blisters. It is designed with a faux leather upper and a suede, elasticized topline.
Pros:
Available in 15 colors
Faux suede microfiber offers extra breathability
Round toe shape
Elasticized topline for extra comfort
Cons:
Might not be suitable for wide feet
4. Hush Puppies Women's Chaste Ballet Flat
There is something about these glitzy, embellished ballet flats that makes you come back for them day after day! These black studded flats are perfect for a party or even for a casual day out. These flats are made using 100% leather and consist of a rubber sole. It is designed with 0.25 inches heels that offer support while walking. The inner genuine suede leather sock lining makes it suitable for long walks and rough use. If you are looking for peppy flats for a night out with your besties, the Black Stud Chaste Ballet Flats from Hush Puppies is just perfect!
Pros
Inner soft suede lining for added comfort
Slightly heeled for grip and support
Enchanting and catchy design
Stretchable top line for flexibility
Cons
5. Dexflex Comfort Women's Claire Scrunch Flat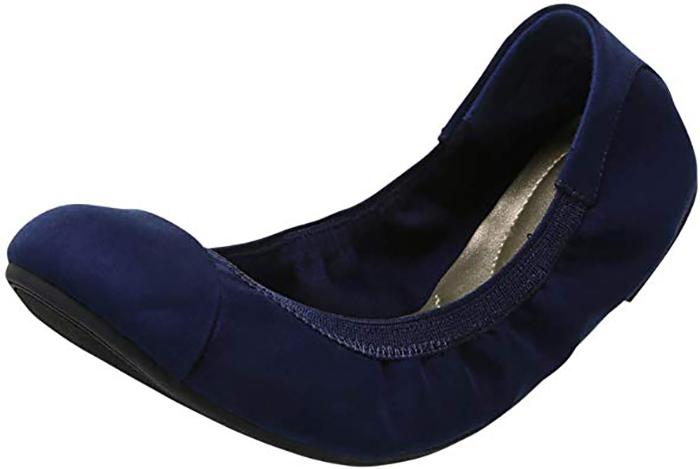 These ballet flats are super stretchy and comfortable than any you would have seen before! These black flats have a super flexible outsole and a rich memory foam insole. Its stretchy topline makes it easy to wear, and the durable construction makes it durable. If you work for long hours, these super cute and lightweight flats will keep your feet relaxed. So say no to blisters and discomfort with these glossy and flexible ballet flats.
Pros
Classic design
Stretchy topline
Durable fabric and construction
Available in 7 vibrant and peppy colors
Good arch support
Cons
Not suitable for narrow feet
6. Crocs Women's Lina Ballet Flat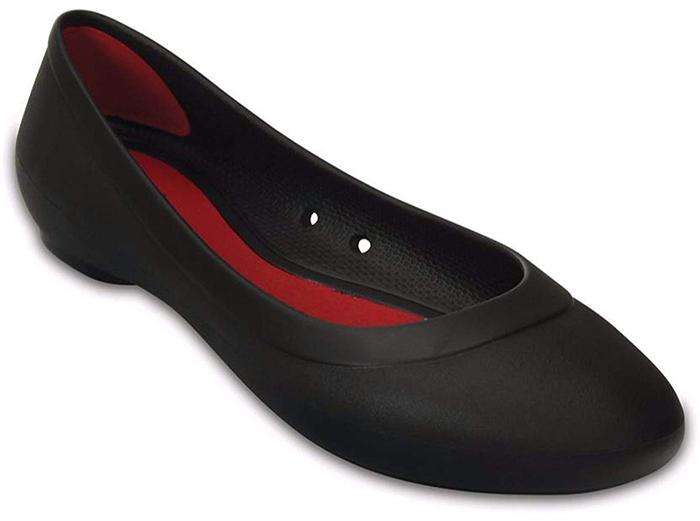 If you are looking for formal yet trendy ballet flats, the Crocs Lina Ballet Flats are worth giving a shot! These flats are made using 100% Croslite and have a synthetic sole. The iconic Croslite fabric base makes the shoes more comfortable and flexible to wear. Designed with a microfiber footbed lining for a slim and sleek fit, they are easy to put on. The best thing about this footwear is that it is highly versatile and will suit different outfits and looks.
Pros
100% croslite for comfort
Classy design made using durable material
Offers a sleek and slim fit
Great for everyday use
Cons
Sizes might run small
Not breathable
7. Skechers Women's Cleo Bewitch Ballet Flat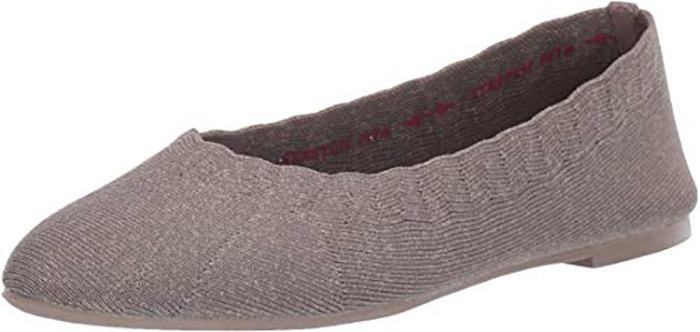 Are you looking for elegant and classy ballet flats? Jump into these beautiful Skechers Cleo Bewitch Ballet Flats, and we are sure that you will love them. These flats are made using Skech-knit and consists of a rubber sole, keeping in mind the comfort and cushioning you will require all day long. It is designed with air-cooled memory foam for breathability and offers room for your toes. It easily lets your feet expand and adjust, so you do not get blisters or achy feet when you walk in them for hours. For a better grip and support, these flats come with a mini 1/8 heel. The best part is that these flats are machine washable and highly manageable.
Pros
Available in 4 elegant colors
Made using Skech-knit and comes with a rubber sole for better cushioning
Breathable
Memory foam offers comfort and prevents blisters
Cons
Suitable for wide feet
The inner cushion may not last long
8. MeeshineWomens Foldable Soft Pointed Toe Ballet Flats Rhinestone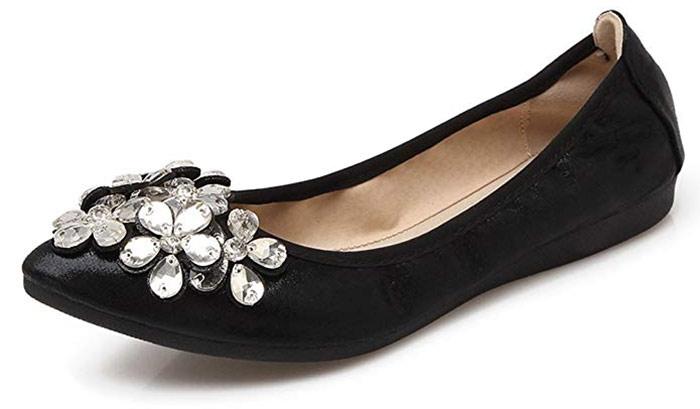 These foldable ballet flats are embellished with rhinestones, adding to its elegant look. These flats are fashionable, beautiful, and are perfect for parties, date nights, and special occasions. They are available in a variety of appealing colors, so you can choose the best one to match your favorite outfits. If dressy and chic footwear is more to your taste, these flats will make for the perfect addition to your wardrobe!
Pros
Elegant and chic design
Available in enchanting shades
Floral rhinestone-studded pattern
Extremely flexible and foldable pattern
Cons
Material may have an unpleasant smell
Runs a size smaller for wide feet
9. Sam Edelman Women's Felicia Ballet Flat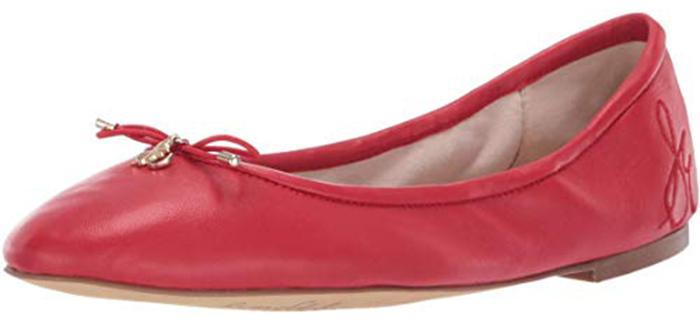 For those who love a dainty bow on flats, these are the classic black ballet flats you will love to flaunt! These flats are available in a variety of colors and patterns and are true to size. Made using 100% leather and a synthetic sole, these flats are perfect for long walks. It offers good arch support, and the 0.25 inches heels provide great grip and stability while walking. These flats replicate the design and lightweight structure of ballerina flats and are effortlessly designed to be versatile. These sleek flats have a binding around the opening accentuated by a delicate bow.
Pros
Foldable and stretchy design
Comes with a dainty bow and metallic charm
Soft leather topline and comfy inner sole
Easy to wear and take off
Cons
Material may have a strange odor
10. LifeStride Women's Abigail Ballet Flat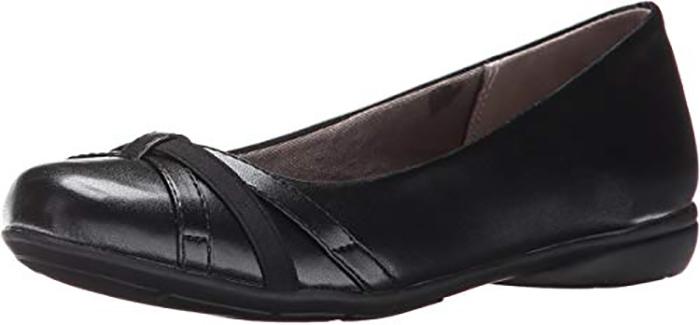 You know a pair of shoes is good if it has a large and satisfied customer base. The Lifestride Abigail Ballet Flats is a package offering comfort and style. These flats are perfect if you want to wear them every day with your formal pantsuits or pair them with your favorite denim jeans. It comes with a strappy overlay at the toe that adds a touch of elegance to the flats. These flats feature a flexible sole and a slightly padded footpad for better grip and stability.
Pros
Offers contoured foot support
Chic and sophisticated design
Available in a variety of colors
Micro heels for light lift and grip
Flexible and smooth sole
Ideal for running around the city
Cons
Less space for toes
Not suitable for wide feet
11. Dr. Scholl's Women's Frankie Ballet Flat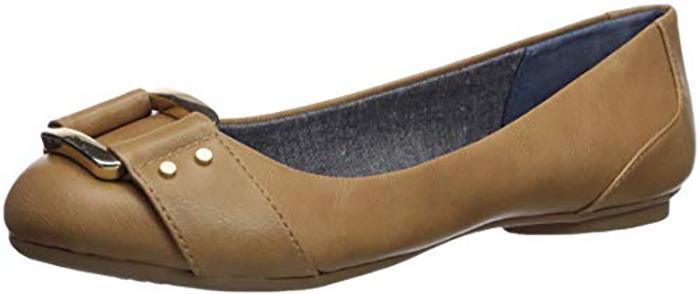 If classy and understated are more your style, then look no further as these Frankie Ballet Flats from Dr. Scholl will perfectly complement your work or casual outfits. These flats are designed to offer good arch support and comfort while walking. It also comes with a memory foam insole that cushions your feet well. These ballet flats might look simple and offer plenty of room for your toes, especially if you have wide feet. All in all, these flats can become your go-to footwear, especially when you want to slip them on, step out, and run errands around town!
Pros
Available in different colors and half sizes
Lightweight and easy to wear
Long-lasting
Compatible with extra insoles or inserts
Cons
The toughest part about shopping for footwear is to find a pair that is comfortable, stylish, and offers adequate space for your toes and feet to expand. Especially if you have a hectic schedule and have to walk a lot throughout the day, you will need a pair of shoes that are highly flexible and do not hurt your feet. These are the 11 most fashionable and comfy ballet flats available right now. These flats offer great value for money and will also last over many seasons!
Did you find this post informative? Do reach out to us in the comments below!
The post 11 Most Comfortable And Stylish Ballet Flats To Try In 2020 appeared first on STYLECRAZE.